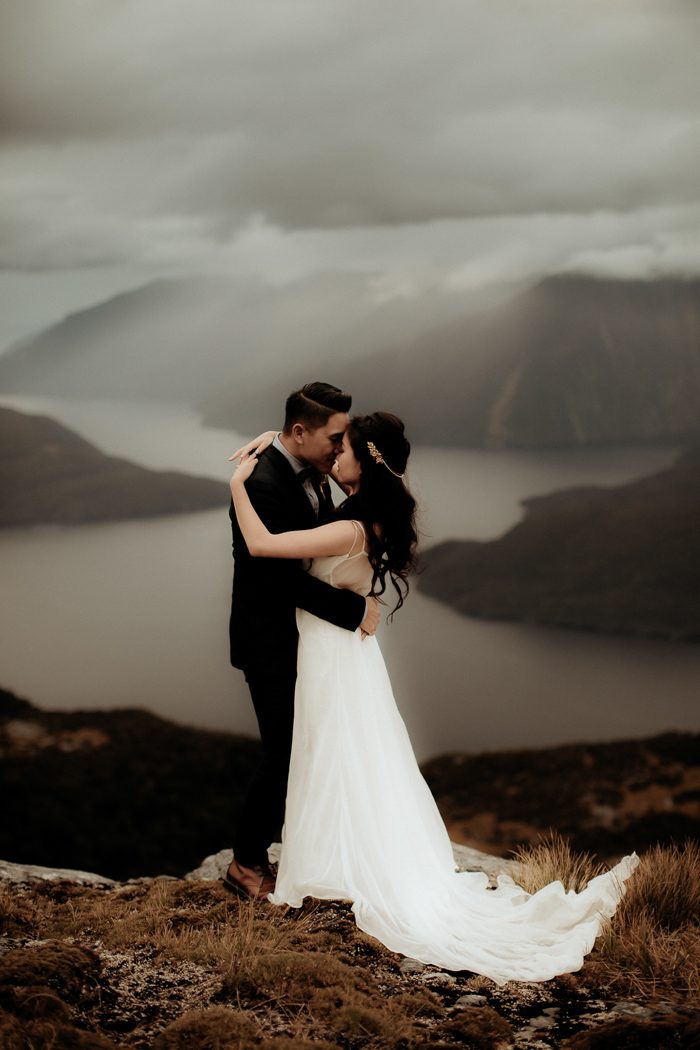 When Courtney and Jackson began planning their pop-up wedding in New Zealand, all they had was a desire to get married in nature and a Google pin location from their photographer James of Chasewild. From there, they decided to have a ceremony in the middle of a valley with a simple rug to stand on, their loved ones beside them, and a spectacular view of the mountains in the background. As if the view from their ceremony wasn't stunning enough, the couple headed off for a helicopter ride into the mountains for a portrait session that was, in a word, breathtaking. When they returned, they dined and danced in a teepee from Gather & Gold, which featured rustic tables and lounge seating, a feast of local fare, and a 9-foot greenery and floral installation that they hand-picked and assembled with the help of friends. This pop-up wedding was truly one for the ages!
The Couple:
Courtney and Jackson
The Wedding:
Queenstown, New Zealand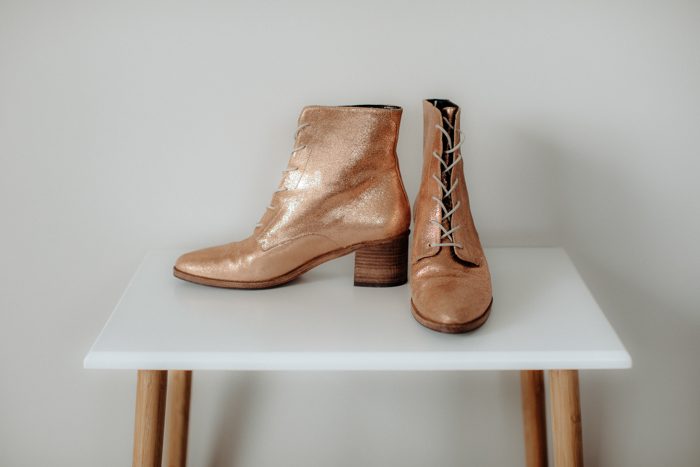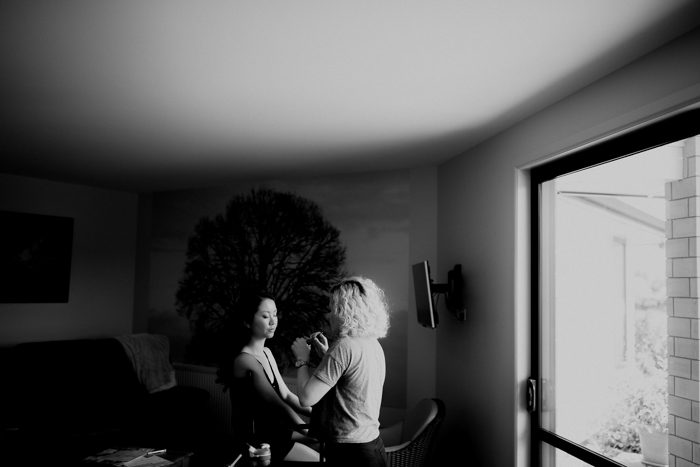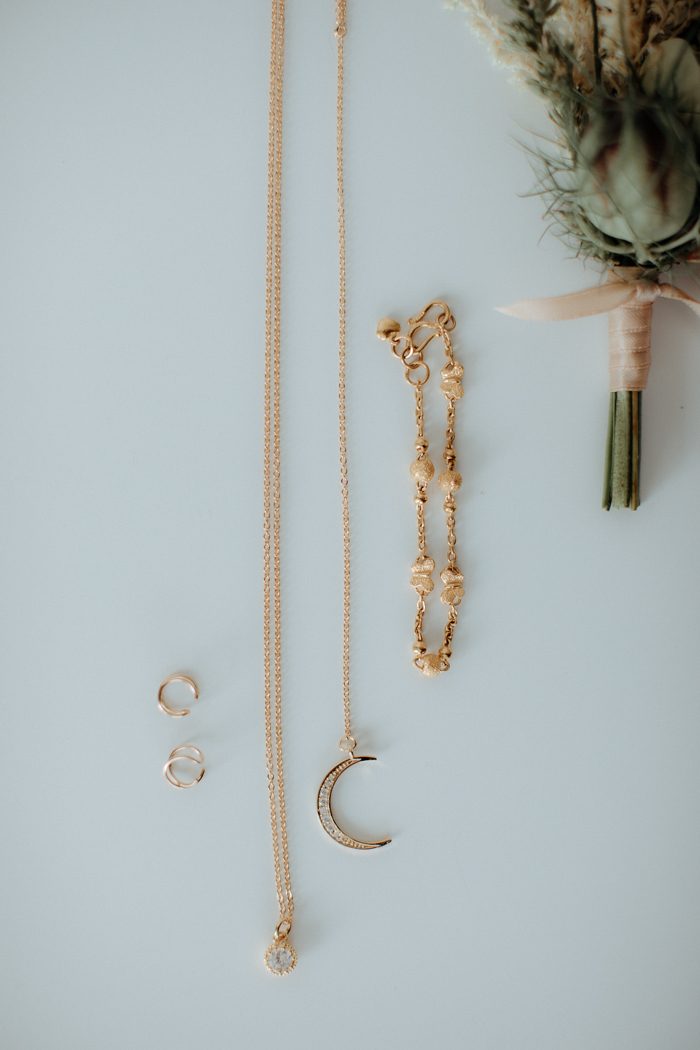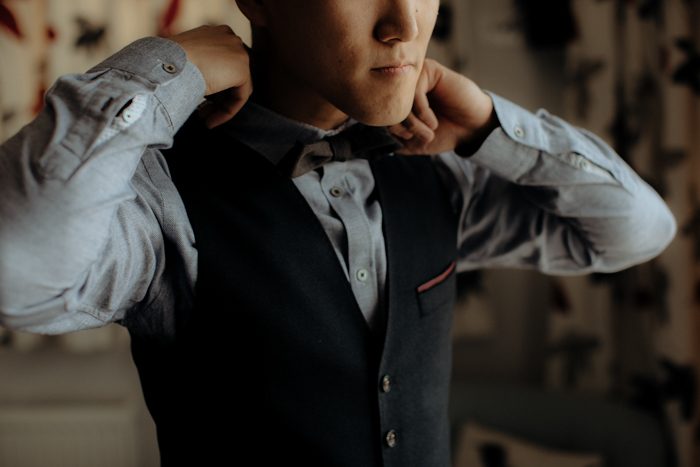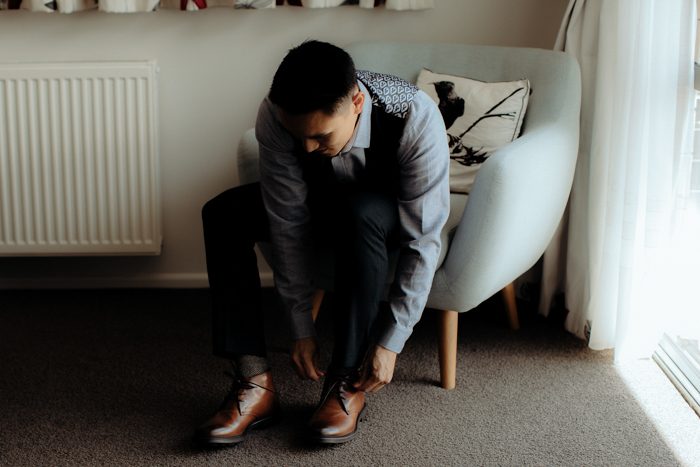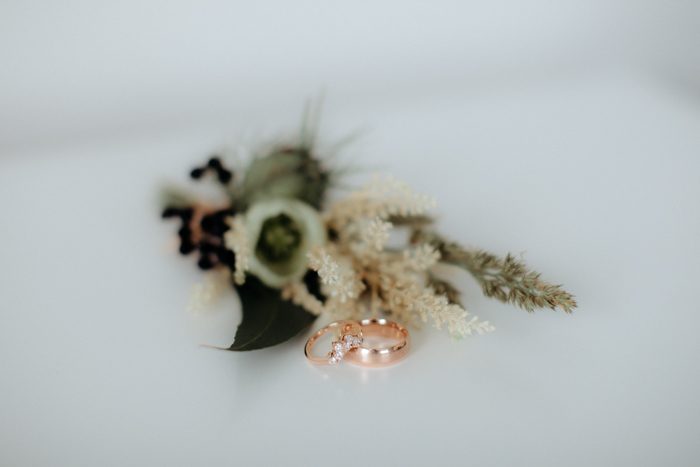 When it came down to it, really focusing on spending quality time with the people who flew out across the world with us to celebrate our 10 years of dating and finally marriage was the most important part of it all. The wedding day was just part of the week-long trip we spent with our guests!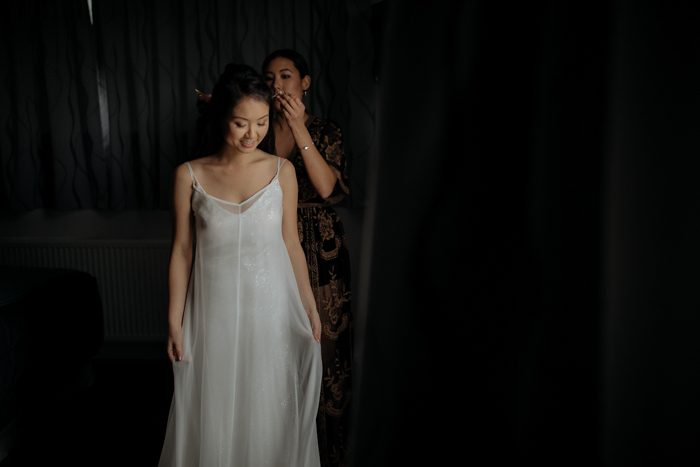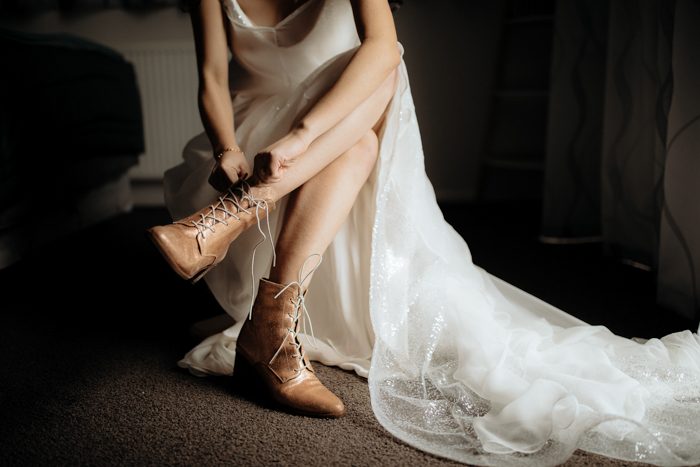 After photographing so many wedding dresses at other weddings, it was a fun surprise to customize two dresses to create something Jackson had never seen. I wanted it to be a little non-traditional, allowing me to trek/climb mountains in it and super low-key. Plus it packed so easy peasy in my suitcase – Jackson wasn't even sure if I had brought a dress with us! My hairpiece was a handmade gem by Mignonne Handmade, which was so easy to put on and made a huge impact on the look. I also knew I could not handle wearing wedding heels all day so once I found my rose gold Freda Salvador boots I was in absolute love — it was probably the best choice I could have made.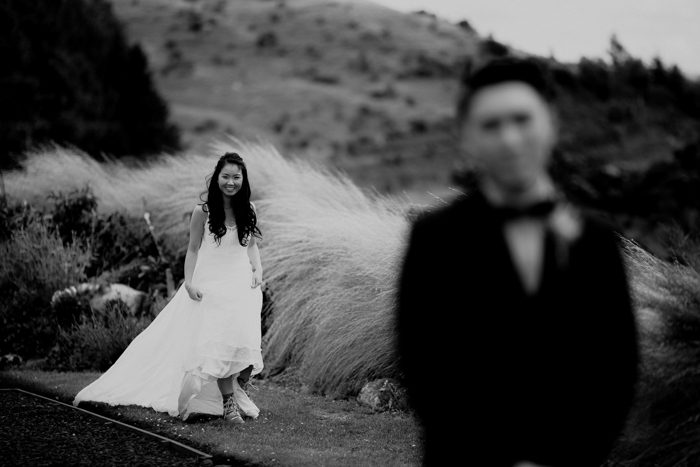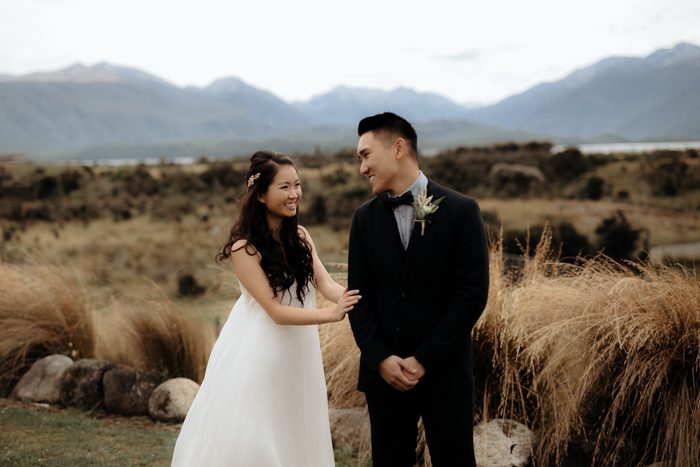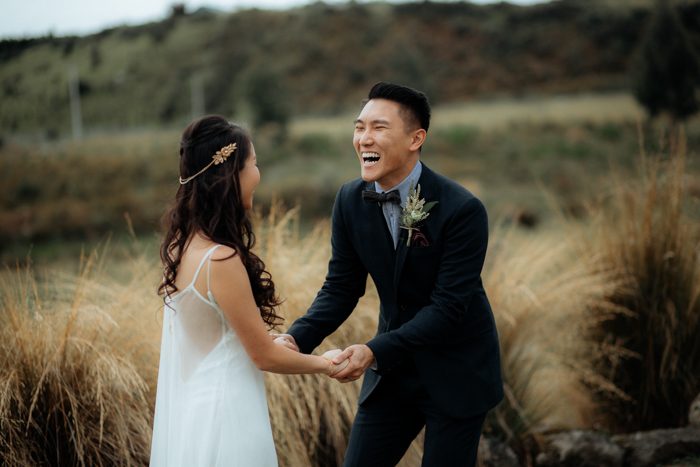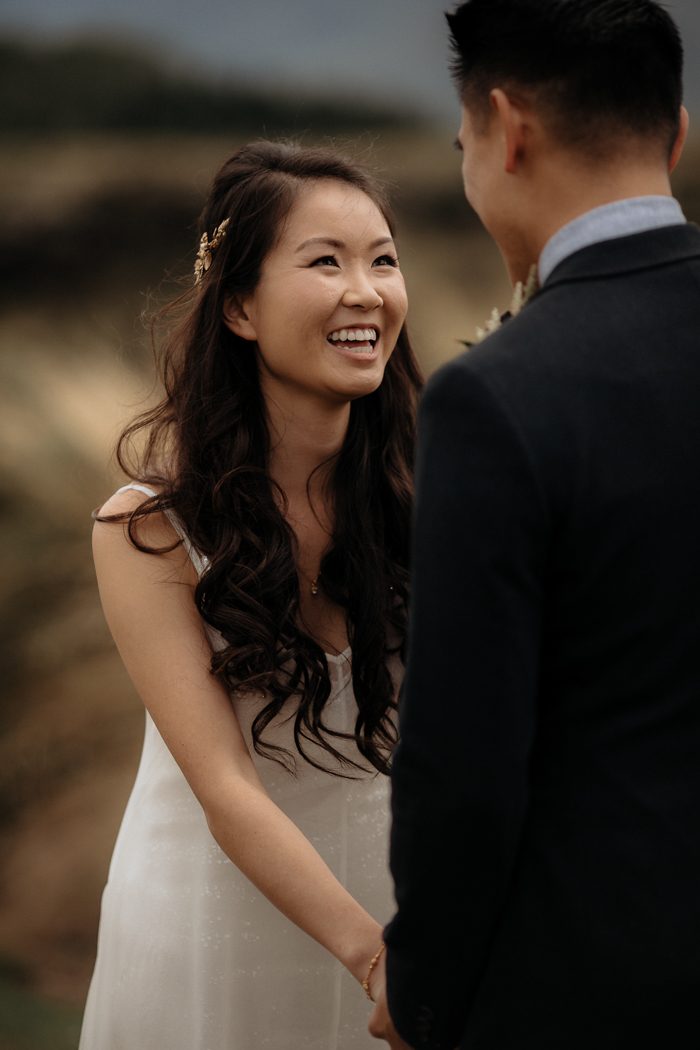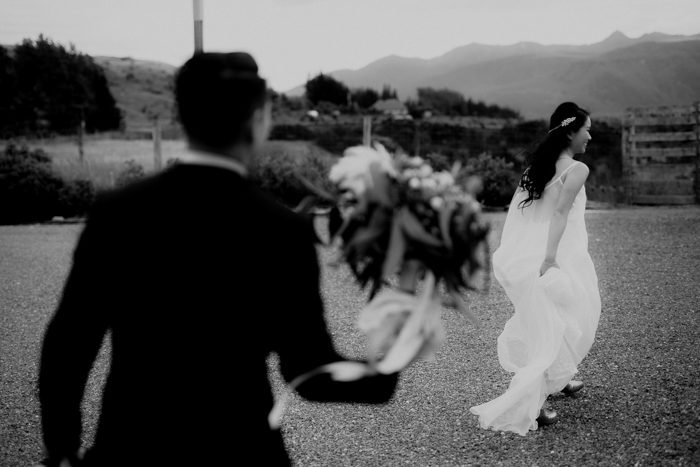 We had always dreamed of getting married in the middle of nowhere, somewhere beautiful where the focus could be on mother nature. Having our guests show up to a mysterious Google Map pin instead of a venue address and seeing their faces in awe of the valley as they got out of their cars was probably the most exciting part for us. We all walked to the ceremony spot together, side-by-side, with Sigur Ros playing in the background instead of having a "grand entrance" down the aisle.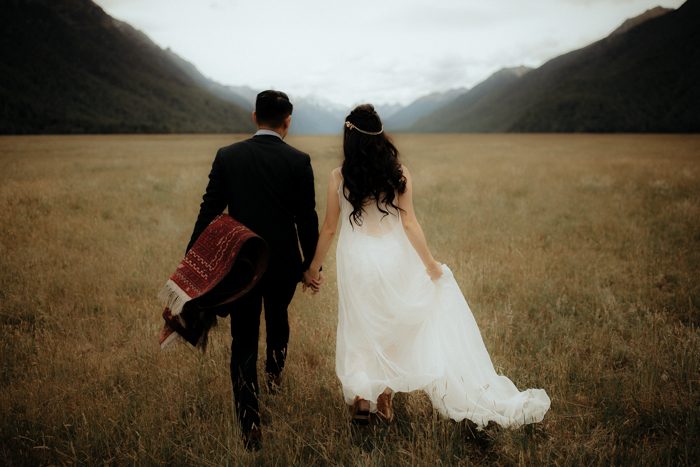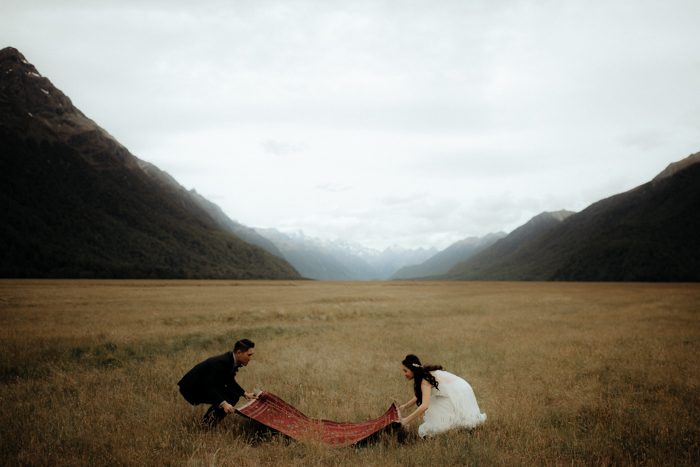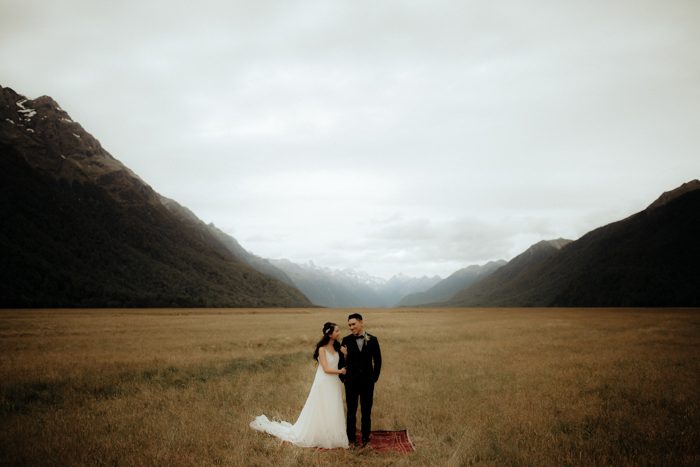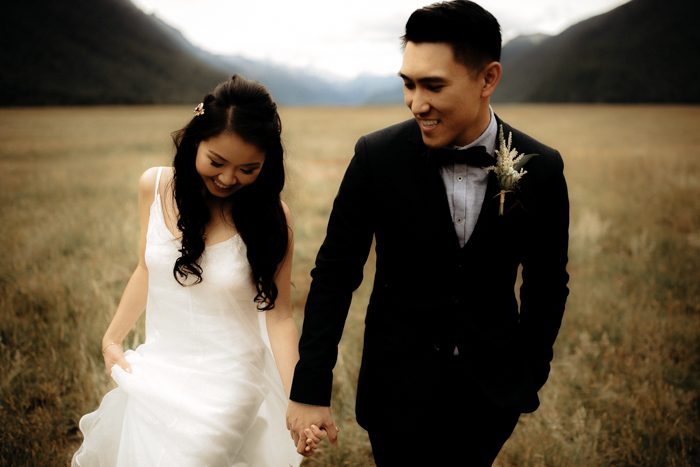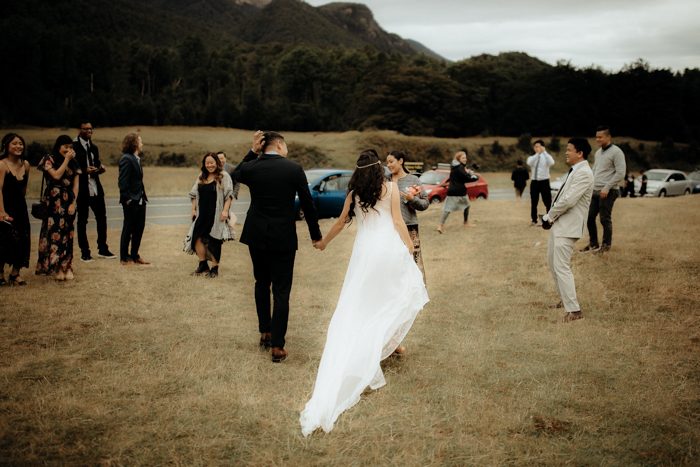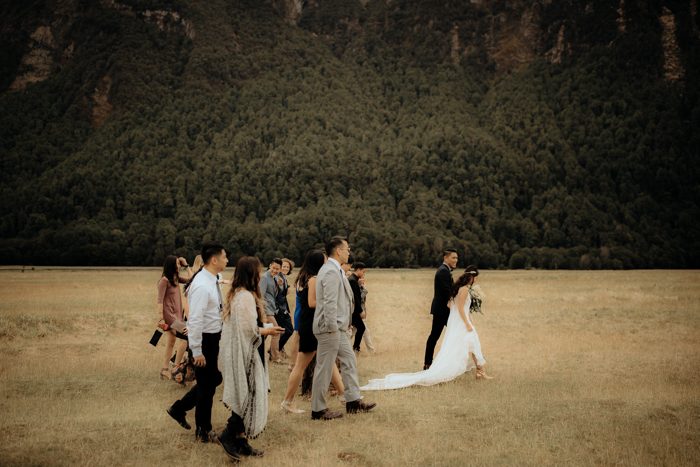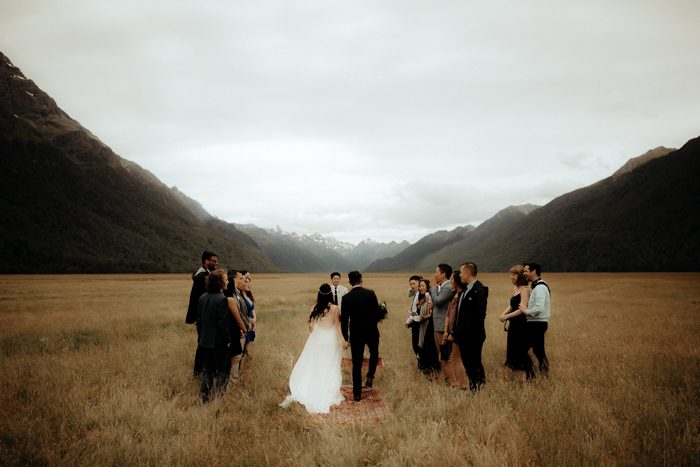 Courtney had visited New Zealand the year before with her best friend as a spur of the moment trip. Upon landing on the airport tarmac, she had this overwhelming feeling that the wedding needed to happen there somehow. We asked our wedding photographer where he had never photographed a wedding before but would love to shoot at. He sent us a Google Map pin and that's where we started the entire planning process!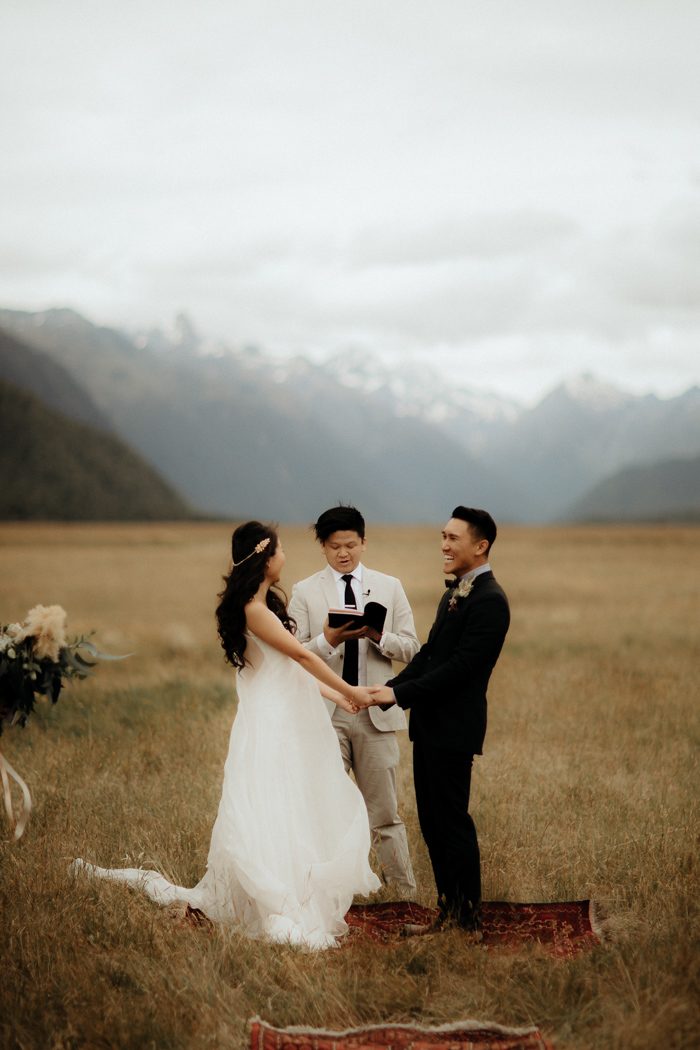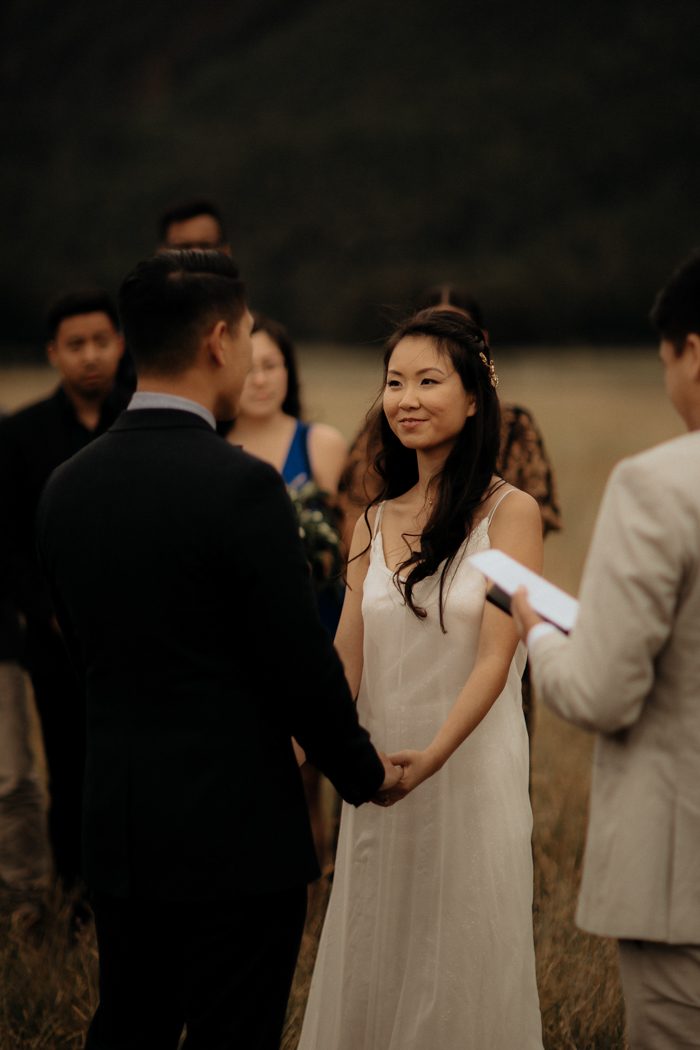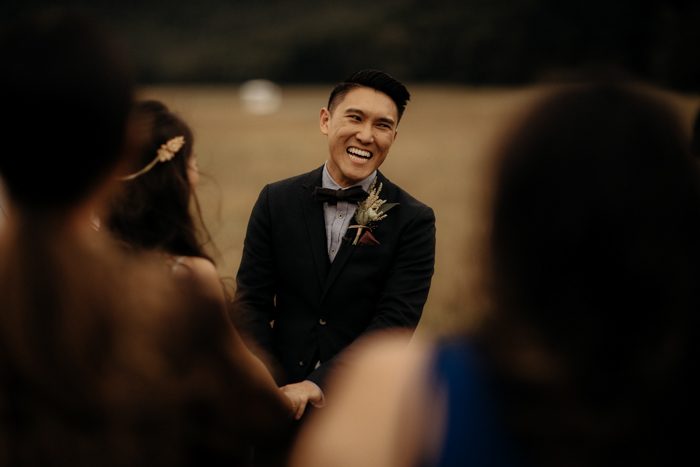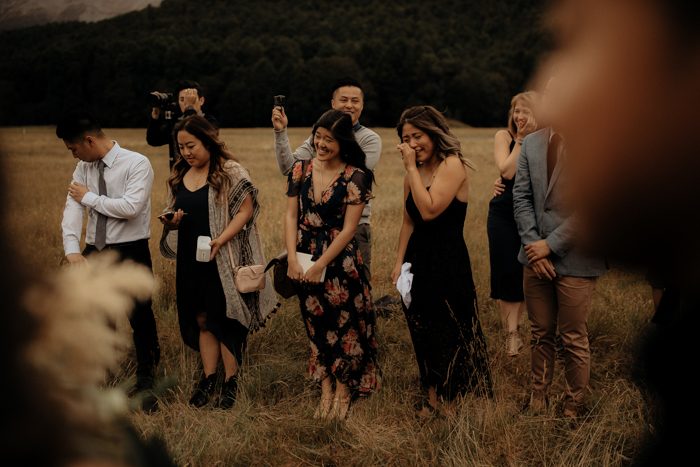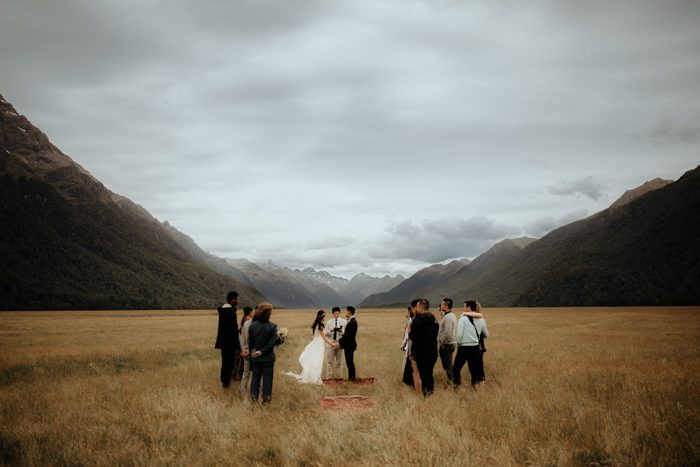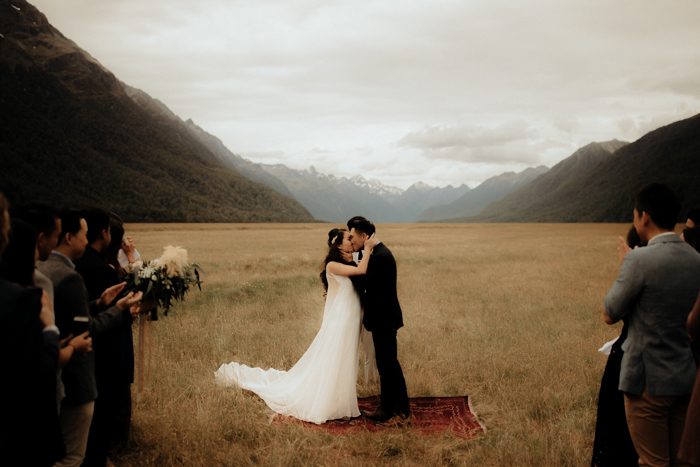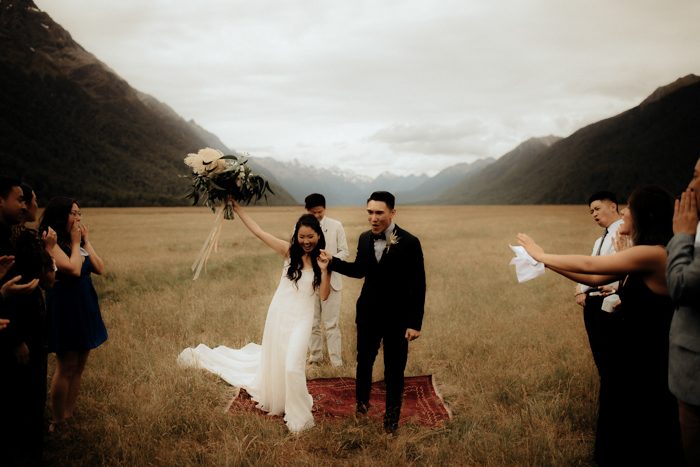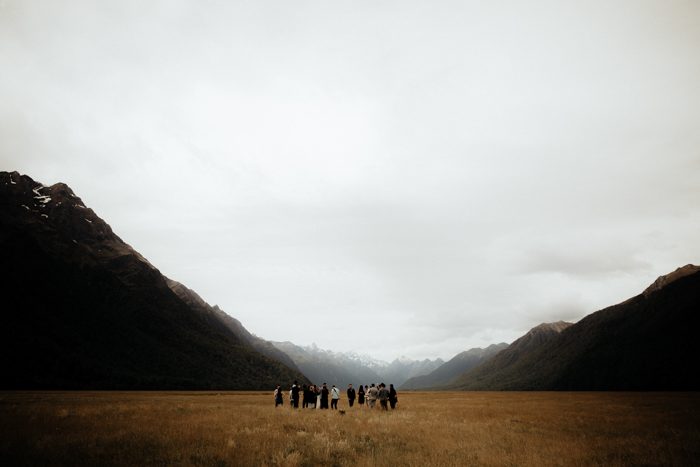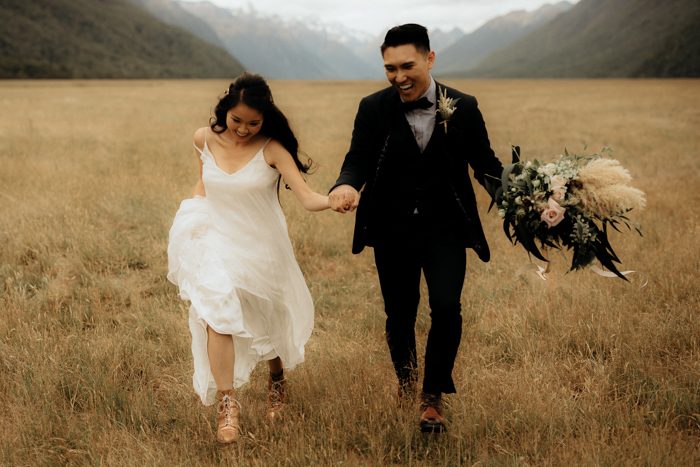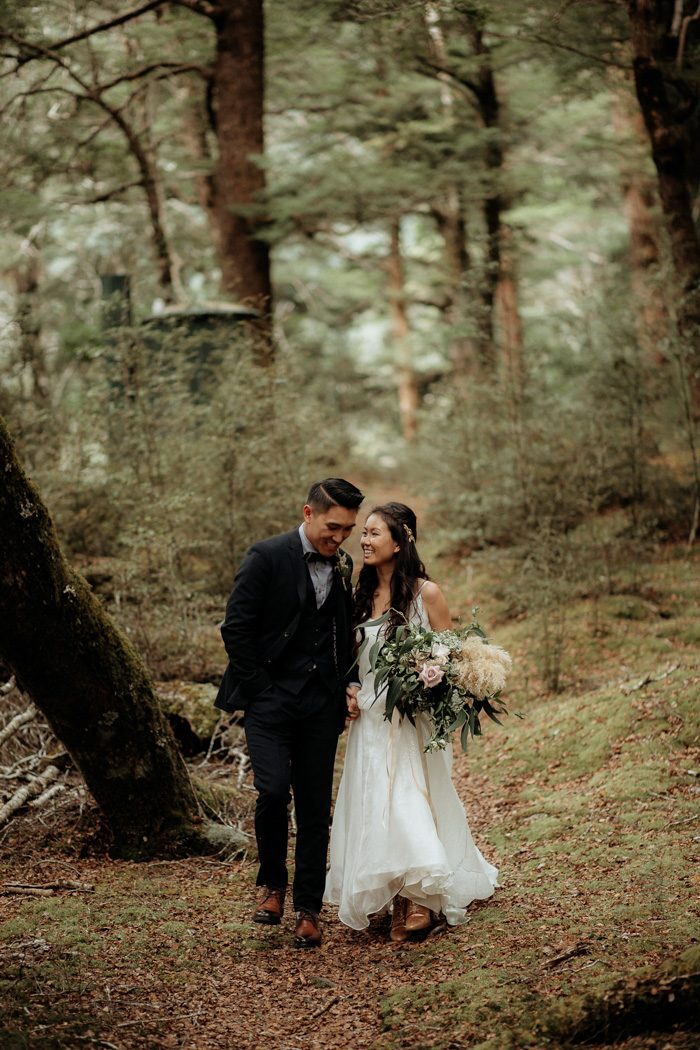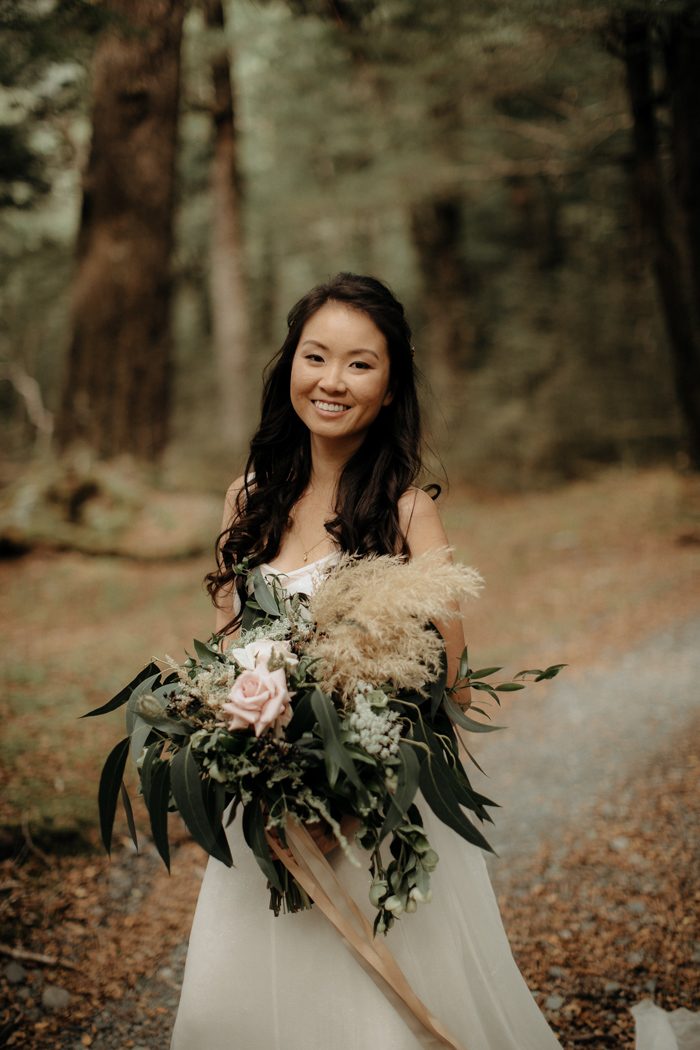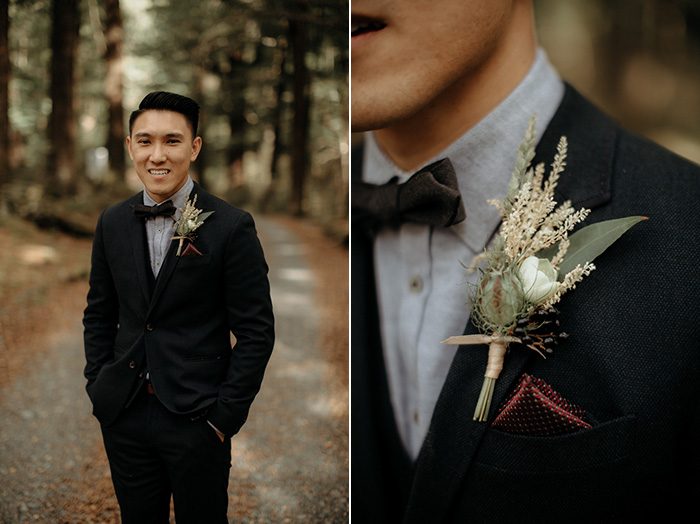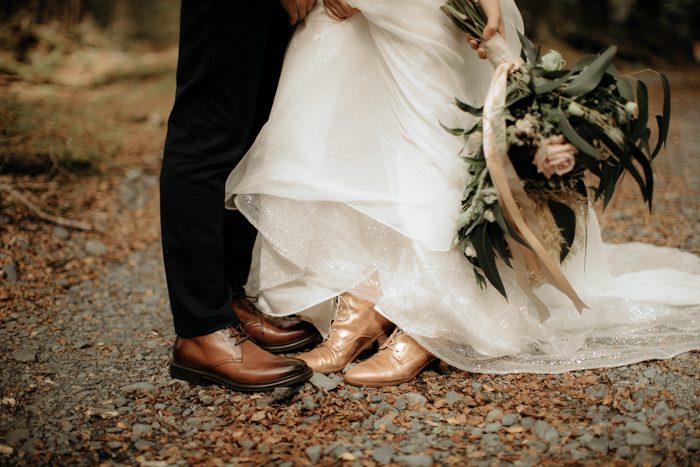 As wedding photographers ourselves, we've been to so many weddings that we knew what was most important to us. Do your day the way you want to, in ways that feel most like you two as a couple & not just because you've seen it done "at other weddings". Your time with loved ones is valuable, so spend it doing things you love with the people you love. Also, let your vendors focus on what they're good at & the results will be amazing! Give them room to be creative and they'll flourish.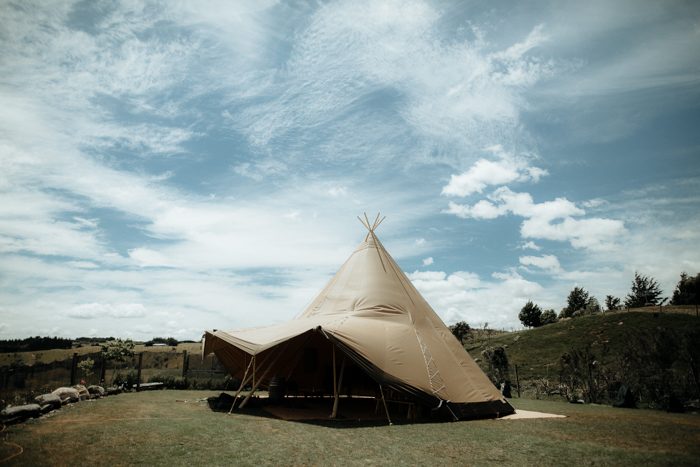 Our friends and B&B home hosts helped us DIY the huge 9′ greenery wreath hanging in our wedding reception teepee! It was the best experience of foraging in our host's backyard and their neighbor's farm for flowers and greens that we could snip. Our hosts showed us how to naturally weave the greens without using any floral tapes or ties! The end result was 100% organic and made totally from the love of our community. As we dined and danced under it at night, we were reminded of how lucky we are to have these people in our lives.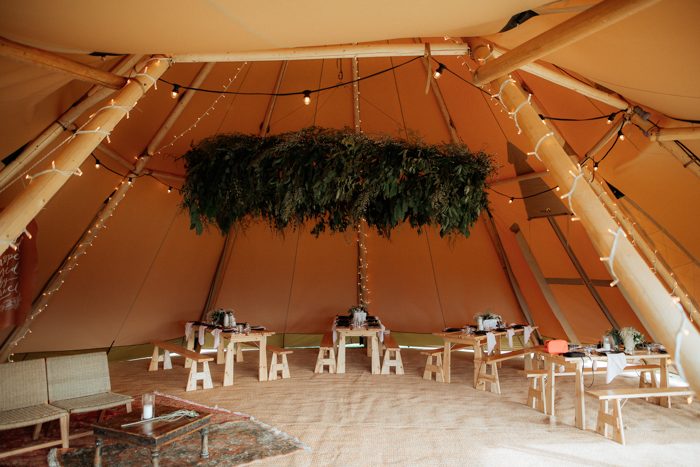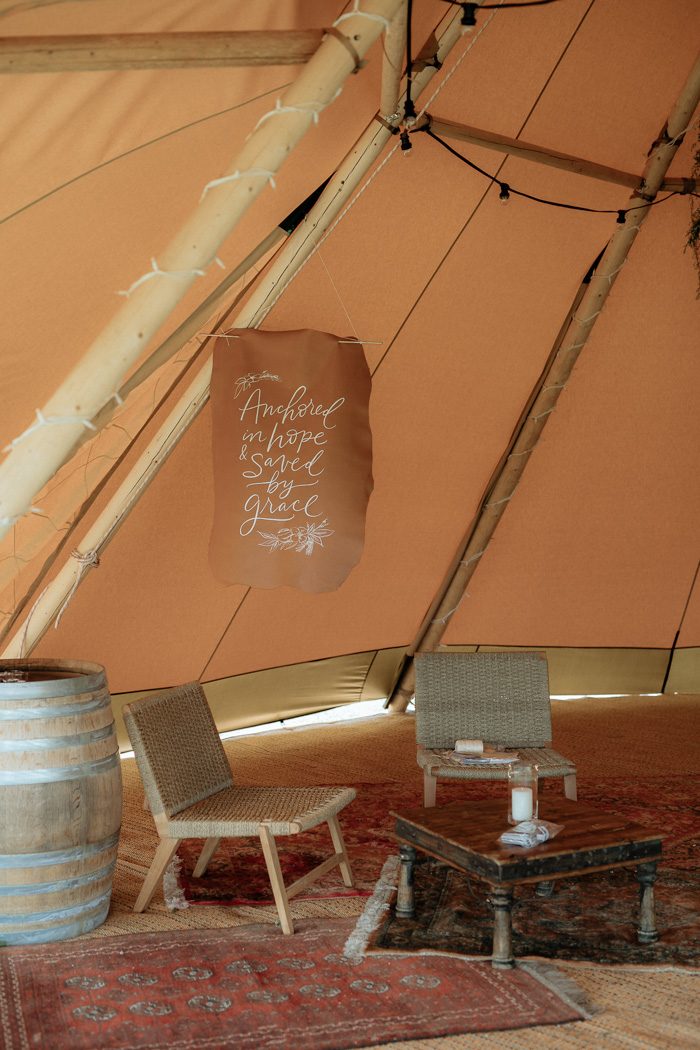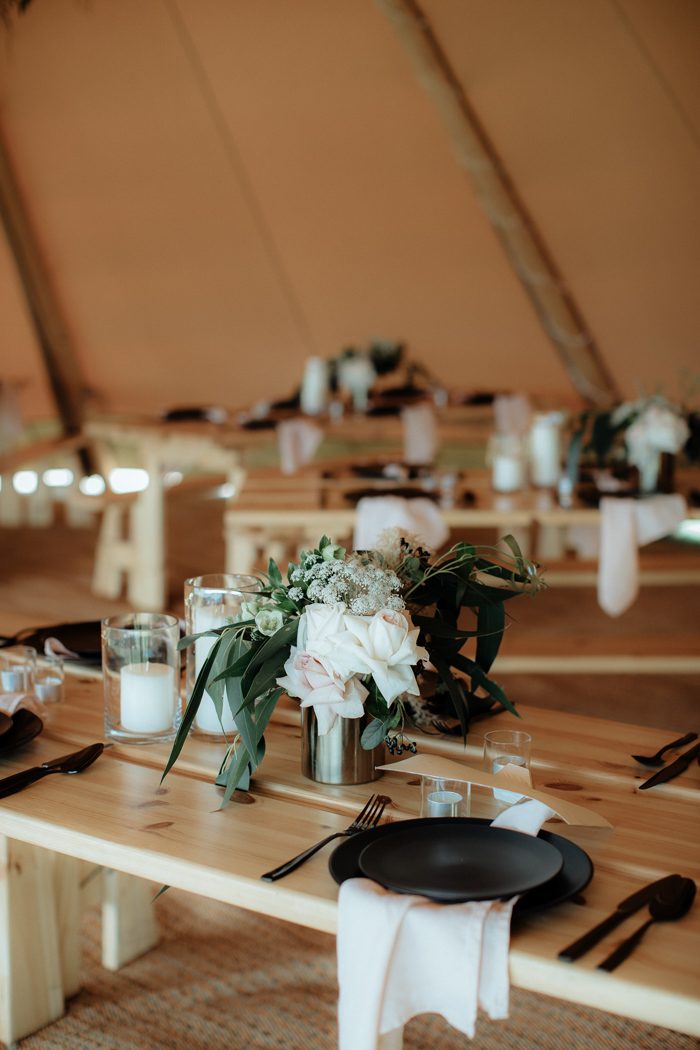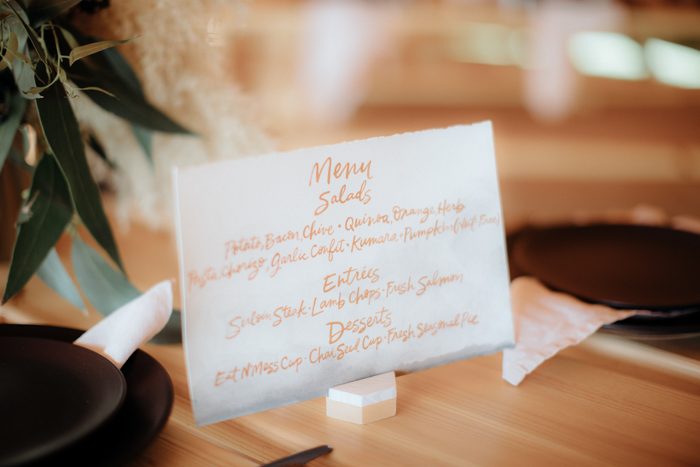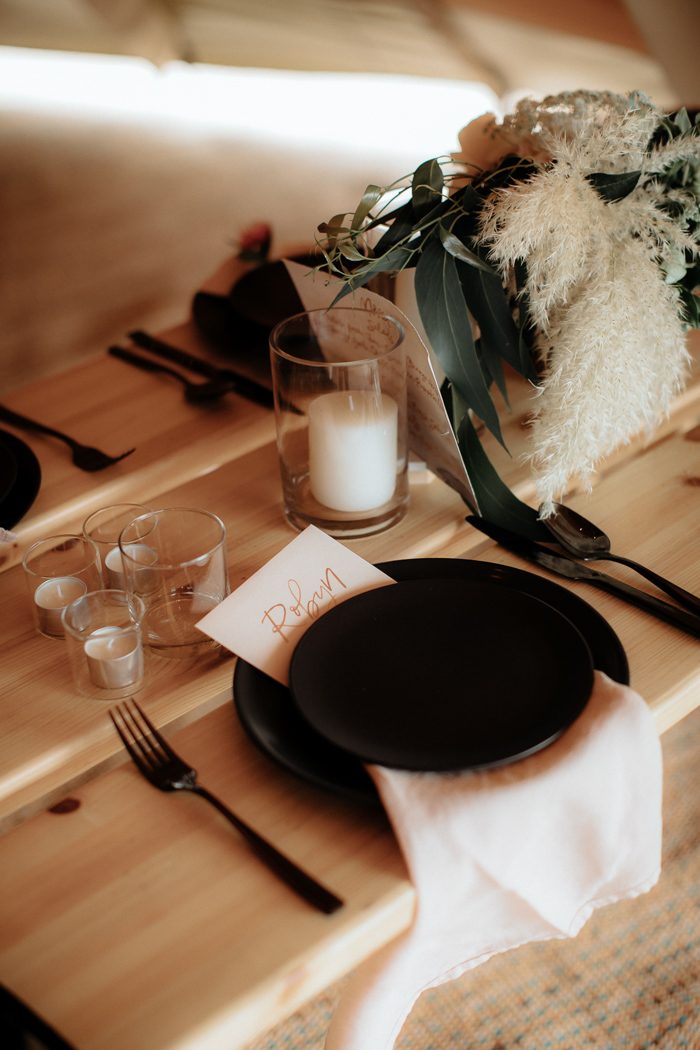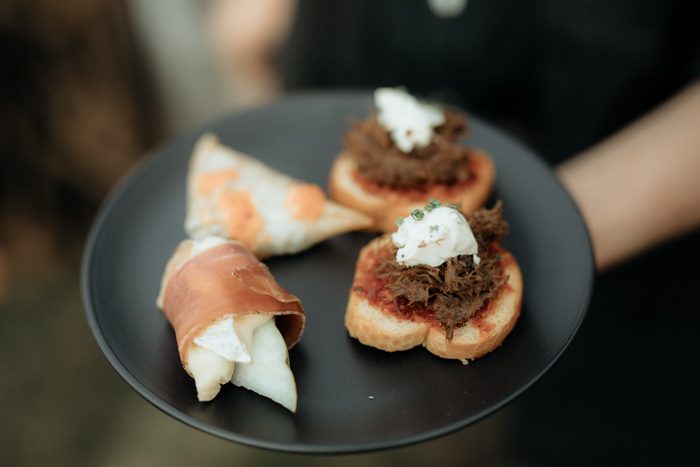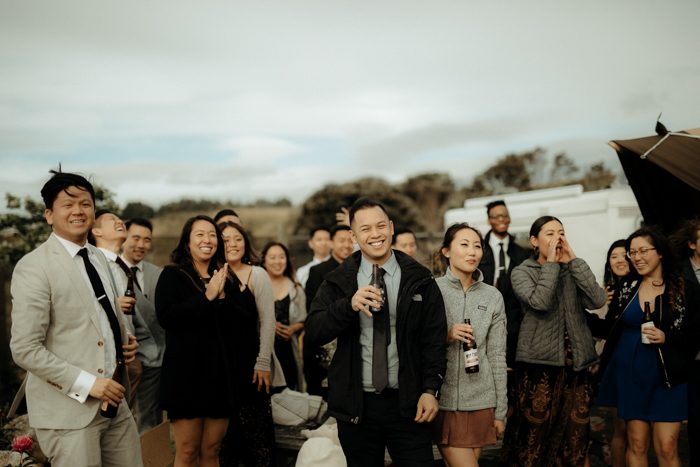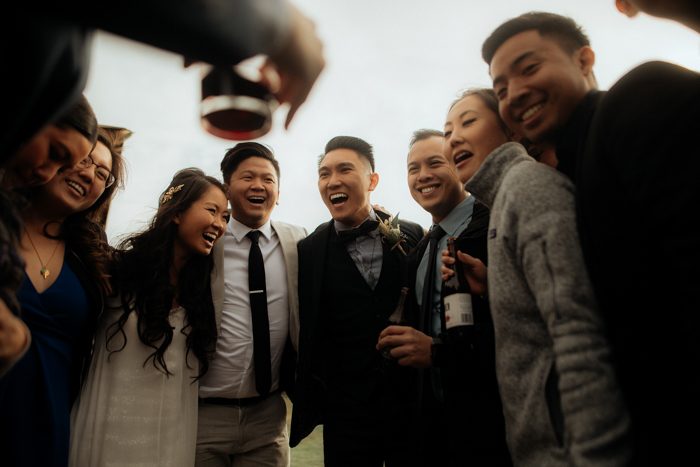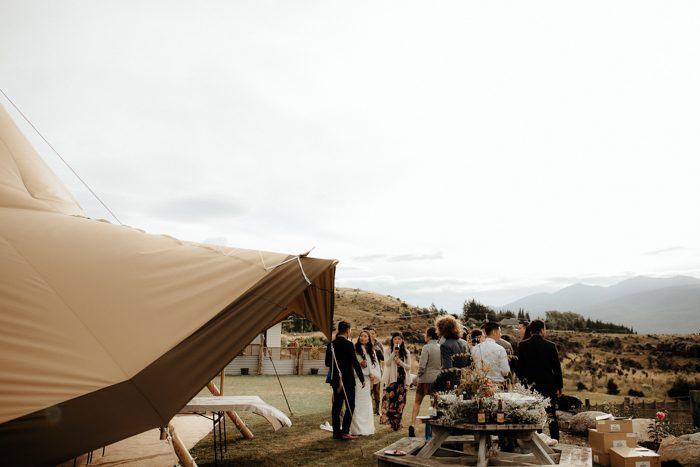 Our friend hand-calligraphed envelopes with all of our guests' names on them. We wrote each of our guests a thank you note inside of those. We also had an amazingly talented illustrator create custom prints for our guests of the native flora from the two places we got married to commemorate the trip – one of New Zealand and the other of California (home). Our friend Angel (of Design and Happiness) designs super cute enamel pins, which we gave our guests to add to their travel bags.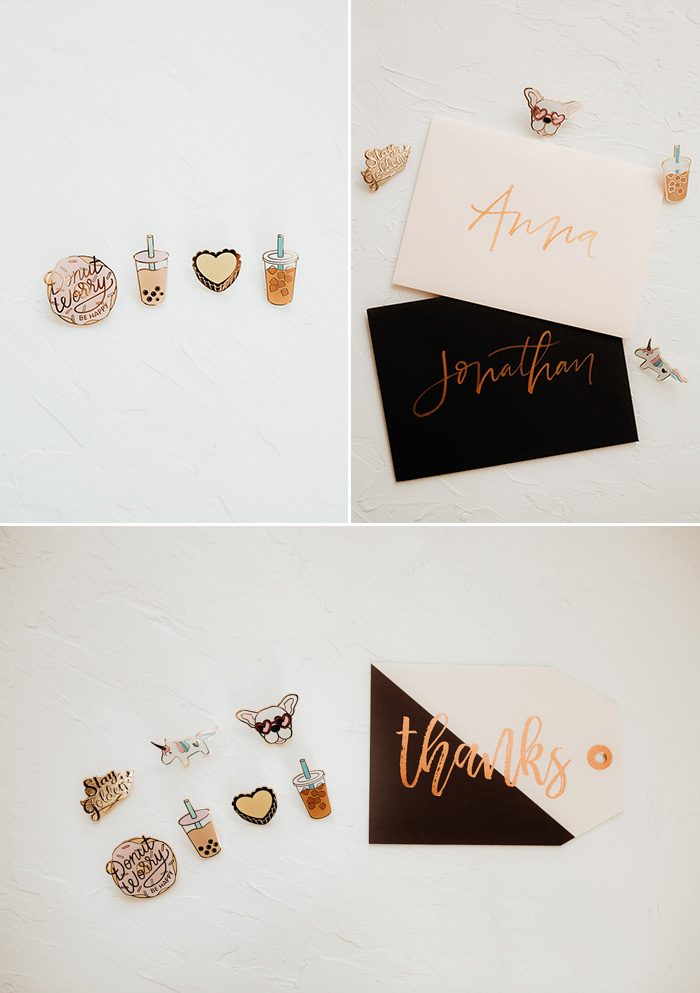 We also took our friends on a scenic tour of the Milford Sound region since we wanted to spend time with each of the guests that came. Everywhere we went the sun broke through the rain clouds which was insanely cool.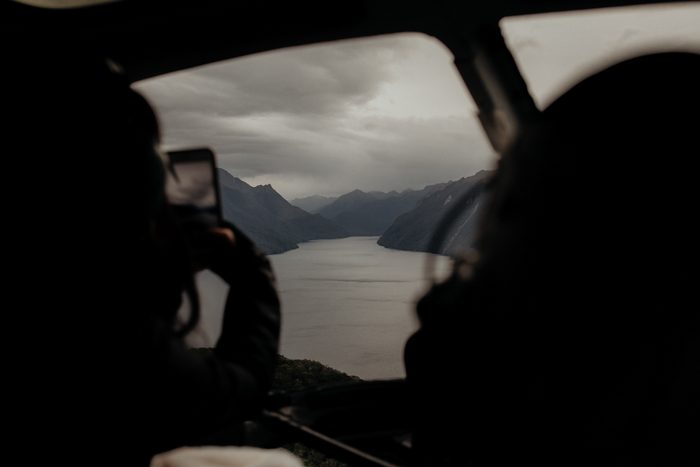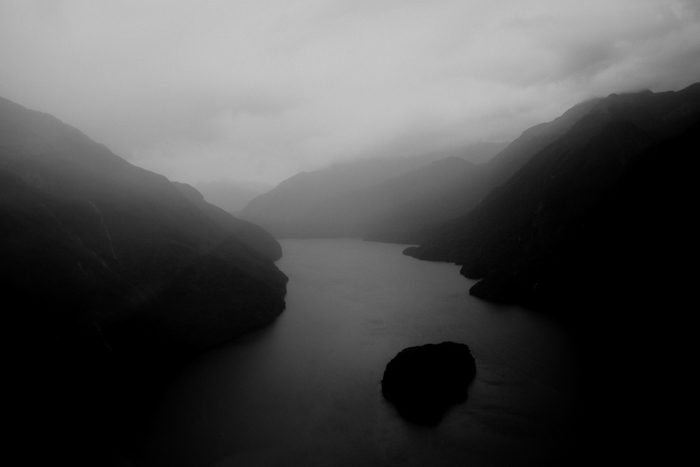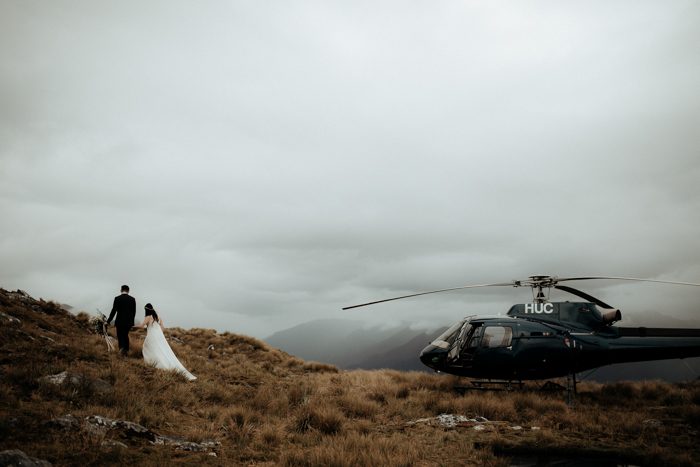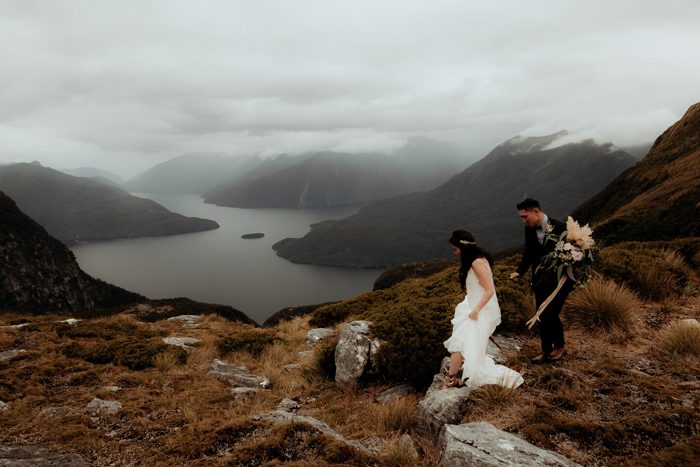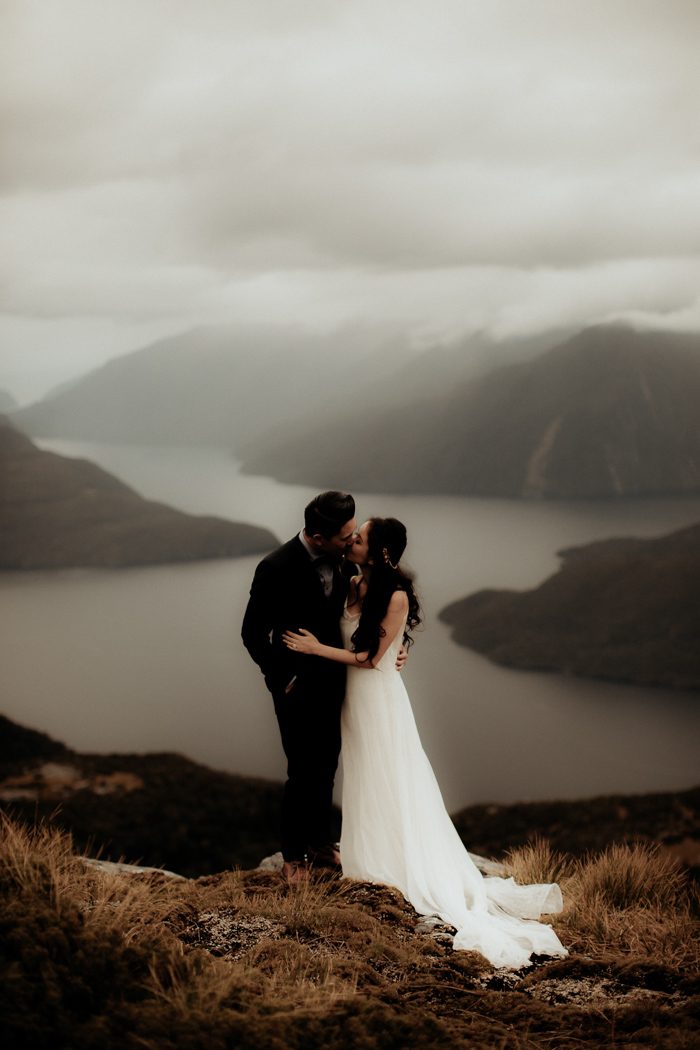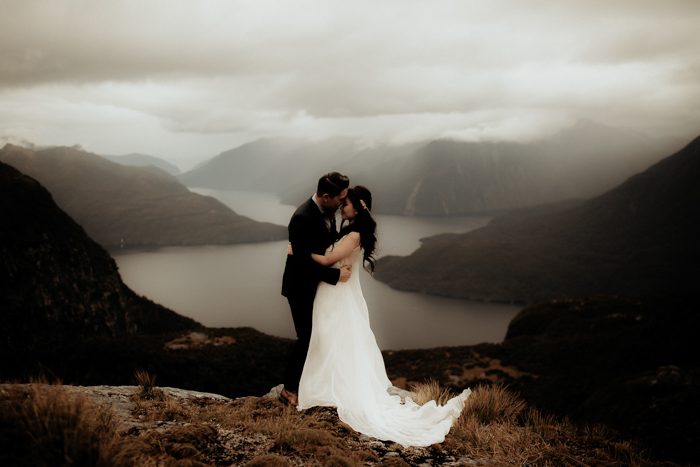 A lot of people asked us if it would be hard to pick a photographer for our day, but we pretty much reached out only to James and that was that. We wanted to be able to leave the photos in the hands of someone we knew would capture the story so we could be camera-free all day! James was so wonderful to work with. He has such a calming presence and he knows New Zealand so well. It was fun to let him take us where he wanted to for portraits. When we got to go up in the helicopter for mountain portraits, it was so fun to know he'd never been to any of those spots before and that he felt the same excitement we did!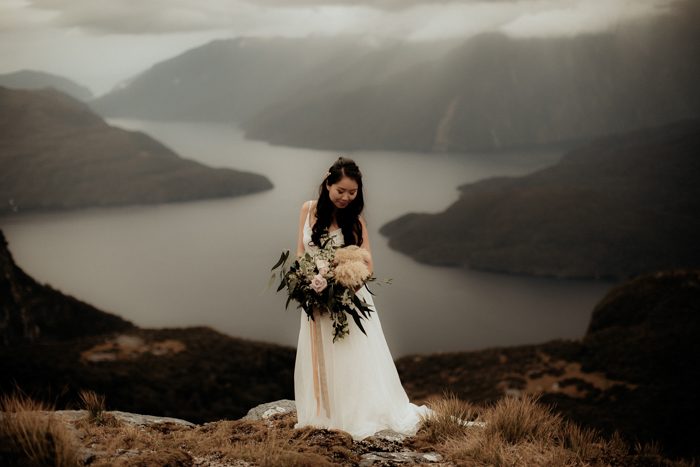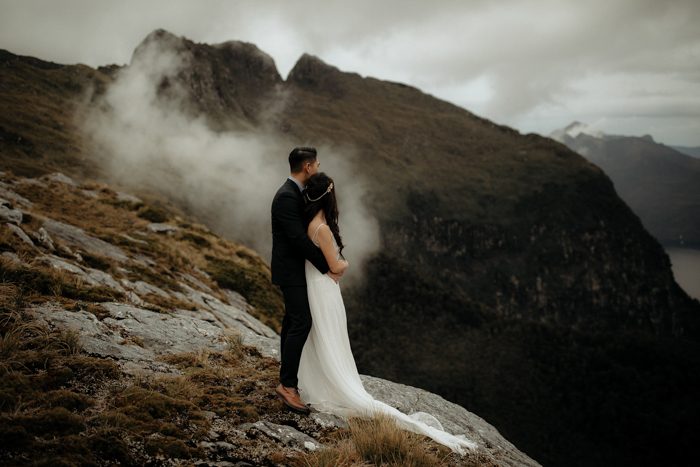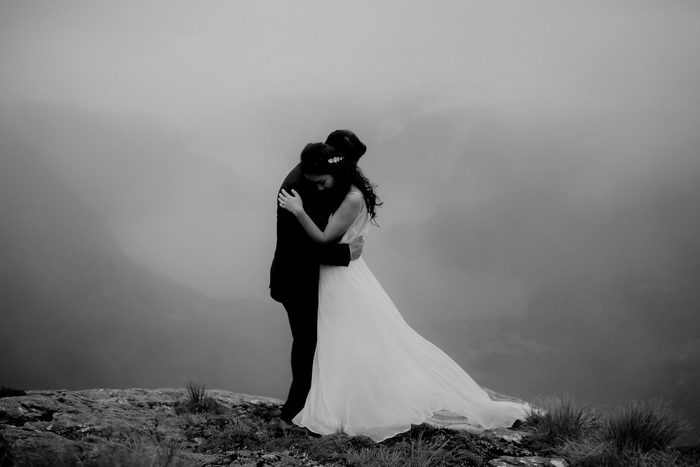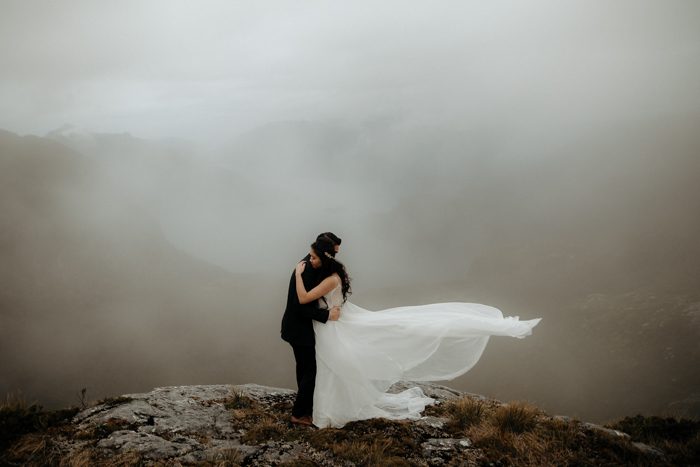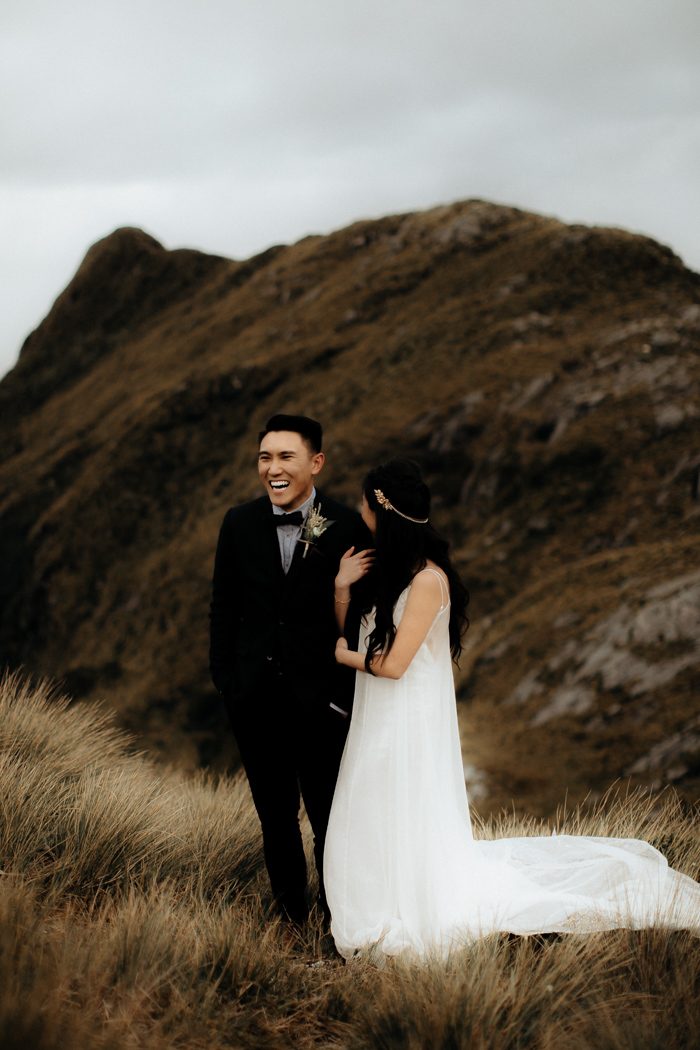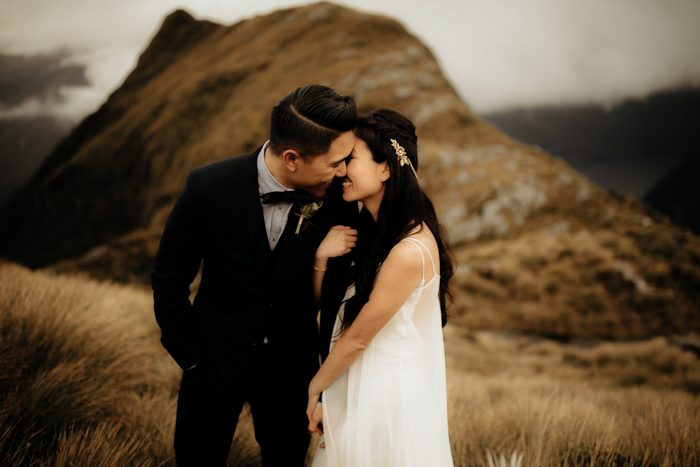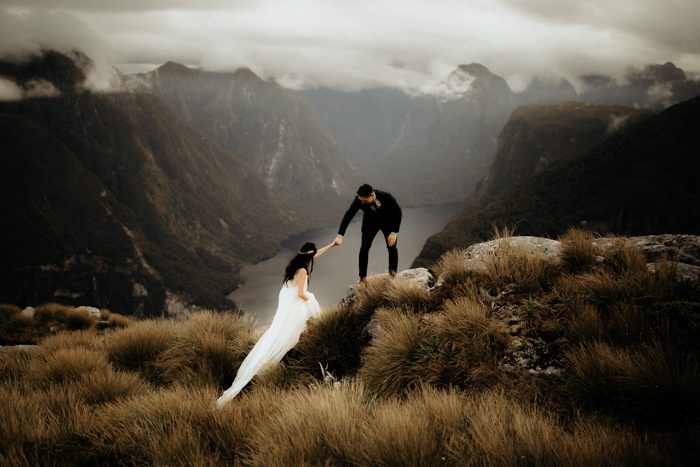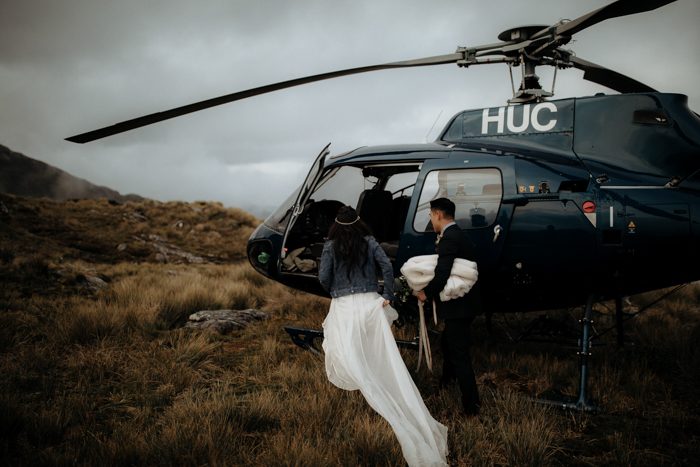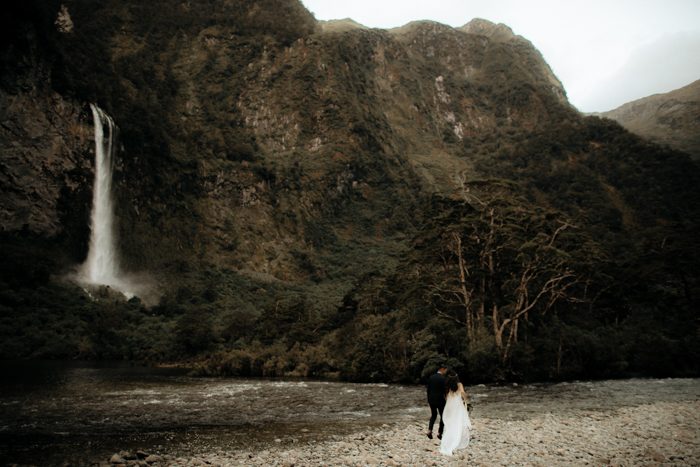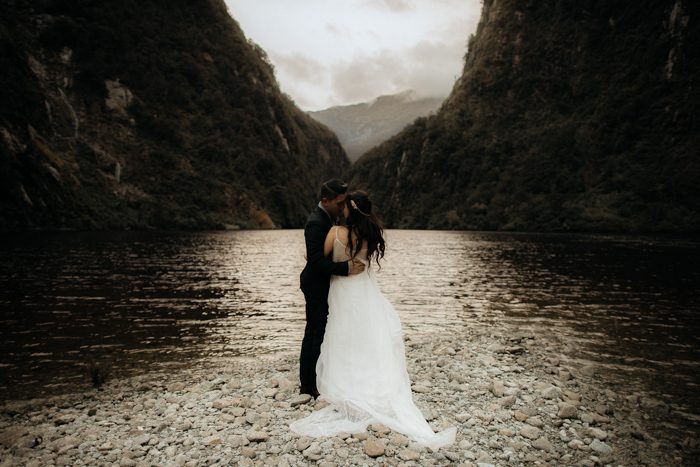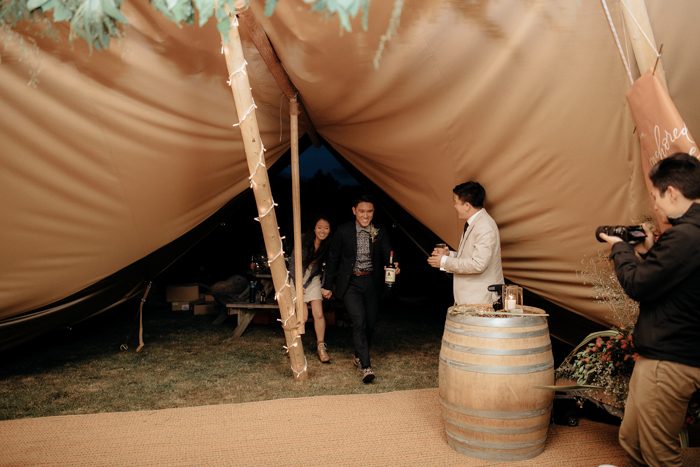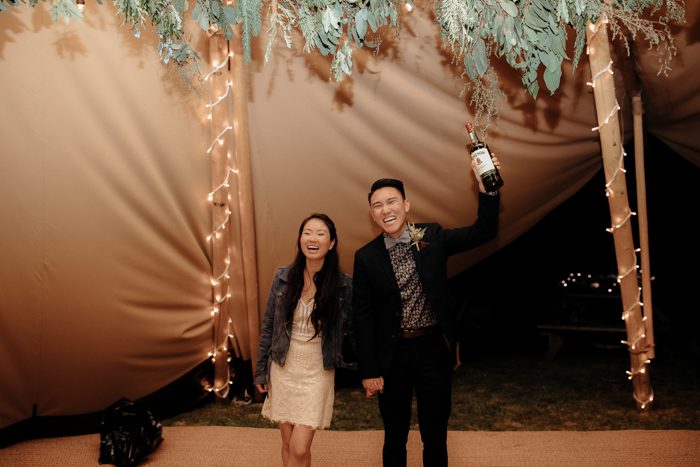 Processional – "Hoppipolla" by Sigur Ros
Recessional – "Glorious" by Macklemore ft. Skylar Grey
First Dance – "I Will Spend My Whole Life Loving You" by Imaginary Future & Kina Grannis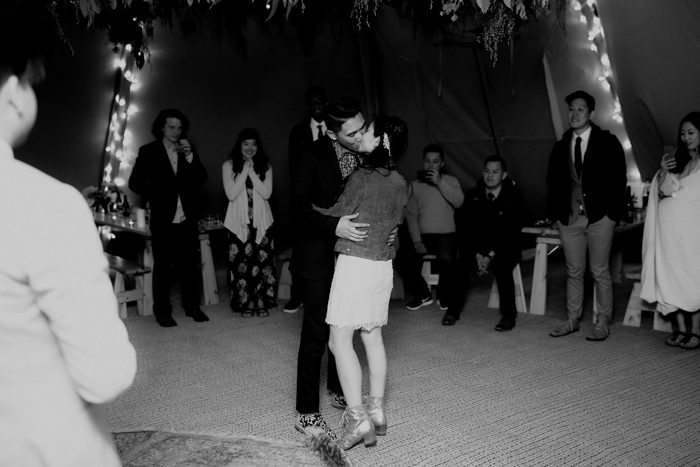 Our hosts made us a freshly-picked summer berry ice cream wedding cake that they surprised us with after dinner! We had no idea they were making this for us and it was THE BEST cake we could have ever asked for!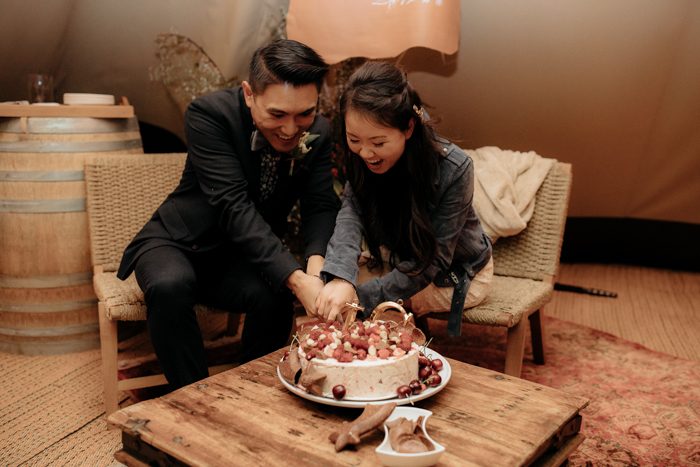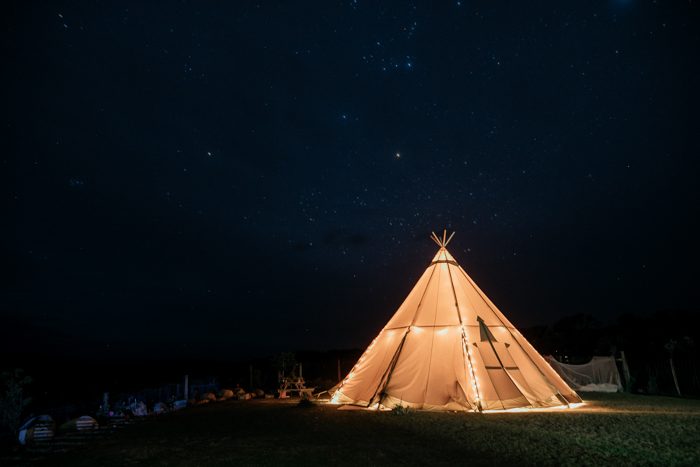 Congratulations to Courtney and Jackson, and a special thanks to Chasewild for sharing this magical pop-up wedding with Junebug! Love the idea of a surprise wedding? Get your tissues ready for this sweet surprise wedding at Saint Irene's!