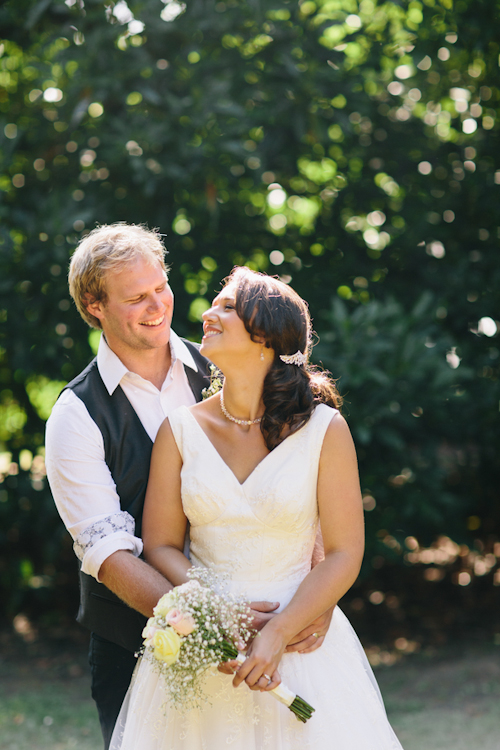 The Couple: Leah and Simon
The Wedding: 1.26.13 – Private Family Home in Tauranga, New Zealand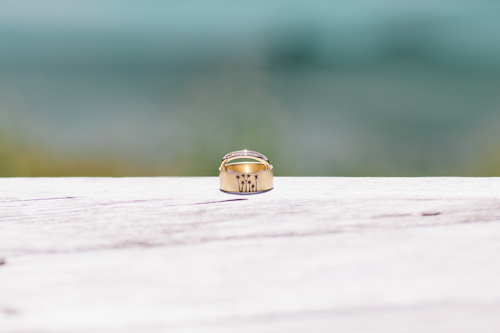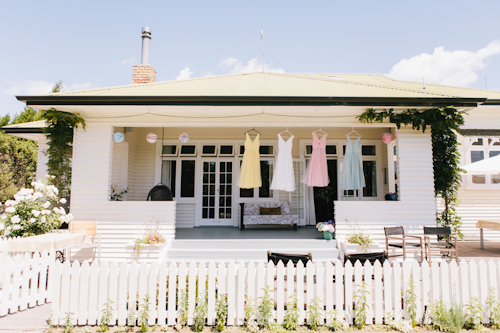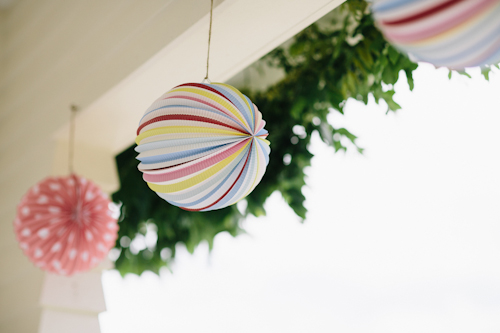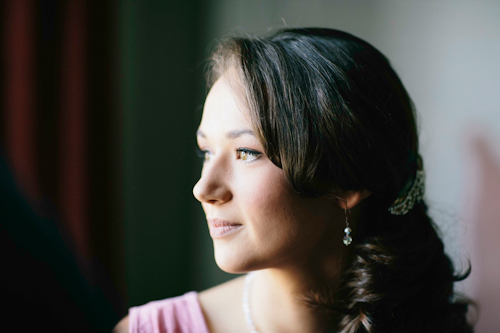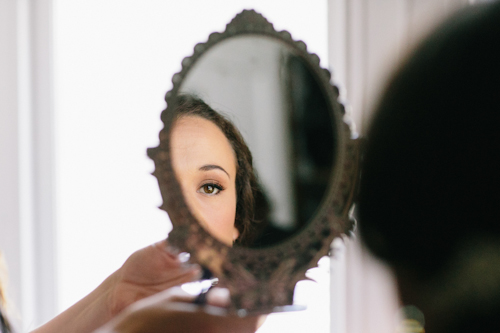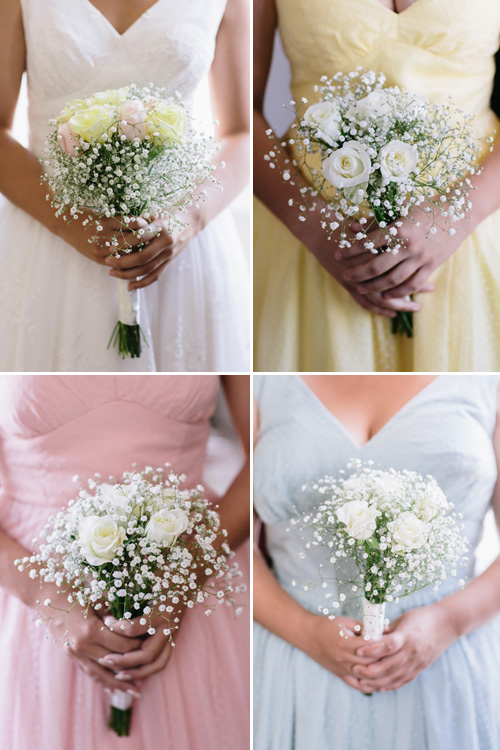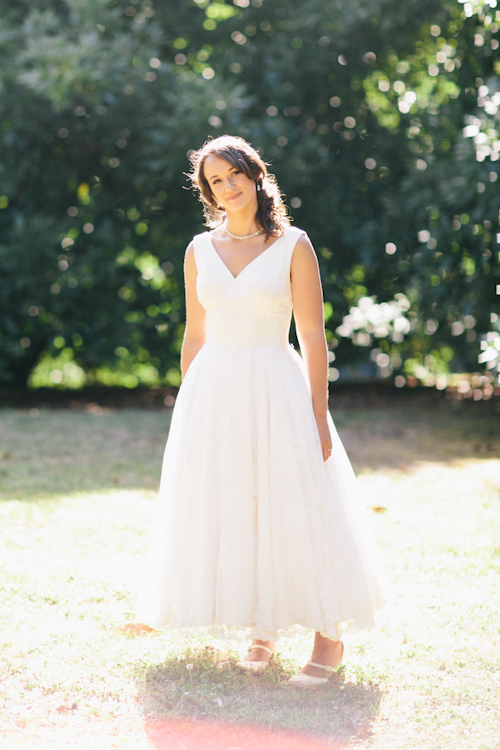 What three adjectives best describe your wedding day? Fun, homemade and loving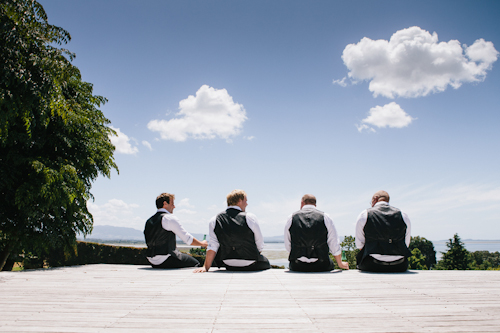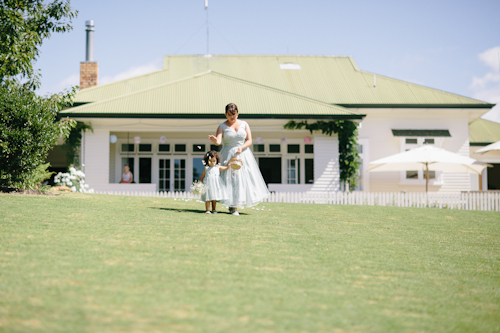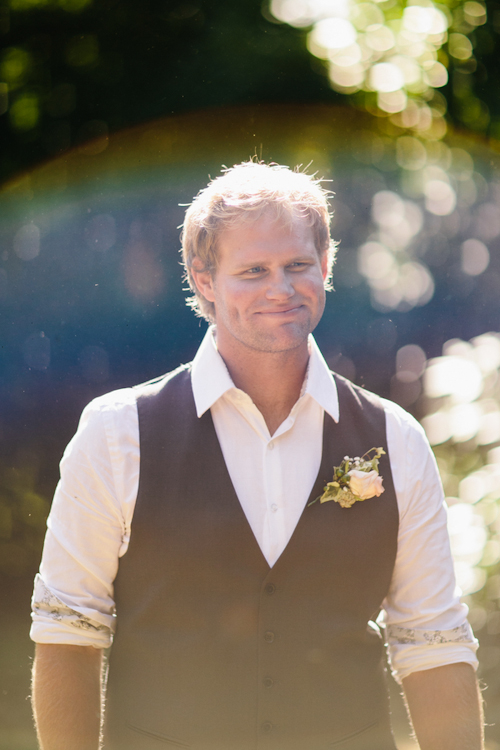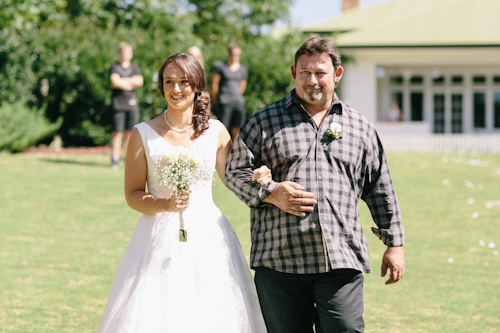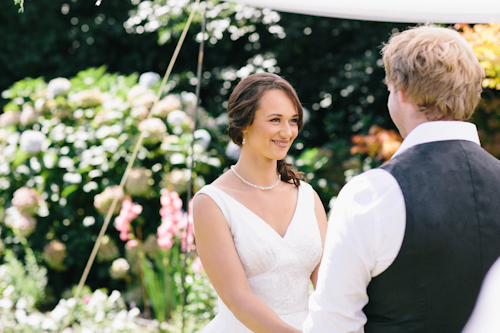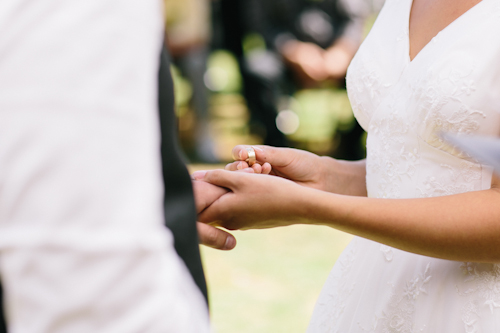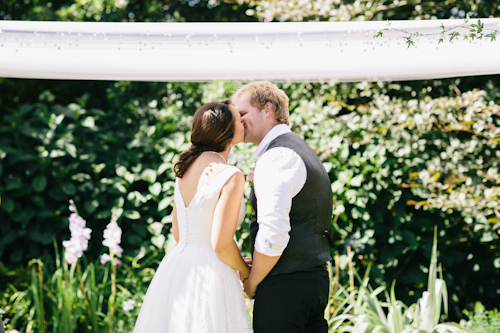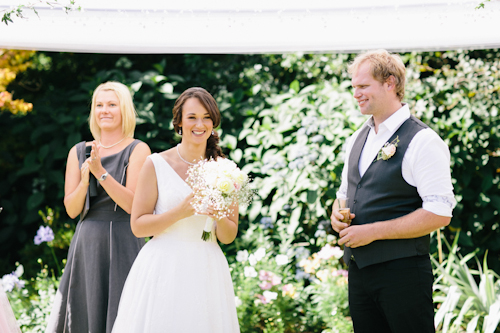 Was there a decor theme that ran through your wedding? What was the inspiration for that particular idea and how did it reflect you as a couple? We didn't have a decor theme as such, but I love anything retro and vintage. I love colour and I love florals and patterns. All those things were seen throughout the wedding.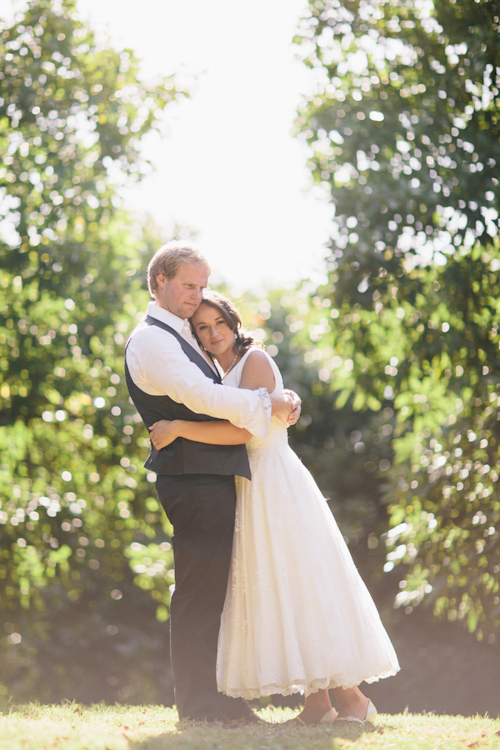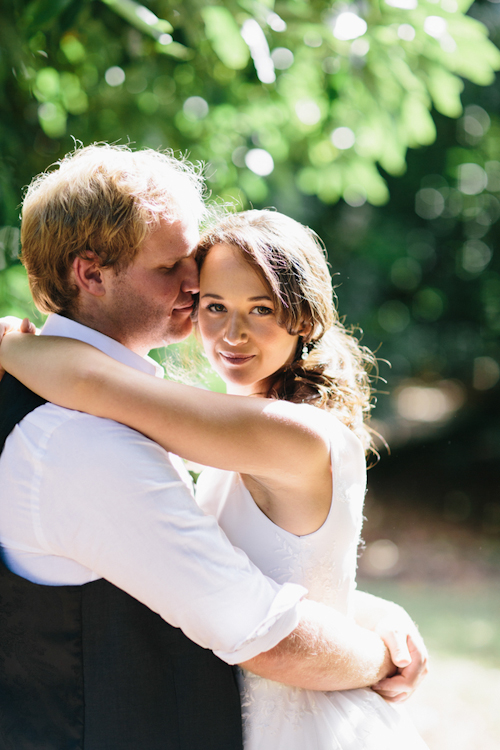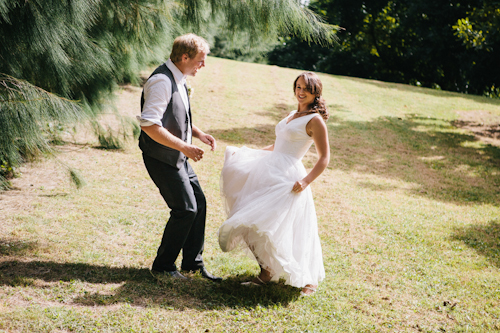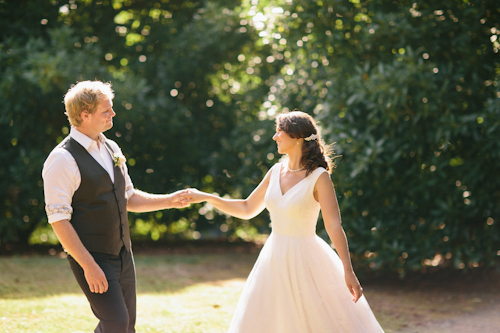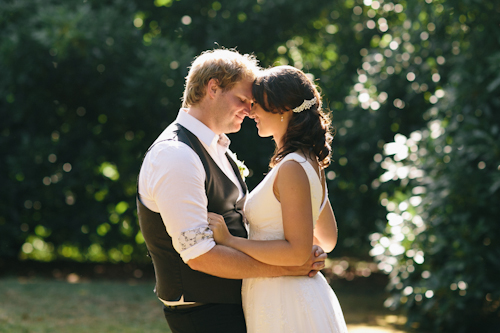 What were some of the different ways you used decor elements to create the beautiful, cohesive event you were envisioning? Wherever possible we made things ourselves and I think that made everything more original and special. We made all the tablecloths out of white calico and table runners out of hessian, plus we made more than 100 metres of bunting to decorate the venue. Our napkins were made out of mint, pink and yellow seersucker and we alternated the colors on the tables. Each place setting incorporated old vintage plates and tea cups too. We bought lots of colourful roses from a local grower and members from our family arranged them in old crystal vases for the tables. They were so beautiful and such a lovely way to get family members involved!
Our wedding favours were homemade plum jam – we put it in cute little jars with floral fabric around the top, and we tied place cards on to each one with twine. They looked so gorgeous on top of the colored napkins!
I collected old jars, decorated them and then turned them into hanging lanterns. We hung them off metal hooks that lined the pathways. They were beautiful during the day and even more beautiful at night, with tealight candles lit inside.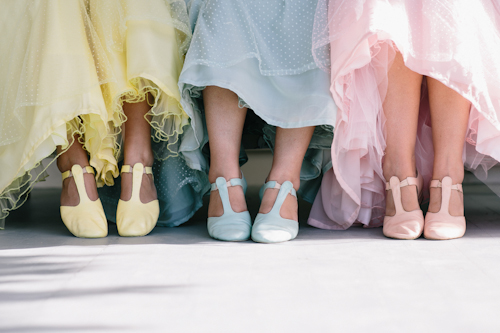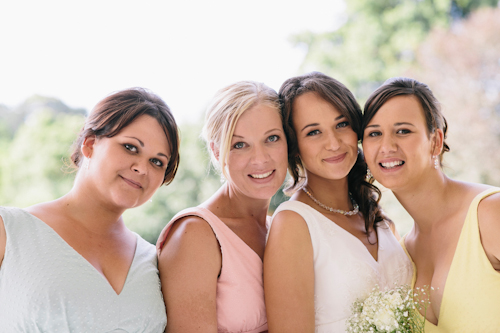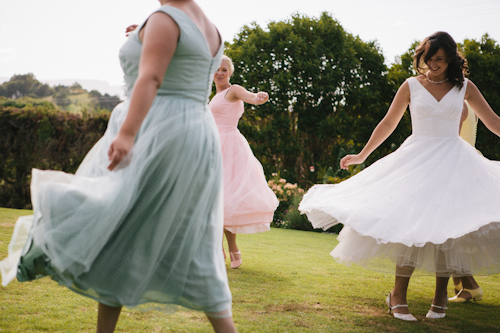 Where did you choose to hold your wedding, and how did the location influence your decor decisions? We had our wedding at Simons family home. They have a beautiful villa on an avocado orchard. It's where Simon grew up so it was really special for us and his family to be able to have it there. It was the perfect location for the summer garden wedding we wanted!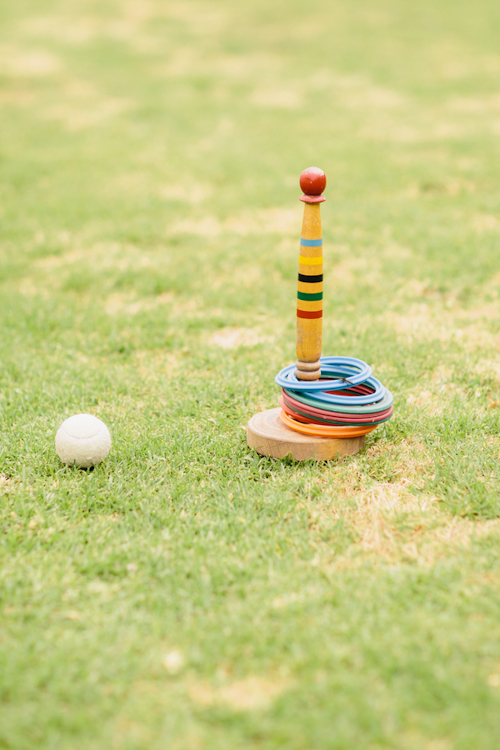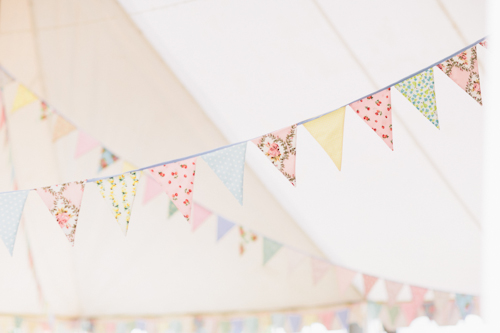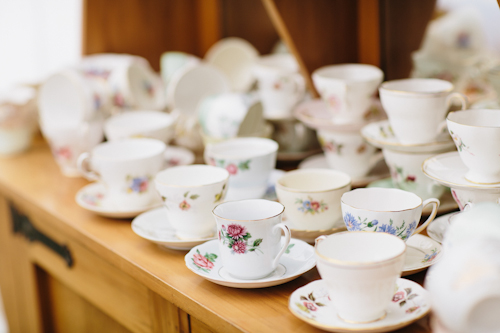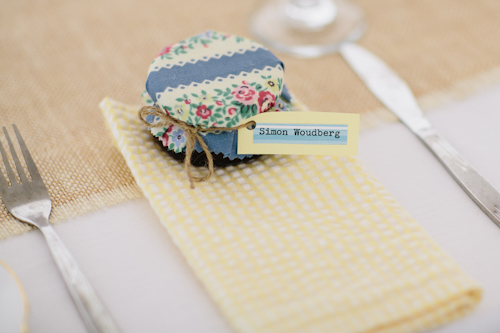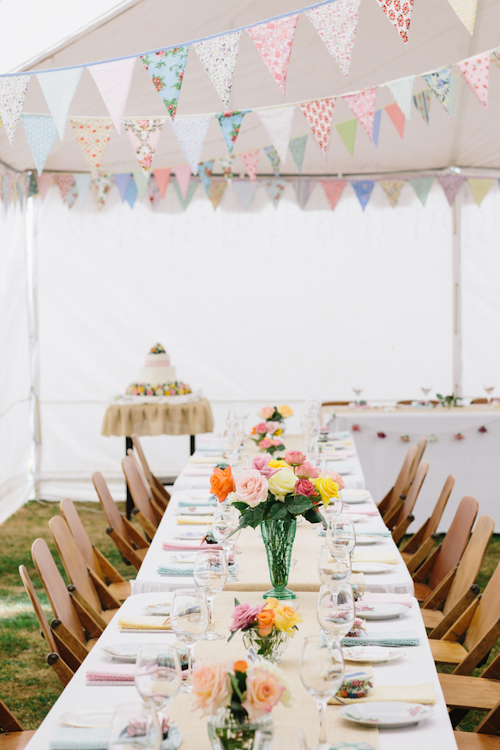 Looking back, do you have a favorite project or successful decor idea from your wedding? Tell us what you loved about it! All of it!!! I loved every little detail of our wedding. I loved how all our ideas came together so well. I loved how original it was. I loved that it was so family orientated and how all our family helped us!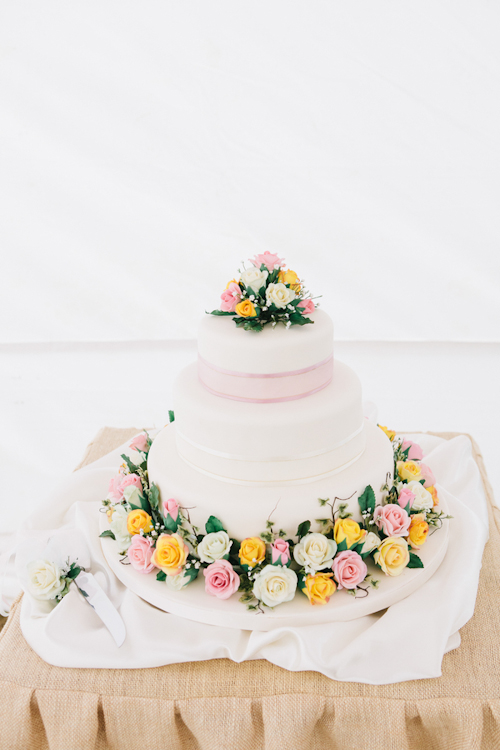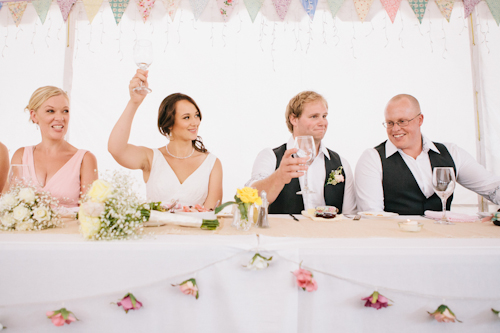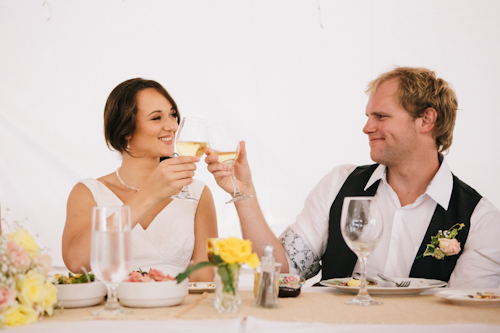 The Wedding Team:
Photographer: Mary Sylvia Photography Ltd.
Ceremony & Reception Venue: The groom's family home
Officiant: Sally Guest from Savour It
Catering: A family friend – Goog Sutherland
Florist: A family friend – Penny Trubshaw
Cake: Simons aunty, Carol Cullen
Wedding Dress: A family friend – Carolyn Kee
Bridal Accessories: Crystal earrings borrowed from the groom's mother, crystal necklace by Carolyn Kee
Bridesmaids Apparel & Accessories: Carolyn Kee
Groom & Groomsmen Apparel & Accessories: Molloys Menswear
Hair Stylist: The bride's sister – Amy Poingdestre
Make-up: Lillybeth from A Beautiful Education
Live Music: DV8
Rings: Artisan Manufacturing Jewellers and Ashley Hilton
Thank you so much Leah and Simon!