Todays Real Wedding of LeeAnn and Doug is definitely one-of-a-kind. After all, how often do you hear about a wedding that was a complete surprise to the bride, not to mention one that was planned entirely by the groom? Man-of-the-year Doug Steding secretly took the reins to plan this wedding for his fiancée from top to bottom, and as youll see below, he carried it off with style and success!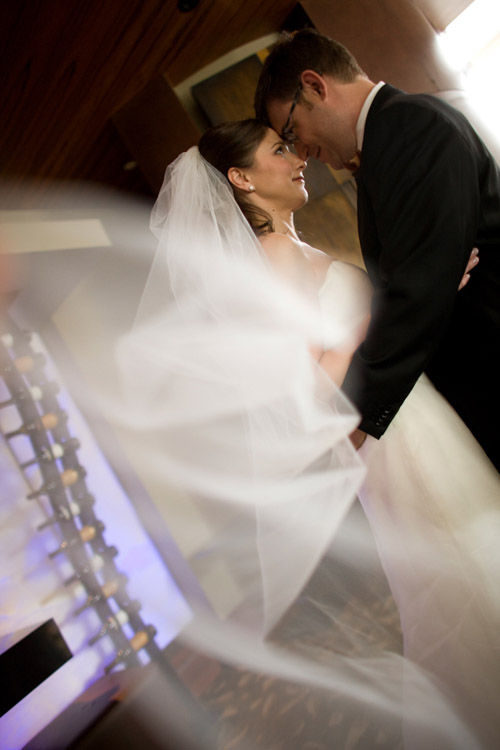 Lets elope or you can surprise me was the end result of a conversation between LeeAnn and Doug as they discussed wedding possibilities one snowy December night. At first Doug thought he would have to be crazy to try to surprise her, so the couple planned to elope to Fiji on April 17. After giving it a bit more thought, Doug decided he could make the surprise happen and he began to set plans in motion. With a great team of professionals supporting him every step of the way, Doug says his planning was relatively easy. In fact, many of the businesses he worked with, especially photographer Jim Garner of J. Garner Photography and the staff at Seattle's Hotel 1000, really got into the story and offered him valuable advice along the way.
Family and friends were all in on the secret as well. One friend helped LeeAnn pick out a Monique Lhuillier dress that would work not just on a beach in Fiji, but also, secretly, in Seattle. The day before the wedding was to take place, LeeAnns girlfriends scheduled a girls spa day, with a plan to gather for cocktails at the Seattle Art Museum that evening, leaving the groom (who was supposedly out of town) free to make last-minute wedding arrangements. At 4pm, LeeAnn was delivered to the Grand Staircase at SAM by her friends, where waiting on a landing half-way up with a ring and an invitation to her own wedding the next day, was Doug. After letting the surprise sink in over glasses of champagne, LeeAnn and Doug had engagement photos taken by Jim Garner and then joined their waiting friends and families for a rehearsal dinner at SAM's restaurant, Taste.

The ceremony at Hotel 1000 the next day was a small and simple affair, complimented with many lovely personal touches. Doug carried his grandfathers pocket-watch, guests received homemade packages of Almond Roca, and a ribbon that LeeAnn loved had been incorporated into her bouquet by Juniper Flowers. Doug had thought of everything right down to the wedding color palette. As an interior designer, LeeAnn often uses her favorite colors green, brown and cream in her work, a detail Doug picked up on and incorporated when designing the wedding.

In the end, everyone agrees it was a great decision to go for the surprise, and the experience of being able to be a guest at her own wedding was a delicious treat for LeeAnn. When asked what his two biggest goals in planning the wedding were, Doug answered, "To keep the secret, and to keep the secret." Mission accomplished! Amazing job Doug!
To learn about all of the businesses that contributed to this fantastic surprise wedding, be sure to visit our Real Weddings section.

Thank you so much for sharing this incredible adventure with us LeeAnn and Doug!
Readers, for help planning your own Seattle or Southern California wedding, don't miss the trusted recommendations in our Plan Your Wedding hot list!