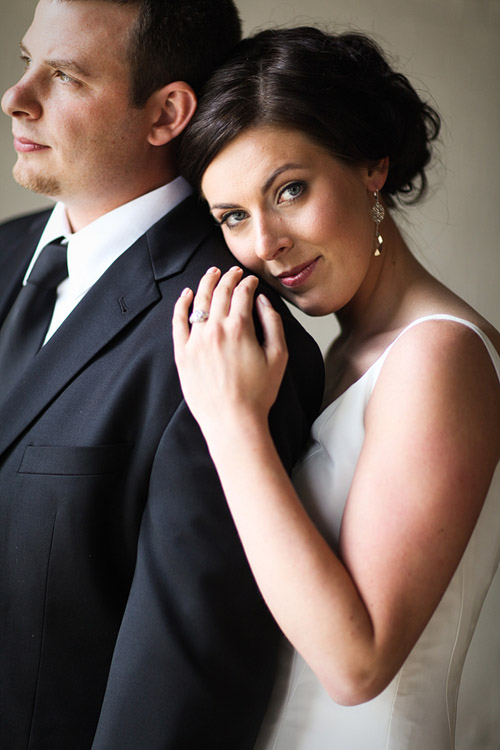 Today's Real Wedding is a special treat, because if you're a regular What Junebug Loves reader, you're sure to recognize this dashing couple, Laura and Billy, from our "4 Week Wedding" coverage from back in August. (See our posts about their wedding planning process here, here, here and here). Laura and Billy won a free wedding from CreativeLive, and after just 4 weeks to bring the whole thing together, their wedding was part of a photography workshop taught by their photographer Jasmine Star and broadcast live to the world! Junebug got to follow along with Laura, Billy and super-star wedding coordinator Daniela Faget from Bella Signature Design as they ran around town quickly scouting locations, trying on clothing, buying rings and tasting delicious things and we met each week for a live webcast from the CreativeLive Studios. What an adventure! So today we're thrilled to bring you the story of the wedding day itself, in Laura's own words, and we raise a glass to Laura and Billy for being so brave and beautiful inside and out, and for gracefully making it through the experience of planning a wedding in just 4 weeks!

When you imagined your wedding day, what was most important to you? Every dream and imaginative thought about our wedding was focused on one thing, our families. We wanted our wedding to be not only about our marriage, but about our families joining to create one LARGE crazy, loud, and loving unit. It was important to us to have everyone in attendance have the best time and stay as long as possible.
As a bride, and particularly as a photographer, I could picture the visual details vividly. I saw the pictures before I saw the event. Our style as a couple tends to be eclectic – I love to junk shop and re-purpose forgotten things – and that became a big part of the event's look. The experience for our guests was equally important, and we really wanted the food to be dynamic and memorable.
What kind of ceremony did you choose and why? We chose a non-denominational Christian ceremony with an emphasis on the importance of our commitment. Both Billy and I grew up in the Christian faith, so it was important to us to be married not only in the presence of our friends and family, but also in the presence of God. We wanted our ceremony to bring light to the challenges and joys a relationship this dynamic offers, and to honor our parents' commitments as examples as well.

The Design: Our reception was in the same location as our ceremony, the Theo Chocolate Factory here in Seattle, and we had 140 guests in attendance. Daniela put together four different color schemes for us to choose from, and we ended up combining the two I liked best. We went with cobalt blue, gold, and warm copper. I wanted the colors to inspire richness and warmth, and to convey a feeling of rustic elegance. Mostly I knew I wanted gold lighting fixtures and chandeliers (I had been collecting them since the proposal), and I wanted a bright pop of color.
For wedding invitations I wanted letterpress. I love the texture it provides, and texture was a focus for most of the wedding details. I knew my friend Olivia's artwork would be a perfect compliment to the theme of our wedding so I asked if we could include some of her drawings on the invitations. We then chose elegant and modern typography by Liz Andrade of CMD + Shift Design and letterpress by Mikal Fousheé of Pikala Press. For favors Theo Chocolate was so amazing to work with. They helped us come up with the truffles as favors and packaged them so beautifully. When it came to wedding cake, which is totally my thing, we had TWO! Our giant white cake included a variety of flavors that I like, and the smaller chocolate cake was for Billy, both by The Icing Diva.

For our first dance we chose Frank Sinatra's "The Best is Yet to Come". We wanted something classic but fun and spunky! And it's so true… the best is yet to come. Then we had a live band performing for most of the evening, and we decided to debut our submission video and outtake reel from the CreativeLive contest for our guests to see! We also had the live Twitter feed from the CreativeLive workshop playing on a large screen. It was so unique and it really brought to light that there were people out there watching us!
What was your personal bridal style and what inspired it? Billy calls my style "an homage to Audrey Hepburn". I like that. Simple and classic, but modern at the same time. I wanted the "bride" look, but nothing too trendy or too typical. I wanted my look to correspond with the overall theme of the wedding so I was really apprehensive about choosing my look before choosing the venue! So much of the venue dictates what dress, shoes or look to convey.
I had searched for a dress almost from the beginning of being engaged and I must have tried on a hundred before I found "THE" dress, a Priscilla of Boston design from La Votre Bridal Couture. It was hard to find something that felt like me but as soon as I put on this dress I knew it was the one! My earrings were custom made by my girlfriend Renae Hatch of Brooklyn Grace and I borrowed my veil from Billy's sister Leah, my maid of honor. I love that it's the same one she wore on her wedding day and I think it was the perfect compliment to my look. Last but not least my shoes were the BEST THING EVER! Don't skimp on the shoes ladies. On my feet all day, these shoes were my saving grace. They were a gift from one of my bridesmaids, and what a gift!
What was the style and look for the wedding party? Eclectic! First and foremost I wanted my bridesmaids to be comfortable in what they were wearing. Allowing them to choose their own dresses meant that each one of them would be wearing something that was representative of their personal style, not just mine. I love each one of them because of who they are individually, and celebrating that was important to me. I gave them the color palette (and reserved final veto power) then let them choose something they liked and felt great in. Everyone is different! No rules!
Please briefly describe two of the most romantic moments you remember. Oh my, this is when I cry. Our wedding was so different in the way it was structured, but it didn't change the dynamic of the moments at all. I'll never forget the way I felt seeing Billy see me for the first time. We had a room full of people there, but we were so focused on each other. We hugged, cried, and it really sank in at that moment that we had come so far, and it was only hours until forever.
It was also unforgettable the way the air seemed to suck out of the room as I walked down the aisle toward the altar. I could feel my heart about to burst out of my chest in that moment. It was like the love in the room was pushing out all of the air and it was amazing the way I could feel it in my soul.

In retrospect what was your best decision? Adopting the mantra of "no rules". When you sign on to plan a wedding in 4 weeks, you have to be willing to make concessions. As soon as I told myself that my wedding could be as unique as I allowed it to be, everything else fell into place. Letting go also helped me to put my trust in the wedding professionals I was working with. Without being able to trust who's on your team, it's an uphill battle. I had the best of the best, and I could trust them with all of my heart.
Were there any other fun, interesting "extras" we should know about? Oh, other than planning a wedding in 4 weeks, and having it broadcast live over the internet? Just that I did most of my initial planning and research on wedding blogs like Junebug. As a bride I'm so thankful to blogs like yours that highlight resources!
The Pros: To learn more about all of the wedding professionals who made this wedding day the one-of-a-kind event that it was, please visit our Real Wedding section!

Thank you for sharing your wedding and entire wedding planning process with us Laura and Billy! What a fun ride it was!
For even more about this wedding you can see all of our weekly webcasts for free on the CreativeLive Workshop Course page as well as Jasmine's blog post about the wedding, and you can get to know Laura through her photography business Laura Marchbanks Photography.
To plan your own Southern California or Seattle area wedding, check out our Plan Your Wedding Hotlists, and to find a dream wedding photographer for your wedding anywhere in the world, don't miss our World's Best Wedding Photographers Hotlist!