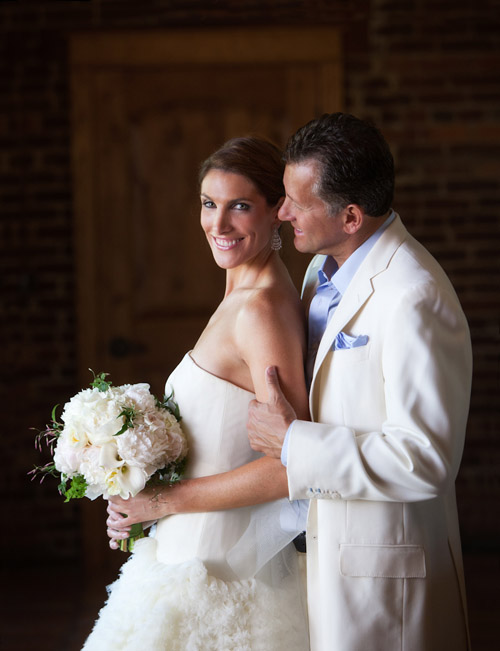 What can I say about this elegant and sophisticated Napa Valley vineyard wedding, except that it was simply divine. New York couple Alyssa and Brett hosted a multi-day destination wedding at The Vintage Estate for their closest family and friends that was the perfect mix of elegance, relaxation and casual fun! Captured by the very talented photographer (and Junebug member!) Catherine Hall, these photos and the wonderful interview with Alyssa will transport you there… enjoy as you head into the weekend!

When you imagined your wedding day, what was most important to you? When Brett and I got engaged, we weren't even sure we wanted to have a wedding. But there is something incredibly powerful about having the most important people in your lives all in one place at one time, and that's what made us decide to go for it. So the most important part for us was to create an environment where we could spend quality time with the people who are most special to us, and also give those people a chance to become friends with each other.
Our wedding was truly a three-day affair. The first day we organized a day of private wine tours, followed by dinner with our entire families together, and then we met everyone out at dive bar in town. Day two was a day in the park with yard games and a picnic lunch, followed by a "Fiesta" themed rehearsal dinner with Mexican food, a Spanish band and lots of toasts/speeches. On our wedding day, we rented out a spa for the girls to all get ready together and the boys went for a brunch at Auberge de Soleil.
We chose a short and sweet outdoor ceremony with a charming Irish minister who focused on the spirituality of love, family and commitment. The ceremony and reception were held at The Vintage Estate in Yountville, CA
What three adjectives describe your wedding best? Elegant, Memorable, Relaxed
In retrospect what was your best decision? Our best decisions was having a small, destination wedding, and hiring an incredible wedding planner, Cay Lemon of Zest Productions, so that we were able to enjoy every bit of the weekend.

Did you have a wedding decor theme or wedding colors? What inspired you? The theme was Mediterranean style meets wine country charm, with a whimsical twist. We wanted a fresh, classic look to compliment the lush green backdrop of wine country in May.
We asked all of our guests to wear white, or shades of white. (Surprisingly the only few to push back on this were all men. The women loved it!) My Vera Wang dress was ivory and the bridesmaids wore short dresses in a champagne color. Brett and his groomsmen wore off-white jackets and pants, with light blue shirts.
We handed out white parasols to the guests when they arrived to shade them from the sun during the ceremony. We brought in accent colors of sage green and blush pink with the flowers, table linens and lighting. I asked one of my best friends from college, Cassie Adams, to design the invitations. We used the Shel Silverstein's book "The Giving Tree" as the inspiration behind it.
What part of your personal bridal look did you love the most? Definitely my dress. My style on my wedding day was completely inspired by the dress, which my husband would describe as "sophisticated sexy."
(Editor's note: There's even more to learn about this beautiful Vera Wang wedding dress – read the sweet story of how Alyssa gifted it to photographer Catherine Hall over on the Grace Ormonde blog!)
Did you have something old, something new, something borrowed, or something blue? Something old – a handkerchief that my mom wore on her wedding day. Something new – Giuseppe Zanotti crystalized t-strap sandals. Something borrowed – earrings from my jeweler designed with 17 carats of diamonds. Something blue – lingerie my sister gave me at my wedding shower.

What moments stand out to you most when you look back on the day? At the rehearsal dinner, Brett kicked off the evening with a speech that had the entire room in happy tears. It was his three sons, however, who truly stole the show with their incredibly thoughtful and genuine toasts that they each came up and gave individually. The other most memorable point in the weekend was at the reception on the dance floor when I looked up to see every single person on the dance floor bringing it!
What were the most romantic and sentimental? Right after the ceremony, Brett and I were taken to a private space to have some time together before we met our guests for cocktails. After all of the anticipation and energy around such an emotional day, those 20 minutes were such an incredible time to just center each other and remember what the weekend was all about. Also, walking down the aisle was much more sentimental than I expected it to be. I asked both of my parents to walk me down the aisle, so having them both at my side as I walked by so many smiling and supportive faces, while seeing Brett waiting for and watching me was pretty magical.
What song did you chose for your first dance? She's Every Woman, and our last dance was Don't Stop Believin'

Thank you so much for sharing your wedding with us Alyssa and Brett!
To learn about all of the amazing wedding professionals who helped create this incredible wedding, please visit Alyssa and Brett's page in our Real Wedding Library!
To plan your own Southern California or Seattle area wedding, browse our Plan Your Wedding Hotlists! And to find a dream wedding photographer for your wedding anywhere in the world, be sure to check out Junebug's World's Best Wedding Photographers Hotlist!