Travel Update- Wednesday, September 24th- Today we say goodbye to Victoria Falls and head back to Lusaka for a few days at my Dad's house. I'm looking forward to really checking out the town, eating my dad's favorite local foods (the popcorn from the street vendors and the deliciously fried "village chicken") and logging some serious hammock time. My family is all about hammocks, and I love them for it.
Today's blog post is from Blair, showing off some sublimely simple wedding cakes. I think I'm in love with the pink and red one in the top row. I'm such a big push over for pink and red together, this inspiration board is my desktop wallpaper!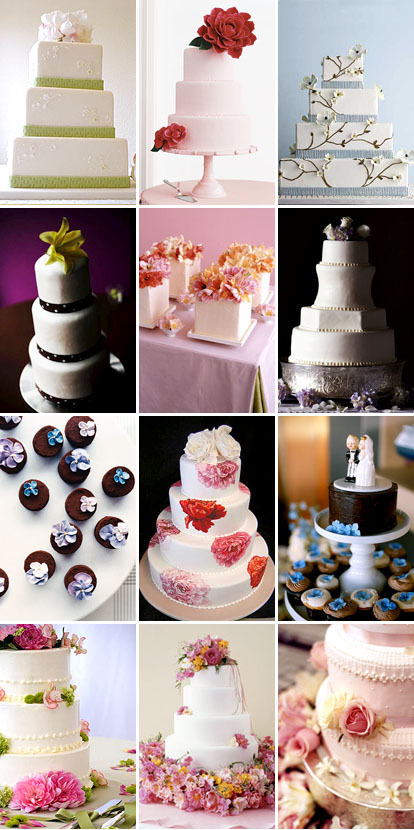 When it comes to wedding cakes, simple shapes with floral accents are all the rage. Whether the flowers are freshly picked, made of sugar, or painted right onto smooth icing, we're seeing more and more delicious and beautiful cakes made to match a bride's wedding flowers and the floral decor of her reception. Above are some of my favorite simple and elegant cakes. Each one has silky fondant icing with little or no piping and a creative floral accent to die for. I especially love the cake pictured in the middle of the top row with the huge red frosting camelia on top, and the one in the middle of the third row with red and pink peonies airbrushed on it. They're classically beautiful but decidely modern at the same time. Faboo! Which cake is your favorite?
Top row:
Curling calla-lily tower cake from MarthaStewart.com
Wendy Kromer's pink fondant cake with gum-paste camellias from MarthaStewart.com
Square cake from Grace Ormond

Second row:
Round wedding cake with polka dot ribbon trim photo by John and Joseph Photography
Parrot tulip cake quartet from MarthaStewart.com
Four tier wedding cake photo by John and Joseph Photography
Third row:
Miniature truffles from MarthaStewart.com
Painted flower cake from Grace Ormond
Wedding cupcakes by Jen's Desserts, photo by Positive Light Photography
Bottom row:
Round cake with fresh flowers
Garden of sweet delights cake from MarthaStewart.com
Pink cake with fresh roses and orchids by Margie Danz, photo by Positive Light Photography