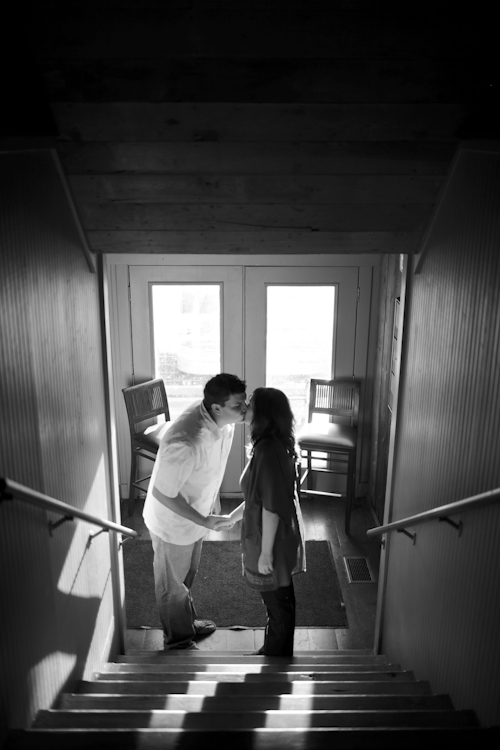 Today's Texas Hill Country wedding of couple Carrie and David was such a fun, full, weekend-long event that we couldn't even fit it into one blog post! Planned by Kelly Simants of Sweet Pea Events with help from Stephanie Miles of Lavender Joy Weddings and the bride herself, who happens to be a wedding invitation designer at The Event Messenger, this wedding weekend was filled to the brim with personal touches and handmade details. What a treat it must have been to attend!
The mini-destination wedding festivities began with a Thursday night rehearsal dinner at Gruene River Grill followed by live music and dancing at Gruene Hall. As a wedding theme Carrie chose the concept of "tying the knot" and incorporated it all weekend long by using lots of thread, string, yarn and fabric in her designs and wedding decor ideas. For the rehearsal dinner Carrie made favors from small mason jars filled with Jelly Belly Jelly Beans (her favorite!) topped with orange fabric and jute twine. Cute! The whole evening was photographed by Jason Huang of Table4 Weddings…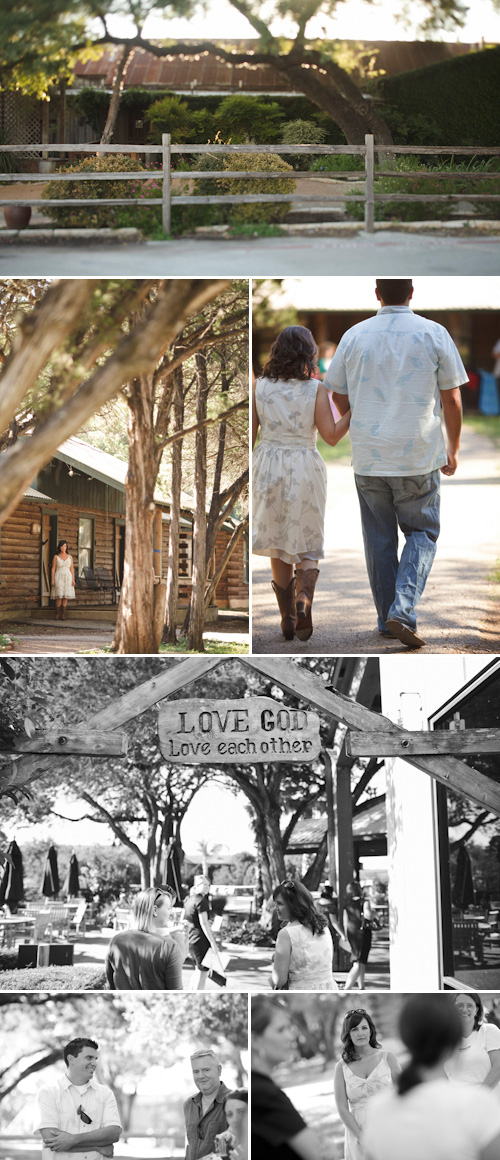 Carrie and David gave their visiting guests adorable welcome bags packed full of snacks and treats to make them feel at home. They even included custom, personalized note card sets designed by Carrie herself and a custom map of the area created by Left Handed Calligrapher out of Dallas, Texas. Personally I must say that I adore their personalized beer coozies!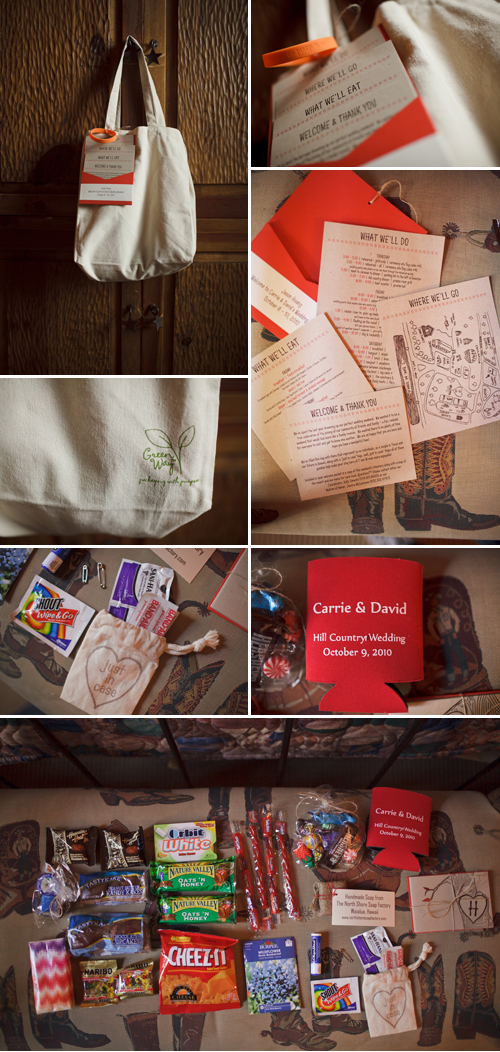 All photos above captured by Dallas wedding photographer Jason Huang of Table4 Weddings.
Friday during the day Carrie and David went floating on the Guadalupe River with their friends and family – what fun! Then, to recover from all that adventure, everyone attended an evening BBQ back at the T Bar M Resort where most of the weekend's festivities were taking place. Adorable rustic ranch decor set the scene for this relaxing pre-wedding party, and the group was lucky enough to be joined by Mitch Webb and The Swindles, an amazing rockabilly band out of San Antonio. Carrie, David and their guests ended the night under the stars making s'mores over an open campfire, specially built for them by the resort. What could be better? And their wedding photographer ee Photography was on hand through it all to capture all the darling details…


The above Friday night BBQ photos captured by ee Photography
Stay tuned for more this afternoon when we show you all of Carrie and David's amazing rustic ranch wedding day!