The lovely Vané from Brooklyn Bride is presenting the Urban Wed Event next week in New York and we wish we could be there to attend! Some of the fantastic NYC professionals you'll get to meet there will include Paper+Cup Design, Paperfinger Calligraphy, Cobblestone Catering, Samuelle Couture, Face Time Beauty Concierge, Hatch Creative, Nine Cakes and Jenny Ebert Photography. Ticket sales are limited to 150 per night, so pick yours up today!
The Urban Wed Event
March 23rd and 24th, 5-8pm
Nest Event Loft
920 Broadway #1703
New York City, NY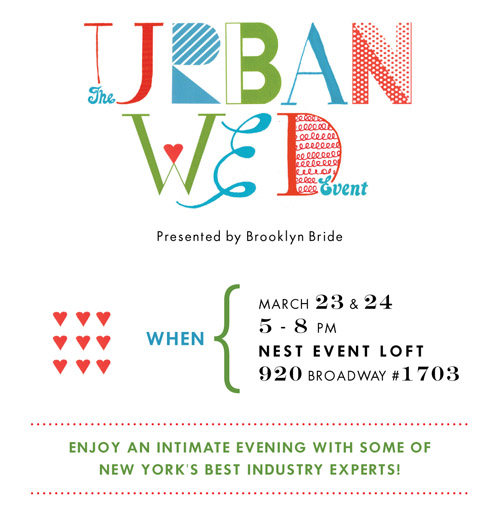 Los Angles brides are lucky indeed to have the new bridal event Unveiled arriving this month! All along Melrose the bridal boutiques of Monique Lhuillier, Carolina Herrera and Temperley London will open their stores and showcase their collections, and other amazing Southern California businesses like Kate Somerville Skin Care, Bacara Resort and Spa, The London West Hollywood, Bella Bridesmaid and Patina Wedding will introduce you to their wedding products and services. What fun! To purchase tickets visit www.unveiledevent.com, and have fun!
Unveiled Event- Bridal Style Revealed
Sunday, March 28, 11am – 4pm
Melrose Place (between La Cienega Blvd. & Melrose Ave.)
Check-in at 650 North La Cienega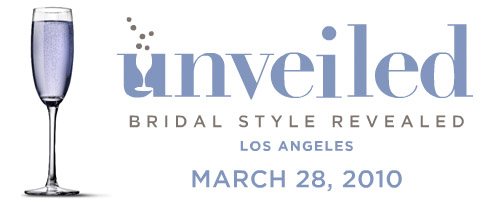 Welcome back Aisle Dash! AOL's bridal site Aisledash.com has been redesigned and relaunched under the watchful and super creative eye of Anne Chertoff of the blog From I Will to I Do, and it's packed full of fun and useful wedding information. Check it out!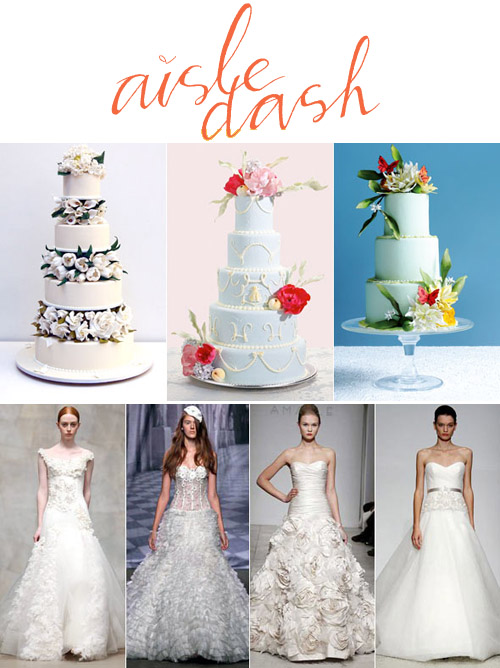 This April during the 2nd annual B-List wedding blogger's conference, wedding bloggers from all corners of the country will convene on Washington DC (I can't wait!) and if you're a wedding vendor in the area, you can be a part of it too! Come meet all the bloggers you know and love at our Wedding Vendor Meet and Greet on Friday, April 16th, and let us know about your business! Space is limited, so get your tickets soon!
Wedding Vendor Meet and Greet
Friday, April 16th, 7-10pm
The Torpedo Factory
105 North Union Street
Alexandria, VA 22314