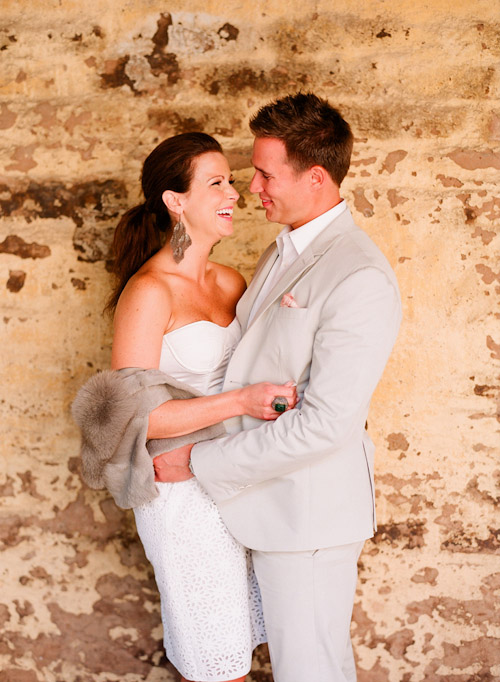 We don't often get to show all of the events surrounding a wedding, so we are super excited to bring you today's wedding feature, coordinated by one of our Junebug members, the amazingly talented Lisa Vorce of Oh, How Charming. We are so excited, that we decided to spread the beauty out over three days of posts! Tomorrow, you'll get to see Cherise and Aaron's jaw-droppingly stunning wedding photographed by Elizabeth Messina, Monday we have an extra special giveaway from Cherise's shoe company, Omelle (hooray!), but today, we just had to share their incredibly stylish rehearsal dinner, photographed by Beaux Arts Photographie.

Cherise and Aaron chose the Santa Barbara Historical Museum for its beautiful courtyards, fountains and rustic chandelier lined walkways. Working with the style of the location, they chose a Spanish/Mexican theme for the evening, incorporated a cream, terra cotta, dark turquoise and washed out copper color palette. Cream paper cutouts were hand crafted with the couple's name and wedding date, and strung around the courtyard. In a unique twist that we love, bouquets were constructed out of corn husks and imported from Nepal.
Guests were served fresh margaritas, sangria and an authentic Mexican feast, topped off with a dessert of Mexican hot chocolate and churros handmade on-site. To make it even sweeter, the churros were delivered in brown paper bags, hand stamped with a turquoise stencil designed by the florist, Mindy Rice.

As a luxury shoe designer and all around fashion-lover, Cherise was dressed to impress in a white Dolce & Gabbana corset and eyelet dress, topped with a vintage cropped fur jacket and her very own custom made Omelle shoes. Aaron wore a light gray Neil Barrett suit with a white Prada shirt, Gucci loafers and a Paul Smith pocket square.

Take another peek into this stylish event with the lovely event film from Living Cinema:
Cherise and Aaron's rehearsal dinner looks so lively and fun, oh how we wish we could have been there! Stay tuned tomorrow for tomorrow's Real Wedding, and Monday's giveaway – they are definitely not to be missed.
Event Planning and Paper Accessories: Lisa Vorce – Oh, How Charming!
Photography: Beaux Arts Photographie
Videography: Living Cinema
Rehearsal Dinner Site: Santa Barbara Historical Museum
Catering: The Food Matters
Flowers: Mindy Rice Floral Design
Live Music: Mariachis Mexicanisimo
Lighting: Bella Vista
Rentals: Town and Country