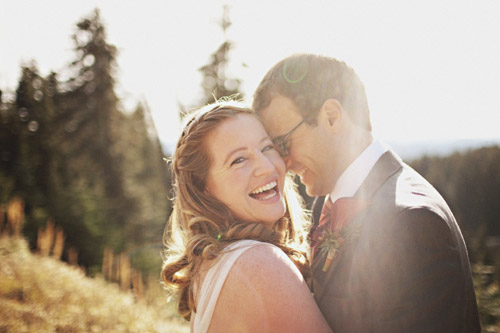 Lucy and Matt's fall wedding, on a cold but beautifully sunny day last October, was a charming mixture of rustic, Pacific Northwest-inspired details and personal touches from the couple and their close friends and family. Photographed by Sean Flanigan Photography, this sweet mountain wedding makes us smile every time we look at it.

The Goals: After being together for ten years, and living in five different cities together, Lucy and Matt had a wonderful group of friends that were scattered across the country, so it was important to them to get married in a place where everyone would be able to stay for the weekend and have a bit of a vacation themselves. At the same time, they wanted their wedding to be reflective of their roots and collective history. Having met and fallen in love in Oregon, the couple has always considered it home. Mount Hood's Timberline Lodge was the perfect fit for their big day – a quintessential Northwest location owned by the forest service, it's a spectacular retreat near the top of Oregon's highest mountain.
Language is very important to Lucy and Matt, an attorney and a rhetoric grad student, respectively, so creating their own ceremony also became a meaningful part of their wedding planning. They incorporated quotes from literature, law and religious texts into their ceremony, and says Lucy, "it was one of the favorite things that we did for the wedding."
The Design: The couple didn't have a set color palette, opting instead to use colors that fit the fall season and the setting of a Pacific Northwest mountain lodge, like brown, maroon, navy and green. Lucy and Matt also created many of their wedding items themselves; from their save the dates and programs, to their handcrafted tree trunk cakes stands. As wedding favors, the groom's mother made jars of homemade Marionberry jam for each guest to take home. In addition to flowers, throughout the reception hall the couple also displayed family wedding photographs from years past as part of their decor.
The Look: The bride was blushingly beautiful in a gown by Melissa Sweet and a veil that was worn not only by her mother, but her mother's four sisters as well. She completed her look with a sparkling headband by Ban.do and strands of pearls around her neck. The groom wore a three-piece suit and incorporated their maroon wedding colors into his tie, boutonniere and argyle socks.

The Moments: Lucy and Matt both found the moments before their wedding to be some of the most romantic of the day. Says Lucy, "one of the most fun moments was running around in the woods and on the mountain, taking pictures with Sean and Lidia before the ceremony started. We were both really nervous and excited, and it was just amazing to be out in nature, taking in the day". For his part, Matt had to agree; "I had a lot of fun during the day of our wedding, before the ceremony and reception. Lucy and I went on a hike on the mountain, and everything was really peaceful and filled with anticipation. Plus, we could look around the slopes and see people we knew everywhere – we were alone, but everyone was out there with us."
The Details: For their first dance as husband and wife, Lucy and Matt chose a bluegrass version of "I Will" by The Beatles, played by two of the bridesmaids on vocals and violin, Lucy's father on the banjo, and the live band, Pressure Point, on back-up. Lucy says this was definitely one of their favorite moments of the day, although "it was hard to dance, because we wanted to just stand there and watch them play."

Looking back, the couple agrees that their best decision regarding the wedding was, in fact, having a wedding. "When you have been together for a really long time, it's easy to think that it might just be easier to elope or go to the courthouse. As difficult as wedding planning may be – trying to make all of your family members happy, stressing out – it is so worth it to have that day where everyone who is important to you in your life is together, in one place. It's a once-in-a-lifetime opportunity, and we're both still filled with happiness from that day". We couldn't agree more!
The Pros: To learn about all of the wedding professionals that helped to make this wedding a reality, please visit our Real Weddings section.

Thank you so much for sharing your sweet wedding with us Lucy and Matt!
If you're planning a Pacific Northwest or Southern California wedding of your own, don't miss our trusted Plan Your Wedding Hotlist!