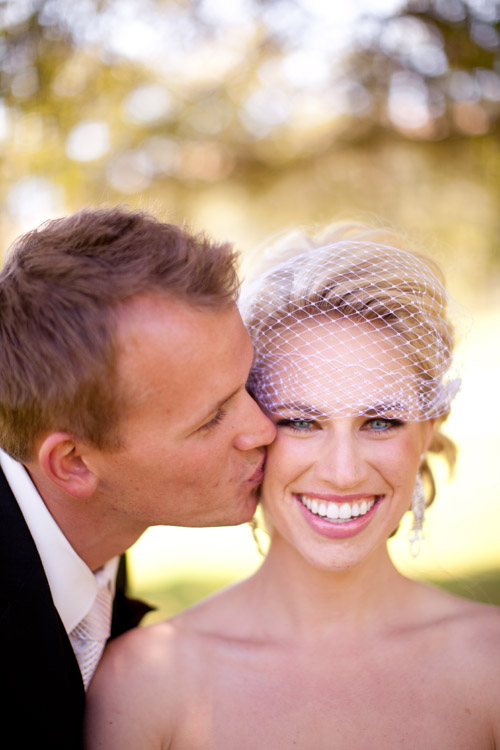 The Couple: Abbey and Jake
The Wedding: 6.18.11 – Dolphin Bay Resort – Pismo Beach, California

What adjectives that best describe your wedding? Exquisite, rustic, enchanting, blissful
What inspired your personal wedding style, and how did you incorporate your style and personalities into your big day? Our wedding style all began with this amazing bowl that my mom and I found shopping one day. My mom bought it for us as an engagement present and it ended up being the piece that our wedding look flowed from. Its this oversized burled, wooden bowl that perfectly captures Jake and my personal taste! Hes a hunter and Im totally into the rustic hunter cabin look thats casual, warm and inviting with lots of wood and earthy tones and textures. But as my dad likes to say, I have expensive taste and I like things to look NICE. This is where the exquisite and rustic look came from. Ever since I was a little girl, Ive loved butterflies, so we had to add a few touches here and there – I couldnt believe that you could buy live butterflies online and have them shipped for your special event!

Looking back, what are the moments, decisions or memories that you love the most about your wedding? Jakes whole family flew out a week early from Minnesota and were able to see where Im from and where Jake and I will be living. Theyd never been to California before, so it was fun for them to see some of the highlights and just be able to relax out by the pool and spend a lot of quality family time together. We even rented a trolley and did some wine tasting on our way over to the coast which was an absolute blast and everyone really enjoyed!
Our favorite moment of the wedding was during the ceremony, when Jake and I walked out towards the edge of the cliff overlooking the ocean and prayed together for our unity moment. It was so intimate and personal and its a memory well cherish forever. We were SO glad that we chose to do a destination wedding – everyone came a day or two early to spend a fun weekend away, so it was laid back, low stress, and people were ready to have a good time!
What was your wedding color palette? Earthy tones with eggplant purple, mustard golden yellow, and mossy green.

Wedding Team:
Photographer: Breanne Schaap
Event Planner: Denae Vine
Ceremony and Reception Venue: Dolphin Bay Resort
Officiant: Steve Duyst
Invitation Designer: Paper Heart Design–Tiffany Deniz
Catering: Dolphin Bay Resort– Lido Restaurant
Florist: A Berry in the Wild–Donise Newkirk
Cake: Dolphin Bay Resort– Lido Restaurant
Wedding dress and bridal accessories: Whats Up Europe
Bridesmaids apparel and accessories: Whats Up Europe
Groom and groomsmen apparel and accessories: Mens Wearhouse
DJ: Muir Music
Transportation: 1957 Red Porsche
Rings: Ashoori Jewelers and Preusser
Thank you Abbey and Jake! How gorgeous!
To find inspiration for your our personal wedding style, don't miss our Wedding Photo Gallery!