Today's Real Wedding of Selome and Abiy comes to us from John and Joseph Photography, and is so full of life, love, excitement and community I could hardly narrow the photos down! This gorgeous couple met through mutual friends in Addis Ababa on New Year's Eve 2004, and soon after that Selome knew that Abiy was the one!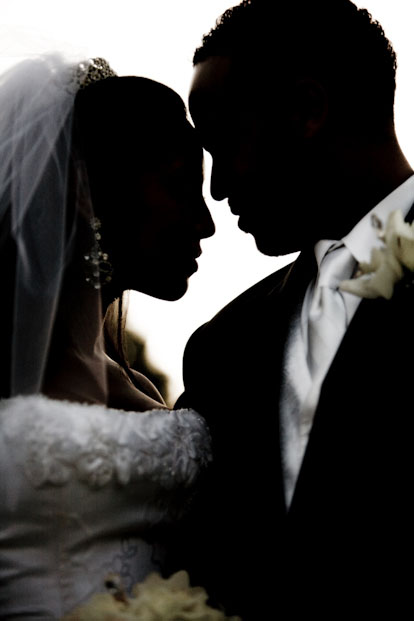 Their goal was to plan a wedding that included their huge groups of friends and family, and really make everyone feel involved. Because they had so many events throughout their wedding weekend, including a traditional Ethiopian ceremony and reception the day after this one, it was the perfect opportunity to include everyone in the planning duties. Aunts, uncles and parents formed a wedding committee that met regularly and delegated many responsibilities, and Selome's mother and Godfather Danny acted as the main wedding coordinators. It was truly a family affair!

The wedding day started with Selome and Abiy each getting ready with their friends, and then as Ethiopian tradition states, Abiy, his groomsmen and his family arrived to pick up Selome from her parent's house where everyone was celebrating with dances and songs. According to Selome, "It was so much fun because the tradition is that my family is supposed to give his groomsmen a hard time and try to make them earn the right for the groom to enter into my house. Everyone sings traditional Ethiopian wedding songs, it is chaotic, loud and so much fun!" Love it!

The wedding ceremony was a traditional Ethiopian Orthodox ceremony held at St. Gebrie churchl in Seattle. With all the activity of the day, Selome and Abiy cherished their romantic moments alone together as they rode in a vintage Rolls Royce on the way to and from the church. "When we entered, the church choir was singing and it was a celebration. It was important to us to have the traditional blessings of our marriage in our church. Part of this ceremony includes the beautiful hand embroidered, gold encrusted crowns and capes that signify the meaning of marriage and how it is a special covenant before God. Also, it was in the Amharic language so we provided programs with English translations so our guests could follow along."

After the ceremony the wedding party took time for fun photos at Hamilton View Point Park and the Olympic Sculpture Park, and then arrived in style at the reception at the Waterfront Marriott Downtown Seattle. Selome chose orange, gold and cream with touches of chocolate brown as their wedding color palette, and she loved how vibrant and tropical the orange color looked on all the bridesmaids with their beautiful skin tones. Selome carried a white and cream bouquet and the bridesmaids flowers were orange and cream. For the décor she wanted a very clean look, so she chose all white and cream for the linens, table flowers, and backdrops. Orange was used as a minor accent on the cake table, in some of the floral arrangements, and in the the up lights, spotlights and the monogram on the dance floor. Beautiful! Selome's mother and aunt made homemade Ethiopian honey wine as favors for all 600 of their guests, and everyone danced until well after 3am! The night ended in a sentimental and meaningful tradition, with Selome and Abiy kissing goodbye all of their family elders one by one as they stood in a line. "It is almost like a rite of passage where we are leaving them to start a new life together," said Selome. As you can imagine, everyone was in tears! What a perfect way to end the night.
Thank you Selome and Abiy for sharing such a spectacular and sweet event with all of us! For more information on this wedding and the professionals who helped make it happen, please visit our Real Weddings section!