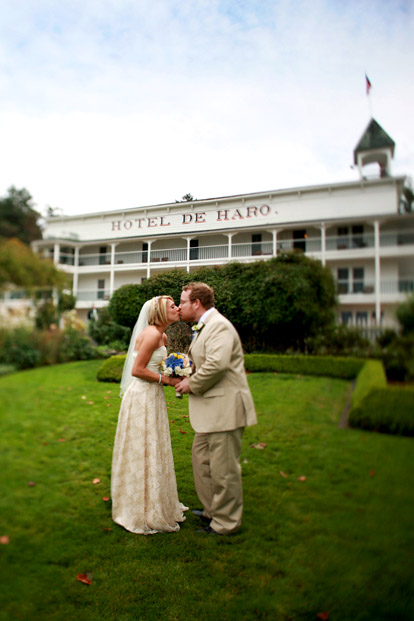 Rachel and Patrick are recent transplants to West Texas, and had been homesick for their Pacific Northwest roots, so when it came time to plan their wedding, a destination weekend up in the San Juan Islands was the perfect way to celebrate their new life together! Their friends and family all joined them at the Roche Harbor Resort and spent the whole weekend soaking up the relaxed surroundings during perfect Indian summer weather.

With a color palette of Pacific blue, cream and khaki they created a casual beach inspired wedding that matched the sea and sky around them. Rachel wore a dress from Cicada that Patrick's sister had actually had custom made for her own wedding 3 years before, the bridesmaids wore dresses from Ann Taylor and Patrick and his groomsmen all wore suits and ties from Banana Republic. As they all got ready on the morning of the wedding, Rachel realized that her veil had been left back in Seattle- a 2 1/2 hour drive and 1 hour ferry ride away! Patrick somehow worked his magic and arranged for a friend in Seattle pick up the veil and deliver it to a sea plane on nearby Lake Union that was heading up to Roche Harbor. The veil made it's way up to the island in no time flat, and Rachel was able to wear it for their photos. Incredible!

Rachel and Patrick had lots of time before the wedding to explore the island and all its stunning locations for photos with their dear friend and photographer Shannon from Riso Studio. The wedding ceremony itself was simple and sweet. Rachel was walked down the aisle by her grandfather, Patrick's Uncle played the acoustic guitar, and a family friend acted as their officiant. "It was wonderful to have the family involved in that way. We could not have asked for a better ceremony."


Thank you so much for sharing your wedding day with us Rachel and Patrick!
To learn more about the professionals who contributed to this wedding, be sure to visit our Real Weddings library, and for recommendations on planning a stress-free Seattle or Southern California wedding check out our Plan Your Wedding Top-Ten Hostlist!