Today's Real Wedding is amazingly sweet and simple, yet it radiates personal style. (It also makes me crave the warmth and joy of summer in a huge and wonderful way!) I love it!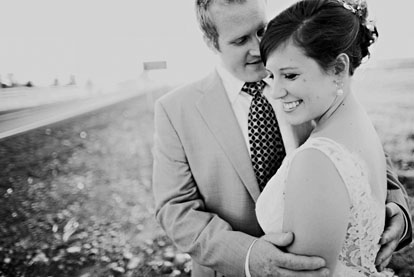 Janna and Charles were married on a spectacular sunny day last September at the K Vintners winery in Walla Walla, Washington. Janna works as the national sales director for K Vintners and although the winery normally doesn't host events, a special exception was made just for Janna and Charles, of course. It was a day of ease, originality and fun, and the happy couple made sure that it was filled with great food, great wine, and a rockin' dance party! I adore these photos taken by the talented Sean Flanigan, our newest Junebug member photographer. I can practically feel the late summer sunshine on my face just looking at them!

The big day began with a visit to the local farmer's market, followed by quality prep time for all the gals and all the guys. The bridesmaids wore little black dresses and gold jewelry that they chose themselves, and the groomsmen wore their own black suits with green and blue ties that Janna and Charles gave them as gifts. When the ceremony arrived Janna's father walked her down the aisle, and as they prepared for the big moment just before hand, the emotion of the day really hit home. During the ceremony Janna's high school history teacher acted as the officiant and the couple read vows that they wrote themselves. Chuck's vows were "so funny and true to us," and hearing him read them was one of the most sentimental parts of the day for Janna.

On the vineyard grounds is a bright white farm house built in 1885, with a sprawling lawn dotted with huge old trees planted in the same year. Because its so green in the summer it seemed natural to Janna and Charles to use of shades of green and white in their wedding color palette, with just a hint of blue added in to give it a bit of a pop. Janna's sister-in-law Lindsay designed all the invitations, table numbers and menus, which were inspired by a drawing that Janna had owned forever and just loved. "It is a very stylized version of a tree with wonderful greens, yellows, white and just a bit of blue. We basically used that as the inspiration and it was perfect with the old trees at the property." As simple and super charming decor Janna's uncle and his partner graciously hung 35 paper lanterns in the old trees, and their menu of fresh foods like slow roasted pork, pheasant and duck was a major focus of the reception. Their first dance to All Green by Clem Snide was super romantic, and as the evening arrived the air turned cooler but everyone kept warm and happy by dancing and enjoying the amazing local wine.

What a gorgeous celebration, thank you so much for sharing it Janna and Charles! To see more photos and to learn all about the professionals who helped create this wedding, check out our Real Weddings section, and enjoy!