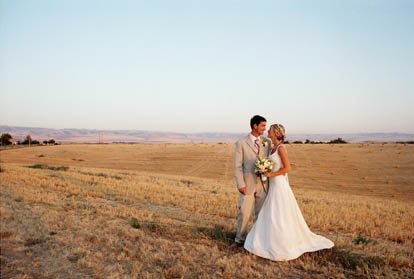 Today I'm thrilled to bring you a Real Wedding that is near and dear to my heart. Brooke and Justin are one of the sweetest couples I've met in ages and one sun-drenched day last August, Blair and I were lucky enough to be their wedding photographers! That's right, we got to run around the stunning grounds of the Va Piano Vineyards in Walla Walla, Washington, soak up the sunshine, eat grapes straight off the vines, and take part in this romantic and fun-filled wine country wedding.
Brooke and Justin's romance began when Justin was the first boy Brooke spotted when she arrived on campus for her freshman year of college, and she thought that maybe college life wasn't going to be so bad! Adorable! On the last day of school they had their first kiss, and the rest is history. After moving to Eastern Washington to pursue Justin's career as a winemaker, these two wanted to show their family and friends the beauty of this area they loved. They chose one of their favorite vineyards for the ceremony and reception and designed everything around the wine, the landscape and the love they share for everyone in their lives.

With their color palette of sunflower yellow, green and burgundy grape their decor perfectly played off the rich colors of the surrounding land and thoughtful details abounded. Ribbon tied bunches of wheat and lavender decorated the backs of the ceremony chairs, a magnum of wine was used as a guestbook, an outdoor photo booth got guests in on the action, Justin's light blue convertible VW Bug was used as the "gift table" and piled high with gift-wrapped packages, snow cones were served to the young (and young at heart) and instead of a classic wedding cake there were yummy cupcakes for everyone. Even after all that, my favorite details of the day were the bottles of Justin's very own wine that the guests got to take home as wedding favors, complete with custom labels featuring the happy couple.

Brooke and Justin's friends are hugely important to them and you could tell that the same was felt in reverse. The day before the wedding, Brooke's girlfriends helped her with all the flowers and decorations, and they stopped to have a luxurious lunch together to celebrate their friendship. Her best friend's mother acted as their officiant and during the reception there was a special surprise performance by a huge group of their buddies who wrote and sang a (very funny) song about history of their love. Brooke and Justin were in tears of laughter and loved every minute of it!
I personally adored the fashion of the day. The guys in their crisp tan Banana Republic suits, the ladies in their simple brown J. Crew dresses, Brooke's sweet floral hair wreath, pearl jewelry, cork covered high heels (how perfect for the vineyard!) and Madina Vadache wedding dress with ribbon ruffles along the neck and waistline. Unbelievably darling. Blair and I were in heaven!
Thanks so much for sharing your day you two! To get the rest of the details on Brooke and Justin's talented wedding team, be sure to visit our Real Weddings section, and have fun!