Travel Update- Friday, September 12th- I'm flying! Goodness it takes a long time to get to Africa!
Today's Real Wedding of Amy and Jon comes to us straight from the beaches of Hawaii. Feeling overwhelmed with planning a huge local wedding, Amy and Jon decided to shift gears and make theirs a simple, intimate, and beautiful affair by heading to the islands. With just four months left to go, they planned and hosted a destination celebration for 28 of their closest friends and family at the Four Seasons Resort Hualalai on the Big Island of Hawaii. Perfect!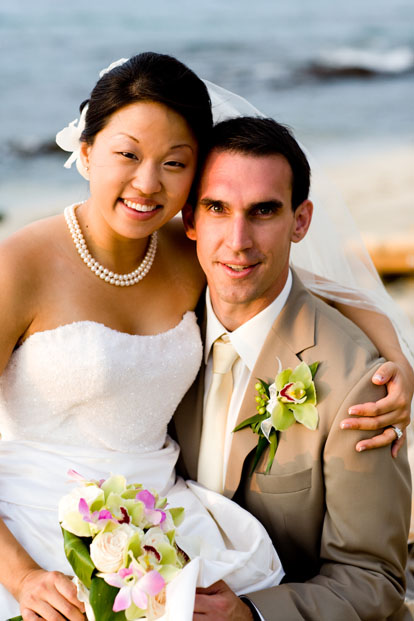 As Amy was getting into her dress, she started have those famous pre-wedding nerves, and at the very same moment she received a picture message on her phone from Jon. The Big Island has lava rocks all over and traditionally people will take white rocks and shells and create messages on top of the black ones. Jon had pulled over on the side of the road and spelled out, Amy + Jon on the lava rocks for her, and once Amy looked at the picture, she was immediately calm again.

The ceremony was on a grassy bluff overlooking the water and they wanted to create the feeling of an intimate, elegant, earthy, green paradise for all of their guests who's presence at their wedding they so appreciated. Wedding coordinator Kelly Simants of Sweet Pea Events helped with all of the details, and arranged for over 3,000 loose orchid blooms to fill the aisle all the way up to where they said their vows.



John and Joseph Photography travelled along with the happy couple to document their day and they captured unbelievable images as always. The photos are romantic, intimate and elegant, just the qualities Amy and Jon were hoping for!

The reception was all about great food and lots of fun, and at the end of the day they felt that their best decision was following their instincts and planning a destination wedding that was perfect for them!



Thanks for sharing your wedding story and beautiful photos with us Amy and Jon! For more information about this Hawaii destination wedding, be sure to visit our Real Weddings section!