Today's Real Wedding is darling for oh-so-many reasons! Newlyweds Amelia and Brandon have been great friends for years, so their ceremony and reception were all about honoring and celebrating friendship. They had lots of sweet personal touches throughout the day, like Amelia's little brother reading from The Velveteen Rabbit during their morning ceremony, her grandmother (who is in her nineties) playing the violin at the reception, and a fun wedding color palette of olive green and light and dark purple. I love their beautiful photographs from GH Kim Photography, and that sparkle you can see in their eyes when they're looking at each other! A great friendship indeed!
Check out the rest of their talented wedding team in our Real Weddings section.
Their green and purple wedding color palette looks so stunning in all of their photos, and really lends itself to all kinds of beautiful and unique possibilities. It could easily be lush, formal and classic, or playful, funky and eclectic and be totally gorgeous either way!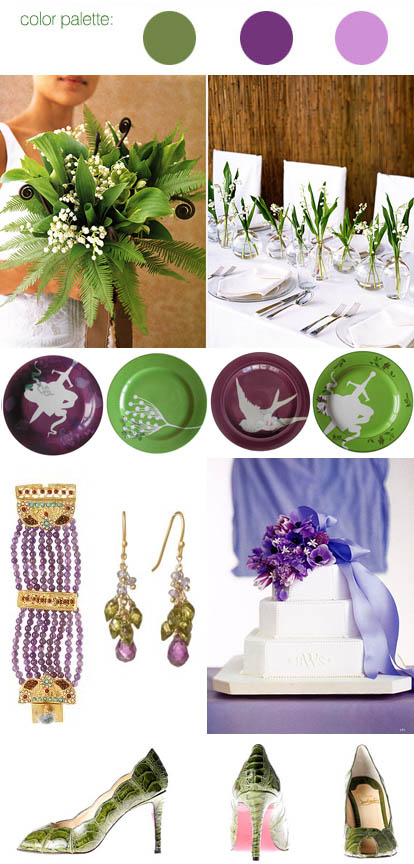 Top row:
Photos by Sang An and Rebecca Thus
Second row:
Rehabilitated dishware by Sarah Cihat via The Hostess with the Mostess
Third row:
Byzantine bracelet and aubergine earrings from Anthropologie.com
Photo by Craig Cutler and Rebecca Thuss
Bottom row:
Green ostrich shoes by Christian Louboutin