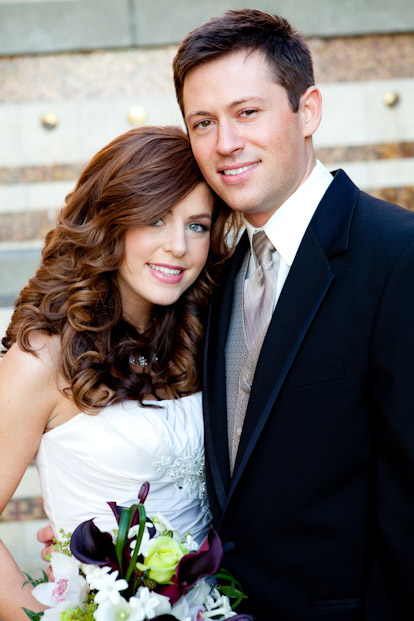 Jacqueline and Jonathan were married last January in a modern, sophisticated wedding at the brand new Four Seasons Hotel in Downtown Seattle. The hotel had just been completed, and was a chic and exciting addition to the city's bustling downtown core. Jacqueline chose to wear rich pink lip color and gorgeous red-bottomed Christian Louboutin heels with her romantic Enzoani Couture wedding dress, and decided to forgo a wedding veil altogether because it just wasn't her style. Our own Kim Bamberg of La Vie Photography and Junebug was there with her husband Adam to capture every moment of the day.
In order to have time to explore some of Seattle's landmark locations for photos with their wedding party, the happy couple chose to see each other before their ceremony on the hotel's pool deck. Steam was rising from the water, the beautiful Puget Sound stretched out before them and it was one of the most romantic moments of the day. "He looked so handsome and serene. We were both trying so hard to stay calm during the wedding preparations earlier that day, but when we finally got to see each other, there was this surge of emotion and excitement. Its an amazing feeling to look at someone who awes you, and know that they are waiting to give themselves to you for a lifetime."

Jacqueline and Jonathan were married by Jonathan's father, who was so moved by the experience that he forgot to say "you may now kiss the bride"! The couple was half way up the aisle during the recessional before they realized what they had forgotten to do! "We stopped to kiss right there, with all of our guests clapping, cheering, and snapping photos around us. It was a fun memory that we will always get a good laugh from."

With a color palette of black and cream with splashes of plum, moss and champagne Jacqueline and Jonathan chose simple modern decor and floral arrangements that would compliment the hotel's existing urban zen aesthetic. Jonathan sweetly serenaded Jacqueline during the reception, and at one point they managed to sneak away to enjoy a few minutes alone next to the large lobby fireplace. "We were both on cloud nine, and it was nice to have a moment to share the excitement. The whole day felt so surreal, and I think we were both just pinching ourselves to make sure it wasnt a dream, and holding each other to make sure that the other wouldnt disappear." To close the night, a big band played music from the 20s and 30s, and the whole dance floor was packed with guests of all ages.

Thank you for sharing your wedding day with us Jacqueline and Jonathan!
For more information about this wedding, please visit our Real Weddings section.
To plan your own Seattle area or Southern California wedding, check out our Plan Your Wedding hot list!