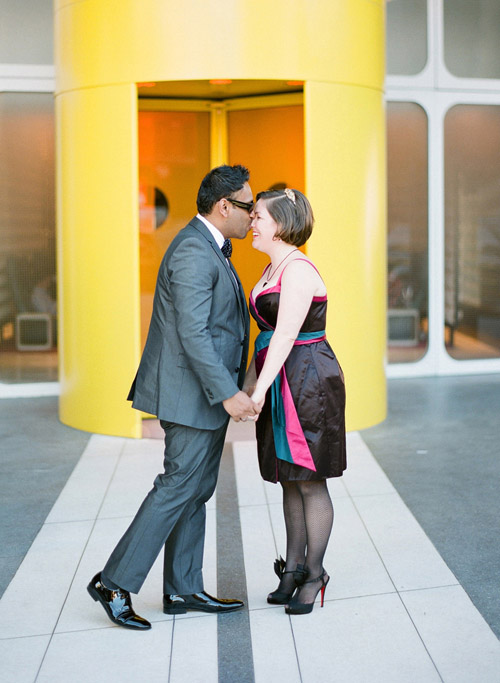 The Couple: Meredith and Madhura
The Wedding: 4.10.10 – Union Square Ballroom, New York, NY
What three adjectives that best describe your wedding? Fun, personal, unique
What inspired your personal wedding style, and how were your personalities incorporated into your big day? At some point we gave up trying to decide on a cohesive theme in favor of something that felt really personal, intimate and fun to us. And even though wine, 1980s music, family heirlooms, and a newly designed family crest seem unrelated, it really did all pull together somehow. We used wine corks as place card holders and tied them with chocolate ribbons and crystal beads, and then iridescent lilac paper with plum crest seals. The table numbers were record covers of 1980s artists (such as Duran Duran and Cyndi Lauper) affixed to champagne corks in wine bottles with our crest on the label.
We wanted to create a family crest for us that incorporated various elements of our personalities as individuals and together as a couple. We chose lilac as the color because it represents Rochester, New York where Im from. The lotus is the national flower of Sri Lanka where Madhura was born. The crest itself brings together my European heritage with Madhuras schooling in the UK. The Chrysler building obviously symbolizes New York City – the place we both came to love and fell in love in. We struggled to figure out how to incorporate our beloved dog, Bella, and coincidentally the designer used the font, Bellas Artes, for our initials.
As a bridesmaid 13 times over, I never really wanted to wear a long white dress and I didnt want to impose a dress on my best friends. So I picked a fun dress (which was ultimately chocolate, hot pink, and teal–kind of 80s actually) and stylish shoes!
We made decisions early on about what we really cared about and what was worth investing time and money in. At the end of the day, we feel like a party is about the guests, who mostly care about food, drink, and music. We care about wine and beer, so we appreciated finding a place without a corkage fee, and free bartending as long as we picked two signature cocktails. Neither of us wanted to spend a lot on flowers or table linens, so we went with someone we knew, who we trusted to do something great with what was available. We also focused on lasting elements, such as the crest design which we repurposed as a piece of art, which now hangs above our bed.
We also are madly in love with our rescue dog, Bella, and we had to incorporate her into our special day. She was the ring bearer and wore a ring pillow my mom made using my late grandmothers hankerchief and affixing it to a harness. We served Bella-inis as our signature cocktail, which also happens to be the first drink Madhura made for me when we started dating.

Looking back, what are the moments, decisions, or memories that you love the most about your wedding? There are so many amazing memories, its nearly impossible to narrow them down. Opening the door to our apartment with both my parents by my side and looking down the aisle at Madhura was the most moving. We debated whether to have an intimate ceremony or a fun party. And ultimately, we are happy we decided to have it both ways with a small ceremony officiated by a friend with just our closest family and friends followed by a larger (65 people) party. Ive got to say that I love, love, love the vows we wrote, so much so, that I had them immortalized in calligraphy and they hang over our bed. Then theres our 80s dance party which brings back countless fun and meaningful moments from slow dancing with my grandmother to Time After Time and rocking out to Welcome to the Jungle. We are of course biased, but we think our friends and family who gave speeches were all extraordinary – hilarious and personal. And I must say that we tried to inject a lot of fun into the planning, such as taking our friends to hear various 80s cover bands, hosting beer tastings for our beer lover friends and wine tastings for the oenophiles, and drinking wine and listening to 80s music during most of the DIY activities. What a day to remember!
Color palette: Lilac and chocolate

The Wedding Team:
Photographer: Jenny Kim Photography
Ceremony: Meredith and Madhura's Apartment
Reception Venue: Union Square Ballroom
Officiant: A Personal Friend
Invitation Designer: Frank Gesualdi
Caterer: Venue: Union Square Ballroom
Florist: Robert McKinnon
Crest design: Kristien Amer of Urban Panda
Wedding Dress: Marc by Marc Jacobs
Bridal's Shoes: Christian Louboutin
Groom and groomsmen apparel and accessories: Zara suit, Theory shirt, Club Monaco bowtie, Ferragamo shoes
Hair and make-up: Herve Bauge and Luis Rodriguez
Live Music: White Wedding Band
Favors: Sri Lankan wedding cake treats in silk bags made by Groom's mother and sisters
Thank you so much Meredith and Madhura! Such a fun wedding!
To find inspiration for your our personal wedding style, don't miss our Wedding Image Gallery!
All images above by Jenny Kim Photography