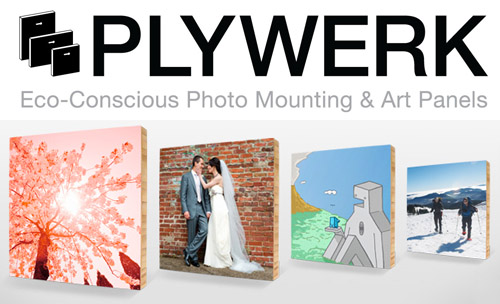 With all those stellar wedding photos you're about to have, finding a truly unique way to showcase them is soon to be high on your priority list. Enter Plywerk – the ingenious Oregon based company that makes beautiful, eco-friendly wooden photo panels in over 25 different sizes that are clean, modern and creative alternatives to traditional picture frames. We love them! And luckily Plywerk loves all of us too, because they are generously giving away two 8×10 "Upload and Order" photo panels to one lucky Junebug reader! You'll get to upload your favorite wedding photos, choose from maple or bamboo wood, and voilà! Perfect pieces of wedding art, ready to decorate your home.
To enter to win, visit www.Plywerk.com and start daydreaming about what your ideal photo panels would look like! Then leave us a comment here on this post telling us about what kinds of images you'd like to have mounted and where in your home you would display them. We'll accept entries throughout the next week and choose a winner at random next Monday, August 8, 2010.
Good luck everyone! We can't wait to hear your ideas – we're daydreaming already!