Over the past few days I've been in New York City meeting up with wedding industry professionals and blogging friends (more about that later!) and I was lucky enough to get to visit the world famous mecca of wedding dress shopping, Kleinfeld Bridal. Let me tell you, it does not disappoint! You may have seen it on the TV show "Say Yes to the Dress", but there is just nothing like visiting in person. From the moment you walk in the door you're treated like family, and as large as this incredible super store is, every detail of your gown shopping experience will be personally and thoughtfully handled with care.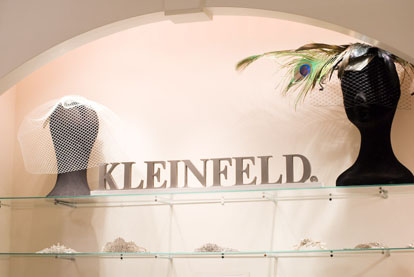 Kleinfeld owner Mara Urshel gave me the guided tour herself and spent literally hours showing me every inch of the gorgeous 35,000 square foot Manhattan space they moved into just a few years ago. Kleinfeld Bridal has been in business since 1941, and a number of their over 200 employees have been working with them for more than 20 years. A sure sign of a successful and caring company! Mara introduced me to every single staff member we walked passed, from the dress consultants, to the executives, to the seamstresses, beading experts and book keepers, and she knew every single name and personal story. I was so touched by the warm welcome each employee offered, and I saw the same treatment being passed along to the brides as well.

Kleinfeld carries an amazing selection of dresses in every size, shape and color. (Including Monique Lhuillier, Pnina Tornai, Lazaro, Alita Graham, Melissa Sweet, Claire Pettibone, and many, many more.) Each bride works with her own personal dress consultant to find the perfect match (which is Mara's favorite part of the job, seeing the perfect match of a woman and her dress!) and then the fitting process begins in which Kleinfeld's own in house team of talented fit specialists and seamstresses alter each dress to fit like a glove. No detail is overlooked and no expense is spared, I saw these incredible professionals at work and they are true experts! In addition to the wedding gowns here there are, of course, the accessories. Shoes, jewelry, veils, head pieces and wraps abound and are so much fun to pour over, and lucky moms can also shop the mother-of-the-bride salon.

I had a fantastic afternoon soaking in all the excitement going on at Kleinfeld, and getting to photograph such beauty was a joy. Thank you, thank you, thank you to Mara and the whole team for welcoming me in and sharing with all of us a peek into the legacy of Kleinfeld Bridal! Be sure to visit their website and check out their blog, "Behind the Seams", to learn more.