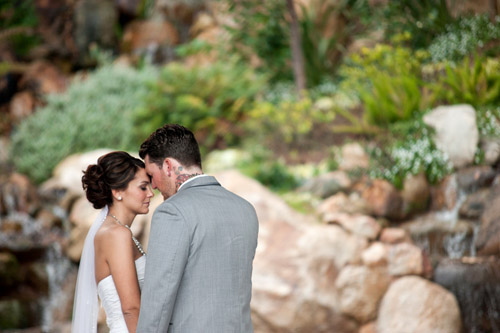 The Couple: Kristina and Matthew
The Wedding: 1.29.11 – Pala Mesa Resort, Fallbrook, CA
What three adjectives best describe your wedding? Timeless, unique, organic
What inspired your personal wedding style, and how were your personalities incorporated into your big day? Once I was engaged I began searching through tons and tons of magazines to see what my style would be. I already knew I wanted my colors to be purple and green. I never thought I would have a winter wedding, and I have never wanted a white palette, I went with colors that could pop but also not be too bright for the winter. I immediately fell in love with the idea of branches for centerpieces. I wanted them to bring nature in but also keep the classy, timeless feel, so I used vases filled with white sand to hold them. And the moss around the bottom came to me easily since it was one of my wedding colors! We also incorporated our style by making our own guest book. Matthew's dad made it out of two pieces of aspen wood. He inserted scrapbook paper so guests could glue their photo booth photos into it and write a message. Matthew, being an amazing artist and tattoo artist, painted the front, back and inside covers of the guest book with a tree and our favorite bible verse.

Looking back, what are the moments, decisions, or memories that you love the most about your wedding? The biggest moment of the day for me was walking up the stairs and locking eyes with my groom. I immediately started crying (which I swore wouldnt happen) while my dad, who was walking me, was cluelessly chatting about who was there and how everyone looked. He pointed out that Matthew was crying and then asked if I had a cold because of my sniffing. He finally turned and realized I was sniffing to keep the tears in! Another memory we will always have are the speeches that were given, and how welcoming both fathers were of their new children-in-law. I loved that I got to smush just the perfect amount of cake into Matthew's face and that he did not get any on mine. Walking into the reception and seeing how beautifully it all turned out, and seeing all our family members and long lost friends coming to show their support was indescribable. I loved absolutely everything about my wedding, and would not change a thing.
Color palette: Moss green and deep purples

The Wedding Team:
Photographer: Acres of Hope Photography
Event Planner: Pala Mesa Resort wedding coordinators – Keli Thoma and Adele Meehan
Ceremony and Reception Venue: Pala Mesa Resort
Officiant: Maid of honors dad – Ed Noble
Invitation Designer: Michaels Craft Store
Florist: Family friend – Becky Toth
Catering: Pala Mesa Resort
Cake: Family friend – Cathy
Décor Accessories: Borrowed from grooms aunts interior design business – Designed Interiors
Linens: Groom's mother – Barb Phelan and friend – Tracy Cox
Wedding Dress: Priscilla of Boston
Reception Dress: Love by Enzoani
Accessories: Veil from David's Bridal and jewelry from Macy's
Bridesmaids apparel: Custom-made dresses, designed by the bride
Groom and groomsmen apparel and accessories: Rented from Friars Tux Shop
Hair and make-up: Hair by Emily Benitez; Make-up by Krysta
DJ: SD HotSpot DJ & MC Services
Live music: Guitarist – Bryce Turner
Favors: DG Event Photobooth
Rings: Brides – Custom-made; Grooms – Tungsten
Thank you for sharing your wedding with us Kristina and Matthew!
To find inspiration for your own personal wedding style, don't miss our wedding image gallery!
All images above by Acres of Hope Photography