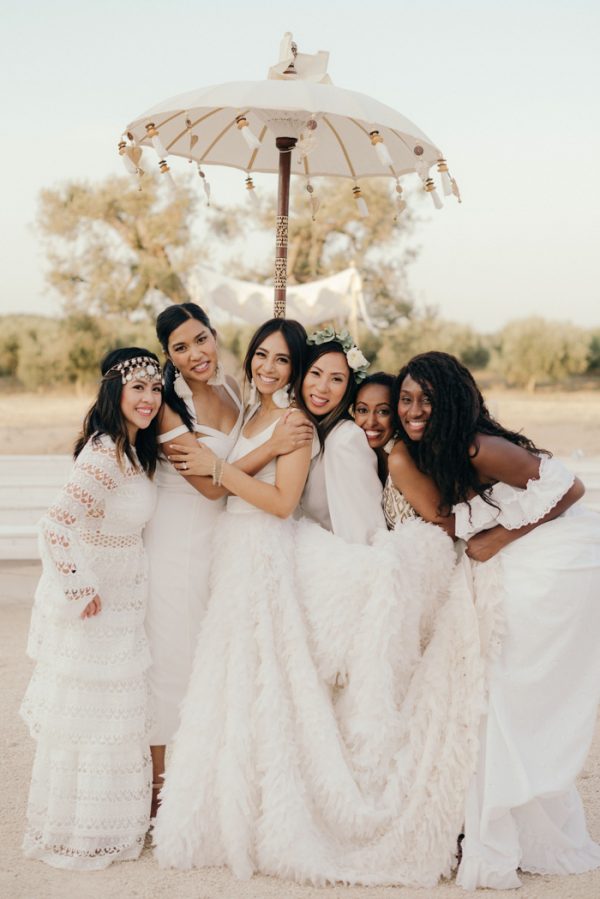 Inspired by Morocco's boho chic vibes and the Mediterranean's effortless beauty, this couple's wedding in Southern Italy featured an array of exotic textures and whitewashed accents! Stacey, a lifestyle blogger, and Jeffrey spent seven months researching which country to host their destination wedding in, and their hard work paid off: the landscape of Southern Italy was perfect for their event's multicultural details. The couple incorporated personalized tambourines, handmade tassels, and out-of-this-world reception décor to reflect their love of bohemian-inspired details! We are blown away with the gorgeousness of Andrew Abajian's film and Cinzia Bruschini's photographic documentation of the couple's day.
The Couple:
Stacey and Jeffrey
The Wedding:
Masseria Potenti, Puglia, Italy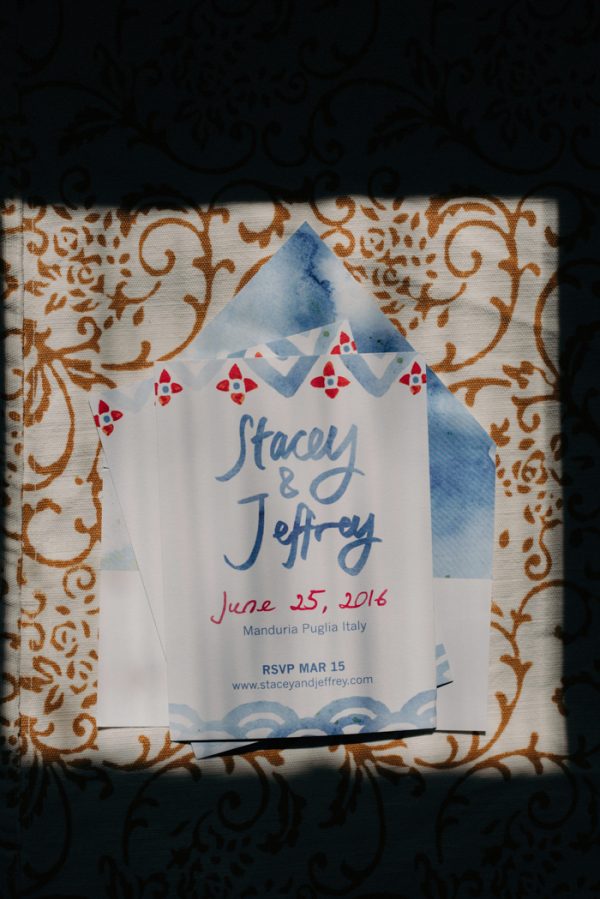 I literally spent 7 months researching far and wide to figure out which country to host our wedding. I had too many visions of what our wedding would be like. At an African Safari in the middle of the Serengeti or on a campsite in the Moroccan desert. We are avid travelers and wanted to experience a trip of a lifetime with our close friends and family. When we go to local weddings, they happen so fast and we rarely ever get to spend quality time with the couple. If we were going to tie the knot, it was a must to celebrate with them in the most exotic locale! We also didn't really want to spend a gazillion dollars on a city wedding in San Francisco, so a small intimate wedding abroad was perfect!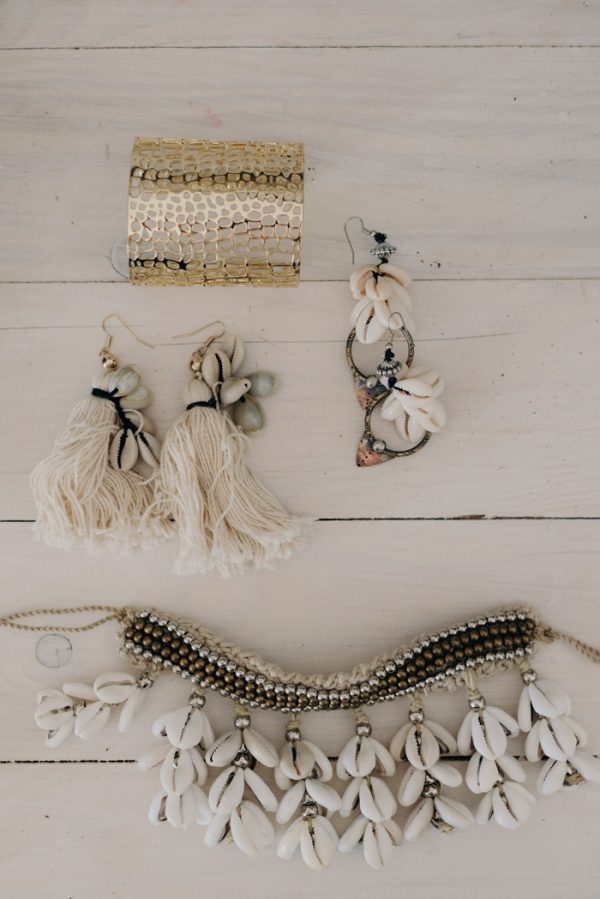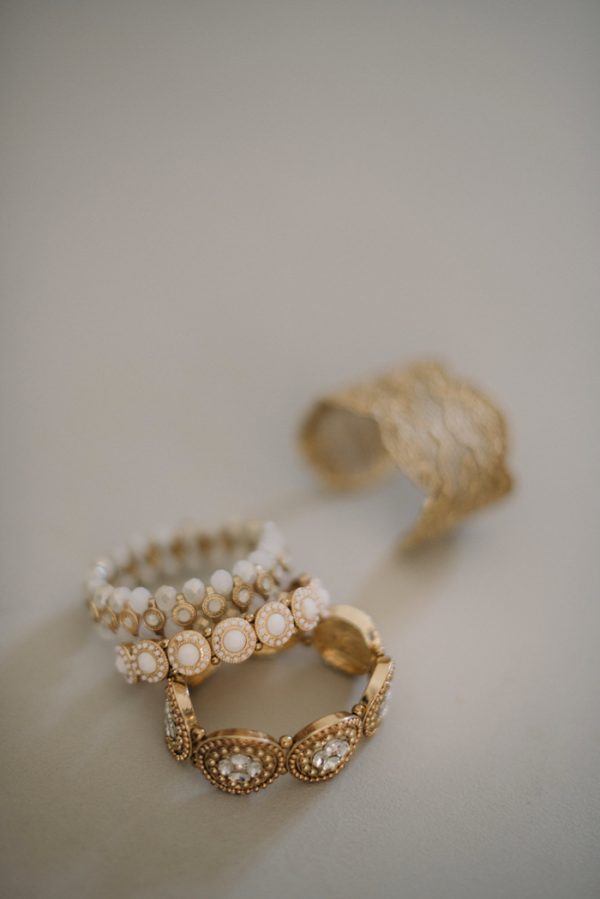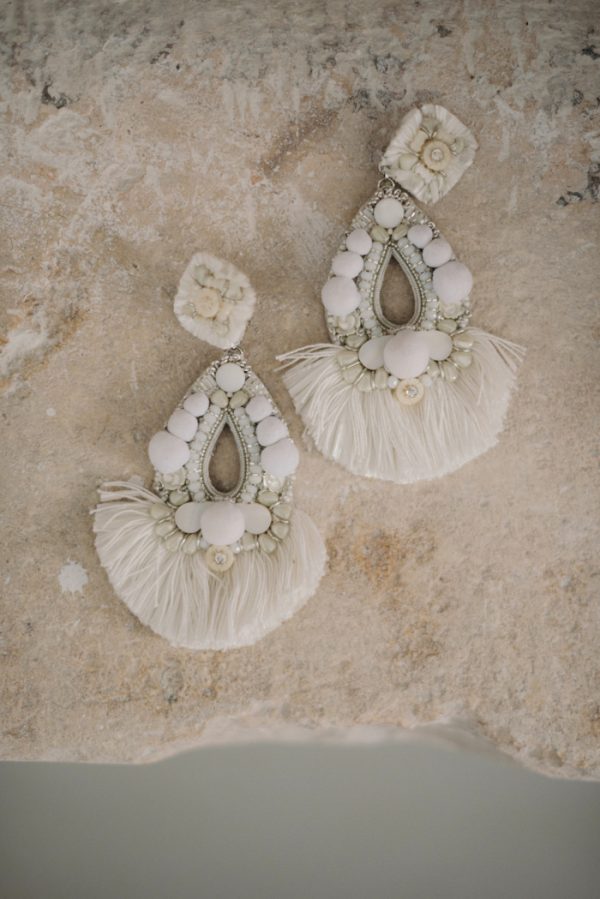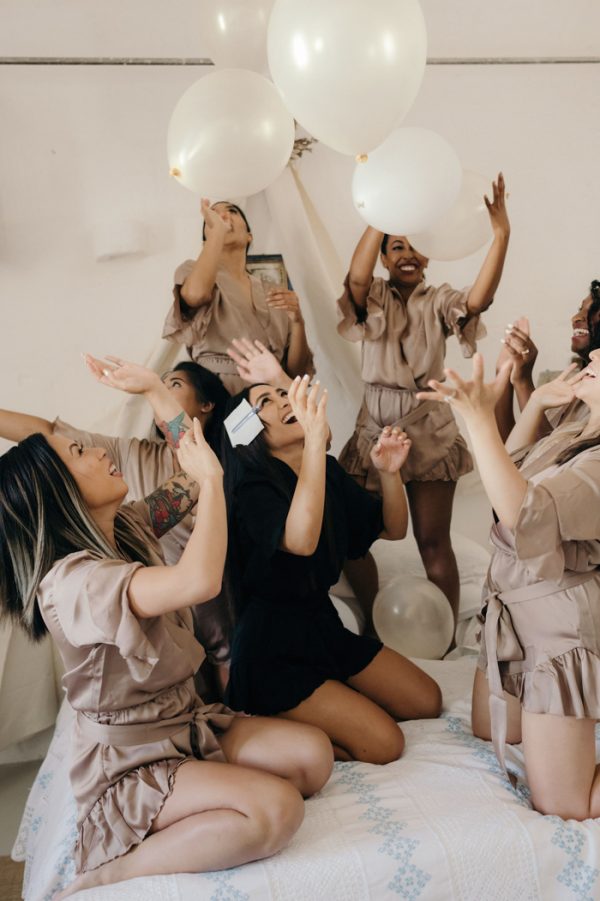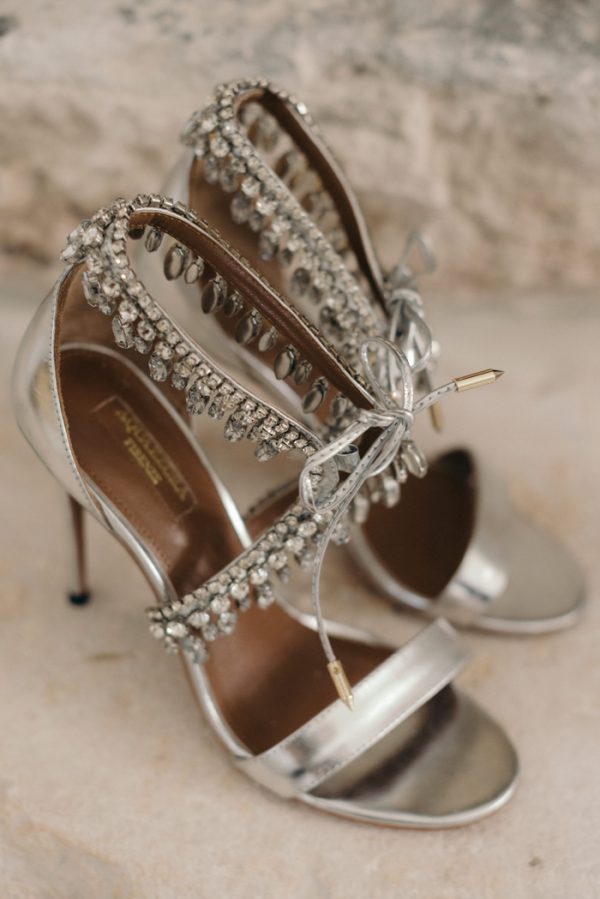 After a few discussions with my now husband and his requirement for amazing food, we decided on Italy! I got in touch with amazing coordinators, Eva and Francesca. They suggested I come to visit some venues in person, so I took a week off from work and off I went with my sister on an Italian road trip from Tuscany to the very Southern tip of Italy! After 8 visits to chateaus and vineyards, we we're tired, cranky and over it. Everything started to look the same. We finally went to our last venue visit, which was incredibly far and the furthest one out from the airport. My sister and I literally got stuck driving through unpaved roads in the middle of dry farmlands in the rain! Once we drove up to the pristine, white building of Masseria Potenti, our jaws dropped and as soon as we walked in through the gates, I almost teared up by how beautiful the venue was. It felt like the gates of heaven.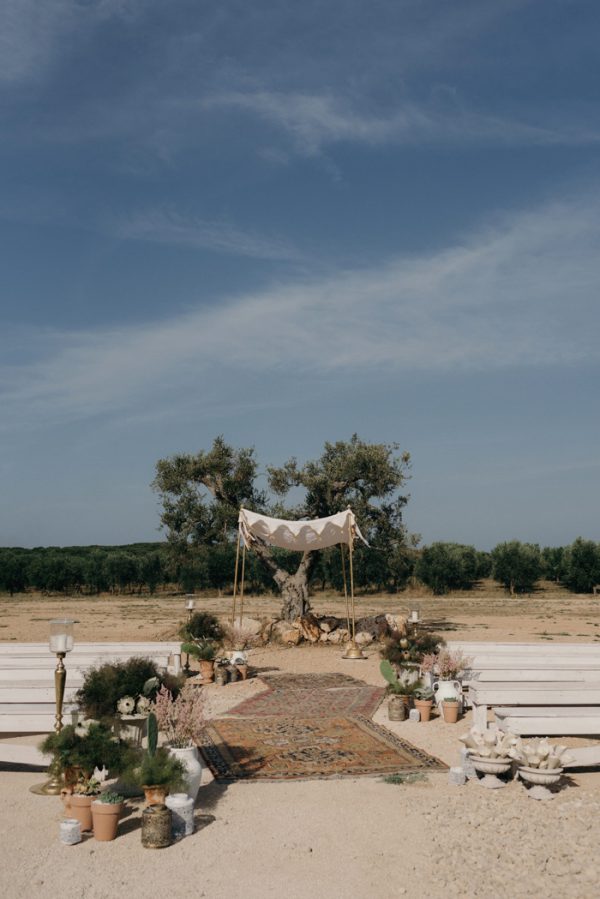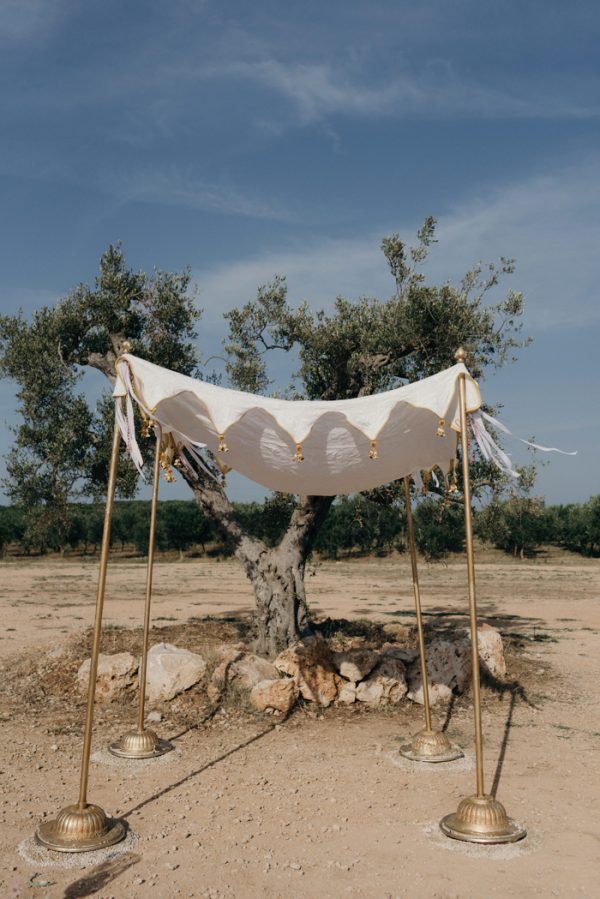 While touring around Puglia, I fell in love with Southern Italy's gypsy vibe. The tambourines, the music, the food!! It was all too amazing for words. This was another side of Italy that not too many people know about. I decided to mix in Mediterranean, Moroccan Boho Chic with Southern Italy. It felt fun and carefree!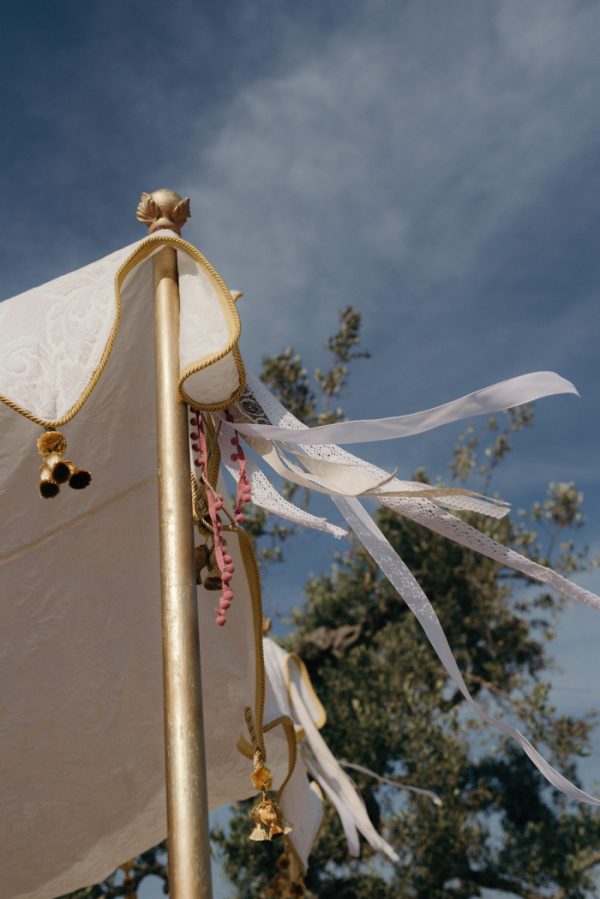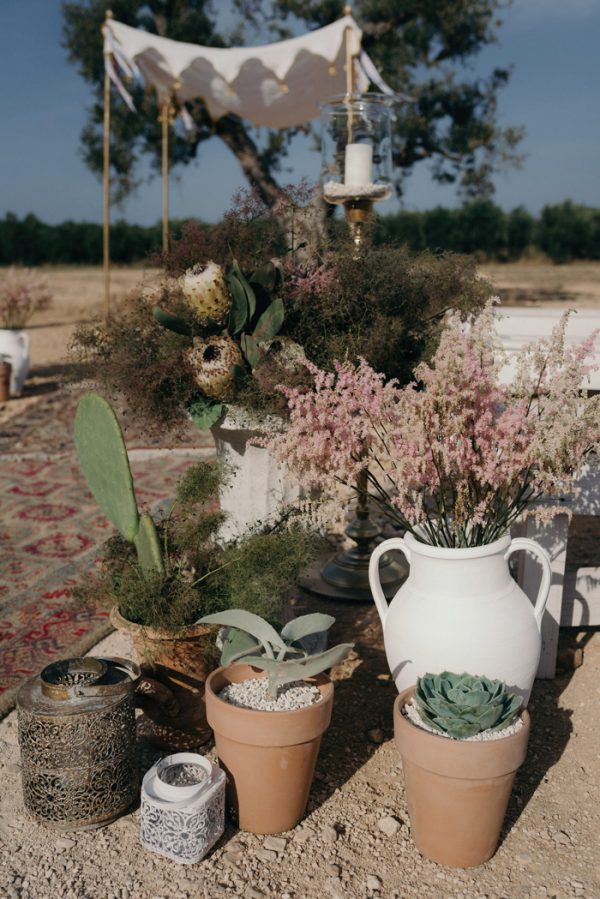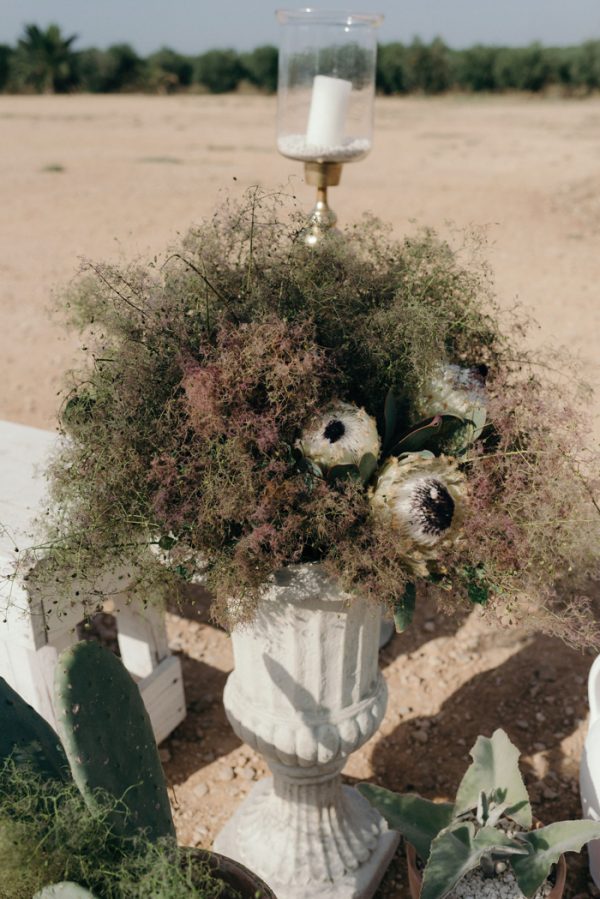 I had a difficult time finding a wedding dress. I went to many shops all over California. I just couldn't find anything that was me or different from the classic wedding gown. I found one that I really liked at a local bridal shop, but I never really felt like it was "The One." Then one day, I was on Pinterest pinning away on wedding decor, and I came across a very gypsy like wedding gown from Australia. It stopped me dead in my tracks and I just had to have it! I called them right away and the price fit my budget, so they shipped it within a month! I tried it on and was IN LOVE! I couldn't take it off, I just loved it so much. I wanted to have even more statement items and chose giant white fringe earrings from Ranjana Khan, and gold cuff bracelets. I felt like a modern gyspy bride. It was perfect for me because I always wear crop tops in the summer due to my petite frame.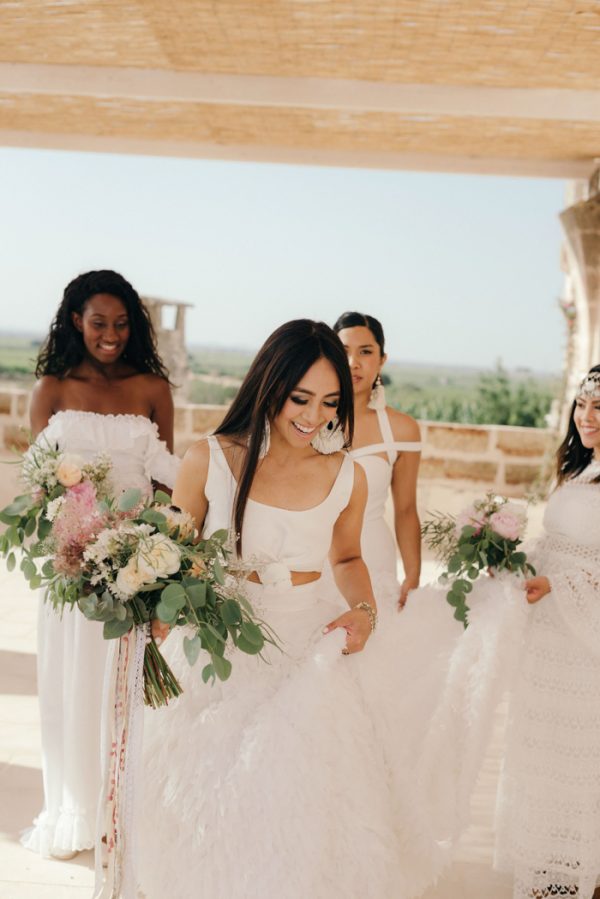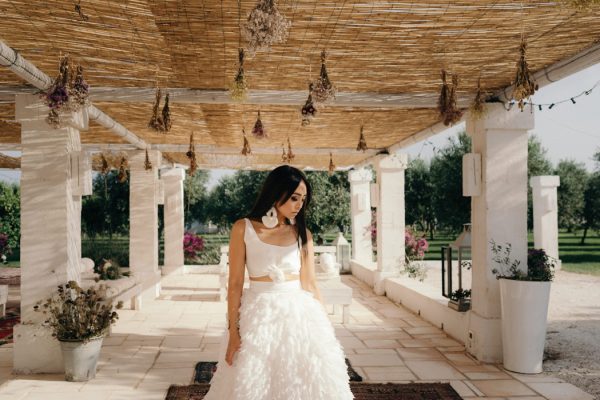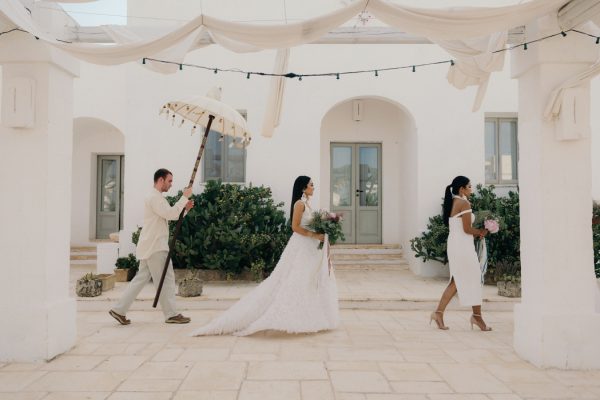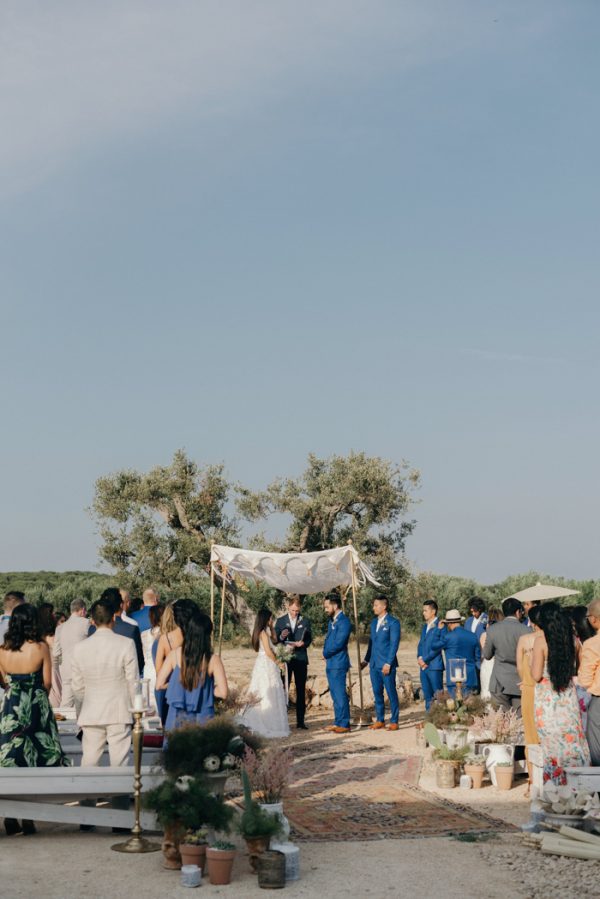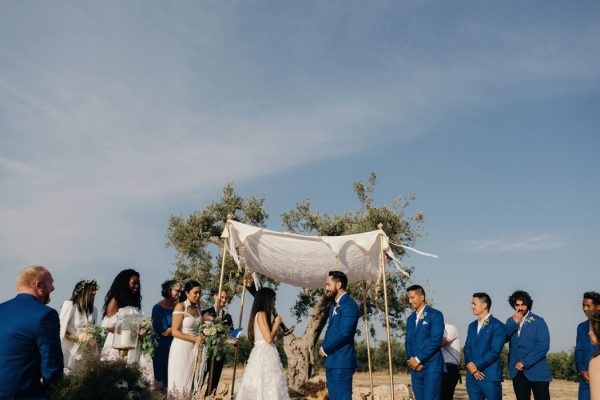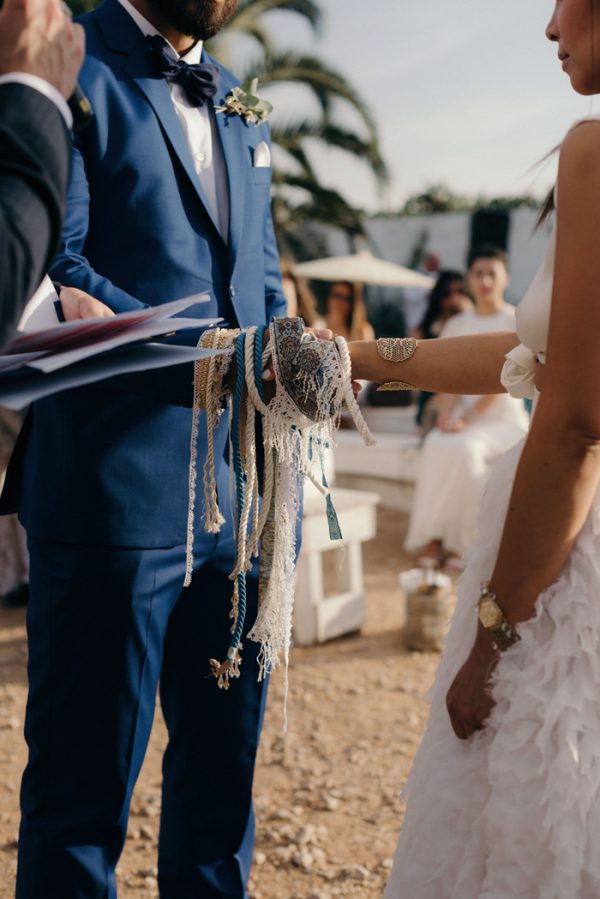 Bridal Party: Here Comes the Sun – The Beatles
Bride: Sleeping at Last – Turning Pages
Exit: Just Like Heaven – The Cure
First Dance: Time of My Life – Dirty Dancing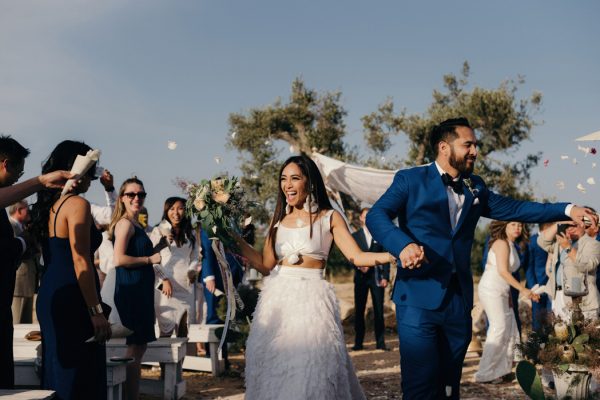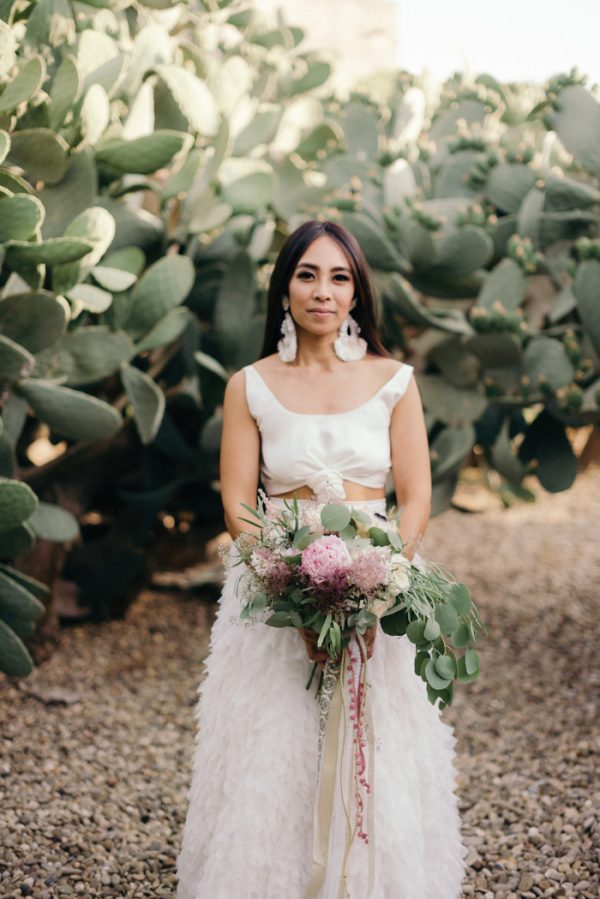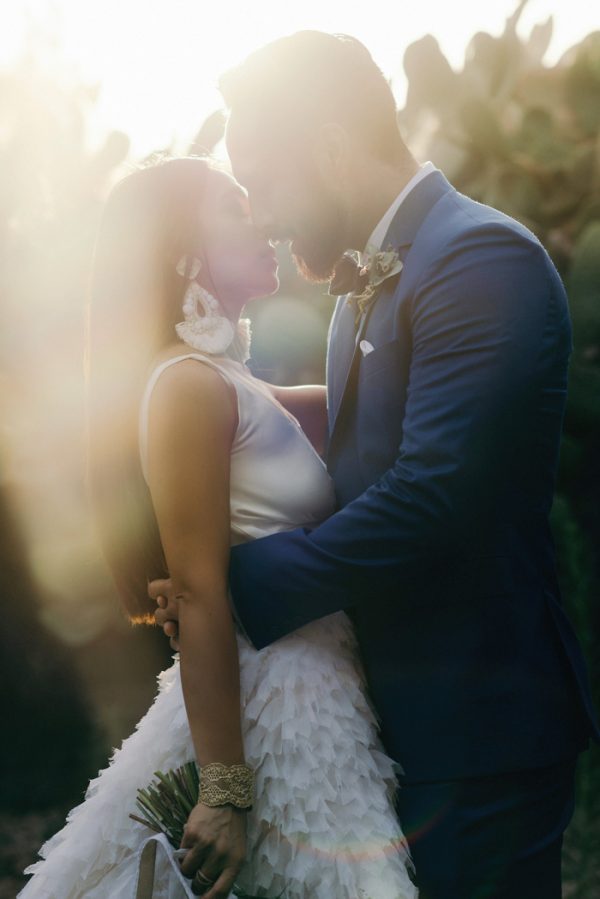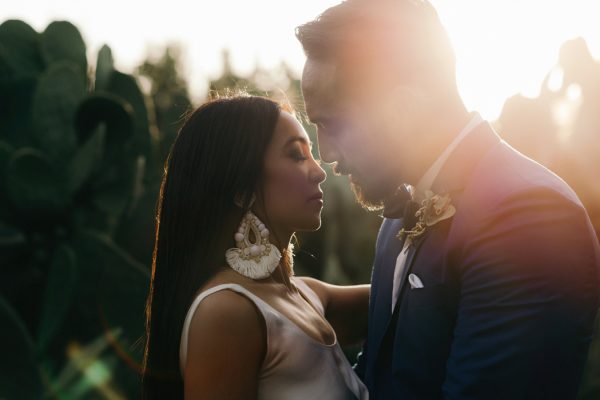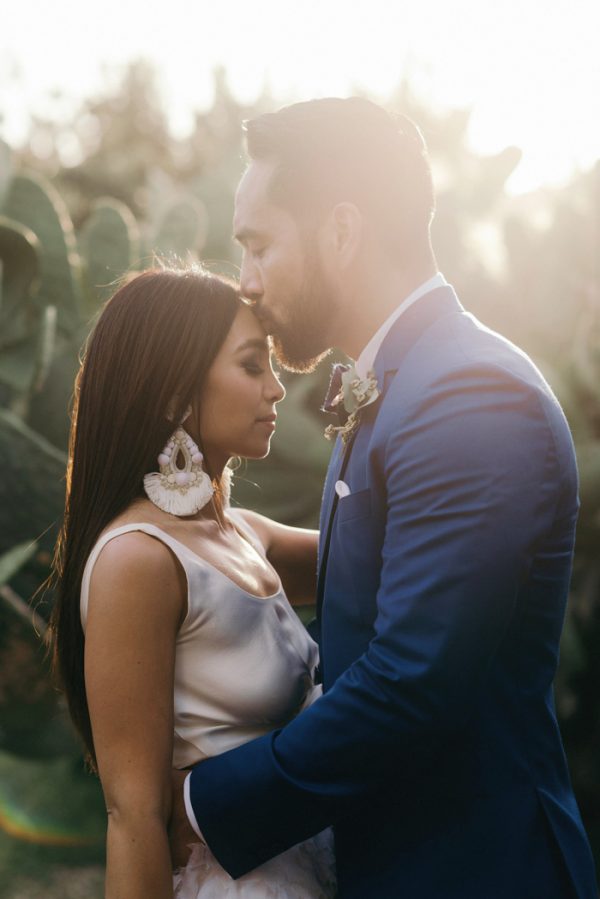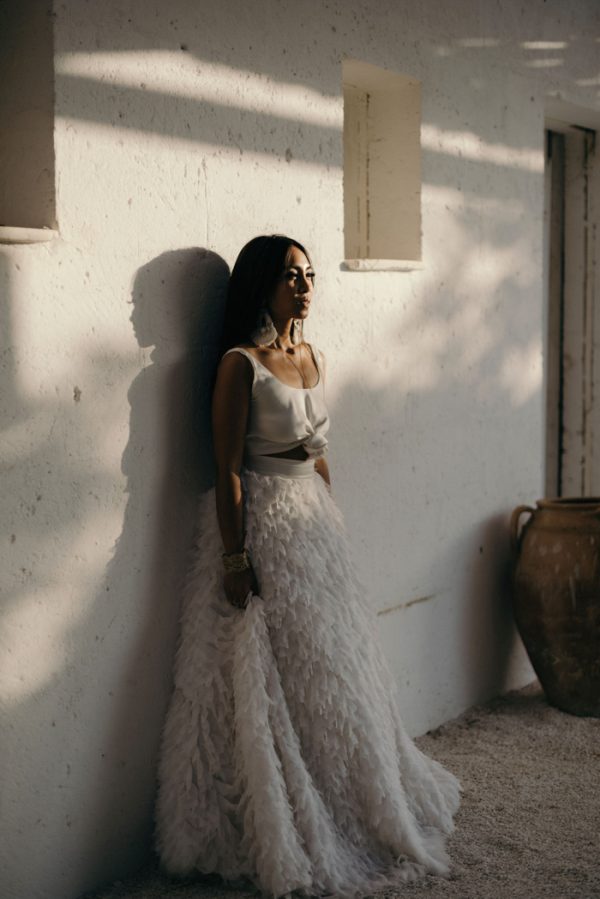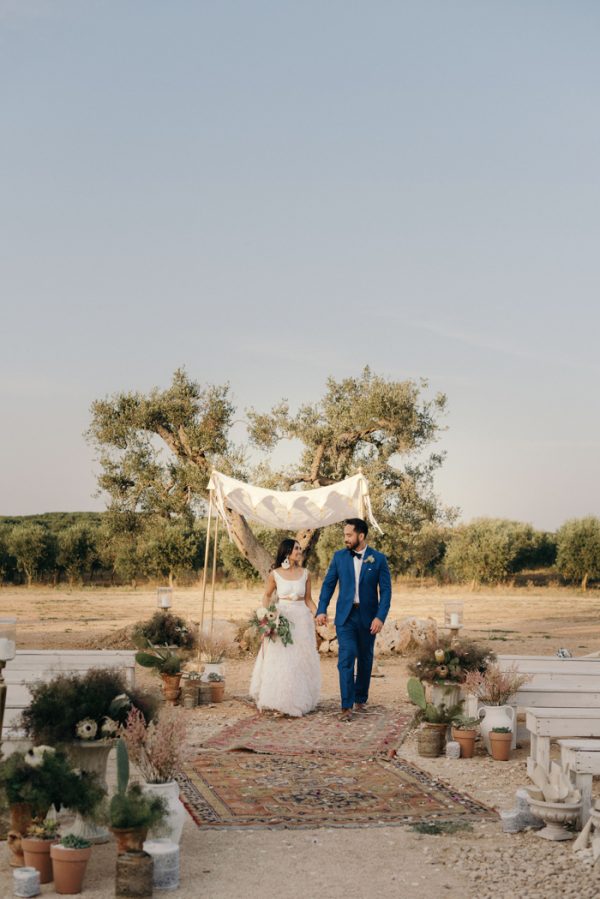 I also wanted my bridesmaids to stand out like a fashion runway. They wore whites, creams and golds all with different styles of dresses, textures and fringe. I also had to have a mod pantsuit in the mix!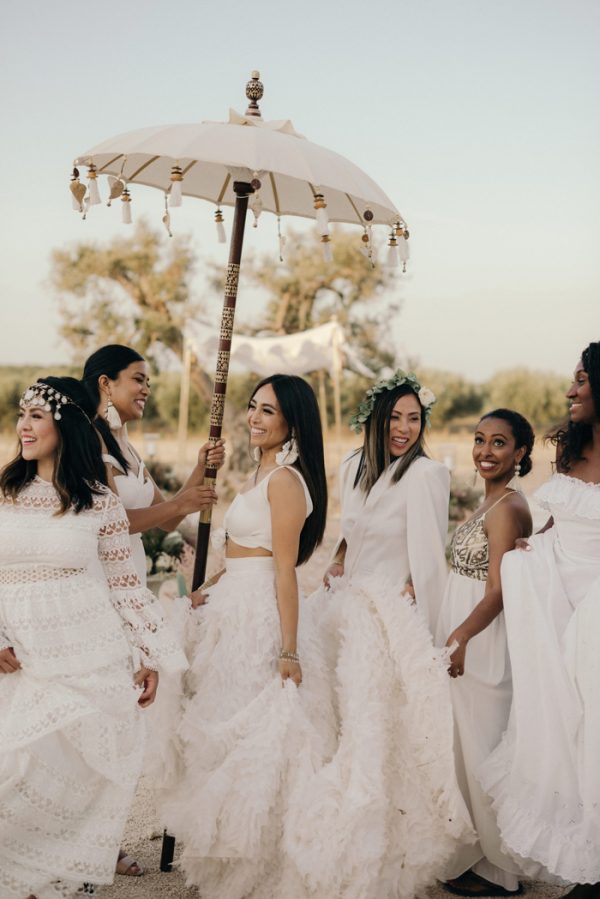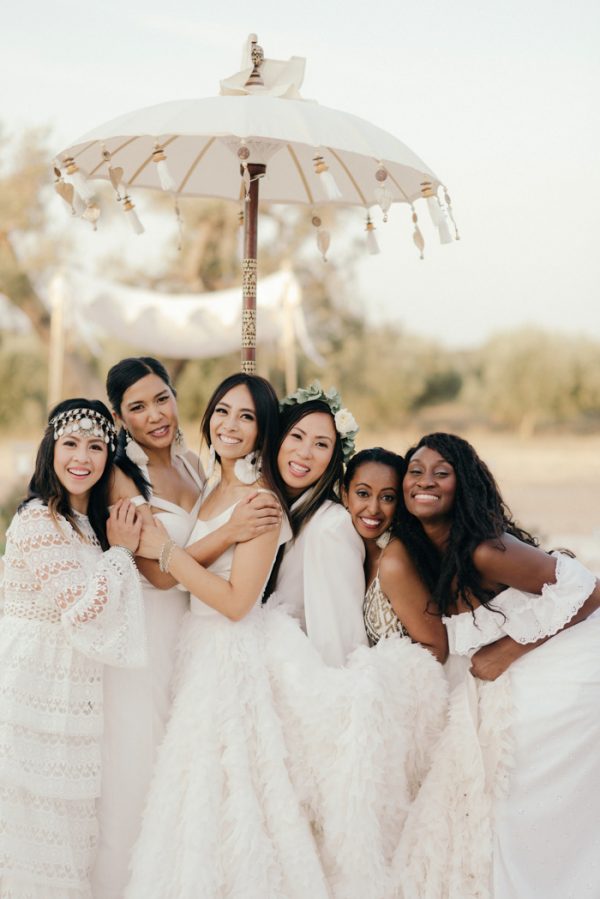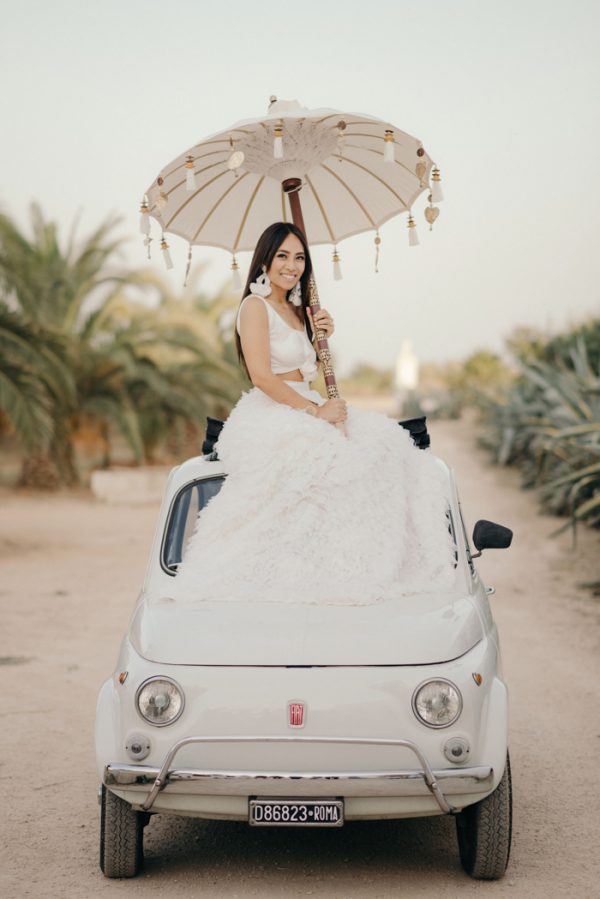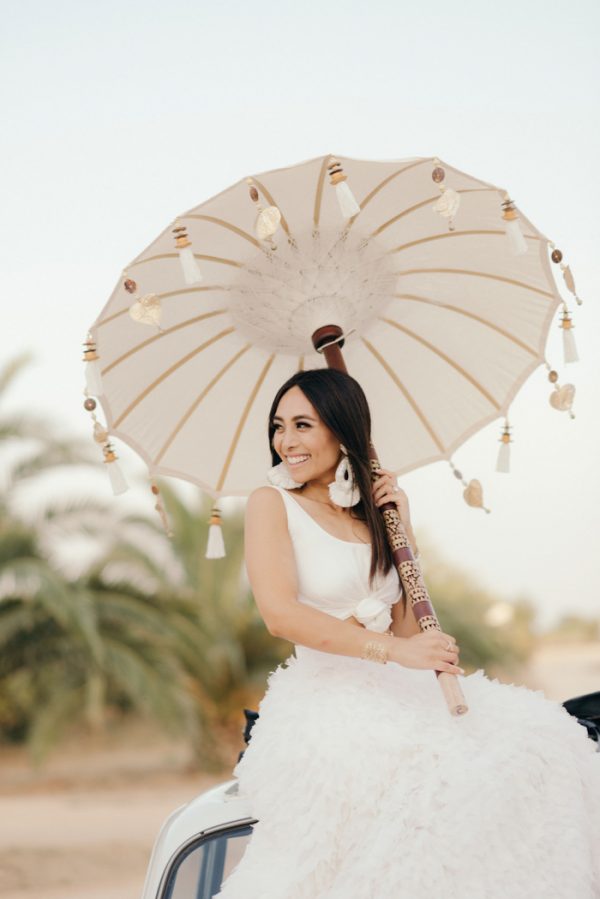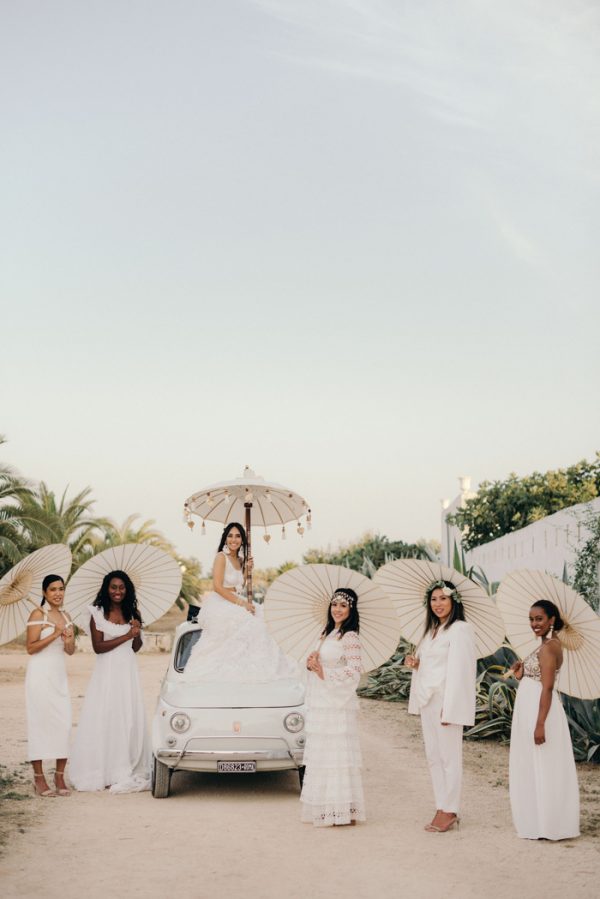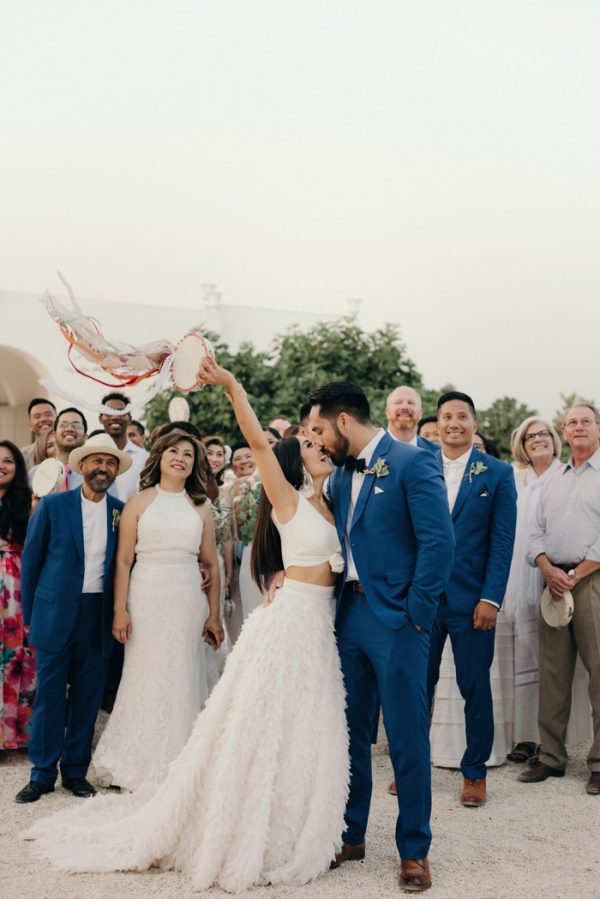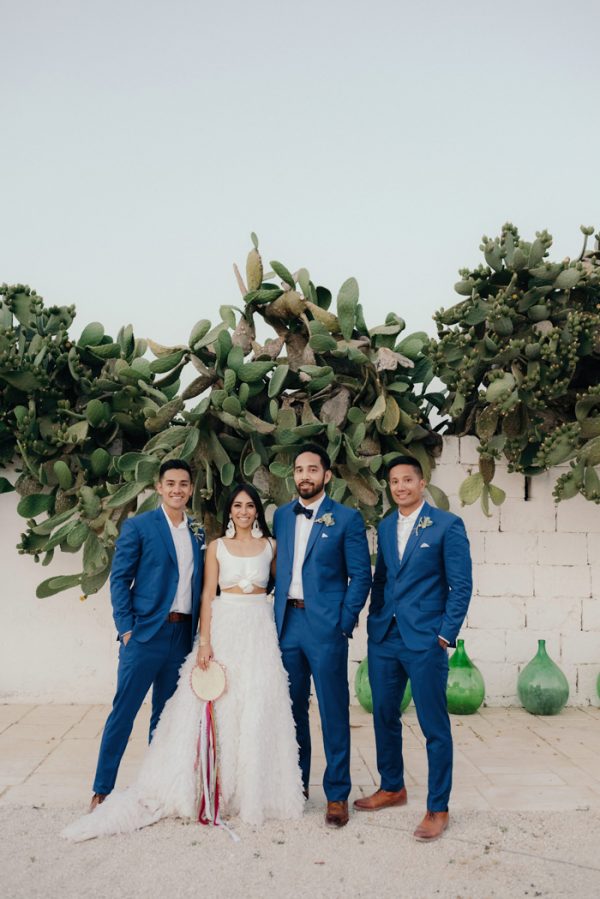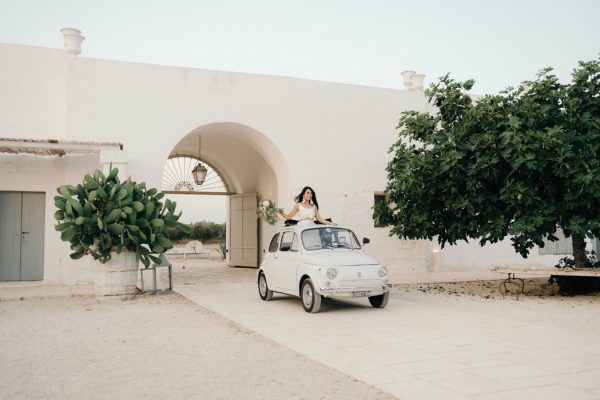 Our favors were the coolest part of our wedding! We had personalized tambourines hung from the ceiling with colorful ribbons. It was very Puglian and guests used them for dancing. It was the best!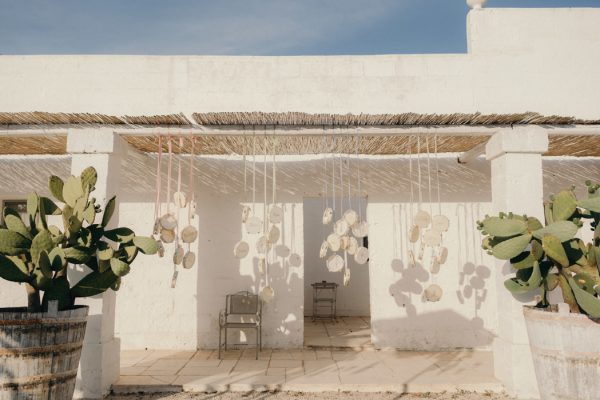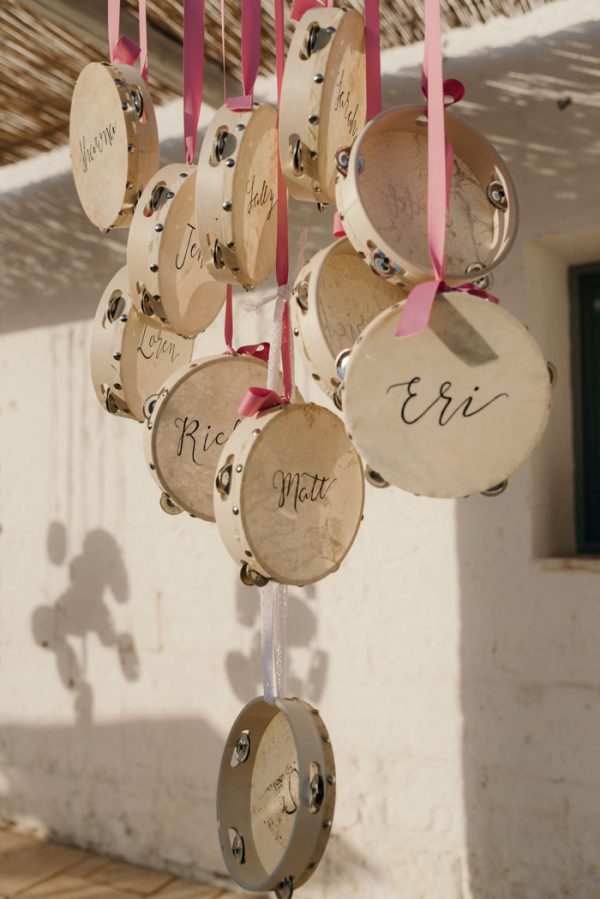 Our advice: Two things! Breathe and step away from that Pinterest board! Second, during your wedding day, take at least 5 minutes to relax and absorb what's going on around you. You'll be surprised by the surrealness of it all.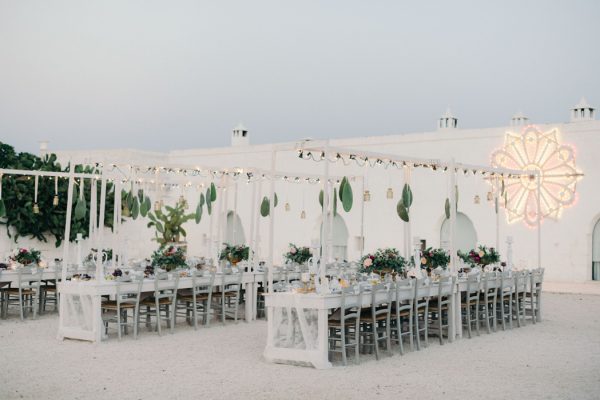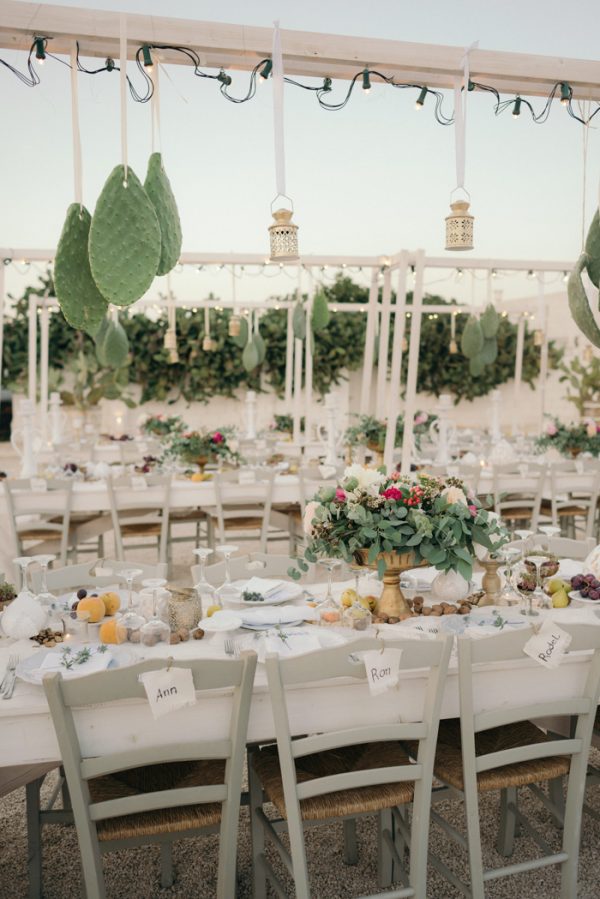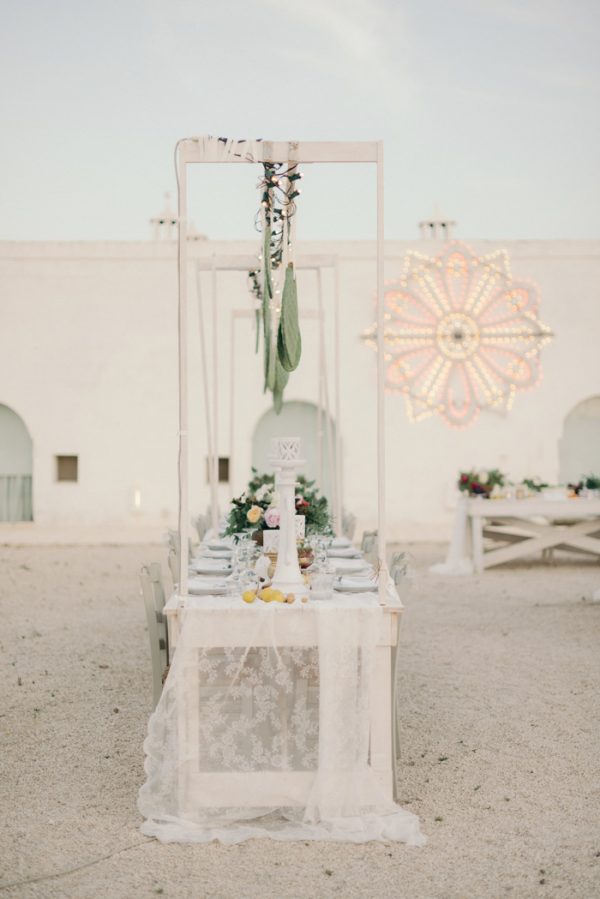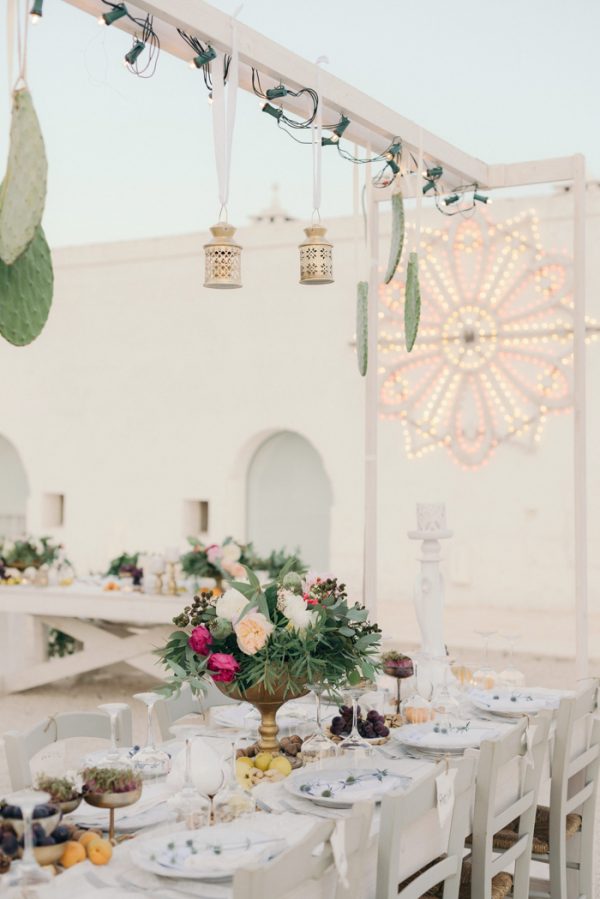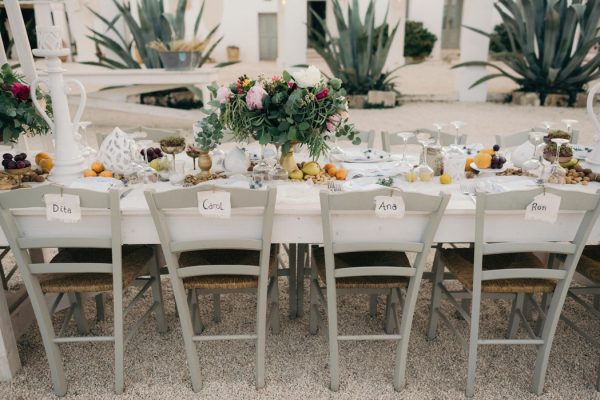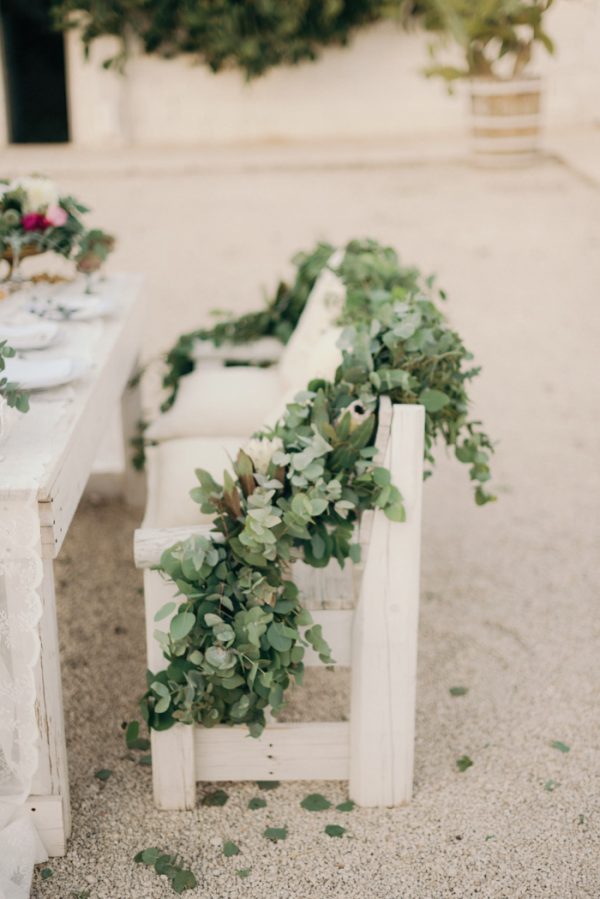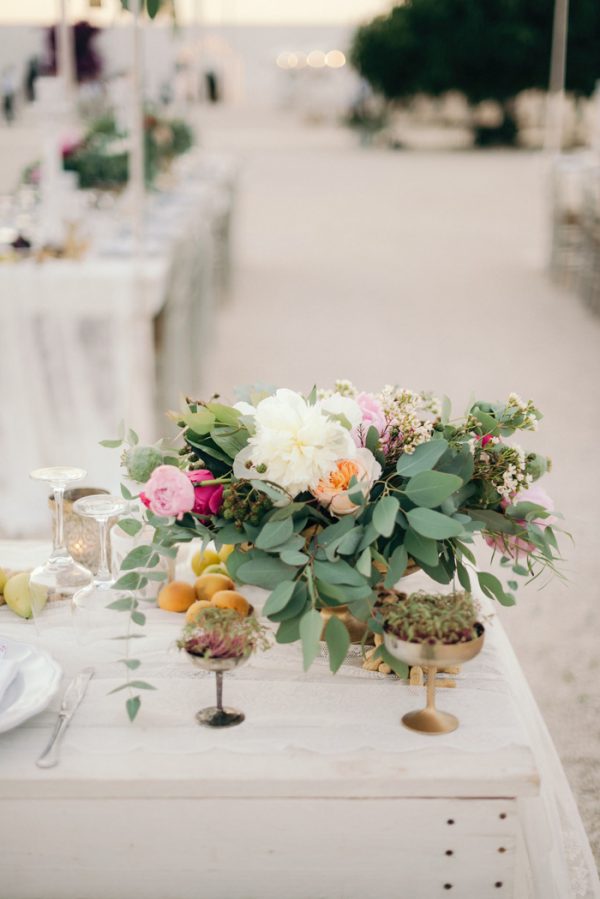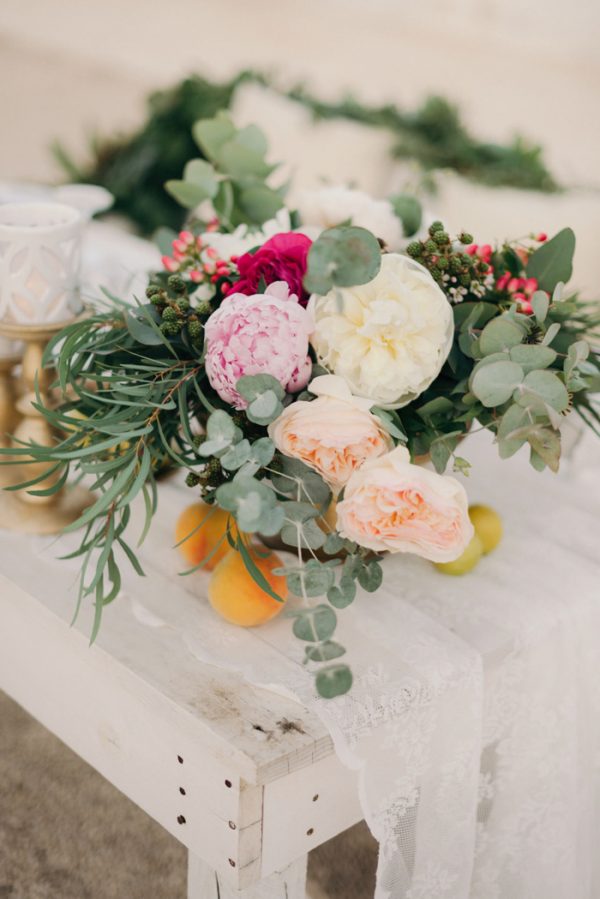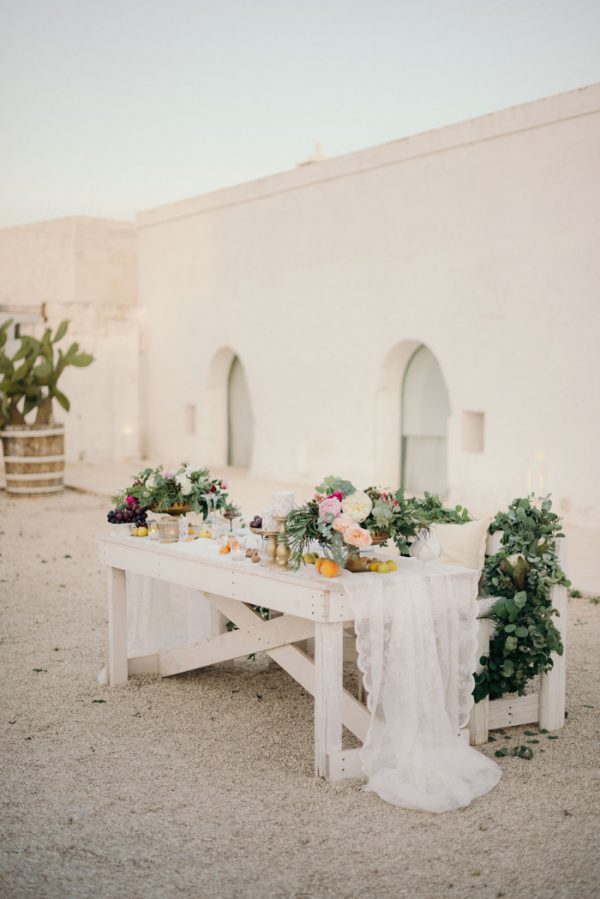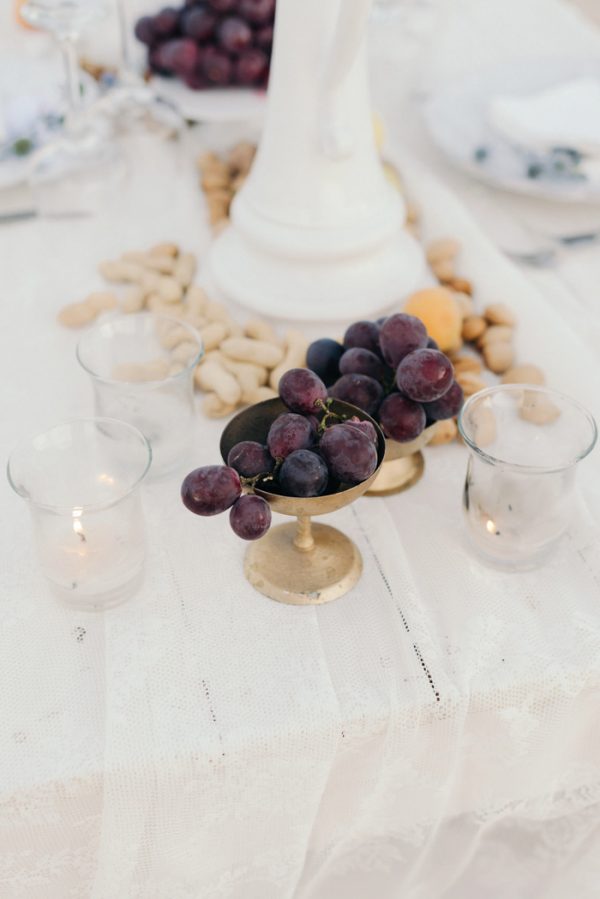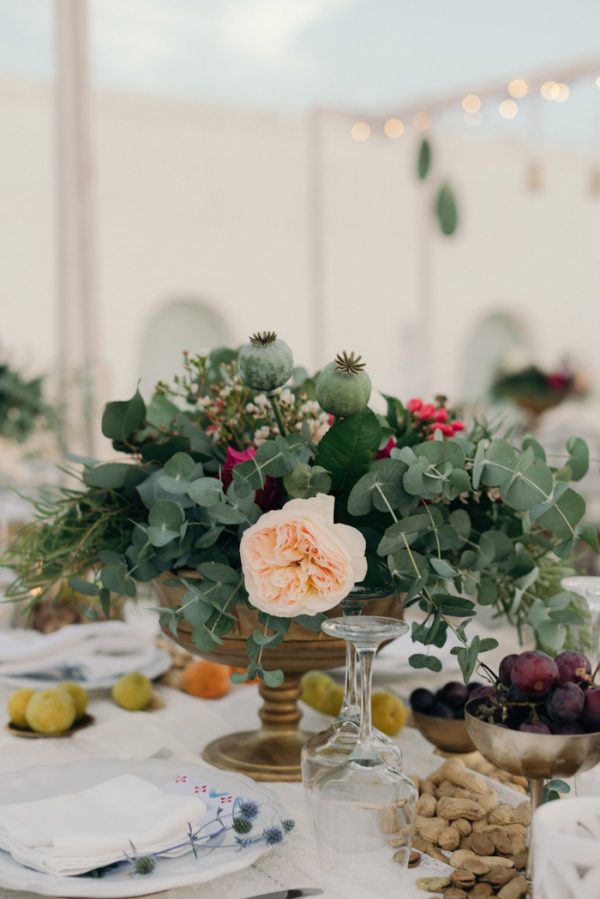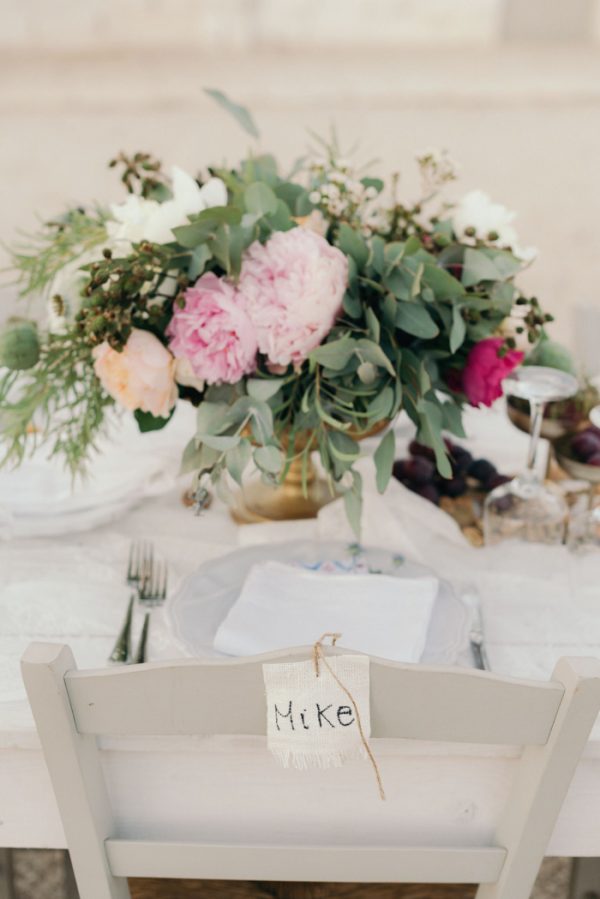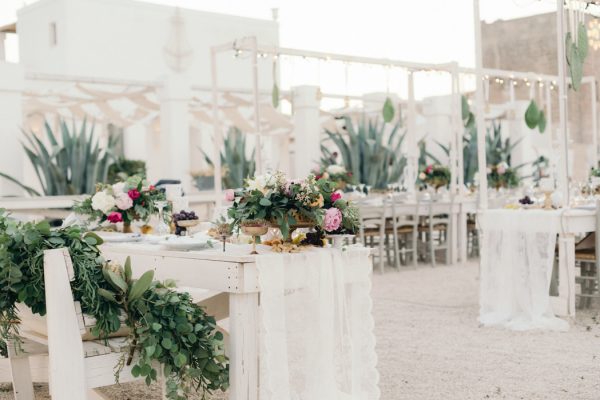 I felt a sense of relaxation and relief when I was sitting down to relax with my new husband while everyone was dining. The feeling felt so surreal to see all the colorful decor and design come to life. After months of planning and stress, it all came together perfectly. Even when watching our friends and family dine together for a meal and enjoying the beautiful warm Puglian night. I remember telling my husband, "I can't believe we're really here." It really felt like a dream come true."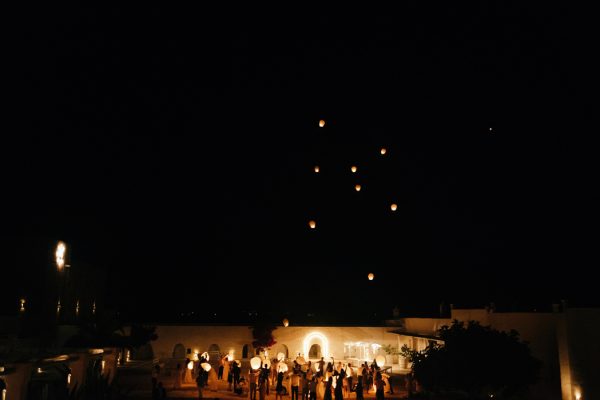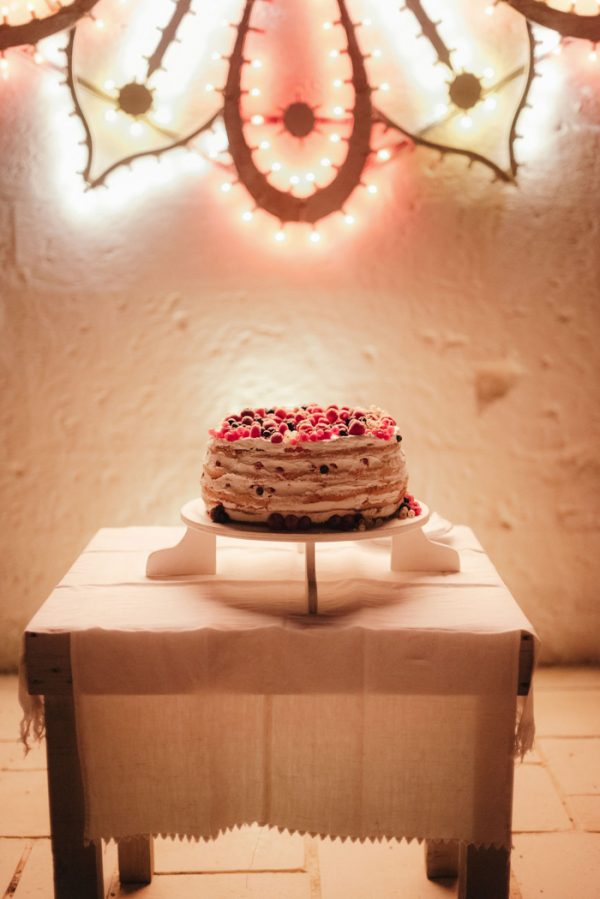 Congratulations to Stacey and Jeffrey, and a huge thanks to Junebug members Cinzia Bruschini, Design Anarchy Studio, and Andrew Abajian for contributing to this completely unforgettable event. Love this wedding's exotic multicultural vibes? Then you've got to see this elegant Moroccan wedding at Selman Marrakech!