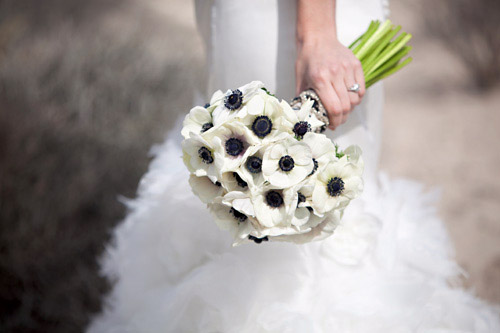 Floral and Event Designer extraordinaire, Daniela Faget of Bella Signature Design, recently put together this inspirational photo shoot in the desert outside Las Vegas to showcase a couple of her modern bridal bouquet ideas, and we're excited to get to share the results with you! We love the way she thinks of wedding day flowers as a compliment to the whole wedding day look and feel, and creates designs for her clients that truly match their authentic personal style. Read on to learn all about these fabulous floral designs straight from Daniela herself!

"The inspiration for Lauras look, above, was a hip, contemporary rock n roll bride and I was inspired by Laura (the model) herself – her blunt bangs, her impeccable style. I love juxtaposition in design, like the sharpness of her bangs with the overflowing frothiness of the gown she wore from Couture Bride in Las Vegas. And ah, the anemones!! I adore french anemones, and thought their flirty and non-pretentious look, all wrapped up in a matching black and white ruffled enclosure, was perfect. A little bit of glam to match the birdcage veil was created by adding a vintage beaded emblem to the ruffled fabric of the stem binding. I loved how all the black and white came together without being too boring or too harsh – I normally love to use color, but in this look, it all really came together for me.
The goal of this look was to show you that YES! you can be you – whether you're gothic or a hipster, a girly girl or super preppy, your personality and individual style can shine through on your wedding day. Dont be afraid to let your individual style guide you through all your dress, flower and decor choices."

"Renee, who has modeled in Seattle Bride magazine, was our glamour bride. I fell in love with this Luly Yang Couture gown and just knew Renee had to wear it for this shoot. The bottom of the gown comes off and what remains is a totally hot cocktail dress! This is for the girl who loves glamorous, lush, opulent florals, and all things decadent and a little, dare we say, sexy? The bouquet was composed of sumptuous Phaleanopsis orchids, eggplant calla lilies, fuchsia garden roses and raspberry roses, I just loved how the colors bounced off of each other. Even the boutonniere received some glamour with the addition of some crystals – my friend Linnae of Asiel Design inspired this – she calls it man glam. Indeed.
Glamour is what you want it to be – it can be lush florals, swarovski crystals, or diamonds in your hair. Dont be limited by your environment – but be inspired by it. The arid desert inspired me to create an oasis of lushness… what would it inspire in you?"
The Photoshoot Team:
Floral Design and Photoshoot Styling: Bella Signature Design
Wedding Dresses: from Couture Bride in Las Vegas and Luly Yang Couture in Seattle
Photographers: Mary Clarke – Lemon Fresh Designs
Latasha Haynes – Latasha Haynes Photography
Holly Clarke – Holly Clarke Photography
Teri Pozniak – tPoz Photography
Poly Mendes – Poly Mendes Photography
Kimberly Chan – Kimberly Chan Photography

Thank you so much Daniela!