Travel Update- Wednesday, October 1st- I'm heading home today my friends! I'm sure I'll be excited to get back to tell you, and anyone who will listen, all about Africa, but also sad to say goodbye. Hopefully the long, long flights will go smoothly; full of movies, cocktails, reading, long naps, and reliving every minute of our great big adventure. See you soon!

Today's guest blog post comes to us from a bride at the tail end of her wedding planning process. The unbelievably lovely Justine has met Kurt, her Mr. Right, and has planned a wedding that perfectly represents the things she loves. Grab a drink (preferably a glass of pink champagne) or a sweet treat (preferably a little French pastry) and read all about her stunning vintage French themed wedding plans.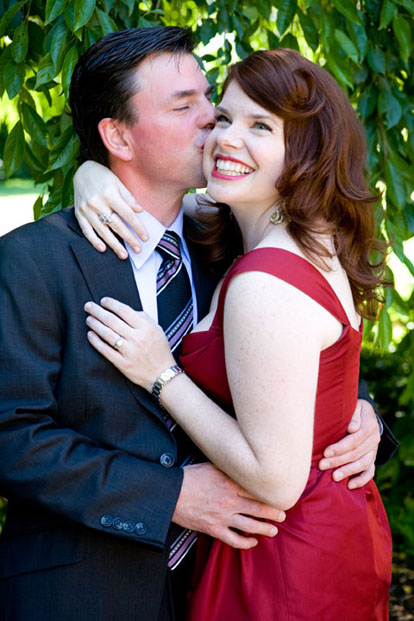 (Photo of Justine and Kurt by La Vie Photography)

I am so excited to share my wedding plans with you! As I write, my wedding is less than two weeks away! Its hard to believe that its finally here. I was one of those girls who started reading wedding magazines and pulling pictures at age 12. My mom started collecting Martha Stewart Weddings as soon as the first copy hit the newsstand. While in my 20s, my mom and I pretended I was engaged so we could try on wedding dresses (more than once, I am ashamed to admit!). This inadvertently led to a job in the bridal industry, and at the age of 27 I moved to New York to work as a bridal consultant at the Vera Wang salon on Madison Avenue. I worked there for 4 years, and, yes, I have stories! Did you ever read about the girl who stepped on a pin and sued for $2 million? That was my customer.

I moved back home to Seattle 2 years ago, met my wonderful Kurt, and got engaged last Christmas, which was the happiest day of my life so far. And then I realized I had to actually plan a wedding! The first thing you need to know is that my mom had stopped collecting Martha Stewart Weddings, because the poor woman had given up hope. Fortunately, I had access to plenty from my years in bridal, so I made a color copy of every page I liked from every issue I had. Tear them out, you say? Don't you know it's a sacrilege to tear pages out of Martha? I made a binder and realized that I had so many ideas I loved, I didnt even know where to begin!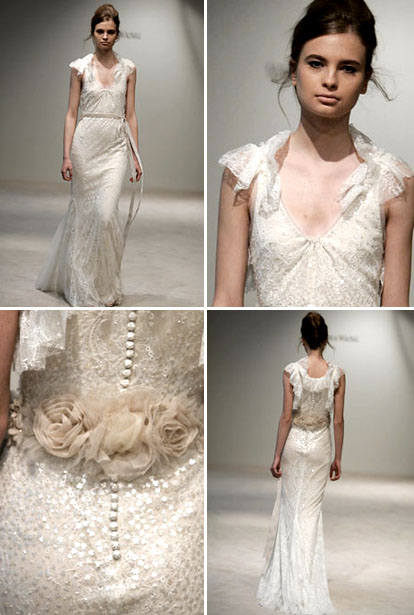 (Vera Wang dress via Brides.com)

The first thing I did was choose my dress. I will admit that I had my dress picked out way before he asked, and by that I mean, before I even met him! It is a gorgeous ivory Vera Wang chantilly lace sheath, with a low, ruffled neckline that skims the shoulders, sprinkled with clover-shaped sequins, and finished with a belt of ivory velvet covered in handmade champagne silk chiffon roses. My mom and I were thrilled to discover that it matched my grandmothers veil from her 1939 wedding perfectly!
With a vintage vibe going, I set out to find a wedding venue. Kurt and I both loved the idea of being married in a church, and when we saw St. Pauls Church in Port Gamble, we looked no further. It was built in 1867 along the designs of a church found in Maine, and has the most beautiful blue walls inside. I cant wait to walk down the aisle with my dad, then hear the church bells ring as I step outside with my new husband!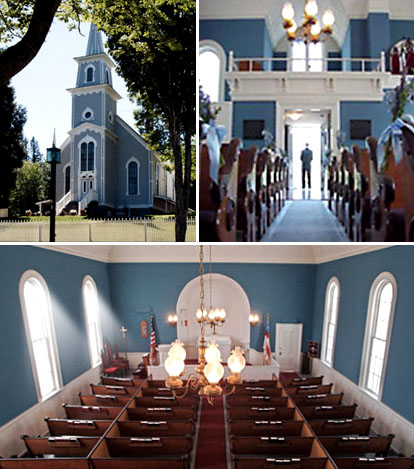 (Images of St. Paul's Church via MyWedding.com and PortGambleWeddings.com)

Like all brides, I really wanted my wedding to be unique and reflect my personal style. I love everything vintage; beautiful fabrics, ruffles, ribbons, feathers, and flowers, and my favorite color is pink. My challenge was, how to do pink without having it look like Trista and Ryans wedding?

To set the tone, I sent out beautiful invitations from the Folios of M. Thomas, chosen with the assistance of Ann Stuhlberg of Stuhlbergs on Queen Anne. The invitations have an understated but very romantic watercolor ribbon theme, with lovely calligraphy. Everyone who received them commented on how pretty they were!

I chose Aria Style to decorate the church and adjoining tent. Lars, John, and Susan have been so wonderful to work with! I am thrilled that they will be with me on the day of the wedding. Together we took my love of Paris, Marie Antoinette, and all things feminine, and created a very romantic look for the day.

We are using gold chiavari chairs, soft peach taffeta linens with ribbon rosette embroidery, and pale pink draping to give the tent a gorgeous glow. Slightly undone arrangements of pink roses, ranunculus, and dahlias set in silver champagne coolers will sit on the tables, surrounded by mercury glass votives. The centerpiece of the tent will be the cake table, piled Marie Antoinette style with jewel-toned tartlets and a pink cake adorned with madeleines from Bakery Nouveau! The crowning jewel will be, well, a vintage-looking crown!

Pink champagne served in coupes (which, legend has it, were made in the shape of Marie Antoinettes breasts) will hopefully get everyone in the mood to pose in our photo booth! It will feature a wonderfully whimsical Parisian backdrop painted by our dear friend and artist, Judy Wise, of Canby, Oregon. Props for guests to play with include a Marie Antoinette wig, berets, feather boas and fans, and if I can find my French maid outfit..


(Marie Antoinette movie images from IMDB.com and NYTimes.com, bridal bouquet, wedding cake, mercury glass collections and centerpieces from MarthaStewart.com, champagne coupe glasses from Crate and Barrel, custom photobooth backdrop painted by Judy Wise, Louis Bouillot Cremant de Bourgogne Rosé via KLWines.com, invitations from the Folios of M. Thomas.)

To further set the mood, Steve Rice, a wonderful accordionist, and his band will play French café music during dinner, then segue into New York piano bar standards for dancing.

I am so excited to have Kim and Adam Bamberg of La Vie Photography there to document the day. After photographing my sister Liesls wedding 6 weeks ago, they feel like family! I feel so fortunate that every vendor Ive chosen for my wedding is also someone I would love to have as a wedding guest and a friend.

Most of all, I hope that it will be a day for family and friends to enjoy. I think it is so easy to get wrapped up in the wedding and all the details, and forget that everyone is coming together to witness the beginning of a new chapter in your life. I just started working on my wedding vows yesterday, and thought to myself, Why am I doing this last? I am so happy to have finally met the right man. The rest is just the (pink) frosting on the cake.

Thanks Justine! We can't wait to see your photos and hear about how it all went! Readers, stay tuned for her upcoming Real Wedding! Want a sneak peek at how it all turned out? Go to http://lifeofkimandadam.blogspot.com/.