Travel Update- Friday, October 3rd- home, jetlagged, and absolutely ecstatic from the trip! I'll be back in action on Monday with stories to tell and wedding ideas to share.
Until then, please enjoy today's guest blog post from one of my all time favorite bloggers, Matt Armendariz of MattBites.com. Matt and his partner Adam were recently married, and when I read about it on his blog I was moved to tears, laughter and more tears, and I couldn't resist asking him to tell his wedding story again, here, for all of you. Thanks so much for sharing Matt, and congratulations on your newlywed status!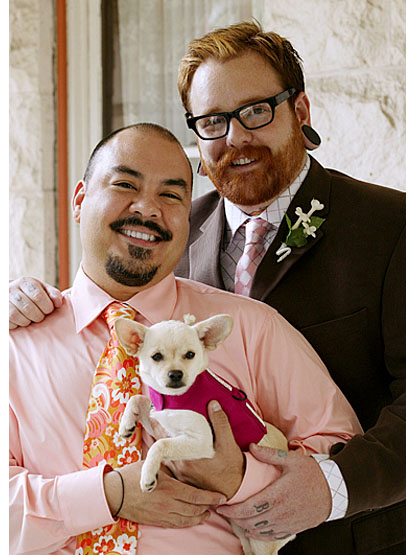 Greetings! I'm super thrilled to be guest blogging here at Junebug Weddings. It's an honor and a treat to be a part of this great site and it's such an amazing resource for all things wedding. As a recently hitched kinda guy I feel as if my path to marriage wasn't the most traditional one, but it was no less thrilling, exciting and momentous than the commitment dozens of brides and grooms make to each other every single day. How many people do you know that get married twice – to the same person? And Christy of Junebug Weddings thought it'd be nice to share my story. How could I ever say no?

I met my partner Adam through friends back in 2004. Sure, there were fireworks and giddy butterflies the first time we met, but what also became apparent to me was that this was the man I was going to marry. I just knew it, plain and simple. It was meant to be. We planned a celebration in Austin, Texas (where I'm from) and if it weren't for photos from that day I can honestly tell you I might not have remembered it. I was a blubbering pile of tears, Adam was emotional, heck, the whole day was one big giant Kleenex! We left Austin and returned home to Los Angeles knowing we had professed our love for each other and stood before our families. It was real, it was significant, and though purely ceremonial, it was everything I needed. Yippee! Married! Sorta.

Fast forward a few years later. Word began to trickle in that the California Supreme Court would be debating a law on same-sex marriage. For the record let me state that I'm not overly political and never want to impose my views on anyone and because of this I kept my thoughts to myself. But what if — WHAT IF? — I could actually marry the man of my dreams and have it on equal standing like so many of my legally-married friends? I didn't want to get my hopes up but then, all of a sudden, it was announced that we could legally get married in California and that's when whirlwind round 2 began. We decided to be one of the first same-sex couples in the State of California to become legally married, so on June 17, 2008 we headed down to the registrar's office in the city of Norwalk, California. What happened that morning must be seen to be believed!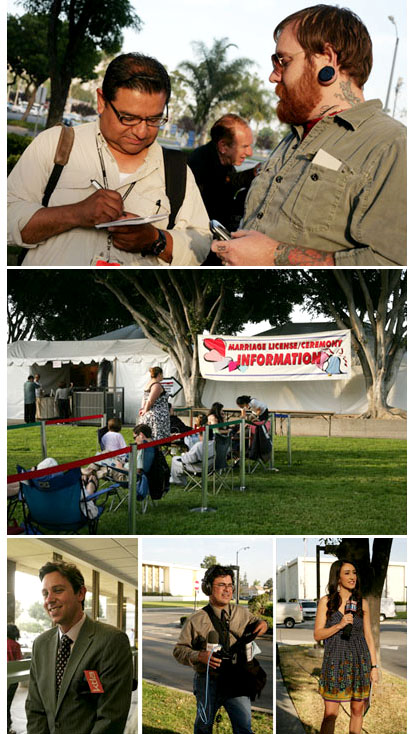 We arrived at the Registrar's office at 6:30am and joined a handful of other couples doing the exact same thing. There was a sense of disbelief and amazement from everyone there. Was this really happening? There were cameras and reporters there from just about everywhere; The Los Angeles Times, NPR, KTLA 4, NBC, ABC, FOX LA and a few regional papers. To my amazement the local Registar's offices all over Los Angeles erected tents and special areas in anticipation. It seemed as if they were as excited as we were! The reporters and camera crews and anchors were working hard to remain professional and objective, but it was quite obvious how they felt as they offered enthusiastic well wishes to everyone all morning long. And check out that female reporter's outfit at 7am! Lord I don't know how she does it.

After waiting outside we were ushered into the building, camera crews following. We filled out our paperwork at a teller window while crews and newlyweds looked on. This is an everyday occurance for the Registrar's office but today it was just a little bit different. People were sharing their stories and honeymoon plans with complete strangers, and taking pictures of each other. It felt like one big party.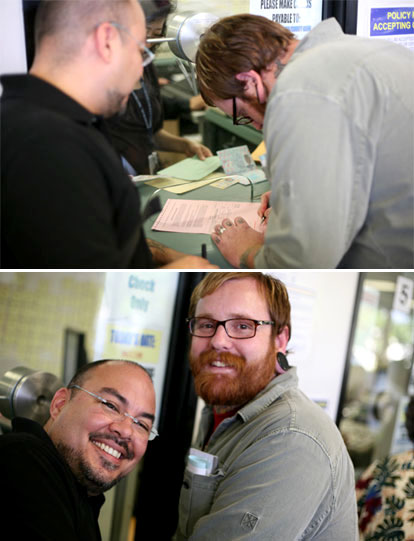 ="FONT-STYLE:>
A reporter from the LA Times as well as an NBC cameraman asked if they could cover our ceremony. I told them only if they let me take their pictures. They were both so completely sweet, and how many couples can say their wedding witnesses were TV crews and newspaper reporters?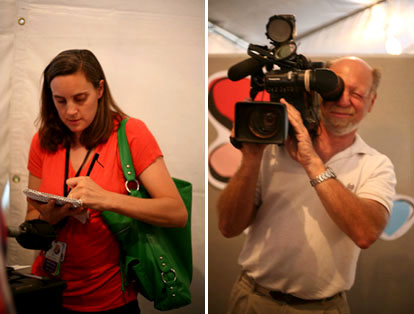 Look how happy we are! I think this picture sums up the day pretty well. (You wouldn't know that I just completely had a full-on crying fit 30 seconds before.) People have asked me what it was like, this entire surreal day and there really are no words to describe the happiness you have when you get married. It's like you are going to burst! When asked if the day was everything we expected we both answered that it was so much more than we could have imagined. It was. It was surreal and amazing and fun.

As one of the first couples done with the whole process we made our way to the photo gazebo area. With a sunny day full of happiness and love all around, my HUSBAND (yes I said HUSBAND!!!!) and I stopped for a few quick photos. At that moment I realized that I was the luckiest man alive. I also realized to take a booster chair or step ladder any time I decide to have my picture taken next to my partner.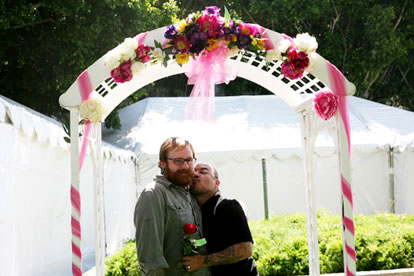 It's been a few months now since that big day, and the following days were just as surreal as strangers stopped us in public to wish us happiness. Friends forwarded us newspaper clippings with my big fat head in the foreground, and one day when getting home from work a neighbor honked and yelled "CONGRATULATIONS" from down the street! It was those moments that made me realize that love is love, pure and simple, and there's nothing more amazing than two people committing their lives to each other. We're married now, and it just can't get any better than that. I'm a million miles in the sky. But you better believe next time we do something ceremonial or historical I'm going to dress up. You never know when a camera crew might just arrive.