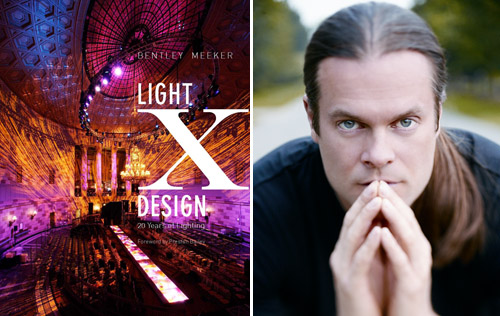 Bentley Meeker is a world renowned lighting designer who has worked with the top wedding planners and designers in the world, creating magical environments for weddings and events like no one else. In his new book Light X Design: 20 Years of Lighting by Bentley Meeker, Bentley shares photo after photo of his unbelievable creations. The scenes are utterly impressive as they make the grand New York City locations they exist in even more spectacular, and they illustrate Bentley's great love and passion for his artistic medium. I was lucky enough to get to ask Bentley a few questions recently about wedding lighting design, so that we could all learn a bit from his vast body of knowledge. Here's what he had to say…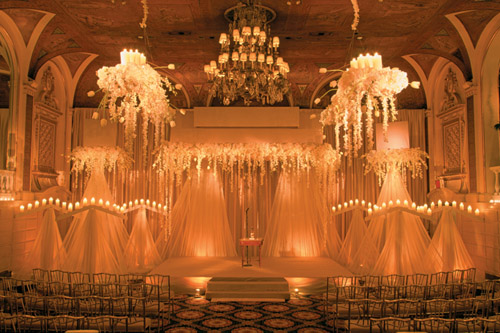 Junebug: When planning the lighting design for a wedding, is there a place you like to begin the creative process with the wedding planner, the designer or the couple? Or is this jumping off point different for every event?
Bentley: It begins with the sensibility of the couple themselves. We often work with decorators and event planners in NYC that have particularly elevated aesthetics and are tastemakers in the industry so the translation from the couple's sensibility into information we can use is a smooth one. However, in other markets, where the planner is often one's aunt who has little experience in translating information as such, it's great for the lighting designer to directly get a sense of what the couple's vibe is.

(Above images of various wedding and fashion show lighting designs at New York City's Gotham Hall, beginning with no decor or creative lighting at all in the top photo.)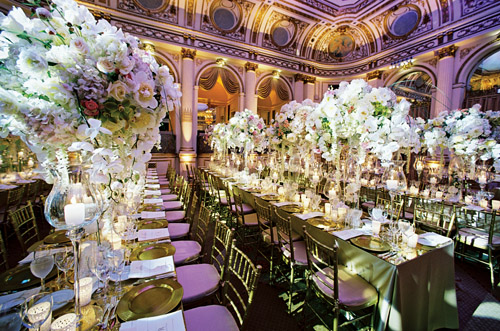 Junebug: What are some aspects about great lighting that people often overlook? What can it bring to an event that nothing else can? To a wedding specifically?
Bentley: Lighting is the single most transformative element in an event and especially in a wedding. Design and decor are hugely important and lighting works closely with that, but true transformation of a space begins and ends with the lighting.
Junebug: Are there any lighting basics that every couple should consider when planning their weddings, regardless of their event size or budget?
Bentley: Yes. Have EVERYTHING on dimmers. Also, be very wary of LED's which, while creating bold and often vibrant colors, can detract from the quality of light in an event and especially in weddings. We use them as infrequently as possible in weddings.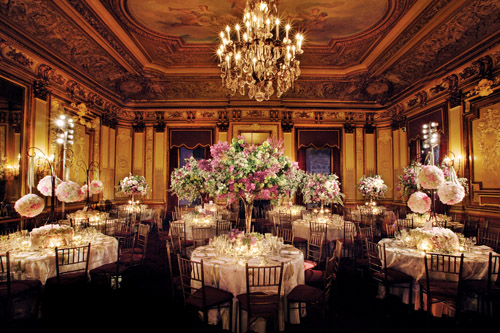 Junebug: If a couple is planning a wedding in an indoor location with existing decor colors, textures and furnishings, what is a good way to approach their creative lighting choices?
Bentley: I think that they should first look at what they like architecturally about the space and possibly light those things, whether it be a ceiling wash, the uplighting of columns or even the highlighting of decor they bring in. It's important to highlight what we want the eye drawn to most, because our eyes are indeed drawn to – and adjust to – what's brightest in our field of vision.
Junebug: In the warmer seasons, so many people love to hold weddings outdoors where bringing in additional lighting can feel tricky. What are some of your favorite ways to add beautiful lighting to what mother nature already supplies?
Bentley: I'm partial to using foliage breakups for outdoor events, especially in tents, creating a sense of the outside being brought in. I also like to stay with warm, natural colors, as I do in most places.
For foliage, I like to light it in white, showcasing the natural colors of the trees, flora and even fauna. I always thought that lighting a green tree with green light made it a little too strong… (Especially when that green squirrel goes running up it…)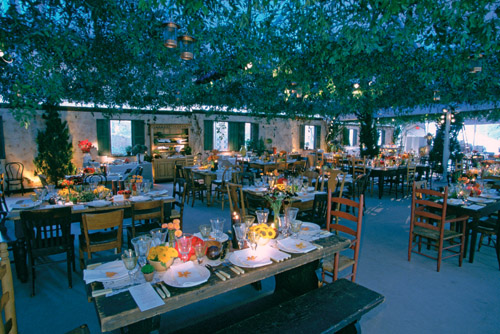 Junebug: Do you have any great tips for everyday lighting that couples can use to make their homes look and feel more beautiful and welcoming?
Bentley: Yes. Use incandescent light and put it all on dimmers. Everything. And then use them. When you're not needing bright functional light (cooking, reading, etc.) lower your lights. It's infinitely more beautiful and saves electricity to boot.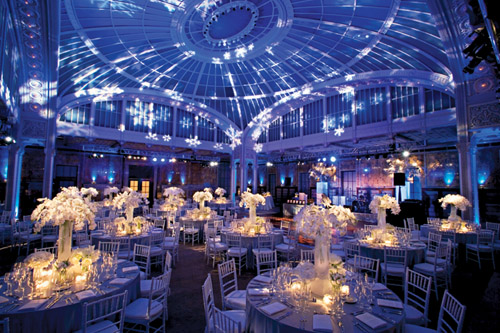 Thank you Bentley! Your new book is absolutely beautiful, and we appreciate you sharing your expertise with us!
Readers, for even more spectacular lighting design inspiration, check out Bentley's book Light X Design: 20 Years of Lighting by Bentley Meeker!