Happy holidays dear readers! We're all caught up in the holiday spirit over here, so to spread the love and say thank you for a fabulous year, we thought we'd organize a bit of a giveaway. But knowing us, of course, we just couldn't go small, we had to go BIG! So we have for you five, count 'em five, jam-packed, product-filled, heart-racingly good giveaways on What Junebug Loves! That's right friends, a giveaway week! Check back each day, Monday through Friday, to enter to win wedding gifts galore! It's our way of giving a little something back to you, for all that you bring to us. xoxo
First up… it's Fashion and Beauty day! Two very lucky winners will soon be receiving a gift package of amazing girlie treats including:
– A Tying The Knot gift set from Philosophy andTheKnot.com
– A $100 gift certificate toward Bella Umbrella's vintage parasol rental for your wedding day
– And an adorable garter from the "Something Blue" collection of Julianne Smith Wedding Garters!
Read on to learn more about the prizes, and to enter to win simply leave us a comment describing the beauty products or fashion accessories that you're most excited about using on your wedding day. We'll accept entries all week long, and randomly choose our two winners this Sunday, December 20th. Good luck everyone! And happy, happy holidays!!!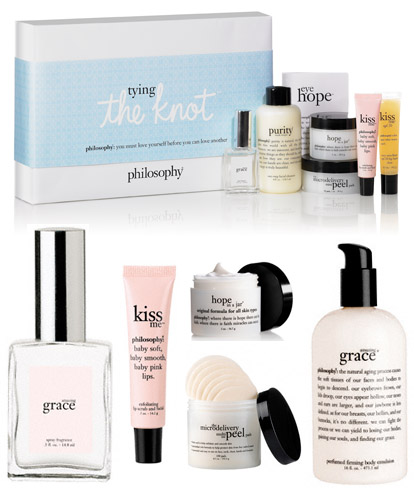 The Knot and Philosophy have teamed up to create a collection of beauty products to pamper nearly all your pretty parts and to help get you glowing for your big day. I love that their Tying The Knot gift set includes everything from perfume to lip balm to micro-delivery exfoliating pads, as well as their best selling moisturizer with the best name ever, Hope in a Jar!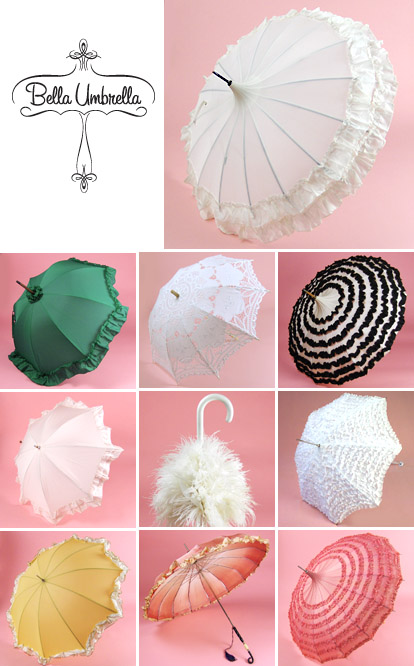 We're longtime fans of Bella Umbrella and the fashion fun that their vintage parasols bring to a wedding! We've also been known to head to their site and their local Seattle boutique to purchase gifts for our girlfriends. Who wouldn't love to own an umbrella that looks like this? From lacy and white to bold and bright, you've never seen parasol options like this!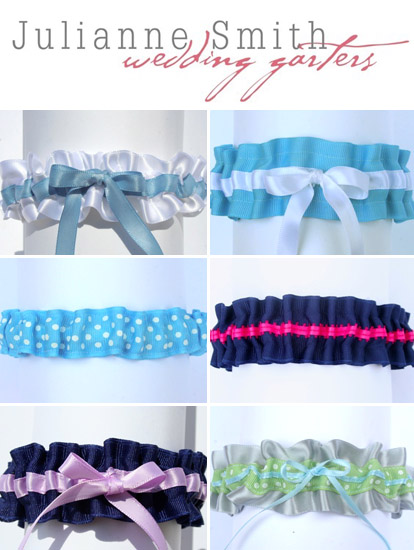 Designer Julianne Smith has a passion for wedding garters that's contagious, and her modern designs offer a fantastic way to wear your something blue in a playful and unexpected way. Check out her website for all of her garter collections as well as custom design options. Our favorite little extra? Making your garter a keepsake by adding your hand embroidered monogram and wedding date!
A very special thank you to each of the businesses participating in this giveaway. You and your generosity rule! And if you're planning a wedding in Seattle or Southern California, don't miss our Plan Your Wedding Hotlist for more talented and trustworthy wedding professionals we love!