What an impressive post this one is! Originally featured on December 22, 2009 it lets us see the impressive wedding design skills of a true expert come to life…
Incredible event designers can take a vision, an idea, a tiny inspiration, and bring it to life super-sized, fully realized, and in technicolor! Today we get to see just that with the ultra-creative work of Daniela of Seattle's Bella Signature Design. Read on to see how she worked with a wedding couple to turn their love of color and modern wedding design ideas into this striking concept…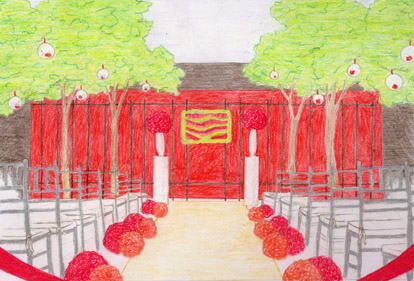 and into this stunning reality…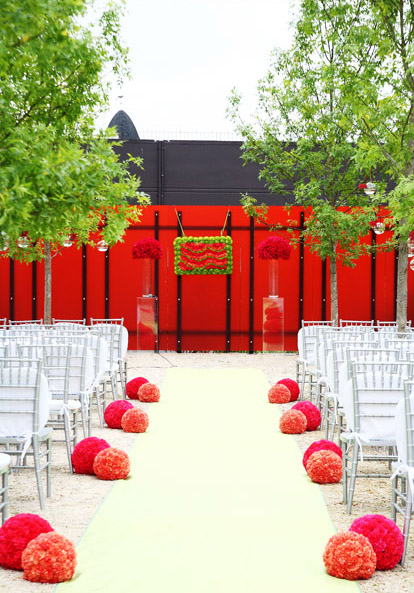 Staci and Brett came to me with a love of all things modern yet lush, and a love for bright colors (Ah, the perfect match for Bella!) They had chosen Januik Winery, one of my favorite venues in Seattle for their wedding. Fabulous modern architecture, great wine, and sensational food! While Staci, Brett and I worked on the color palette (chartreuse, persimmon and raspberry) it was Staci and I that struggled over her point of inspiration. One of Bellas beginning design stages is to find the couples "point of inspiration." This can be anything; a favorite season, a location, a stunning piece of fabric – anything that speaks to the bride and groom and represents their combined style. This inspiration begins the concept of the design, so that the wedding is uniquely theirs, and not something just created from magazine tears. Staci gave me this beautiful Missoni scarf to use as inspiration, which featured one of her favorite patterns as well as the couple's favorite colors. What a great piece to use as inspiration!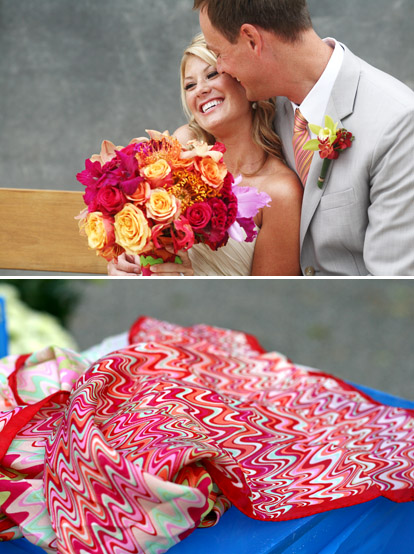 Staci and Brett were adamant about excluding the cliché "single, giant arrangement" behind them as they recited their vows, although they did want something that would frame them beautifully. Since Januik has an amazing orange-red wall that would be the backdrop for the ceremony, I designed an art piece out of flowers to hang on the wall, with a wave pattern similar to the scarf. We framed it in wood and hung it like a piece of art, and it created a perfect focal point before the couple walked up the aisle! Staci LOVES floral orbs, so we flanked the aisle with them to keep things fresh and modern. Brett loved the trees that line the 'aisle', and wanted some color there as well (I love it when grooms get involved!) so 100 glass orbs, to reflect the orbs on the ground, were strung into the trees and bedecked with beautiful orchids. The sketch of this wedding was an immediate winner!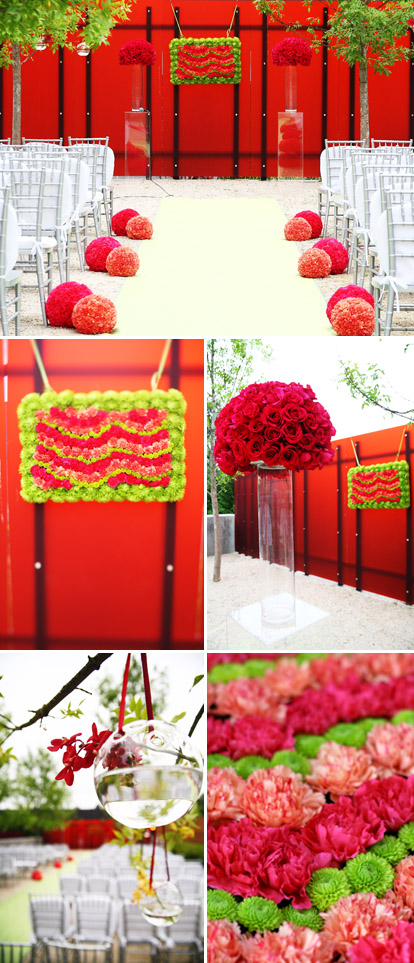 Greeting the guests after the ceremony was a lemonade station, and a wonderful entrance piece on the escort card table, a frame with squares of blooms, in the center of which, of course, was the wavy pattern!

For the reception, we again used the pattern from the scarf and wove that into the centerpieces, using orchids, roses, celosia and Kermit mums. Since the couple did not want tall, overbearing centerpieces, yet the room needed some height variance, we created four custom hanging centerpieces form Plexiglas strung on colorful ribbon from the ceiling. Even the staff commented on how different the room looked! For the dessert table, we worked closely with Jen from Jen's Desserts, to match her exquisite and delightful sweets with Staci and Brett's style. For dancing, we turned the tasting room into a swanky dance lounge by adding magenta up-lighting, custom seating in persimmon and chartreuse, and glassybaby candles everywhere. Romantic, elegant and down right sexy!
This was one of my favorite weddings – completely infused with the couples style, and warm, joyful colors. Staci was great at giving me hints of things she liked, and then letting me design away! I always feel I do my best work when given some direction from the client, and then allowed to create wonderful, unusual pieces to fit together into a fabulous concept for this important celebration.

Thank you Daniela! What an amazing wedding! All images by Bella Signature Design and Life Mosaics Photography.