We are so excited to share the incredible work of Australia wedding photographer Todd Hunter McGaw in today's intimate Springbrook, Queensland wedding. Admire the gorgeous landscape and sigh at the amazing portraits of Sarah and Jaran on their lovely wedding day.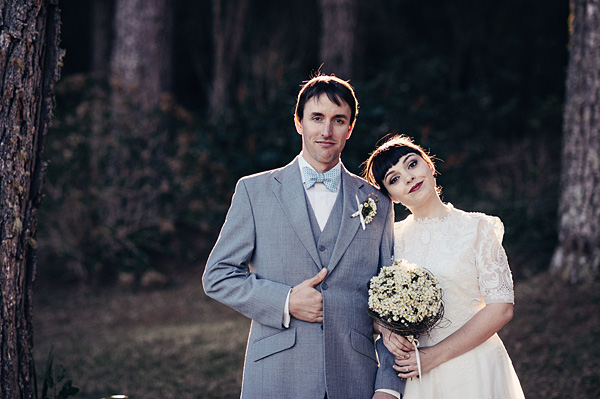 The Couple: Sarah and Jaran
The Wedding: 9.1.12 – Springbrook Mountain Manor, Springbrook, Queensland, Australia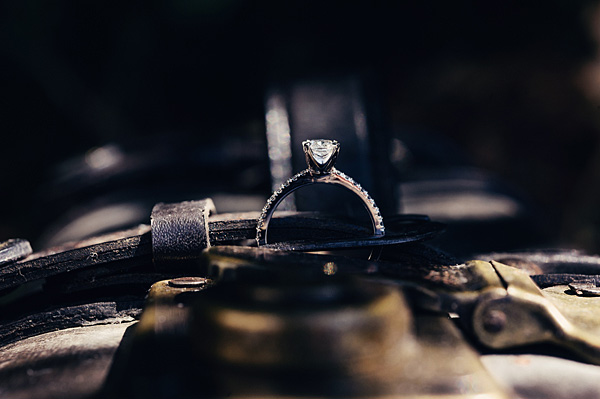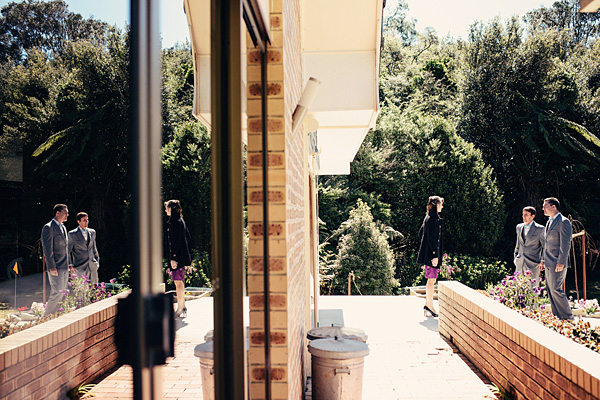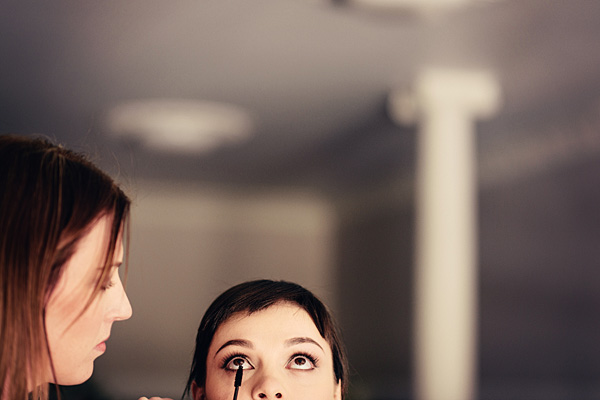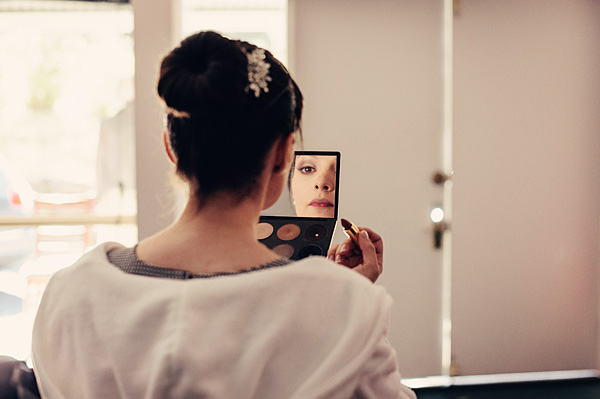 The Goals: Jaran and I wanted to have an intimate, informal and homely wedding so that everyone could relax and have some fun! We also wanted to keep it real…about us and how we fell in love.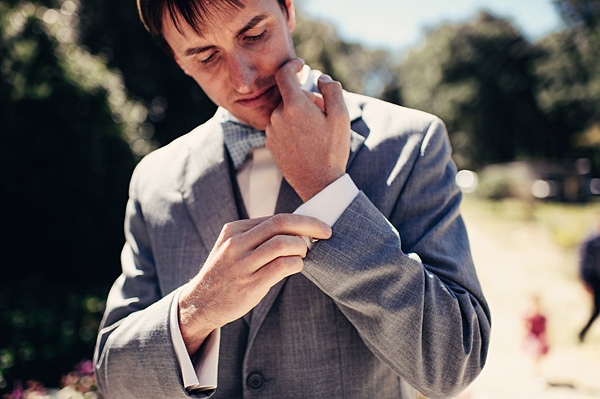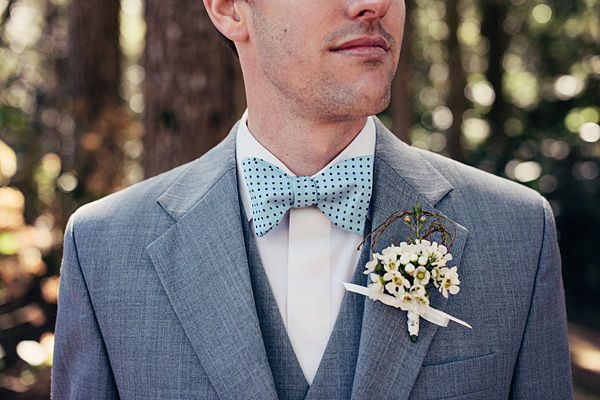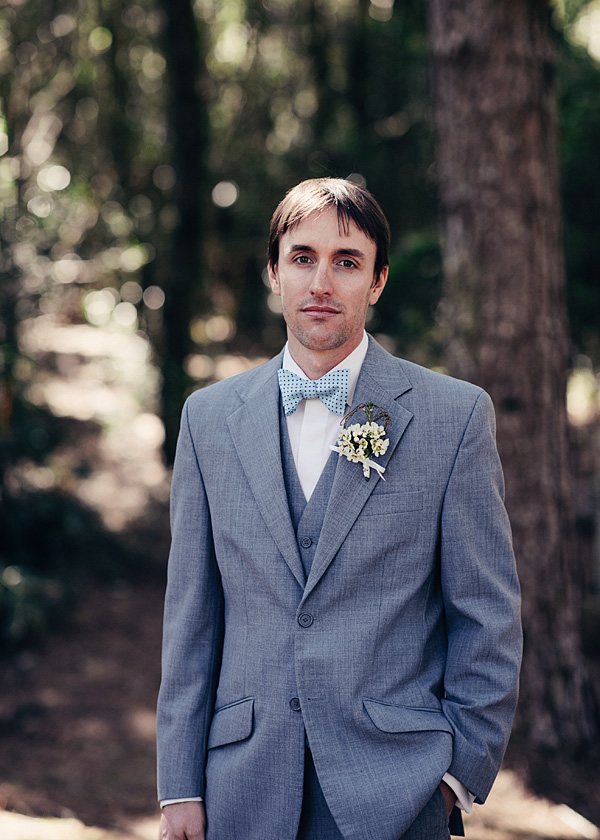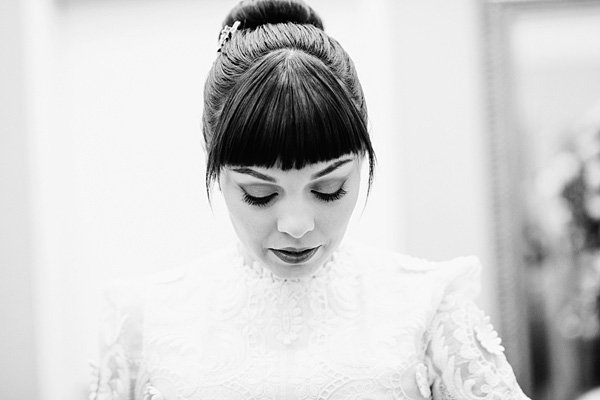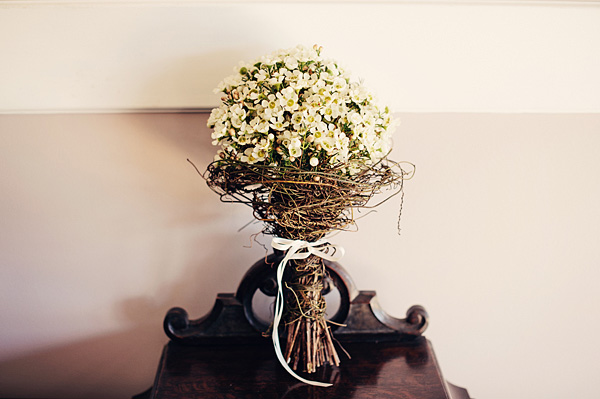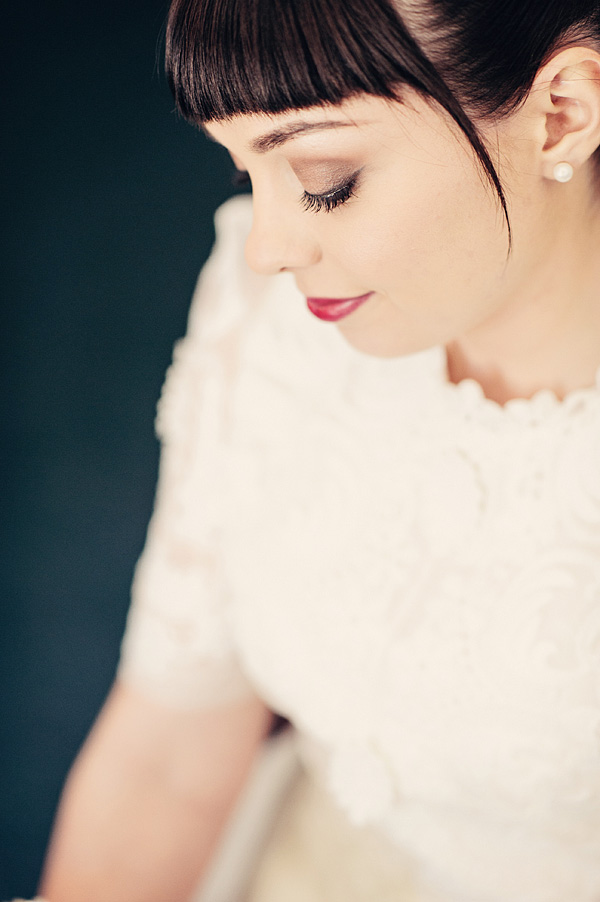 The Design: When Jaran and I first started dating, he used to tell me about an old farm that his parents had bought at Springbrook in the Gold Coast Hinterland. The first time he took me up there I couldn't believe how magical it was. The air is crisp, there are waterfalls and beautiful old trees. It reminded me of Tasmania, where I was born.
We chose to have our wedding at Springbrook Mountain Manor, a Tudor boutique hotel, located a couple of properties away from Jaran's parent's farm. The venue really suited us with its beautiful gardens for the ceremony, the hedge maze for photos and the restaurant for dinner with a dance floor in the English tavern. It's also a hotel so the guests could stay the night.
Our wedding was on the first day of spring. It's one of the least rainy days of the year at Springbrook which is important because it rains three metres a year on average. It was also my brother's birthday. I bought him a little chocolate cupcake and we all sang happy birthday at the reception. After he had a few drinks, he told me that it was his best birthday ever, but he didn't like how they kept making speeches about Jaran and me. Thanks for letting us have our wedding on your birthday Huw!
We ordered the wedding stationery through Cricket Printing on Etsy.com. They came all the way to Australia from Rhode Island! They were this gorgeous wood grain look with a little pink heart. They fit the location and feel of the wedding perfectly.
Jaran wore a light grey suit, killer black shoes with a cool blue spotted bow tie. He spent three hours the night before the wedding tying that bow tie. He decided that he didn't like the way it is traditionally tied so he engineered a new way of doing it (he's an engineer).
The string quartet played an instrumental version of Hoppipolla by Sigur Ros as I walked down the aisle. It is about smiling and spinning in circles and jumping in puddles. We love that song. It is so beautiful and ethereal that it makes me cry when I hear it! I thought it was the perfect song to relive a childhood innocence before embarking on marriage. A couple of months after the wedding, I saw Sigur Ros play it live.
For the wedding ceremony, Jaran made a wooden stage for us to stand on. He made it out of 100-year-old pieces of hardwood from our house. The top piece in the archway was made from the stairs and the floor used to be the front deck. I made some little signs with the leftover hardwood to put up around the gardens of Springbrook Mountain Manor.
I sewed bow ties for all the guests at the wedding. My mum had some old material that she used for quilting and I found a pattern online. Jaran and I liked the idea of everyone wearing bow ties at the reception and being dressed up and ready to celebrate.
We gave out Tasmanian made jam (with Tasmanian ingredients of strawberries, blackberries, raspberries and boysenberries) to our guests as a thank you. One of my brothers (who lives in Tasmania) knows Joanna from Joanna Jams, he visited her at Salamanca Market in Hobart and organised to bring the jam up to Queensland. He had 20kgs of jam in his suitcase! Make sure you grab some Joanna Jam next time you're in Tassie!
My mum made our wedding cake. She makes the best fruitcakes (it tasted even better a year later!). She watched YouTube videos on how to roll out the icing and make the little flowers. Jaran and I absolutely love Doctor Who so we found someone on Etsy who makes little bride and groom daleks as our wedding cake toppers.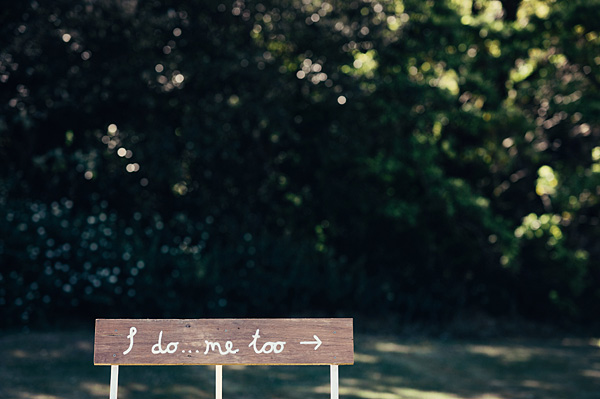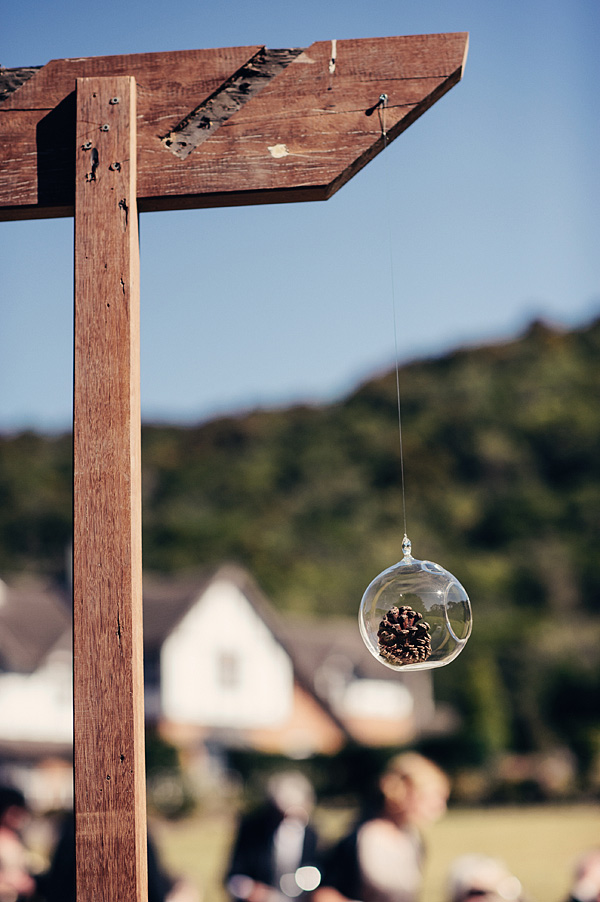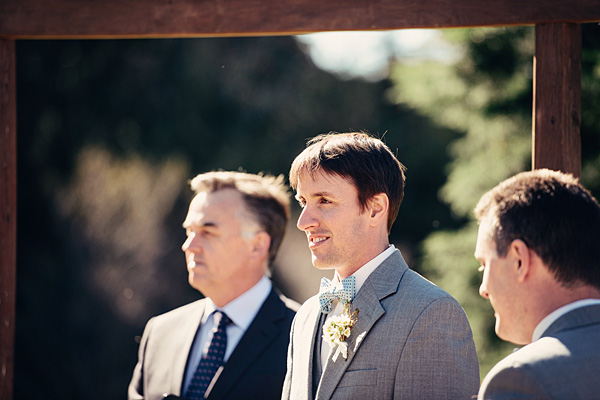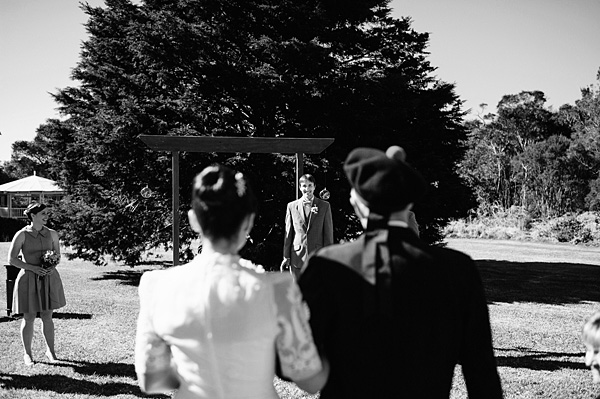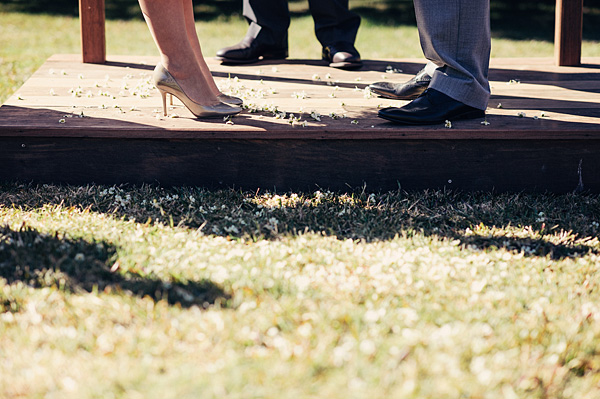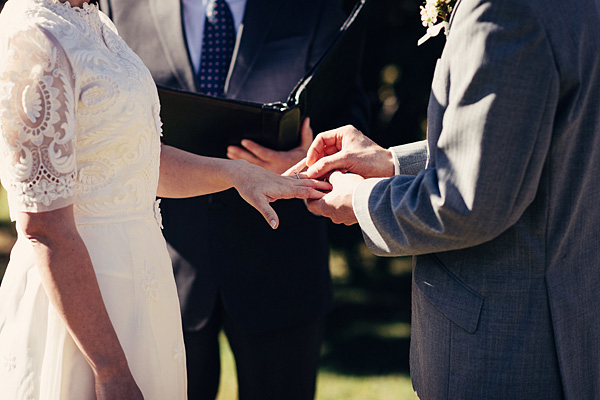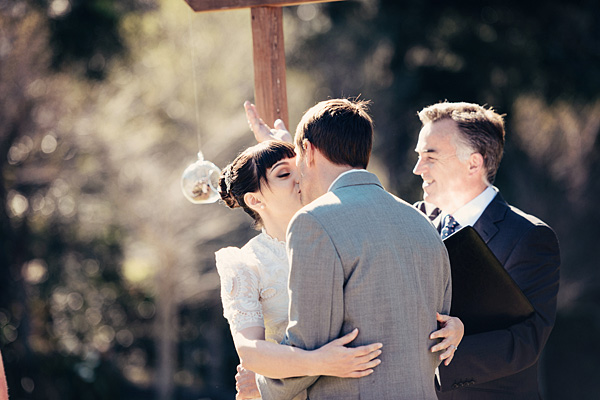 The Moments: My favourite moment was at the end of the photography session when the sun had set on the beautiful warm day and it was absolutely freezing! For the last couple of photos, Jaran and I were standing on the little wooden stage that Jaran had made for me. Jaran hugged me to keep me warm.
After Jaran and I were engaged, my dad talked about how he was going to wear a hired costume to the wedding. I just knew he was going to wear something to try to outdress me! A month before the wedding, I said to him that it would be perfect if he turned up in a kilt. Dad said it was too late and that he had already paid for his suit. Can you guess what happened? Yes, that's right. He turned up in a kilt!
I thought my dad was going to write yet another terrible limerick for his speech at the wedding. He ended up writing this beautiful ode about me and my life and it made me cry. I love you, Dad!
My nephew, Zac, heard our last name wrong and thought it was actually "Shoelayson." We think of ourselves as "The Shoelaysons" now.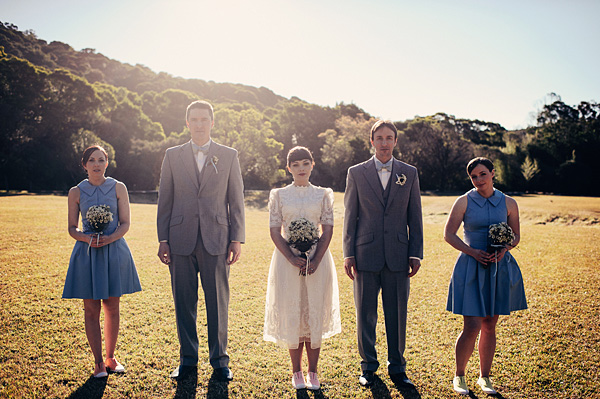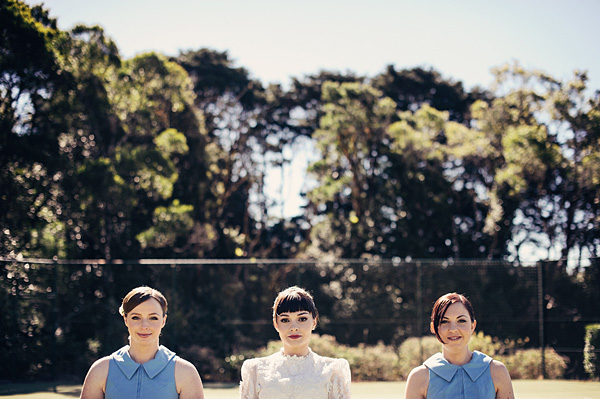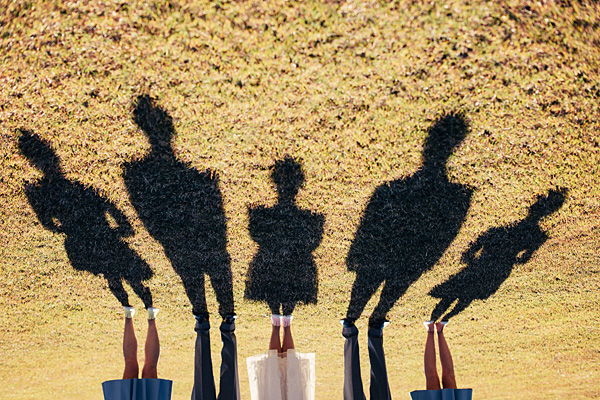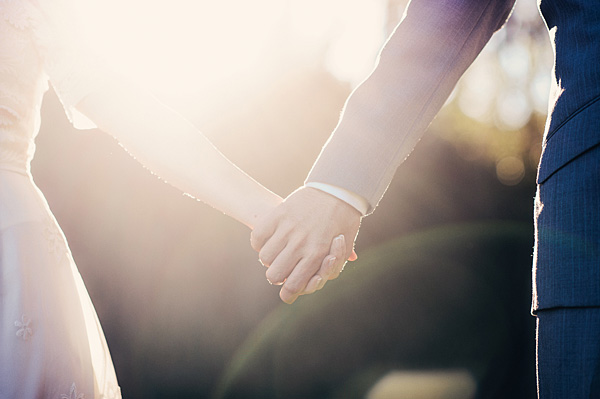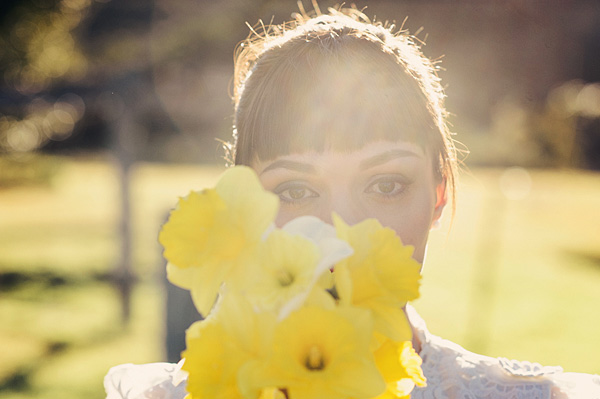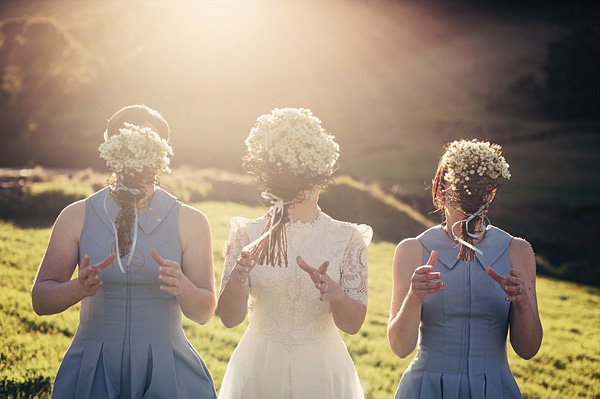 The Photography: In the initial stages of planning, we were researching Springbrook wedding and Todd Hunter McGaw's website came up. We were never in doubt that Todd and Alyda were "the ones." We loved the quirky photos and the little robots on the website. Oh, and there was definitely some chemistry when we first met the McGaws. On our wedding day, it really felt like Todd and Alyda were our best-friends-for-a-day. We were just hanging out, laughing loads and taking photos while exploring Jaran's parents property. Todd and Alyda also ran a photo booth for us at the reception which was so much fun. Initially we were using the props that we had bought specially but by the end we were posing with salt and pepper shakers, ornaments and anything we could get our hands on! Todd and Alyda never ran out of ideas for new and exciting photos.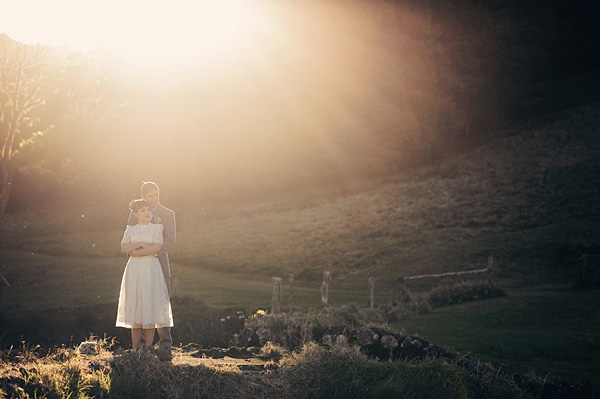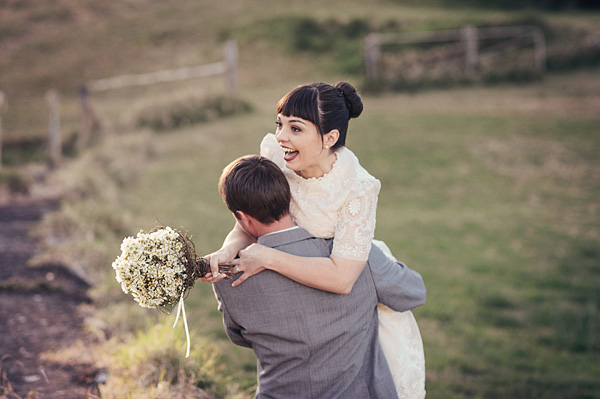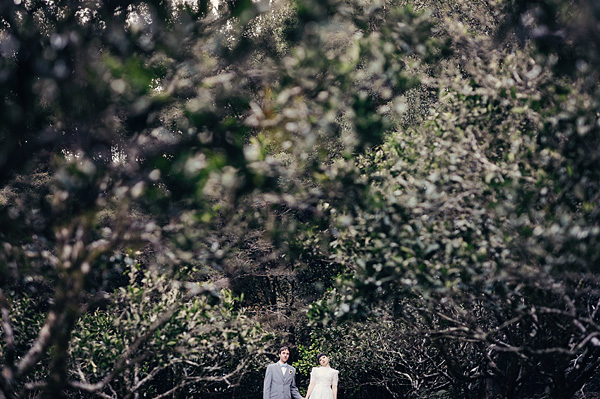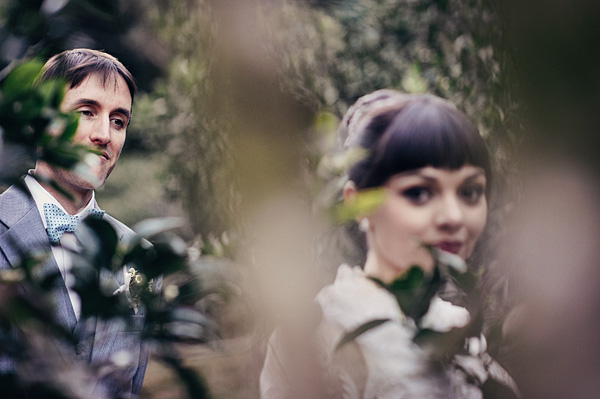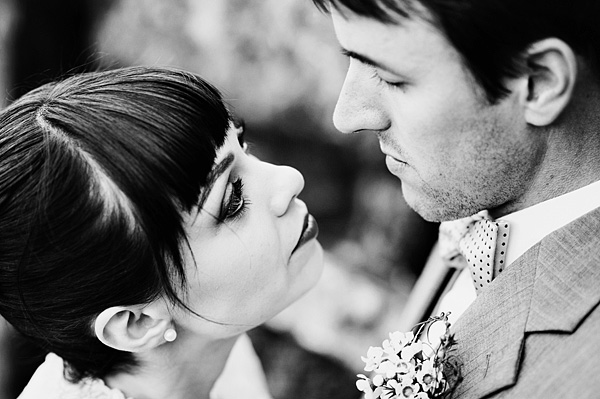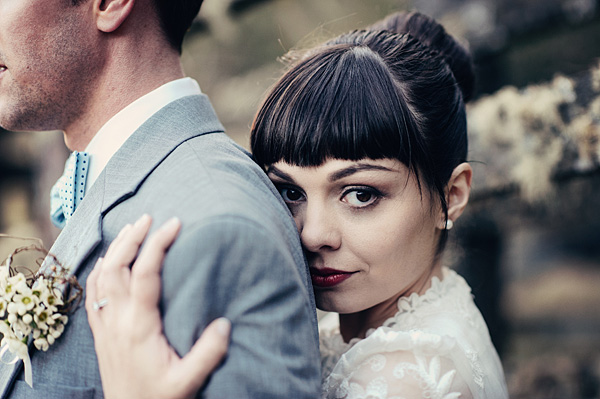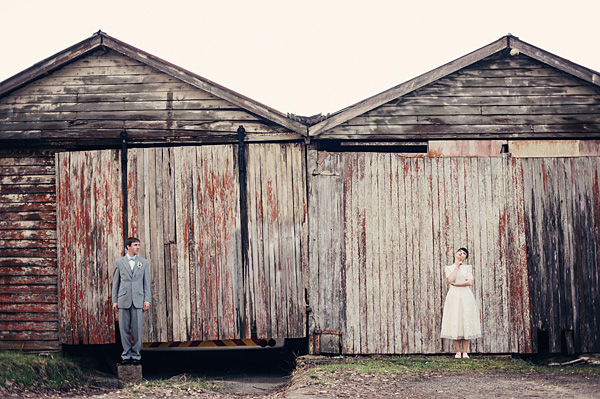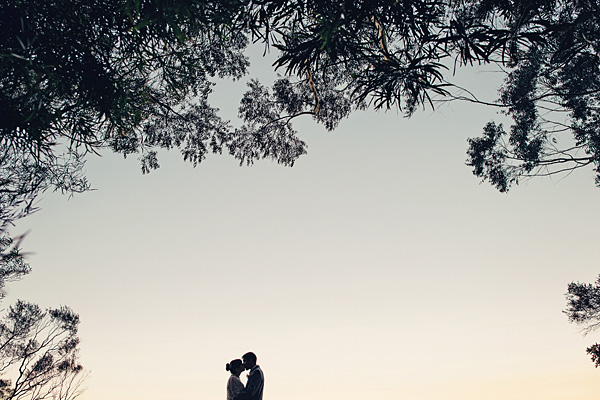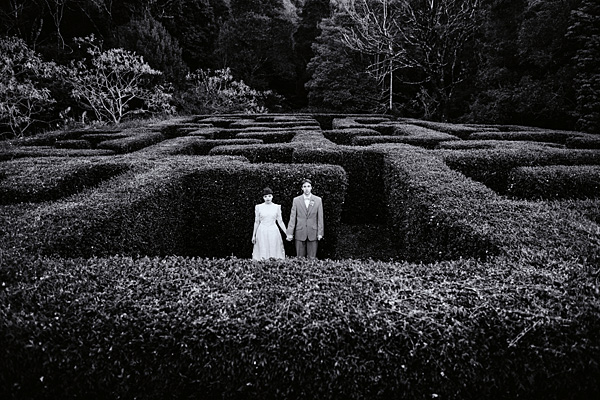 The Advice: We would have to say that the most important thing to do is to stop planning the night before and relax. You're the only person who is going to notice some little detail that was missed. Try to take some time out to enjoy the day. It goes so quickly. My advice to other brides is not to "settle" for a dress. You will know when you find the right one (same advice above goes to the single ladies… just replace "dress" with "man"). I picked up a few bridal magazines during my wedding planning and one magazine had the most beautiful Collette Dinnigan dress on the cover. I loved the details in the lace. Unfortunately, there is no Collette Dinnigan bridal store in Brisbane. I found a dress with the same Rococo lace in her regular collection in a department store. Ivory with sleeves and cut at tea length. I knew instantly it was the right dress. My mum cried when I put it on.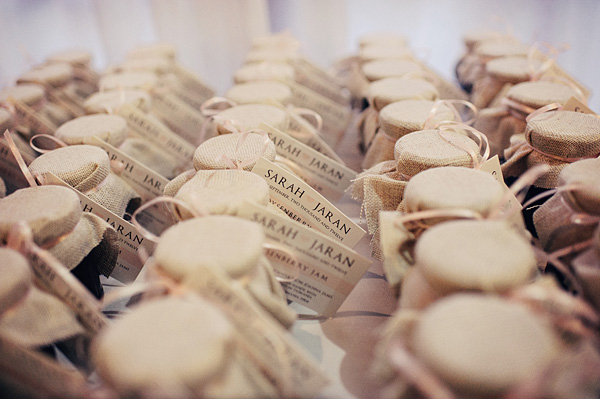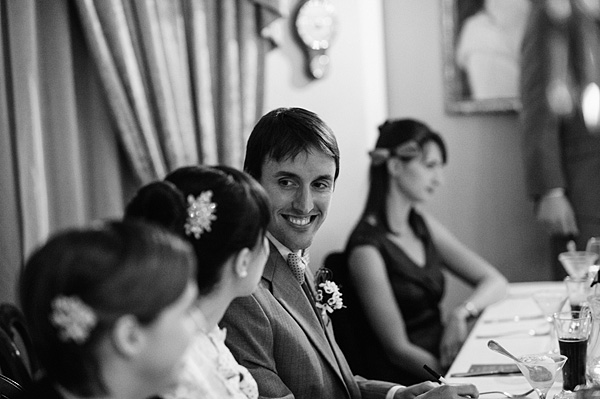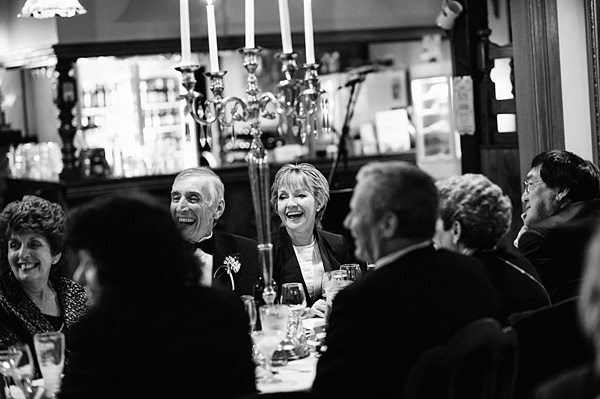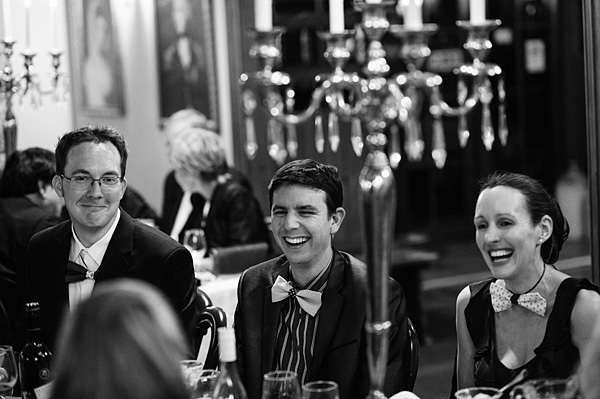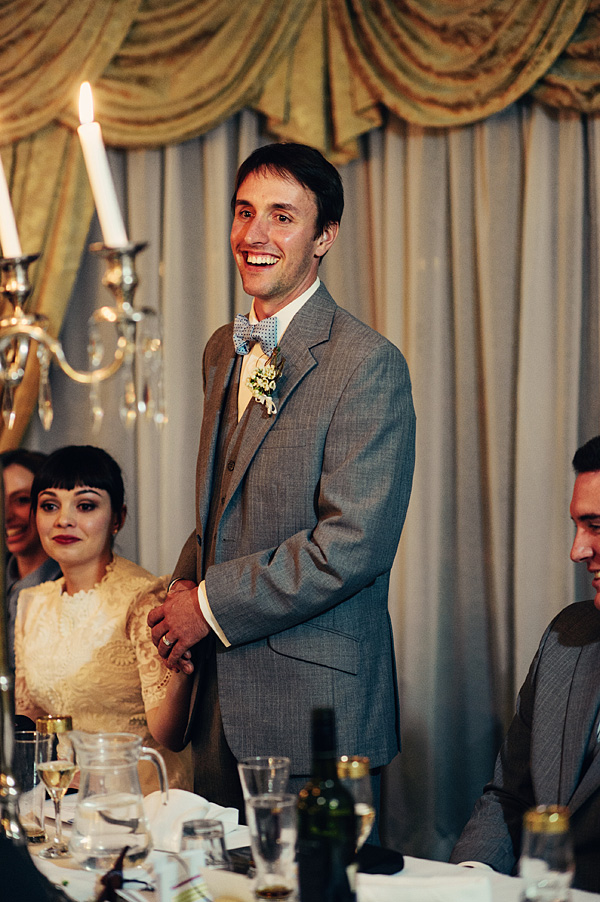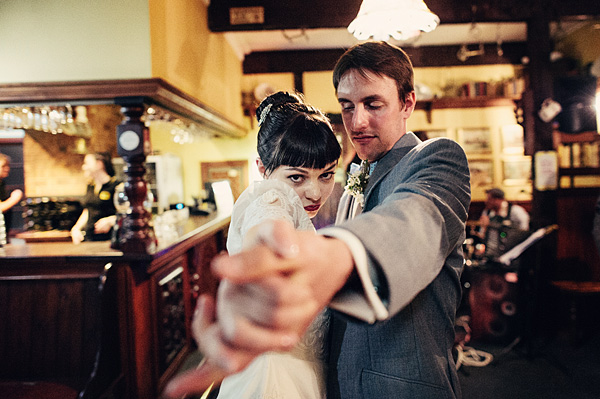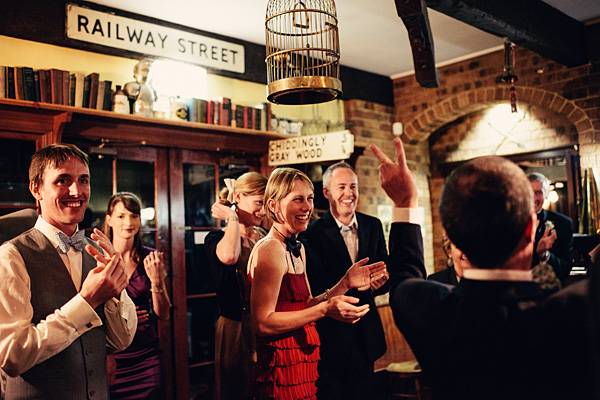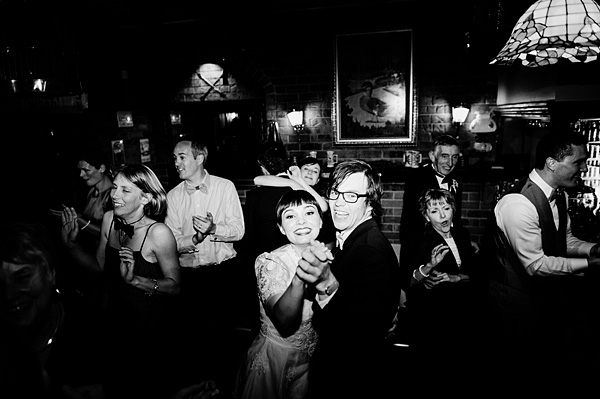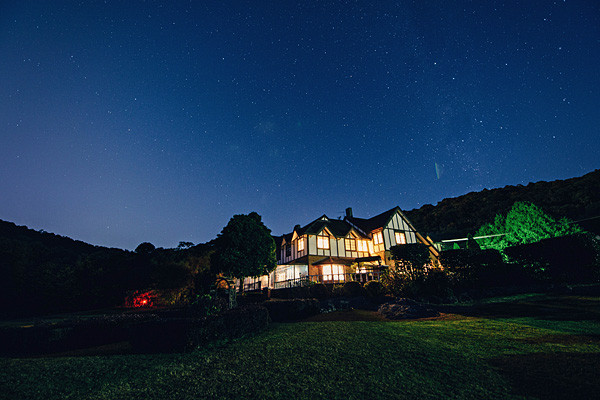 The Wedding Team:
Photographer: Todd Hunter McGaw
Ceremony and Reception Venue: Springbrook Mountain Manor
Officiant: Tim Collits
Invitation Designer: Cricket Printing
Catering: Springbrook Mountain Manor
Florist: Keren Simpson of Wedding Flowers by Keren
Cake: Mother of the Bride
Wedding Dress: Collette Dinnigan
Bridal Accessories: Jimmy Choo (shoes), Tiffany and Co. (earrings), grandmother's brooch, vintage pin
Bridesmaids' Apparel & Accessories: Cue (dresses), Nine West (shoes)
Groom's Apparel & Accessories: Aquila (shoes), Happy Feet (socks)
Hair & Makeup: Lara Quinn
Live Music: Archie Rye (reception), 16 Strings String Quartet (ceremony)
Favors: Joanna Jams
Rings: Adam Graham Designer Jewellery
Thank you Sarah and Jaran for sharing your lovely wedding day with us!
Looking for more weddings in Australia? Check out all of our real weddings in Australia!