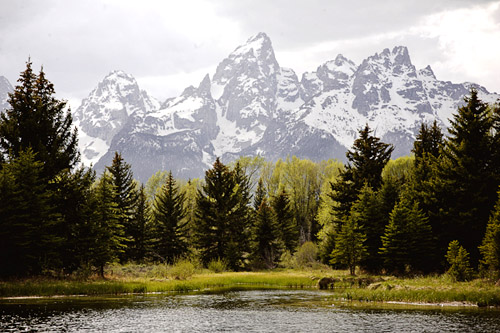 Inspired by Laura and Greg's wedding in breathtaking Grand Teton National Park that we featured this morning, and my own time there last summer, I wanted to share a few of the many wonderful things to do in the area. When I was there, I was blown away by the number of couples on their honeymoon going hiking, rafting, dining – even playing in the snow in July! This popular destination has it all – amazing scenery, outdoor activities, luxury accomodations and gourmet restaurants to fill you up after a long day of adventures in the pristine Tetons.
Grand Teton National Park is adjacent to Jackson Hole (the valley and resort area) and Jackson (the quaint downtown area just down the road from the ski slopes). I love how you can feel miles away from civilization at the park, and return to a luxurious hotel and great restaurant for the evening. Of course, there are plentiful camping opportunities as well! Below are some of my favorite area attractions and accommodations.


Hiking the Jenny Lake Trail in Grand Teton National Park; Photos by Sunglow Photography
To-Do: O.K. I have to admit something. Before going, I was honestly skeptical. I'm from Washington; I've seen mountains! Big ones! But once there, I realized I had not seen MOUNTAINS! The Tetons are majestic, sharp, and towering; not to mention teeming with wildlife. There are easy ways to adventure out into the great outdoors, and big, backcountry hikes for more entrepid souls. But even driving through this beautiful area, you can't miss those peaks nor the lush valleys and sparkling lakes that surround them. And if you see a crowd of cars, pulled over? Join them and ask what they see! It's exactly how I managed to watch a mother grizzly and her two cubs doing somersaults. From my safe vantage point, they were like living teddy bears, and a sight I will never forget.


The Aerial Tram at Jackson Hole Resort gains over 4000 vertical feet in 12 minutes!
Hike the Jenny Lake Trail to Inspiration Point – watch for wildlife along the way! On the Moose Ponds portion of the trail I saw – what else – a mother moose and her baby snacking on willows in a bog. Along the way I also spotted marmots, birds, ground squirrels, and brilliant wildflowers.
Ride the Jackson Hole Aerial Tram from Teton Village to the top of the Jackson Hole Resort. If you are skiing, this is how you get on the slopes. But in the summer, it offers spectacular views of alder groves and wildlife as you gain over 4,000 vertical feet in 12 minutes. You can stay as long as you'd like at the top, but do bring a sweater. We played in the snow on July 4th! Locals recommend grabbing a waffle and hot chocolate at one of the restaurants at the top.
While my friends were enjoying adrenaline overload, I took my land-loving self to the National Museum of Wildlife Art, just outside Jackson. Unlike any other, the museum has over 5,000 pieces from more than 550 artists all featuring animals of some sort. I've spent a lot of time in museums, and this one made my top-3 list!
Other popular summer activities include fishing, canoeing, and mountain biking. In the winter, the slopes rule! Dog sledding tours and cross-country skiing are a great way to enjoy the snowy scenery at a slower pace.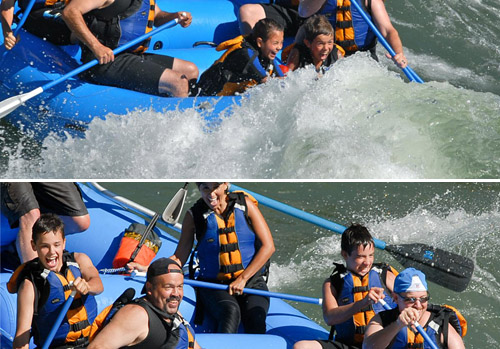 Rafting with Dave Hansen Whitewater and Scenic River Trips
To Eat: Another admission…food is really why I travel! Let's get to the important stuff.
Casual Eating On-The-Go
Creekside Market and Deli – a wonderful inexpensive stop for luch with incredible sandwiches. This was one of Laura and Greg's favorites!
Leek's Pizza – If you are in the park and need a break from camp food or national park dining rooms, Leek's is the place for great pizza. Located inside of Grand Teton National Park, Leek's is busy and bustling, and you'll feel like you're a local while eating a hot, cheesy pie in the rustic dining room.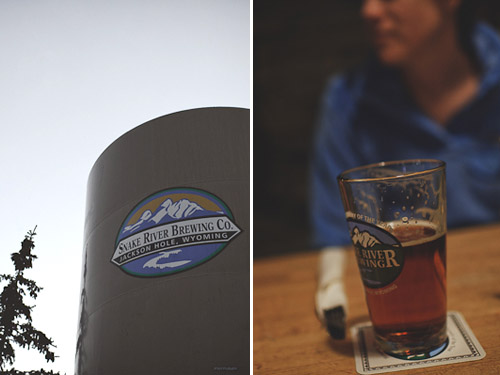 A frosty pint at the
Snake River Brewing Company
Fine Dining
Couloir Restaurant – Located at the summit of the Jackson Hole ski area/tram, Couloir offers a serious view served up with locally sourced and seasonal dishes. Their signature specialties are house smoked tenderloin of buffalo and a dessert tasting.
Snake River Grill – Offering an almost completely organic menu, the Snake River Grill offers upscale mountain dining. Think local trout, elk chops, juicy steaks; potatoes seasoned with local ramps and artisan ricotta. I think I'm hungry.
Wild Sage at The Rusty Parrot Lodge – An award-winning restaurant, located in downtown Jackson at an award-winning luxury lodge. Wild Sage is intimate and cozy with a massive river rock fireplace and seating for just 32. Meals are memorable and fascinating, as you'll dine with a full view of the exhibition kitchen.


An elegant meal at the Wild Sage
To Stay:
Amangani – Amangani means "Peaceful Home". With magnificent view of the Tetons and the Snake River valley, and modern yet warm decor, I can't imagine how you wouldn't find peace at Amangani.
Four Seasons Resort Jackson Hole – I don't know if I have to say much; The Four Seasons does a pretty amazing job with all of their properties. Their Jackson Hole outpost does rustic with huge doses of elegance and luxury mixed in.
Rustic Inn – Located on several acres, just blocks from downtown Jackson Hole, and adjacent to the National Elk Refuge, the Rustic Inn offers a luxurious lodge and lavishly appointed cabins that are far from rustic!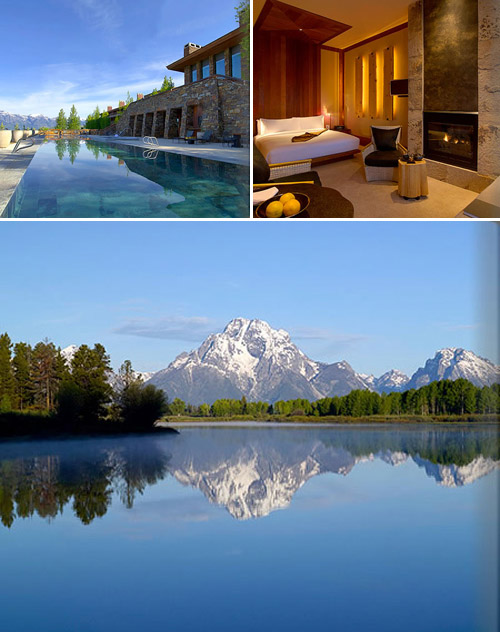 Luxurious accomodations and a million dollar view at Amangani Resort
I truly loved the week I spend in the Tetons, and the perfect blend of rustic natural beauty and elegant luxury the area offers. We'd love to hear about your favorite Teton haunts if you've been lucky enough to visit. Drop us a note!