We love the work of Los Angeles area catering company and Junebug member roomforty, because they don't approach catering in any sort of typical way, but instead like an ultra-creative and exciting gourmet experience. roomforty founder, Steve Fortunato, believes that "The cuisine at catered events should be as innovative, detailed and inspired as the best restaurant experience in the city." Now that's what I'm talking about!
Since we're big foodies around here at Junebug too, we reached out to Steve to get some ideas on other fun ways to incorporate great food into your wedding experience, and he suggested something really brilliant – hosting a rehearsal dinner where you don't just serve homemade pasta, but you make it together with your guests as well…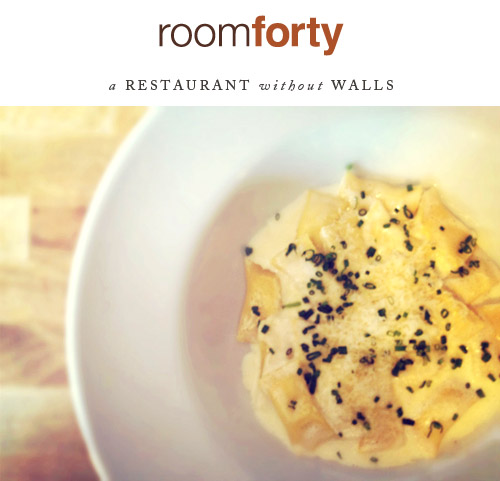 From roomforty's Steve Fortunato: There are so many reasons we believe making fresh pasta is the perfect activity for a rehearsal dinner, I'm not sure if I can fit them all into one post. But here are a few:
1. Because rehearsal dinners are all about colliding communities – bringing families and friends together to celebrate a couple. No one intertwines family and food better than the Italians – and trust us – when you start making fresh pasta – you'll feel Italian.
2. Because you've spent a lot of money on your wedding day. You want the rehearsal dinner to be nice – but more than anything you want it to be fun and affordable! From a culinary standpoint, the quality of fresh pasta can't be beat – but the process of making it, with a little music in the background, a little wine the hand, and a little flour on the apron is fun and will cost a fraction of "dinner for 30" at your favorite restaurant.
3. Because lets face it….your Dad talking to his Dad might not be the most comfortable thing you've ever witnessed – and "ice breaking games" have a way of keeping the dudes on their mobile devices. BUT….making food brings people together. It's tactile, it's communal, it's engaging, and there's a great reward at the end of the activity – a phenomenal meal.
4. Because environment matters on rehearsal dinner night. After being in catering for as long as we have, we've found rehearsal dinners to be more intimate than the wedding day – and typically, they're a time for you and your man to share a few words of appreciation. Home environments seem to be more conducive to those "toasts of appreciation" than a loud restaurant with strangers next to your table.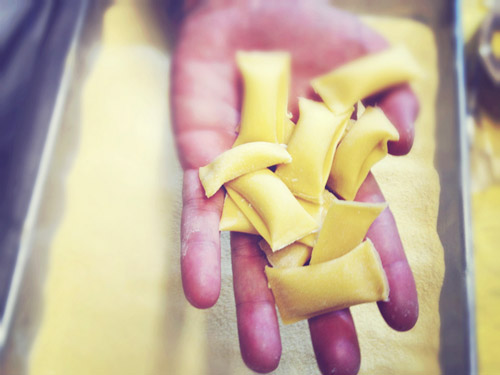 [Pasta Dough]
Some Notes:
ONE: The key to fresh pasta is using the right flour. 00 Flour (doppio or double zero flour) can be purchased at specialty food shops. (L.A. residents, Surfas or Gourmet Imports carries 00 flour). Whole Foods carries semolina flour but does not carry 00. Do not bother going through the trouble of making fresh pasta if youre going to use all purpose flour.
TWO: The recipe below is for filled pasta – agnolotti or ravioli. For un-filled pasta, use half semolina flour and half 00 flour, and use whole eggs instead of egg yolks.
THREE: In the spirit of simplicity, we make our dough in a standing mixer. It works great, makes less of a mess, but, of course, isnt as fun for the kid. So if you do want to get the gooey/sticky hand thing going, go for it! Pour your flour on a work surface, make a well in the middle, put the wet ingredients into the well, mix and knead until baby-bum texture is achieved.
FOUR: Pasta recipes are not exact science due to the varying sizes of egg yolks. Some yolks are large, resulting in dough that is more wet, while some yolks are smaller resulting in drier dough. Keep a few tablespoons of water on hand to balance the moisture.
FIVE: You can use any filling for filled pasta – vegetable purees, mixtures of cheeses, meats. Just remember for the actual pasta youre using a pinch of salt for all of the pasta, so filling needs to be very seasoned so that you maintain flavor when your filling is covered with the pasta.
Recipe
PASTA
1 lb. 00 Flour
Pinch of Salt (kosher or sea salt)
15 Egg Yolks
1/4 Cup of White Wine (the secret!)
1/8 Cup of Olive Oil
EGG WASH
3 Egg Yolks
1 Tbsp Water
Recipe Steps
STEP 1: Put flour and salt into standing mixer bowl. Add yolks and liquids. Mix at medium speed for 4 minutes using the dough hook attachment.
STEP 2: Form dough into ball shape.
STEP 3: Cover dough ball with plastic wrap or damp towel. Dough always needs to be moist, and needs to be prevented from drying and cracking.
STEP 4: The dough needs to rest. We recommend at least 2 to 3 hours, covered in a refrigerator. You can let the dough rest in the fridge up to 3 days.
STEP 5: Slice 1/8 of the ball into your portion. Whatever dough is un-used can be frozen. Thaw at room temperature before using.
STEP 6: Flatten dough portion with a rolling pin so that it can be fed through pasta machine.
STEP 7: Set pasta crank on 2 and feed dough through pasta machine. You will have a long rectangle.
STEP 8: Take one end of the rectangle, and fold into the middle of the dough. Take the other end and fold into the middle of the rectangle. Take the 3-layered rectangle and pass through pasta machine again with the thickness setting at 2.
STEP 9: Set thickness dial to 3, and pass pasta through. Set thickness dial to 4 and repeat.
STEP 10: Place long pasta rectangle on work floured work surface. Trim round edges to form straight ends. Youre ready to fill or prepare as spaghetti or fettuccine!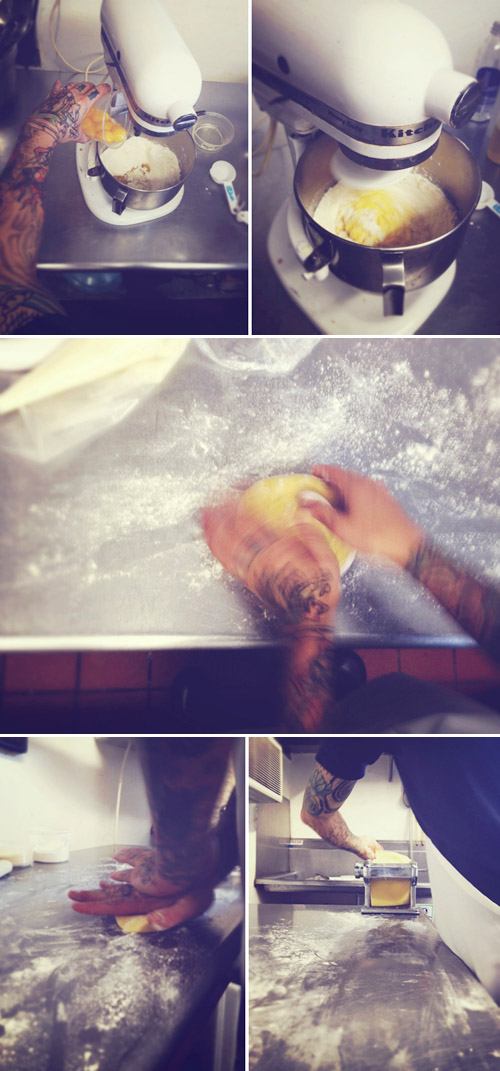 [Agnolotti]
Recipe Steps
STEP 1: Place filling in a pastry bag. (For ravioli filling, you can use an ice cream scoop as you're filling vessel.) Pipe filling down bottom edge of pasta, making a 1/2? bead of filling along the entire bottom edge.
STEP 2: Youre going to be folding the pasta onto itself. The egg wash is the glue. Mix 3 egg yolks and 1 tbsp of water to form egg wash and brush egg wash on the landing strip side of the pasta that the filling will be folded onto.
STEP 3: Using a the tip of a knife to get underneath the filled pasta side, fold over the filled pasta side one time the entire length of the pasta rectangle. Once folded, fold a second time the entire length of the rectangle.
STEP 4: Working length wise down the pasta rectangle place hands vertically 1 apart and press the edges of your hands into pasta roll.
STEP 5: Trim the excess of the pasta strip off.
STEP 6: Hold a knife upside down (blade side up) and cut the agnolotti in the creases. The upside down knife crimps and severs at the same time.
STEP 7: If youre cooking right away, place agnolotti into boiling salted water for 4 minutes or until just al dente. If you are saving for later, spread semolina flour (or corn meal) onto a baking sheet, and dry agnolotti on baking sheet for 15 minutes before placing into the fridge or freezer. ***Frozen pasta needs to completely de-frost before cooking. Do not drop frozen agnolotti or ravioli into boiling water.
STEP 8: Simple sauces rule with filled pasta a little butter, fresh shaved reggiano and chives are killer.

Thank you Steve! We love this great rehearsal dinner idea! Readers, if you love it too, take a look at roomforty.com to see more innovative recipes, and to learn about their cool pop-up dinners and catering options for weddings!