Happy holidays dear Junebug readers! We honestly wish we could give gifts to each and every one of you this holiday season to thank you for your kindness, support and participation all year long, but since that's, well, entirely impossible, we've been having fun putting together our annual week of giveaways for you instead, filled with wedding goodies you won't want to miss! All week long here on What Junebug Loves, as well as on Photobug, we've got giveaway galore, to help make your seasons bright.
Today we begin our giveaway goodness with my favorite topic… wedding fashion! One lucky Junebug winner will soon receive this knock-out colleciton:
– Sweetest Sin Chemise and Thong Set from Blush Lingerie
– Ice Drop Earrings from Melanie Auld Designs
– Renee Hair Flower from Serephine
– And ANY pair of shoes from the Nina Shoes website
Yes, seriously! Read on to learn more about each item, and to enter to win just leave us a comment here telling us about the bridal fashion you're most excited about wearing on your wedding day. We'll accept entries all week long, and choose our winner randomly next Monday, December 19th, 2011. Good luck everyone! And happy holidays!!!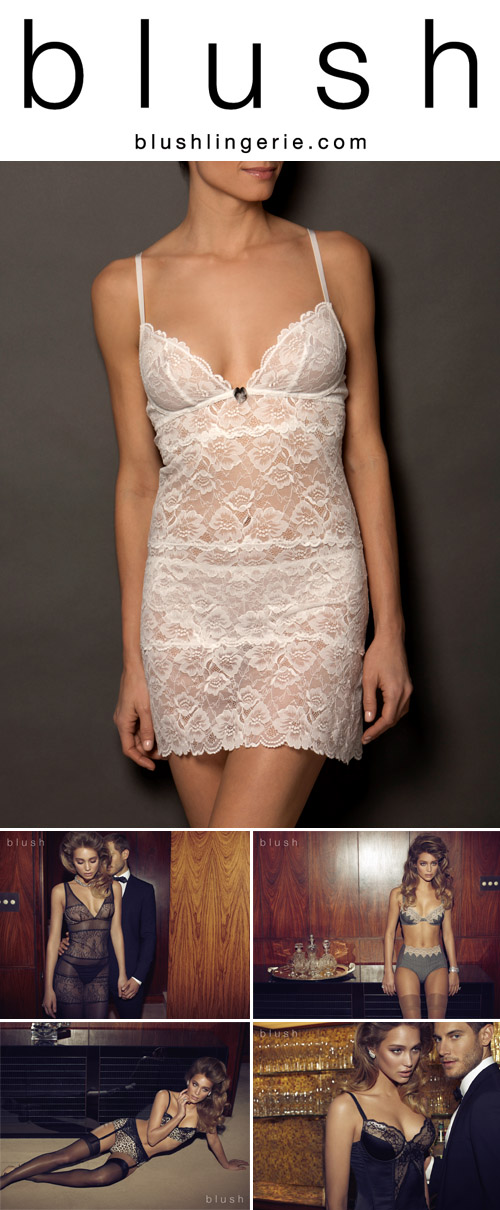 Lingerie that makes you feel your most beautiful and confident for your wedding night, honeymoon, and in my opinion, your everyday life, is an absolute delight, and the gorgeous collections from Blush Lingerie never disappoint. This fashion line, based in Montreal, is dedicated to making beautiful, affordable lingerie with luxury fabrics and standout style, and today they're generously giving away their Sweetest Sin Chemise and Thong Set (pictured in the large photo above). It's the ideal piece for any bride-to-be I'd say – what a treat!
To learn more about Blush Lingerie, see the rest of their truly gorgeous collections and find out where you can see their designs for yourself, be sure to visit their website!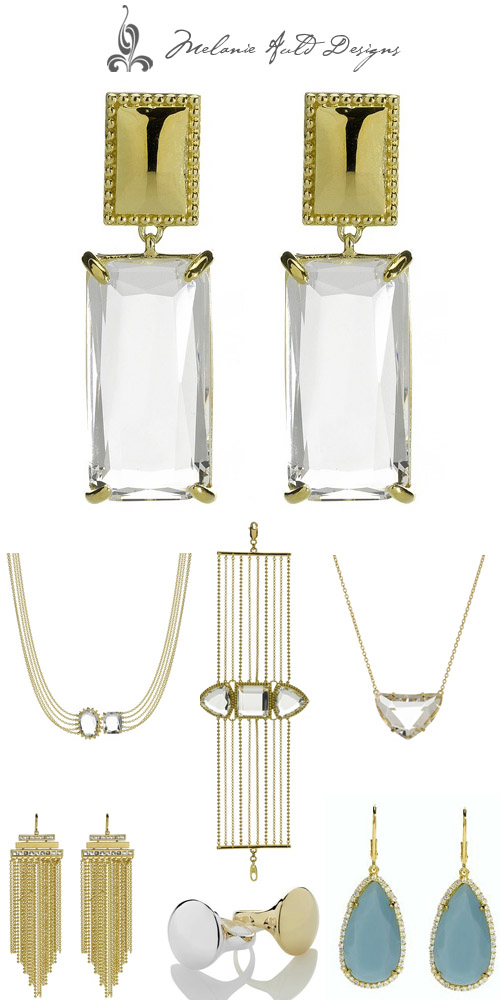 Melanie Auld Designs makes thoroughly modern and entirely fabulous jewelry, and their bridal collection is filled with bling in the most fashion forward and innovative ways. Today Melanie Auld is giving away a pair of her Ice Drop earrings in clear (pictured in the large, top photo above). Worn on a wedding day they would lend a modern edge to any bridal look, or worn to any of the events surrounding your wedding day (not to mention New Year's Eve!) they would be definite show-stoppers. If you like her look as much as we do, check out the Melanie Auld Designs website for more!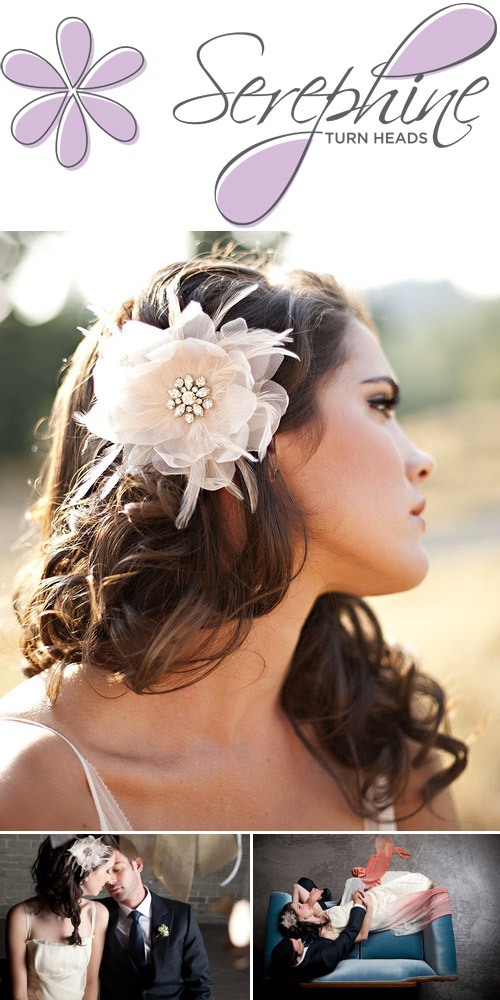 Accessory designer Erin Brooks is a favorite gal of ours – she's a local here in Seattle (woo-hoo!) and we're lucky enough to have her as a member of our local Seattle Plan Your Wedding Hotlist as well. Erin's bridal veils and hair accessories are sweet, feminine and perfectly face framing to help you get the exact bridal look you're going for. She's passionate about what she does, and we're so excited that she's giving our winner her best-selling Rene Hair Flower (pictured above). It's made with layers and layers of hand cut and sewn organza petals, saddle feathers and a hand-selected, silver-tone rhinestone jewel center. Beautiful!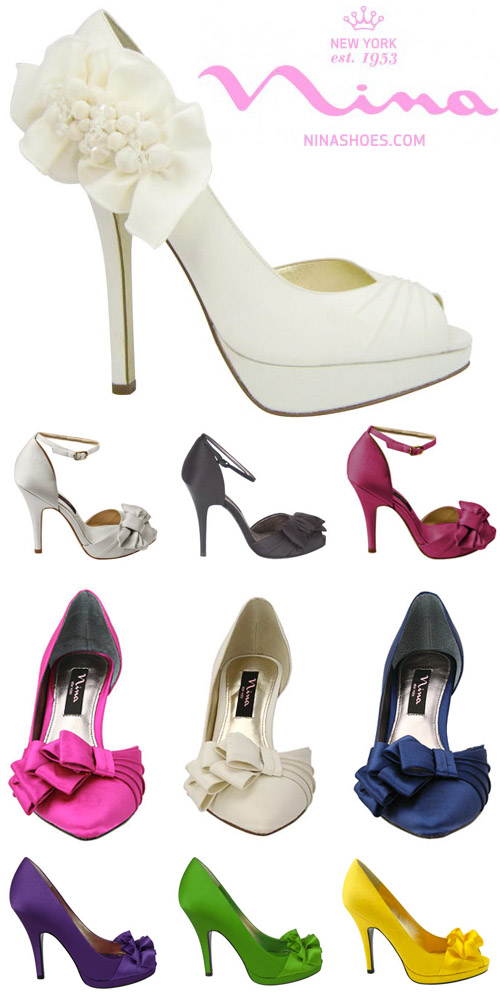 Just like lingerie, wedding shoes are another favorite topic around here, so what would a fashion giveaway be without a fabulous pair of heels? The wonderful people at Nina Shoes design beautiful wedding day shoe options for every kind of personal wedding style, and today they are letting our winner choose ANY pair of shoes they like from NinaShoes.com! WOW! From classic white satin pumps to bright and colorful heels with loads of personality, there are so many pretty pairs to choose from, I'm not sure how our winner is going to narrow it down!
If you're shopping for wedding shoes yourself, don't miss checking out the stylish and totally affordable selection at NinaShoes.com!
Thanks for entering to win readers! And don't forget, if you're a lover of photography, head on over to Photobug to enter to win our amazing photography giveaways too!