Today's gorgeous real wedding took place on the small island of Lanai, Hawaii. When Lauren and Bryan set out to create their destination wedding, they wanted an intimate, relaxed atmosphere. The Lodge at Koele of the Four Seasons Resort Lanai was the perfect fit – and Junebug member Anna Kim Photography captured the day beautifully.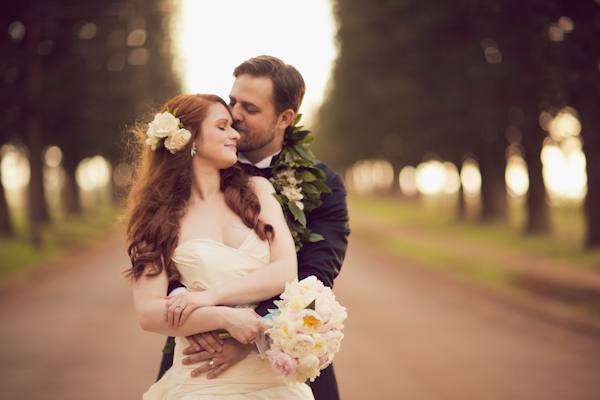 The Couple: Lauren and Bryan
The Wedding: 3.25.2014 – Four Seasons Resort Lanai The Lodge at Koele, Lanai, Hawaii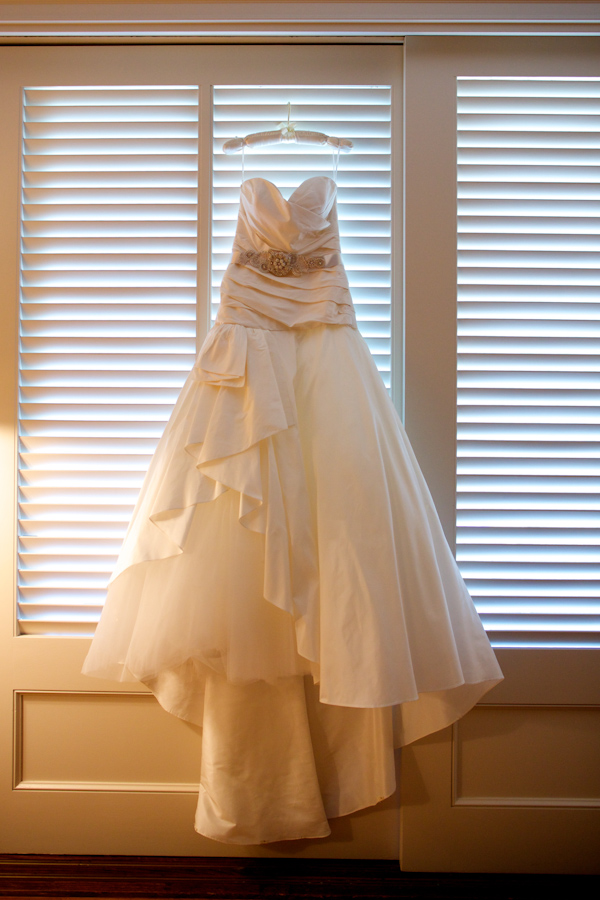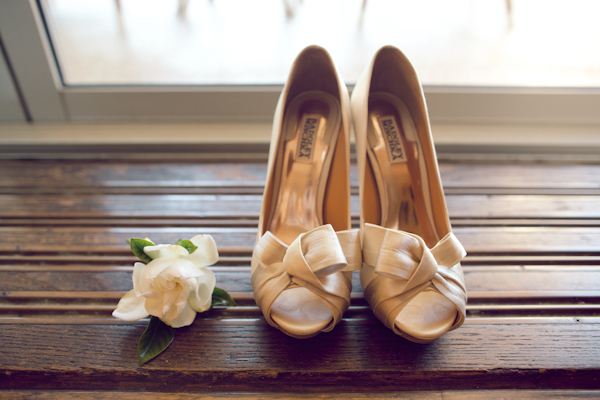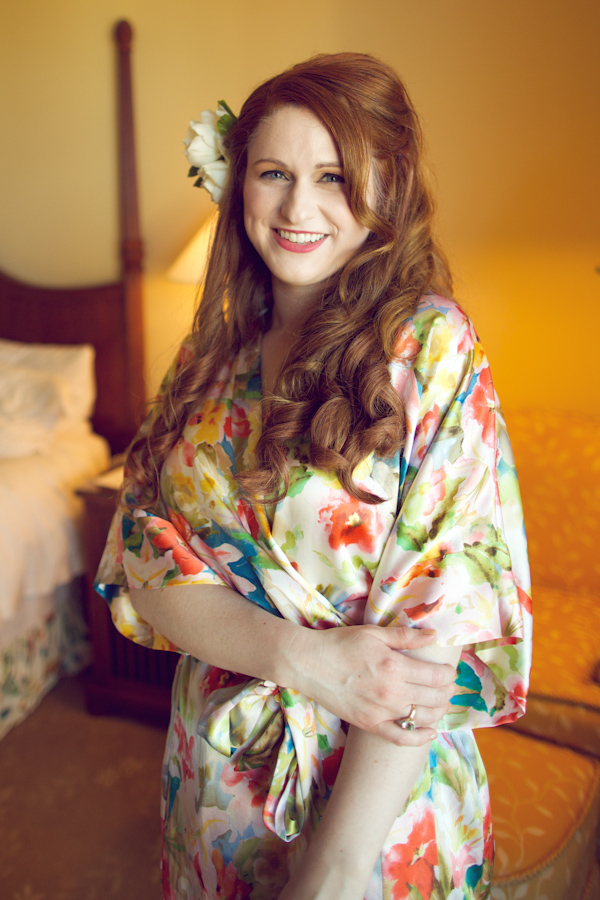 The Goals: Our main goals for the wedding were relaxation, intimacy and location. As a pediatric resident, I needed to combine the limited time I had for vacation to make a fantastic, relaxing wedding-honeymoon combo. The wedding planner at Four Seasons, Hector Rubio made this very easy, and I had a lot of help from my mom, who went to the locale ahead of time to make sure everything went smoothly for the big day.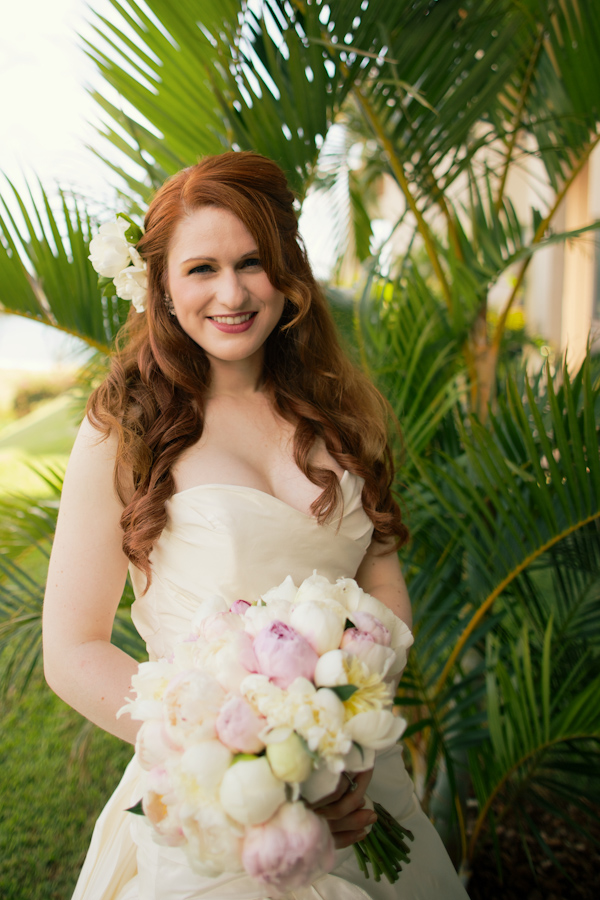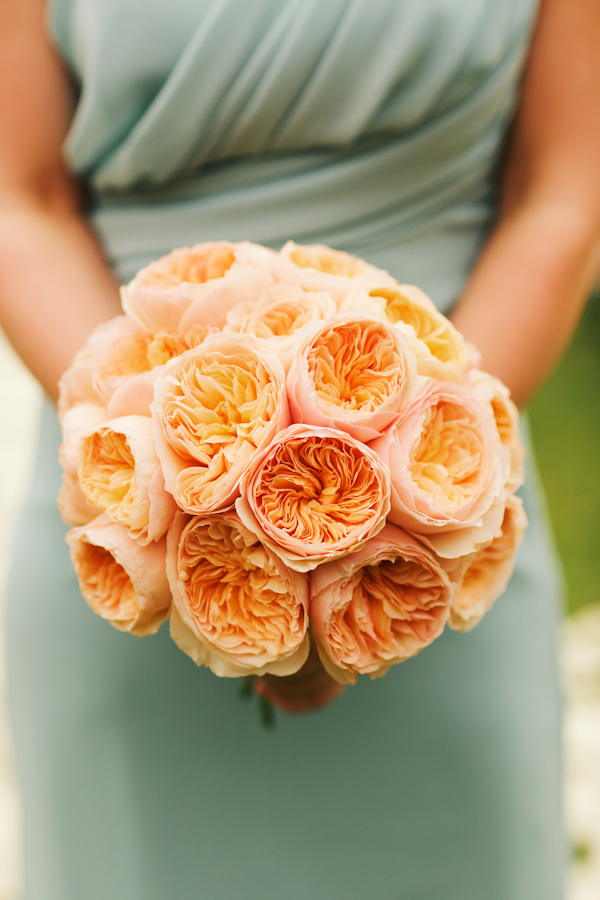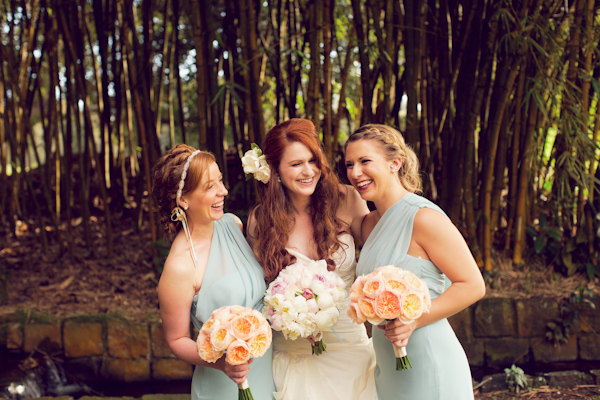 The Design: The venue was so breathtaking, we wanted to emphasize the contrast of the "lodge in paradise" by creating a very lush, opulent ceremony with natural accents. We embraced Hawaiian tradition by using tropical flowers and a conch shell blessing and traditional Hawaiian lei exchange ceremony. The musicians were a traditional Hawaiian trio and played serene tunes on a ukulele as I walked the aisle. The regal lodge location also allowed for more traditional decor like my peony bouquet which may not have been traditionally Hawaiian, but suited the locale and me perfectly! The more rustic location of the reception, featuring large shelves of old books and plush sofas contrasted beautifully with our coral and teal pastel palate. We had handcrafted mementos made from brightly colored blended sea glass made specially for the ceremony for our guests to collect sand from their favorite beaches and bring it home to remember the sun and fun of the vacation. Our beautiful cake had four tiers of macadamia nut cake with guava filling decorated with 54 orchids and a large cold porcelain peony as a topper which reflected the many beautiful peonies in my floral bouquet.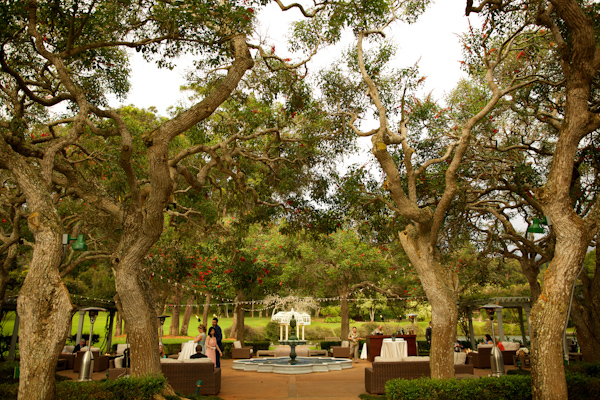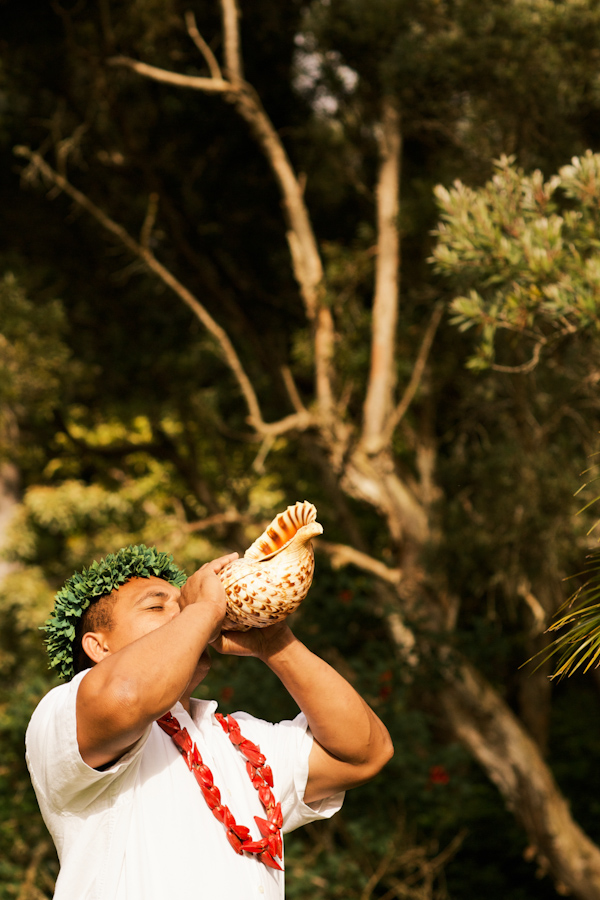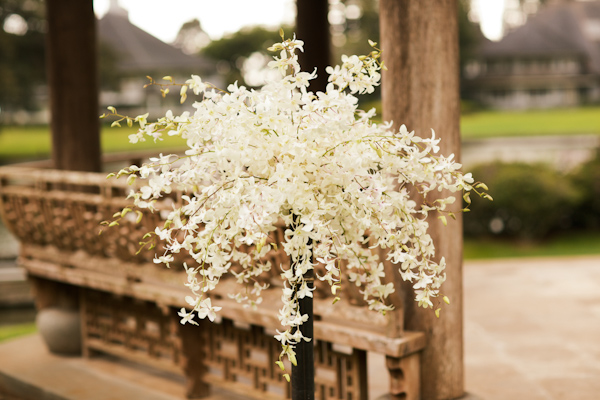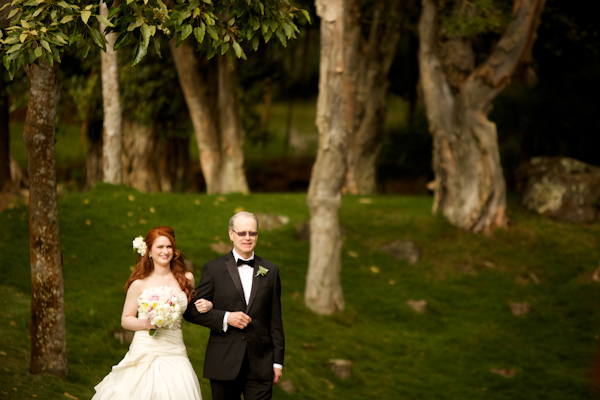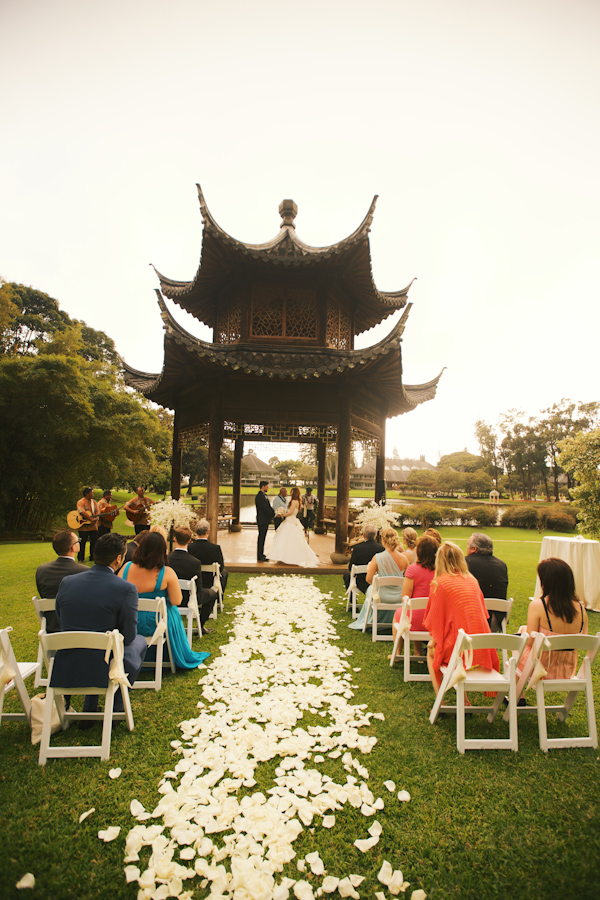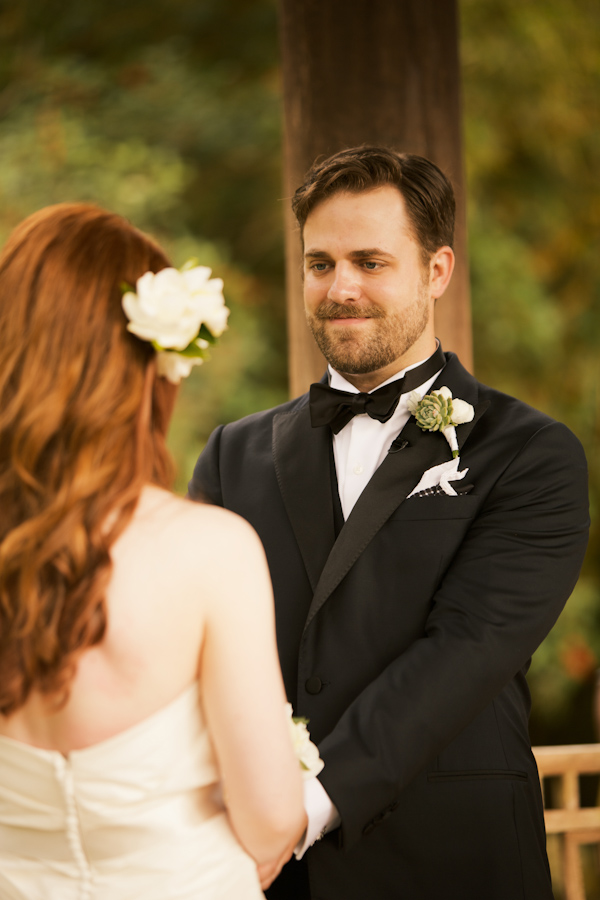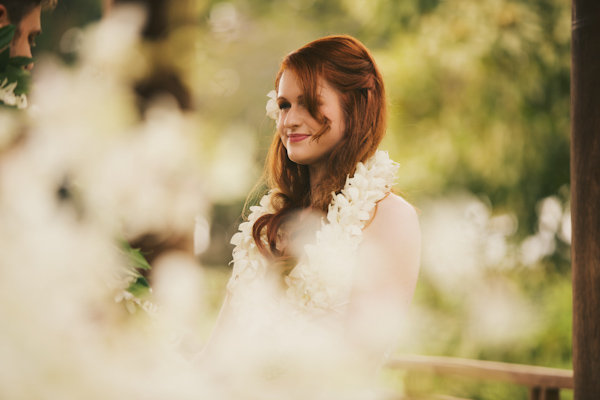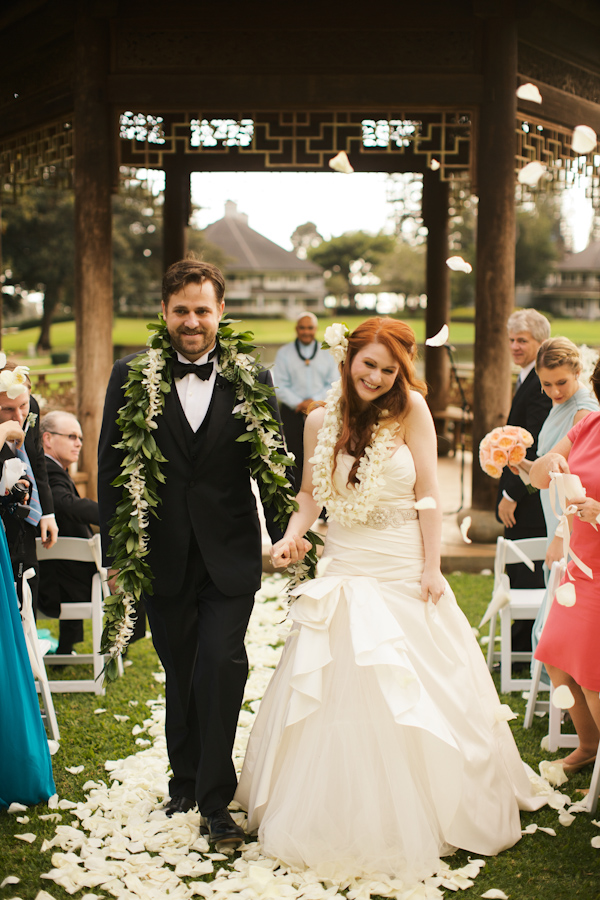 The Look: My wedding dress was quite a big change from my usual hospital scrubs, so I wanted to be as glamorous and feminine as possible on my big day. My dress is from Amsale and I loved the asymmetry of the dress, the opening of the side offering just a peek of the tulle underpinnings was my favorite detail. I picked out three fragrant gardenias for my hair that became my favorite accessory. The belt on my dress was champagne colored, and I saved the sash for my bouquet and it really pulled the look together. I also cherish my something old, which was a World War II heart-shaped winged locket from my mother, a gift from her father, a pilot, to her mother when he left for the war. This meant so much to me since I never met my grandparents, and a part of them could be present at my wedding. My bridesmaids were Bryan's sister, Brittany and Ali, my best friend from college. They wore ice blue dresses from Jim Hjelm Occasions, floor length and with an asymmetric neckline. Their bouquets were coral David Austin roses, which paired beautifully with my bouquet.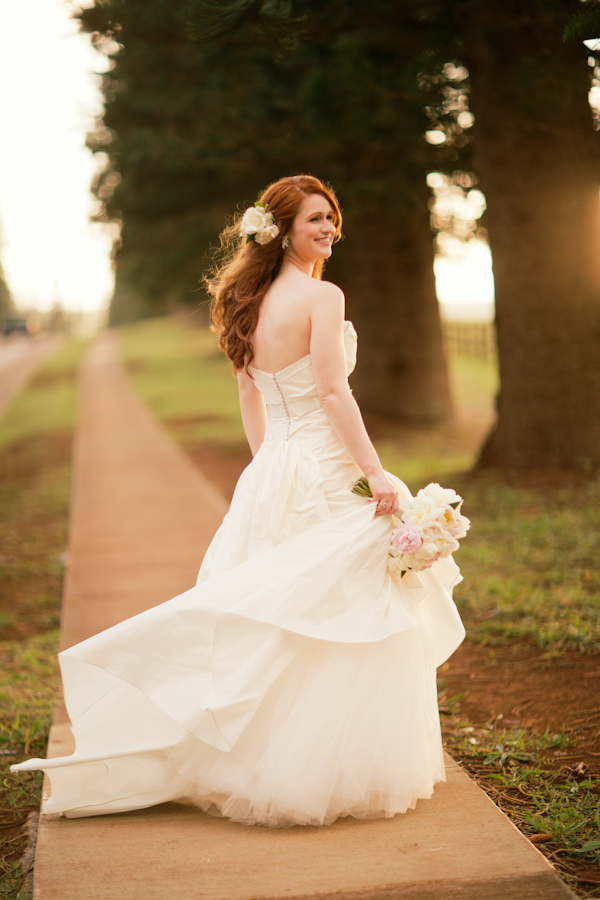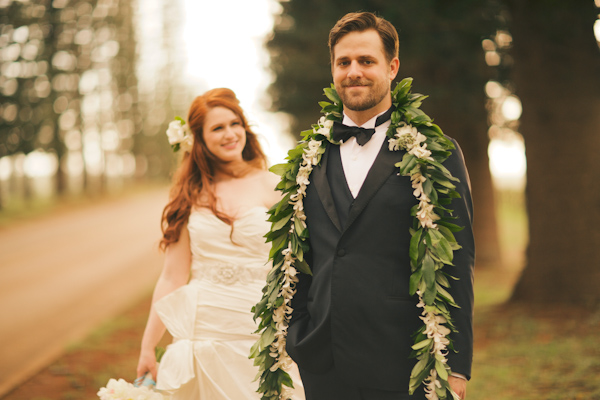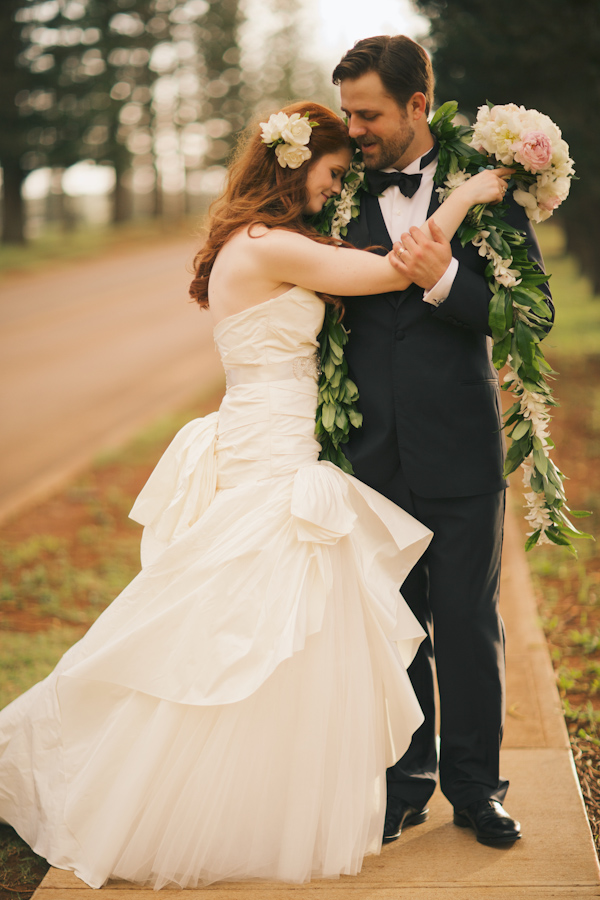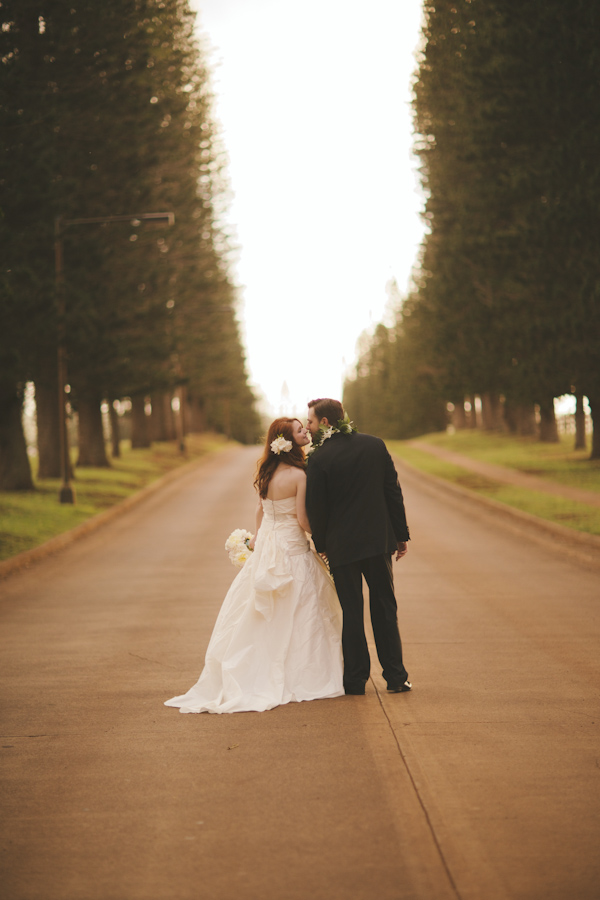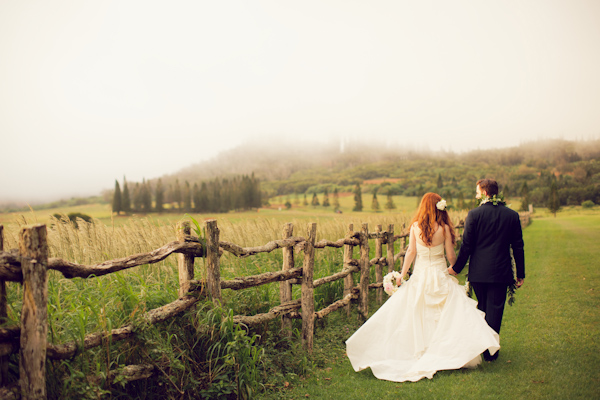 The Moments: My favorite part of the wedding was the little moment Bryan and I got to share before our first dance as a married couple, it was a breathtaking sunset on the road leading up to the venue and we got to play in the street like little kids watching the sunset through the giant pine trees. Bryan and I had been working on our dance for 3+ months and the final unveiling was exhilarating. We rocked out to a special Beatles medley of "Something in the Way" and "Come Together" with a little Queen mixed in, to the tune "My Best Friend". Bryan looked very handsome in his tuxedo and so dapper!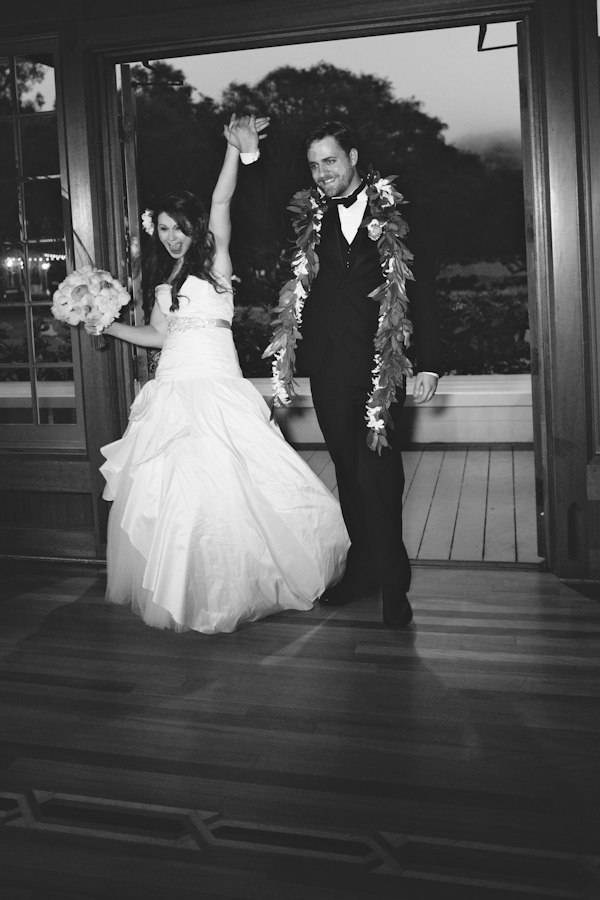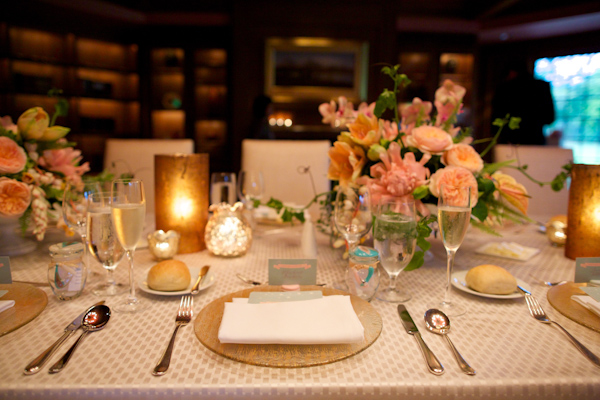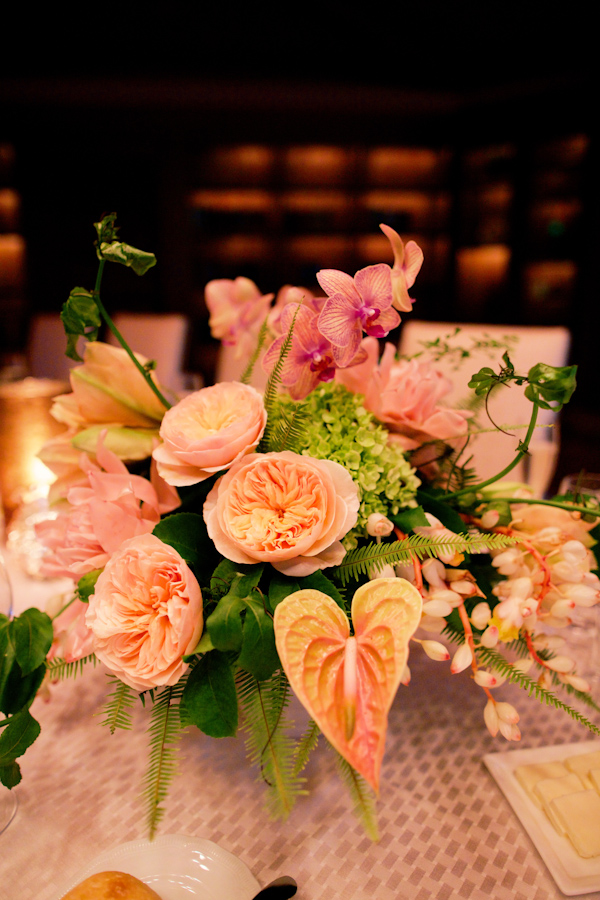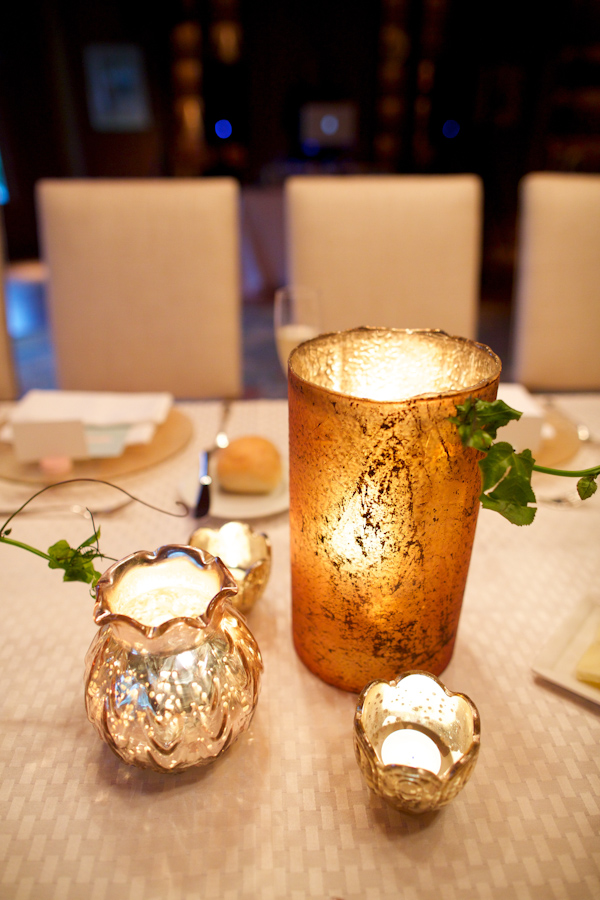 The Advice: My advice is to go with a venue you feel comfortable at. If I were in a mirror-encrusted pink marble ballroom I just wouldn't feel as comfortable as I was playing outside in the grass in Hawaii with my new husband. Know yourself, and don't stress the petty things and don't pet the sweaty things! My biggest wedding planning success was starting planning early and not stressing out on my wedding day.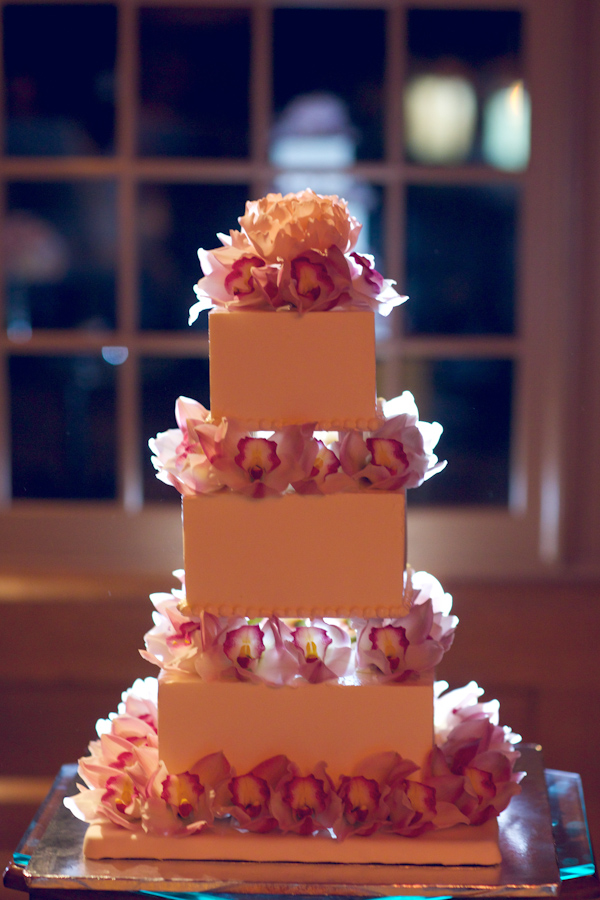 The Wedding Team:
Photographer: Anna Kim Photography
Event Planner: Hector Rubio of Four Seasons Resort Lanai at Manele Bay
Ceremony & Reception Venue: Four Seasons Resort Lanai The Lodge at Koele
Videographer/Film Maker: Hawaii Video Mememories
Officiant: Rev. Mike Garcia
Invitation Designer: TLC Invitations
Catering: Four Seasons Resort Lanai The Lodge at Koele
Florist: Lois Hiranaga Floral Design
Cake: Four Seasons Resort Lanai The Lodge at Koele
Wedding Dress: Amsale
Bridal Accessories: Badgley Mischka (shoes), Nina (earrings)
Bridesmaids Apparel: Jim Hjelm Occasions
Groom's Apparel & Accessories: J.Hilburn (suit), Nordstrom (cuff links), Allen Edmonds (shoes)
Hair & Makeup: Elaina Sullivan of Four Seasons Resort Lanai at Manele Bay
Transportation: Four Seasons Resort Lanai at Manele Bay
Dance Instruction: Wanda Deagen Studio for Dance and Movement
Favors: Sandje Glass
Rings: Americus Diamond (bride), Fredrick Goldman (groom)
Thank you Lauren and Bryan for sharing your beautiful Hawaii destination wedding with us!
Looking for more weddings in Hawaii? Visit our Real Weddings Library for more!