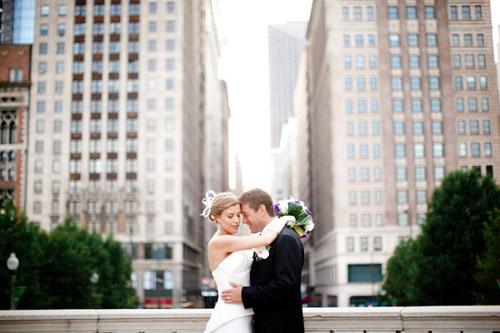 The Couple: Emily and Steve
The Wedding: 08.20.11 – The Art Institute of Chicago, Chicago, Illinois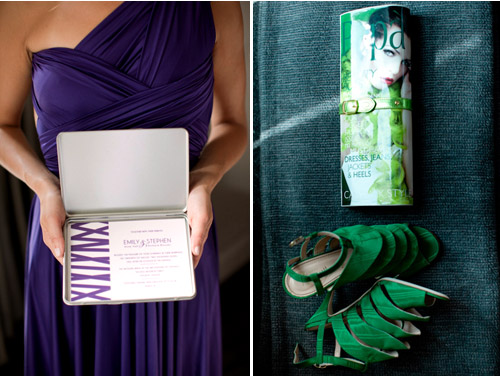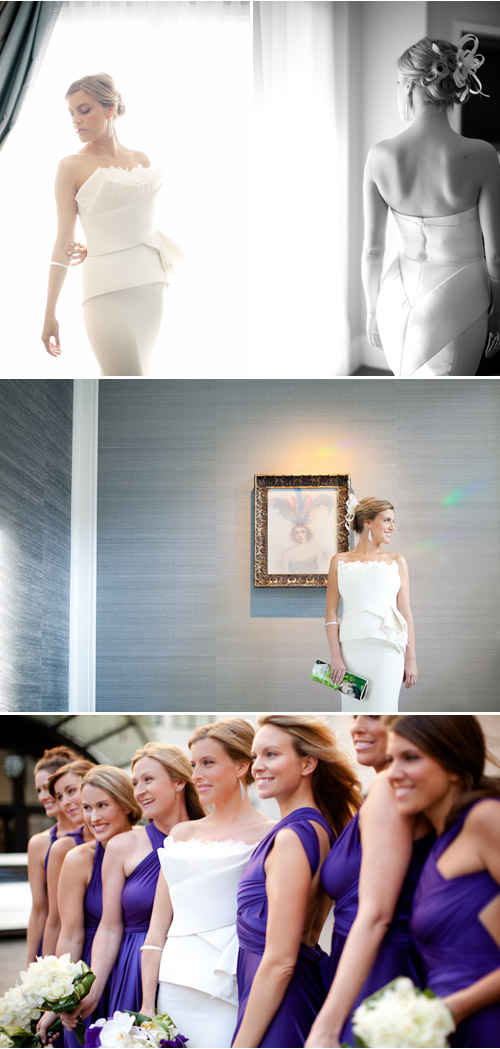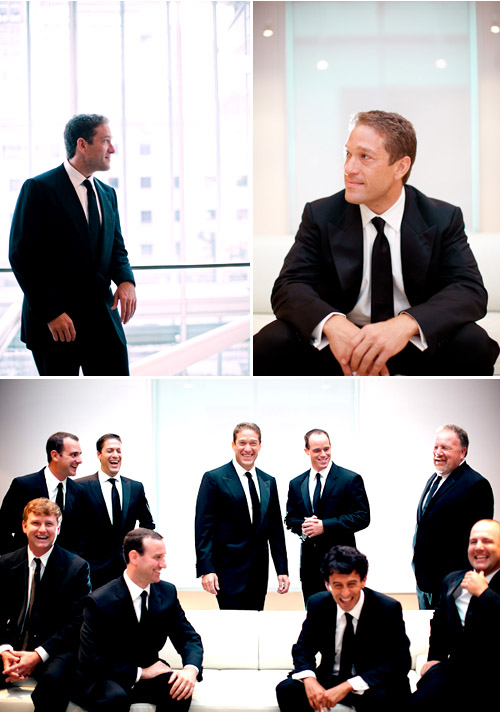 What three adjectives best describe your wedding? Contemporary, Artful, FUN!
What inspired your personal wedding style, and how did you incorporate your style and personalities into your big day? Both Steve and I love clean lines and a modern look. We were 99% set on a different venue when we decided to take a look at Terzo Piano, located in the Art Institute of Chicago. The moment we saw it we knew we were going to make the switch and even had to change our date to make it happen. With the perfect venue, everything else seemed to fall into place. The beautiful architecture, interior design and, of course, the art, made for the perfect foundation to start from. It was the epitome of the modern style that I love, so it made decisions for complementing floral and decor elements easy.
Most important to us though, was the overall vibe of our wedding. In the end, we just wanted everyone eat, drink, dance to great music, and have as much fun as we were. The band was great; they got everyone dancing all night. Our choice to have elements like the food stations, gelato bar for dessert, outdoor photo booth, and a candy station for favors was all so that everyone could move around and socialize all night, Steve and I included. We didn't want to get too caught up in the formalities that can take over a wedding.

Looking back, what are the moments, decisions or memories that you love the most about your wedding? We were a little taken aback when we first learned that the art installation on Bluhm Terrace, where our ceremony was originally supposed to take place, was not going to be the usual sculpture, but instead a boldly colored vinyl. It covered the entire space – glass walls, floor and all. We chose the move the ceremony inside to Griffin Court , which is a beautiful contemporary setting itself, and kept the Bluhm Terrace as the locale for our cocktail hour. Though we originally envisioned an outdoor ceremony overlooking Millennium Park, what we ended up with was even better. We essentially had three unique settings within the one venue we selected, and the Restless Rainbow art installation created by artist Pae White became a unique and vibrant backdrop for our cocktail hour and a great conversation point for our guests.
We were also really happy with our decision to keep everyone moving between food stations etc. It kept the night very fluid and lively, and seemed to create more mingling time in a night that went by in the blink of an eye.
Wedding color palette? Plum; white with pops of kelly and lime green.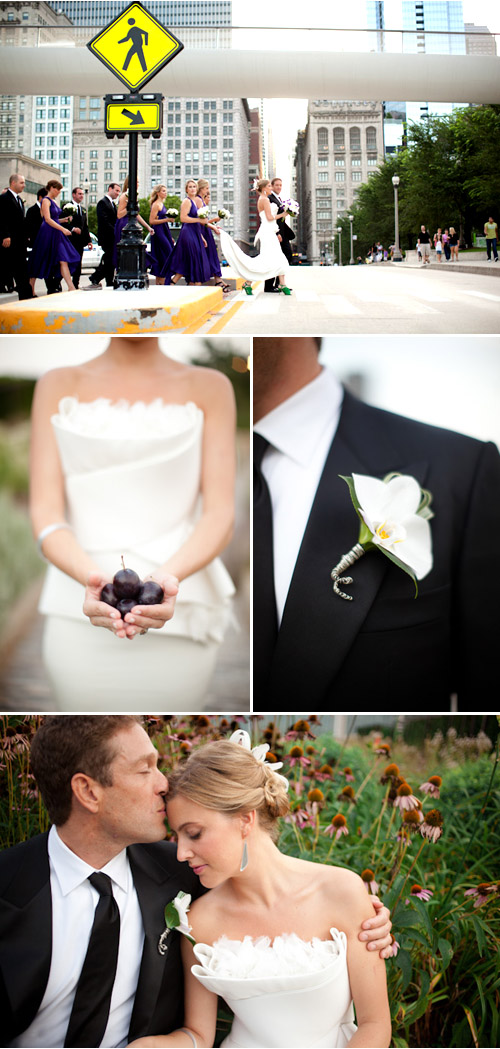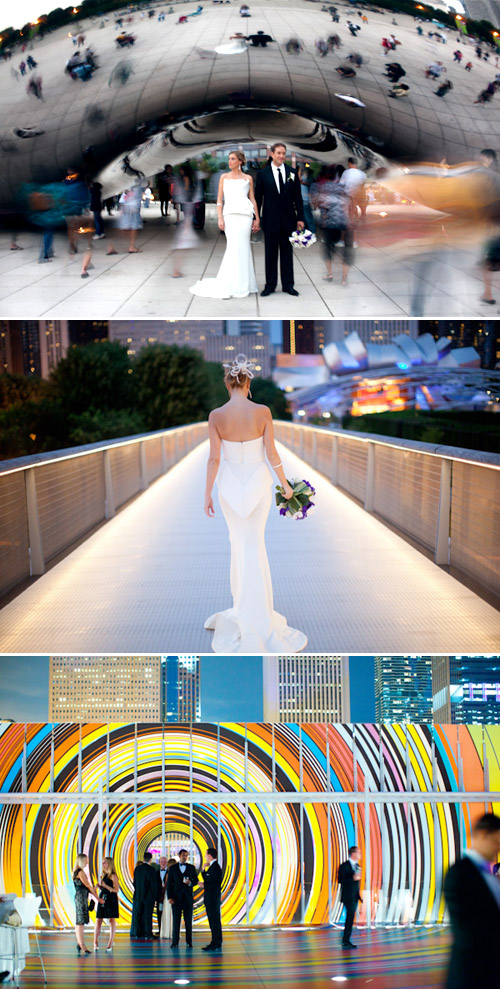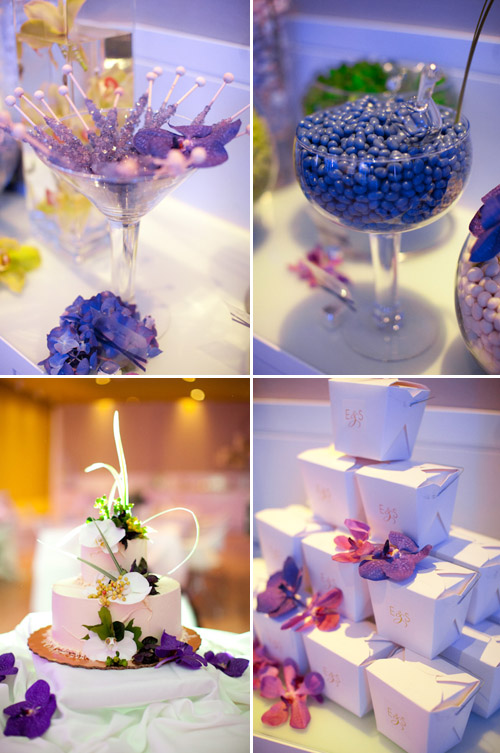 The Wedding Team:
Photographer: Amanda Wilcher Photographers
Day-Of Coordination: Michelle Tisdall from Silver Fern Events
Ceremony Venue: Griffin Court, Art Institute of Chicago
Reception Venue: Terzo Piano, and Bluhm Terrace, Art Institute of Chicago
Invitations: A Milestone Paper Co.
Catering: Bon Appetit at the Art Institute of Chicago
Flowers and Lighting: Kehoe Designs
Cake: Mindy Segal
Gelato Bar: Black Dog Gelato
Wedding dress: Marchesa
Bride's Shoes: Jerome Rousseau
Bridesmaids Dresses: Butter by Nadia
Grooms Tux: Isaia
Make-up: Lisa Trunda
Hair: Alma Bosco of M Salon
Live music: Entourage, a Member of Arlen Music
Rings: Bride, Reuven Gitter; Groom, Fathers Ring
Thank you so much for sharing your gorgeous contemporary wedding day with us, Emily and Steve!
Be sure to check out our Real Weddings for more inspiring events!