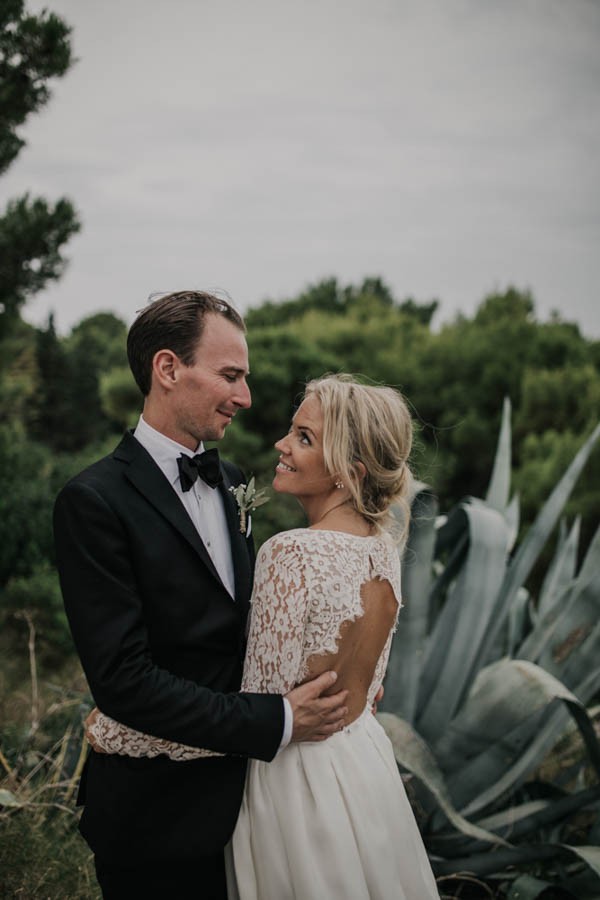 With the Adriatic Sea in the distance, Helena and Carl exchanged personal vows as guests watched with eyes full of happy tears. The Fort George Croatia wedding provided a chic take on rustic styling, utilizing sophisticated white elements as contrast against the tangled tree branches overhead. What no one could have prepared for was an island storm that shook up their reception. Luckily, Carl acted fast and rearranged the decor and dining inside the fort, where the group then participated in a raucous rendition of Toto's "Africa" and partied the night away.
The Couple:
Helena and Carl
The Wedding:
Fort George, Vis, Croatia
It was hard finding four dresses that all the girls would love. They are all very different in style and I wanted them to feel comfortable. Our first thought was to have them all in different gowns but with the same color. Instead, I found London designer, Hanna Sager-Forsberg, who custom-made four dresses that were all in an off-white silk with a silk band that the girls could tie as they preferred.
We both wrote our own vows for the ceremony. It wasn't difficult writing it, but narrowing it down. There was just so much we wanted to say. Then came the really hard part — trying to read it without crying!
Parisian designer Rime Arodaky created my perfect dress: the Avery. Long-sleeved with gorgeous lace cut out back. I literally hunted the world to find my wedding dress, at last I found through Once Wed in Ireland. I guess that was my biggest surprise, thinking (like most girls) that the dress was one of the things I really looked forward to, and it actually became a nightmare. At last I got my dress and it was perfect!
Our vibe was rustic elegance. I guess the location automatically influenced us. We knew straight away that the pallet would be crisp white elegance with roses, rustic olive leaves, linen cloths, hurricane vases and our own personal touches. For table numbers, we decided to place a large white helium balloon in the middle of every table, tied up with silk ribbons. What we didn't realise was how hard it would be to get a hold of helium on Vis. Everybody told us that this was impossible, that the only was to go by ferry to the mainland, fill them and go back and in addition every balloon was quite expensive to fill! But we didn't give up! We took a drive to the beach to have a beer, when Carlsaw a scuba diver arriving from a dive session. An Island known for its diving must of course have a helium tank!
After the ceremony, the sky opened itself. It poured down rain, and the thunder hit all around. I was about to panic! Carl didn't panic, though, thank god. He organized the whole dinner décor, rearranged the seating plan, made sure that no one was without a drink & got the DJ to play Toto's "Africa." It was incredible standing inside the fort, looking out over the ocean, watching the thunder and listening to all the guests singing their heads off! It really got the party started.
Congrats to Helena and Carl on their island wedding in Croatia! For more rustic chic wedding inspiration, check out Carly and Cameron's elegant barn wedding at Dairyland.