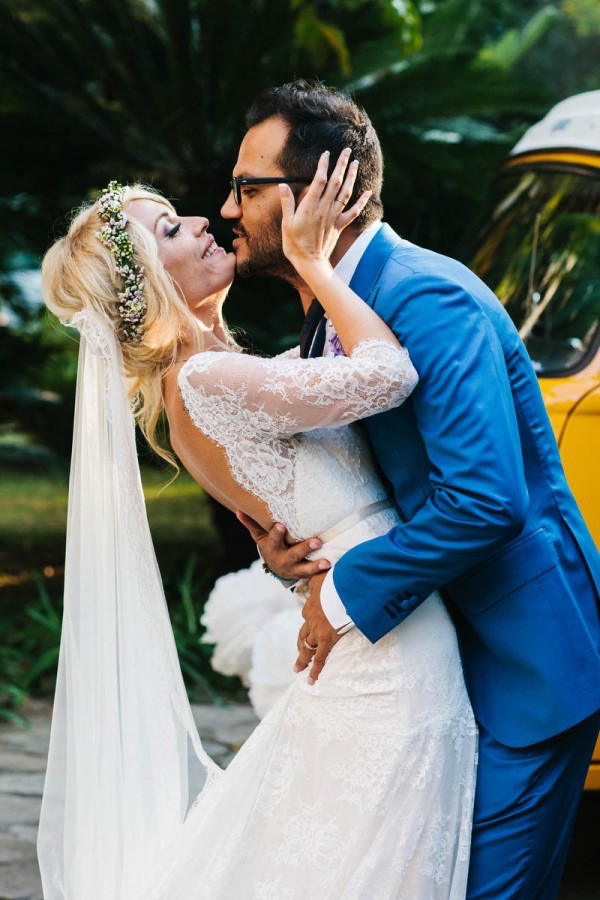 From one of the most elegant ceremonies we've ever seen to the wildest party Piazzale delle Sagre could imagine, Iaia and Stefano's Italian wedding was a celebration with a capital C. As soon as the newlyweds said "I do," they hopped in a banana-yellow VW bus and went for a ride around Cervo, Liguria. When they arrived at their reception, they were lucky enough to see the looks of awe on their guests' faces as everyone watched the acrobats, men on stilts, and dancers perform. As if that weren't enough, Iaia got up and performed at her own reception, stealing back the spotlight.
The Couple:
Iaia and Stefano
The Wedding:
Piazzale delle Sagre, Cervo, Liguria, Italy
The Inspiration:
Our marriage took place in the magical atmosphere of a royal church overlooking the sea in Cervo, Ligure. Musicians in the square and thousands of balloons greeted our first kiss as husband and wife in the main square of the coral. The celebrations were characterized by Sagrimonio: a celebration of the countryside with 300 guests, typical food, large tables and wooden benches; bohemian atmosphere with dusty colors, vintage fabrics, ribbons and more than 1,500 lanterns made with jam jars; illuminations with threads of vintage lamps, over 2000 meters of tulle and festoons of flags. Then, terrariums as placeholders, wood logs to act as centerpieces, homemade wine and favors with fruit from the garden Iaia's father.
Iaia wore a vintage French lace dress designed by her. The very special cut and deep neckline on the back made it a unique garment. Six meters of veil to complete a masterpiece of Haute Couture. I wore an impeccable suit in an unusual blue indigo color, in style with the atmosphere of celebration and ceremony.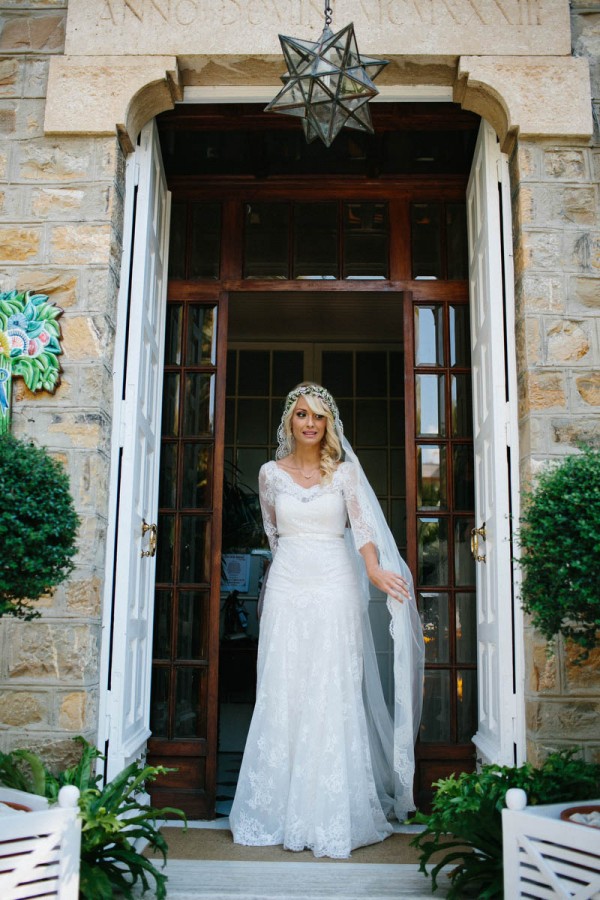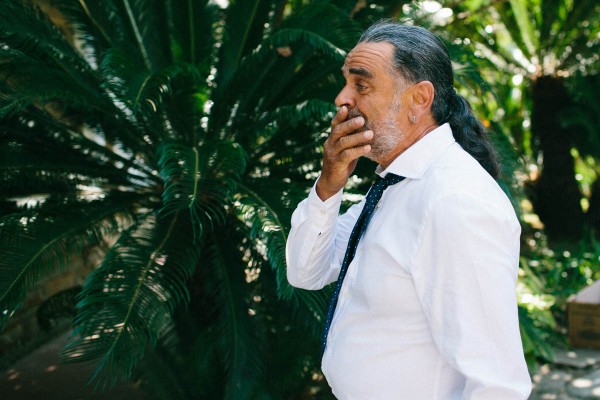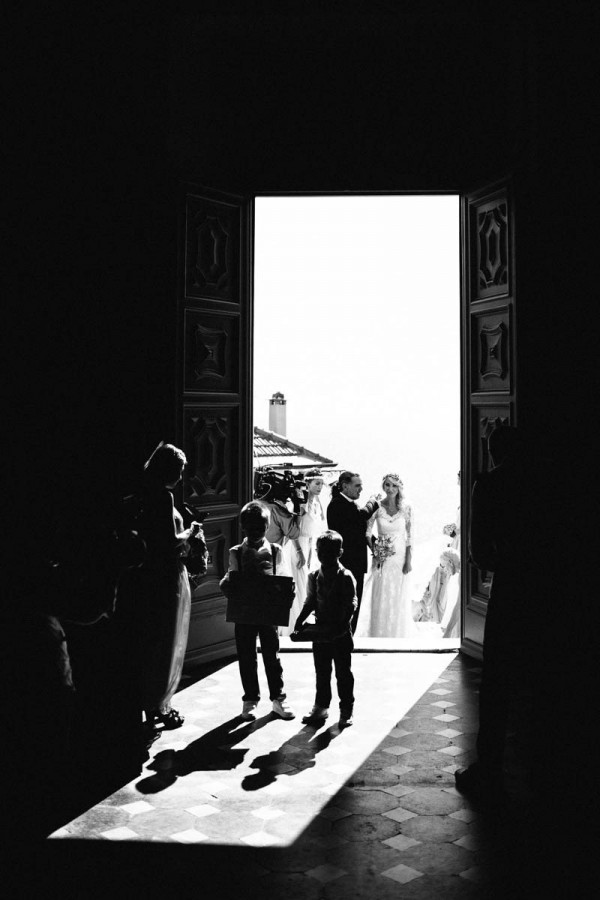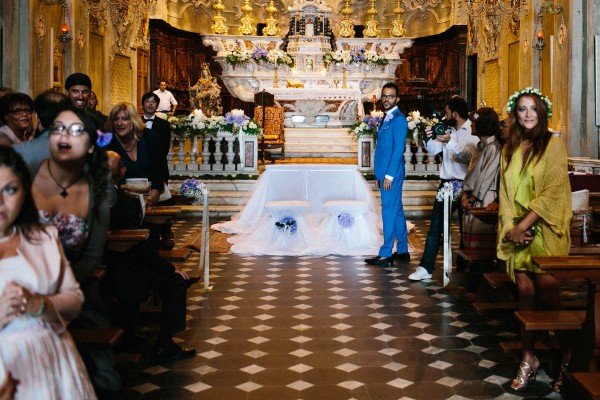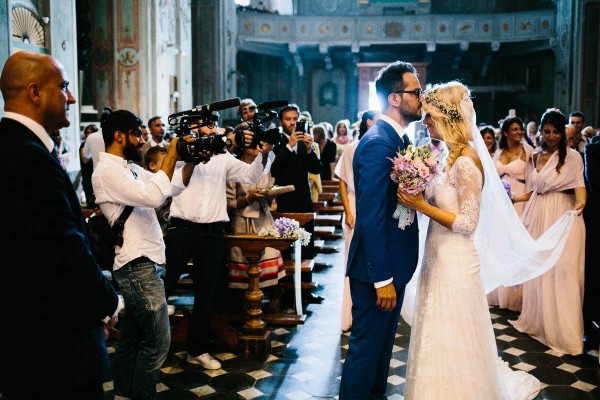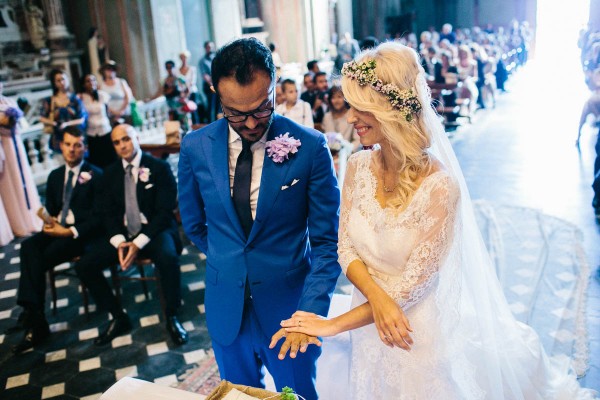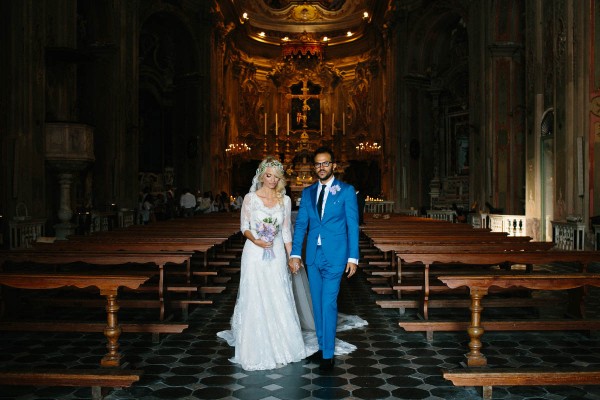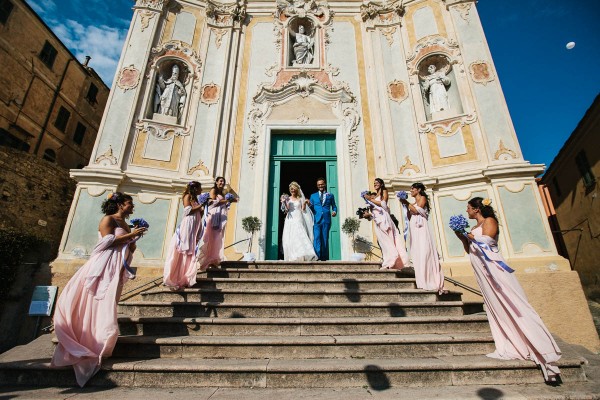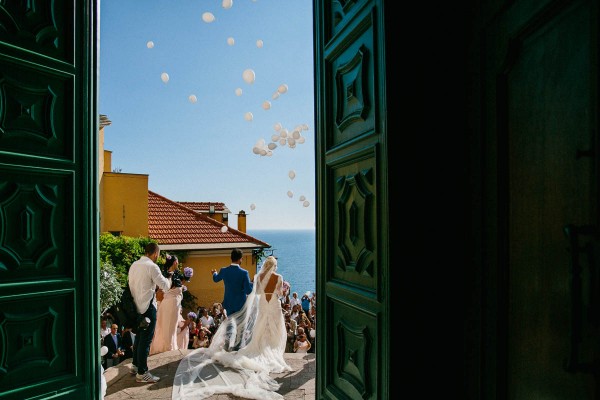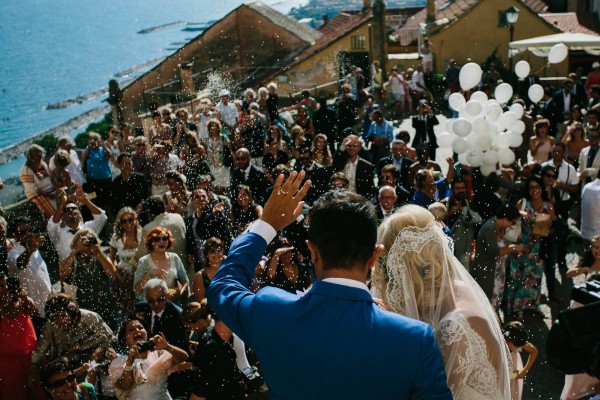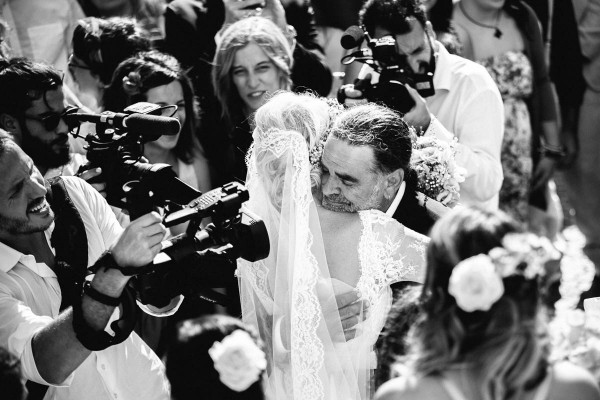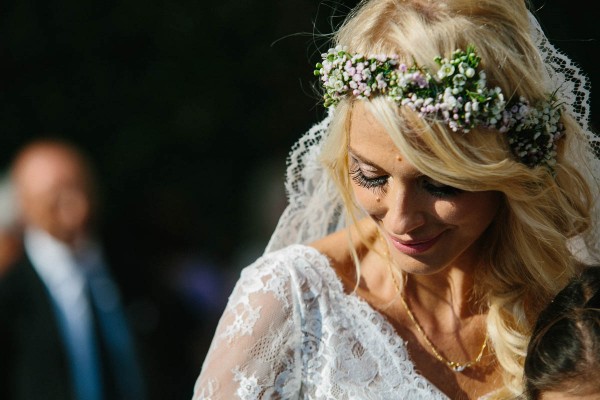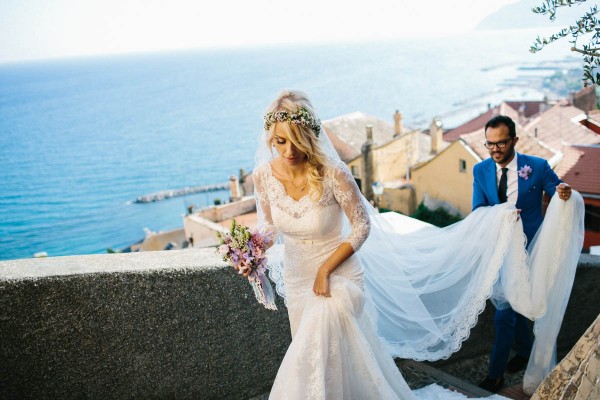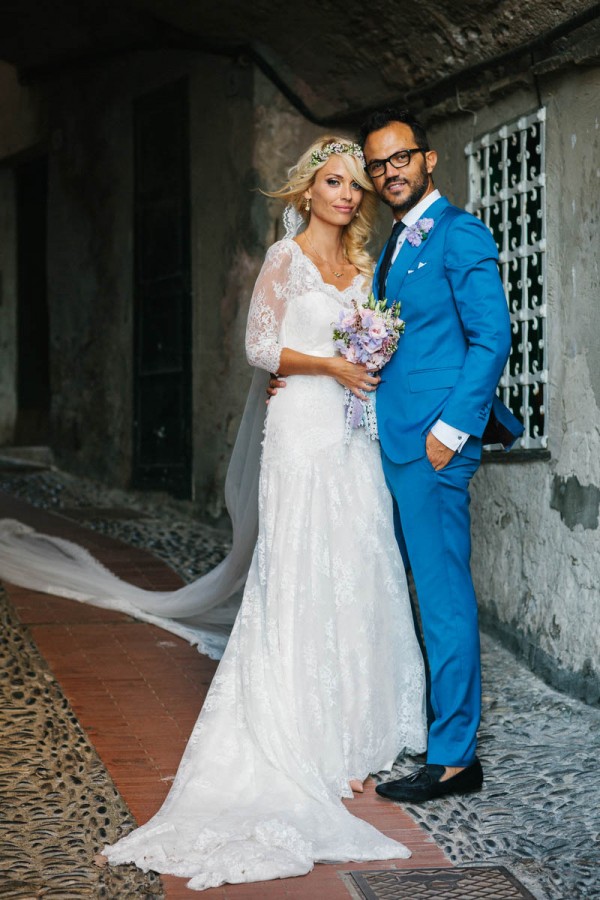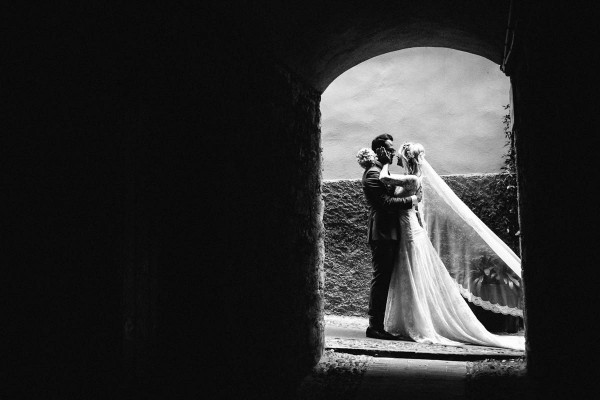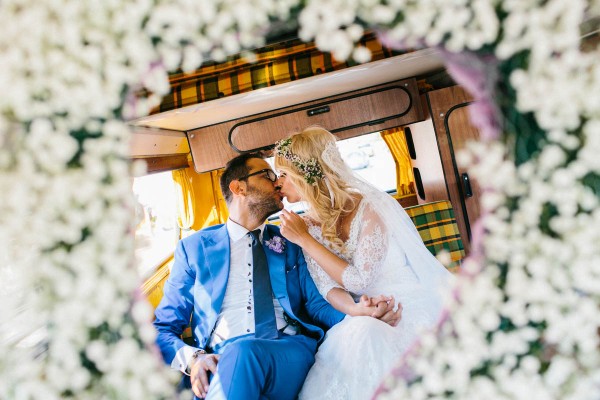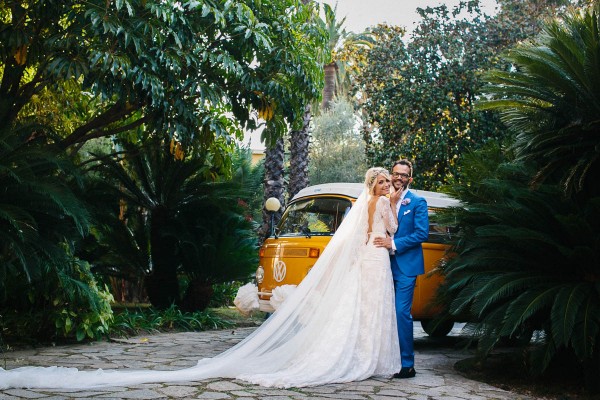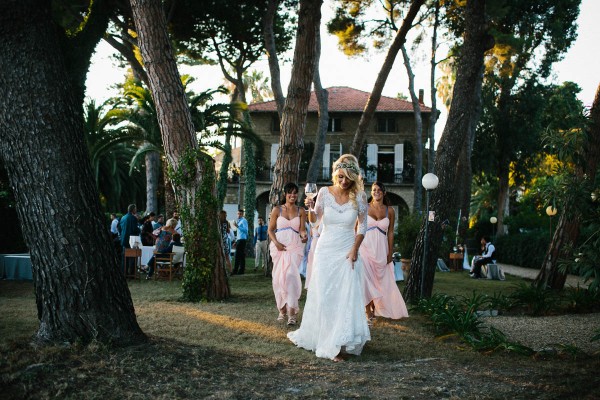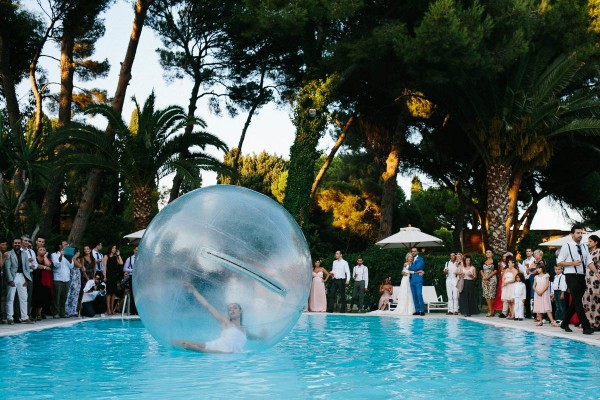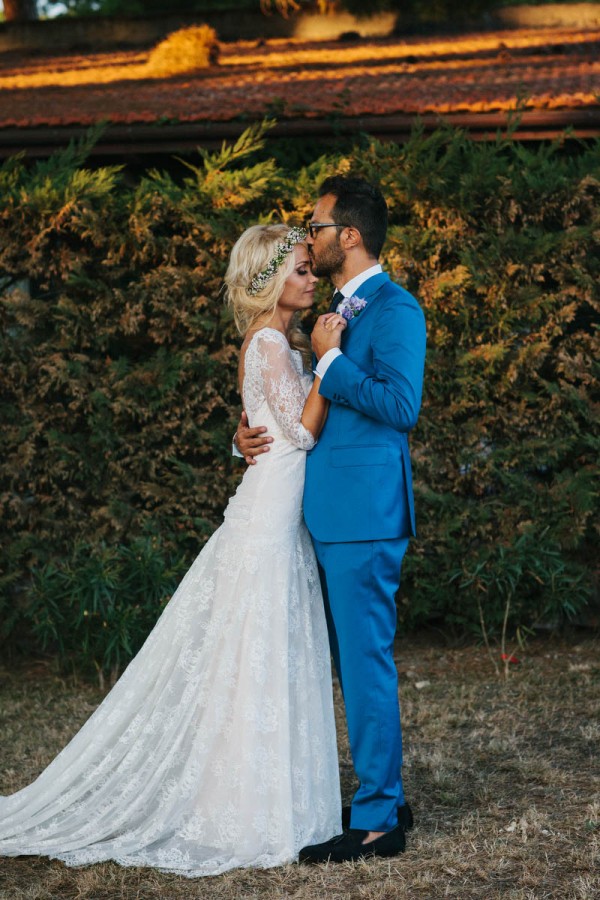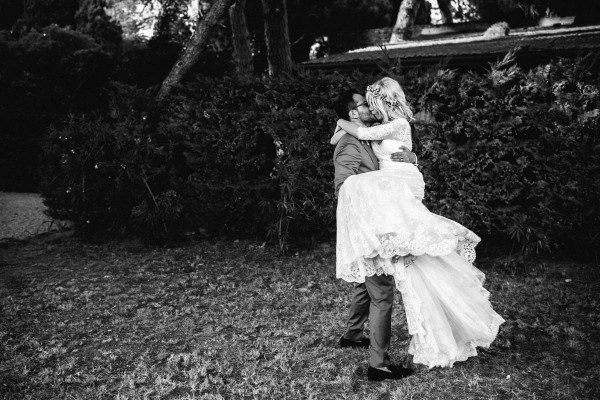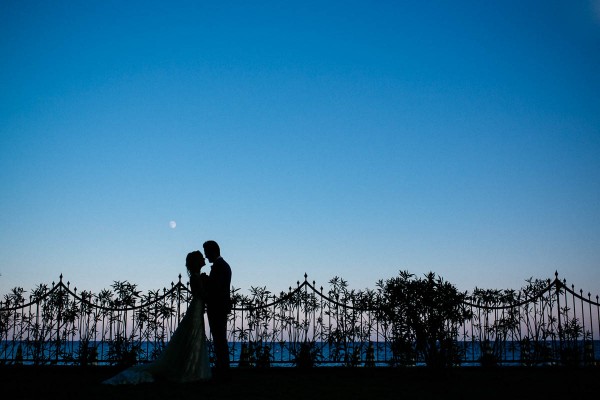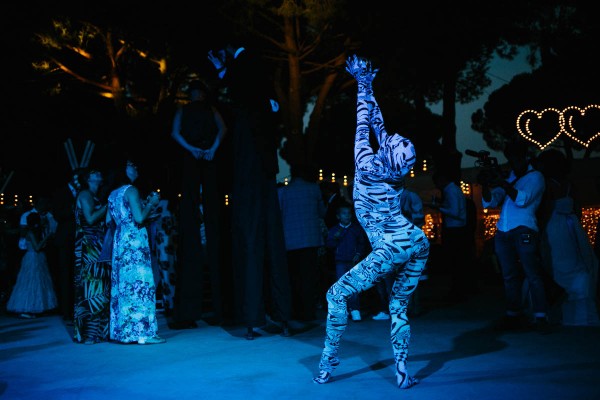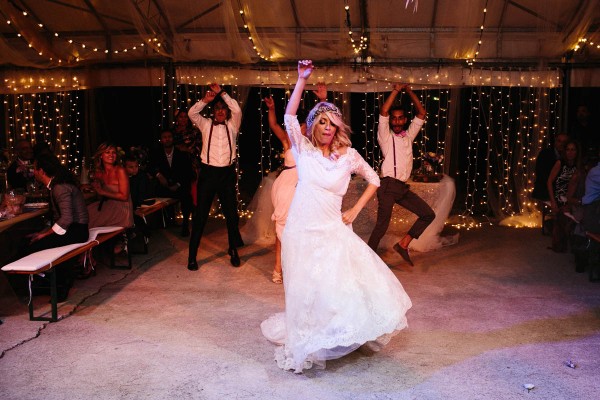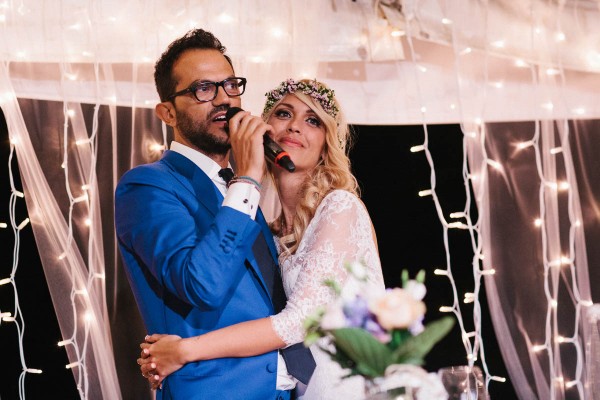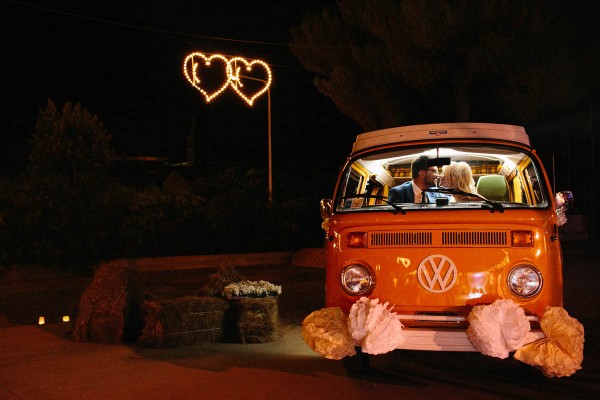 The Moments:
Surely the thing that we never forget is the totally startled faces of the guests in front of the performing arts that we had planned for them: jugglers, acrobats, contortionists, dancers and balls floating on the water and even two mermaids who performed in a tub of water colored by incredible light games. And then the Flash Mob surprise with listed among the guests for a bursting effect that involved and moved the attendance as a whole.
The Couple Recommends:
Alessandro Panizzolo made a 40 kg naked cake exclusively for us, only to satisfy Iaia's wishes. Officina delle Fate made an incredible and unusual dress, designed by Iaia herself. Signoroni Band offered an incredible live show entertainment for 3 hours. And obiouvsly Julian Kanz; an amazing professional that, with discretion and complicity, knows how to give the bride and groom the best day.
The Wedding Team:
Photography – Julian Kanz
Ceremony Venue – Chiesa dei Corallini
Reception Venue – Piazzale delle Sagre
Floral Design – Isa e Paola San Bartolomeo
Catering – Sabbia e Sale
Cake – Alessandro Panizzolo
Officiant – Don Maurizio Parrocchia
DJ – Max Brigante
Live Music – Stefano Signoroni Band
Videography – Fabrizio Nannini
Makeup Artist – Valeria Di Giovanna
Wedding Dress – Officina delle Fate Milano
Groom's Apparel – Sartoria Rossi
Rings – Damiani
No one could have captured this extraordinary party like Julian Kanz, who documented Iaia and Stefano's romantic love as well as their sense of humor. Be sure to check out more of his work in Ashley and Ryan's intimate Tuscan wedding at Villa le Mura.