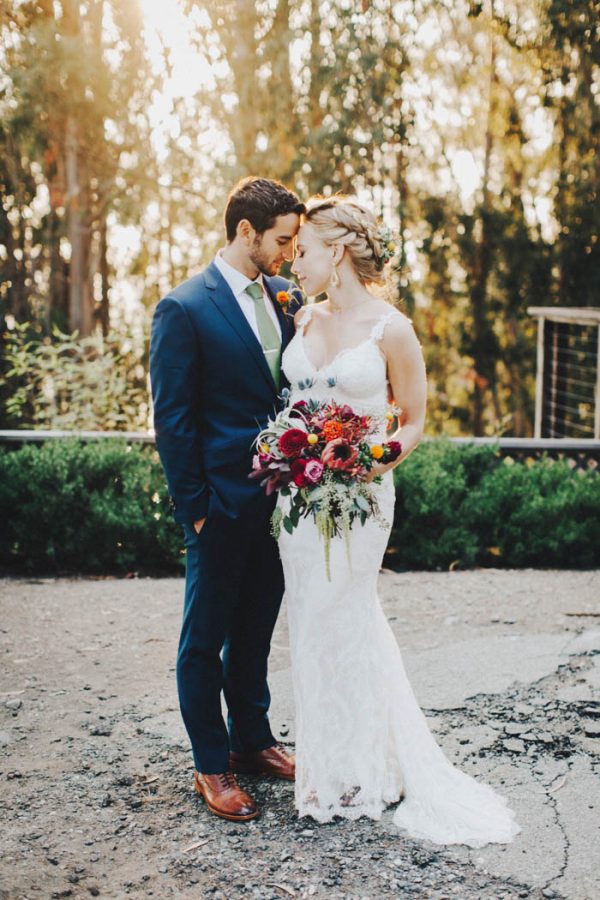 We've said it before and we'll say it again: the most important thing about your wedding day is that it authentically reflects you as a couple. Nora and Nik's wedding at Point 16 is a perfect example of how to do that! They both work in the environmental arena, so an outdoor celebration was the natural choice for them. When it came to décor, rather than scour the depths of Pinterest, they stuck to the bohemian colors and rustic textures they liked and let the overall design happen organically. The vibrant floral arrangements by Big Sur Flowers were some of the most beautiful we've ever seen – and we've seen a lot! We especially love how the bride used similar flowers in a half crown, which she tucked into a braided updo that showed off the low-back design of her Katie May dress and and gold back necklace by De La Luna. This wedding was truly unique from start to finish, and photographer Evynn LeValley did a beautiful job capturing every detail!
The Couple:
Nora and Nik
The Wedding:
Point 16, Big Sur, California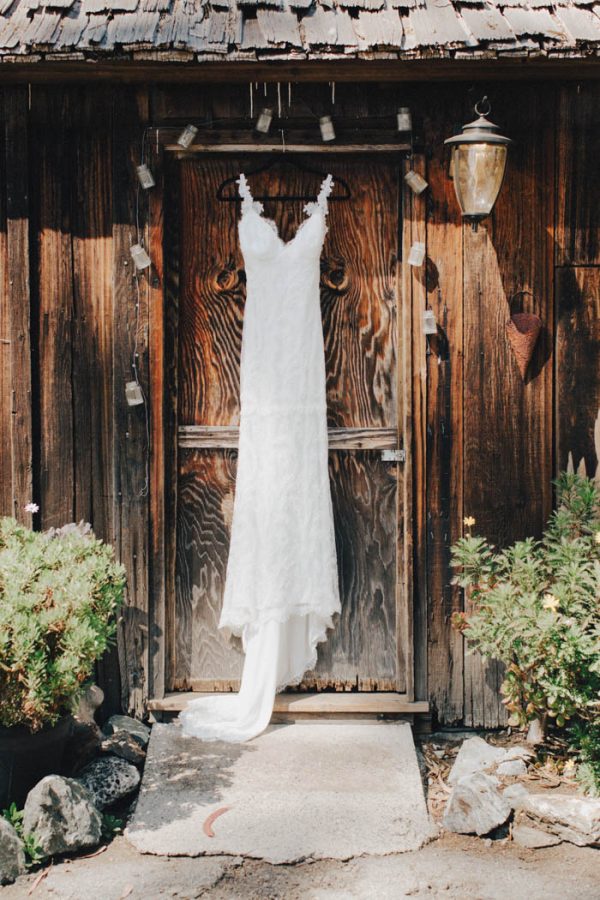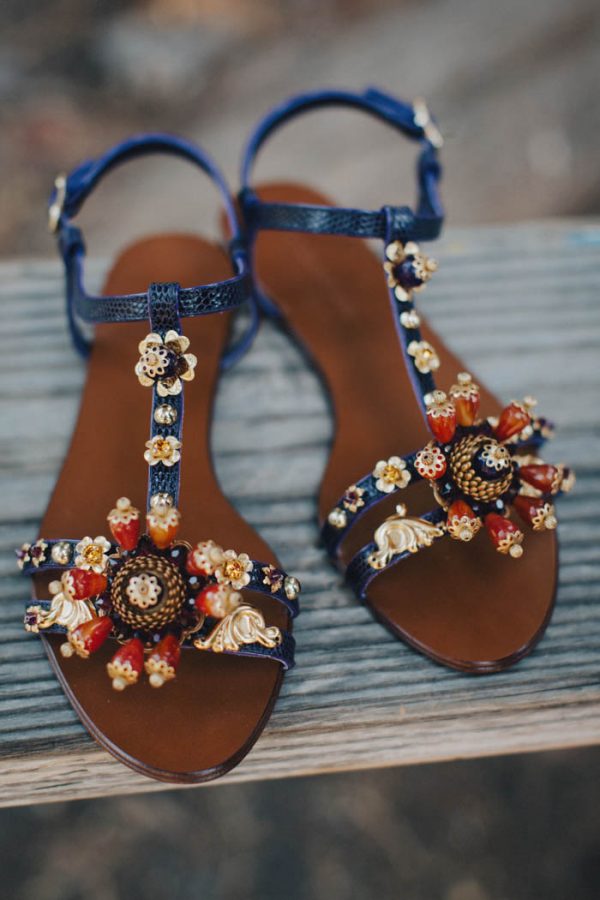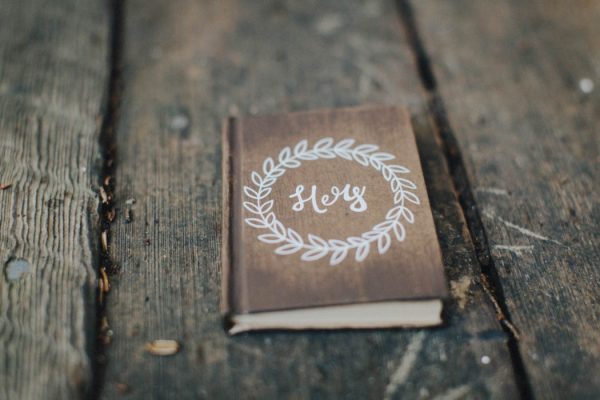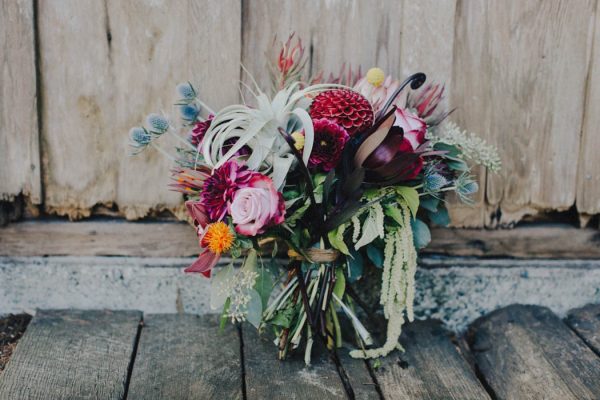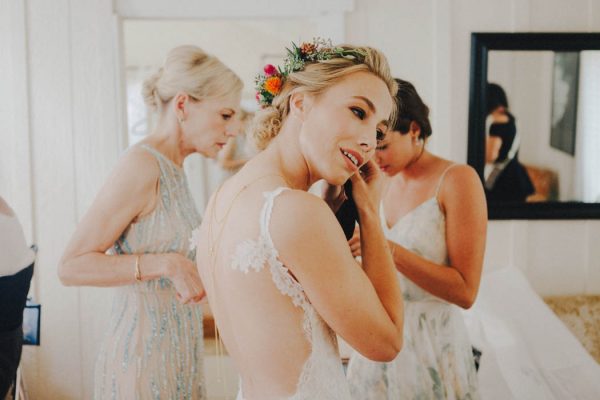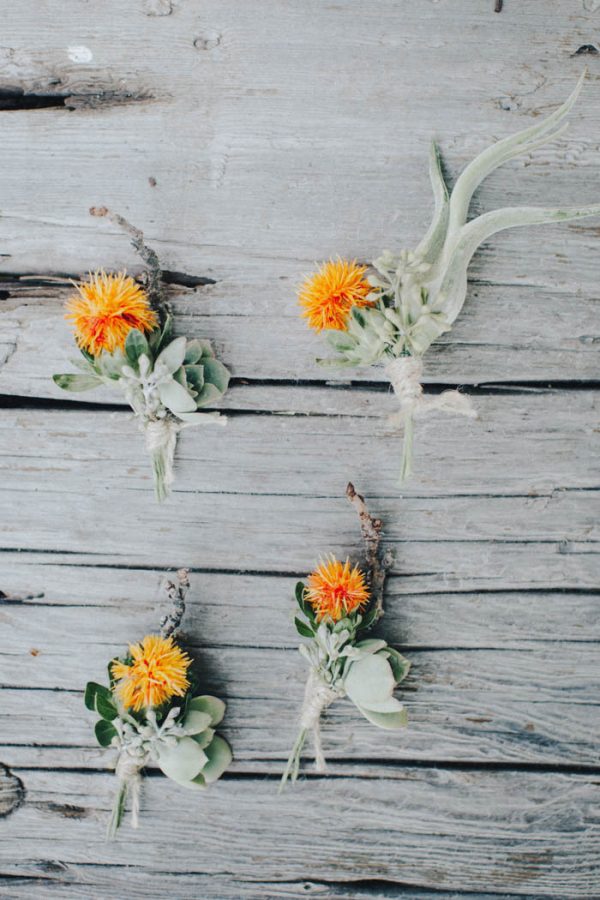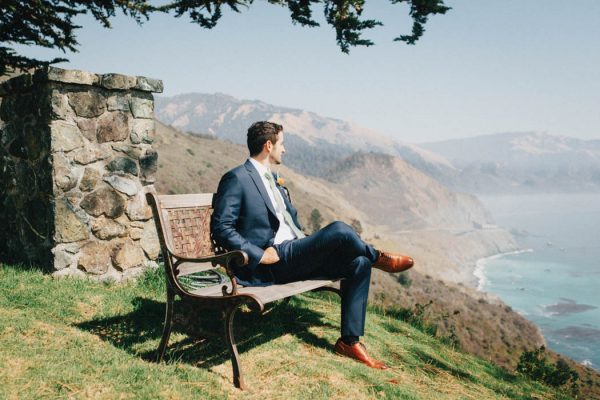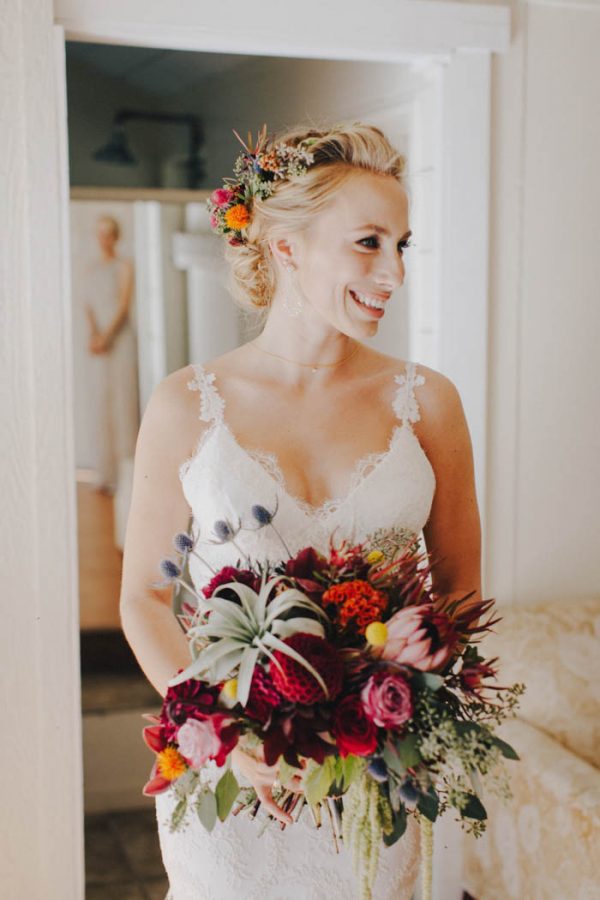 My husband and I both work in the international climate change and environment sphere and are nature lovers in general (we started dating in grad school while in Costa Rica), so we wanted a very natural setting for our wedding festivities that reflected our style and where our guests could relax in an intimate atmosphere. We live in Oakland and had casually Googled "Big Sur venues" before we got engaged after a stay at an AirBnB near Point 16. So, by the time we got engaged, we knew it was the spot for us and booked it within a week of our engagement. We loved that the ceremony and reception sites were one and the same, which gave us more time to catch up with our guests and make the most of a gorgeous outdoor setting.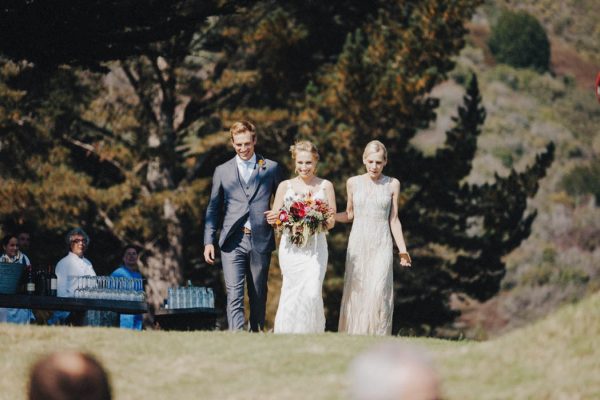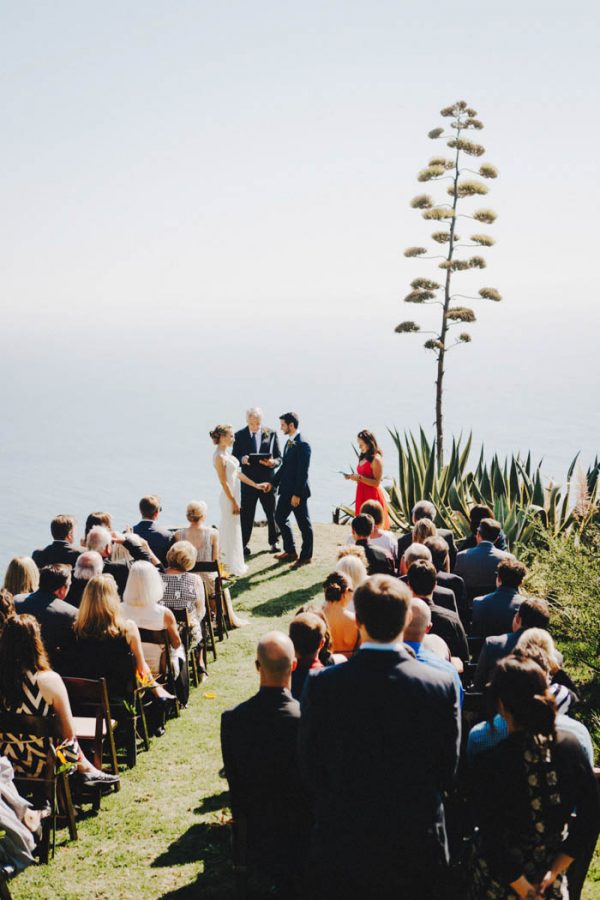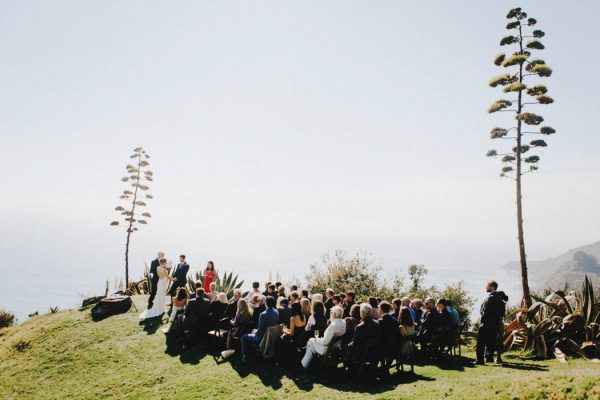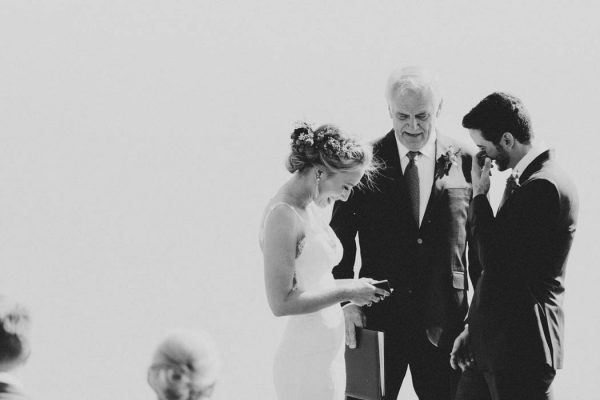 My dad officiated our ceremony and wrote the entire thing himself (with our input, of course). He crafted a really unique and personal ceremony that complemented our vows, and it meant a lot to both of us to have him be our officiant.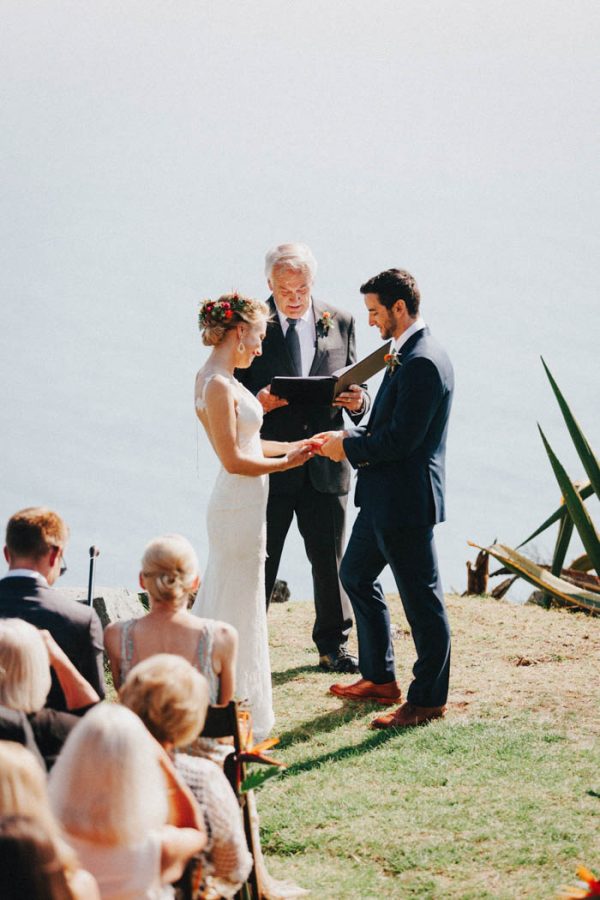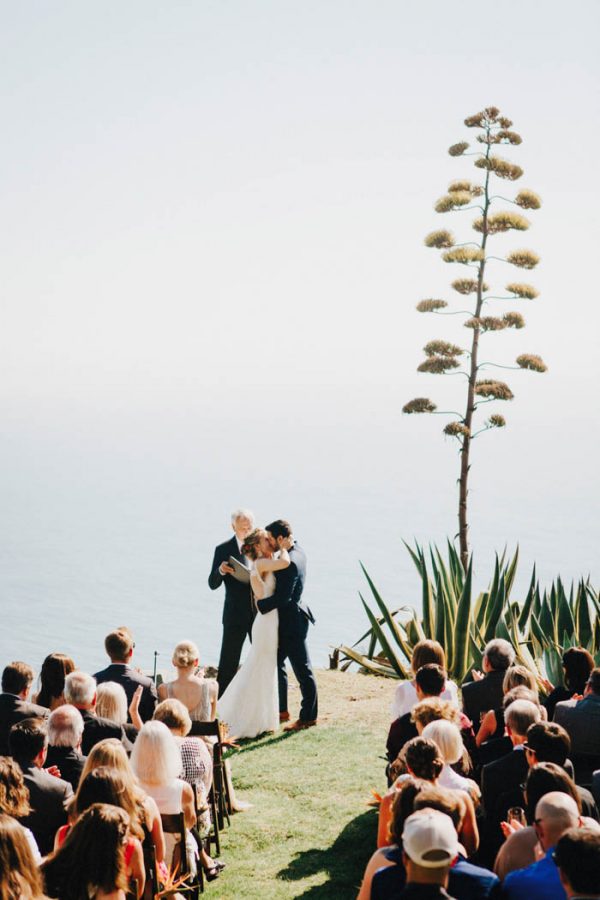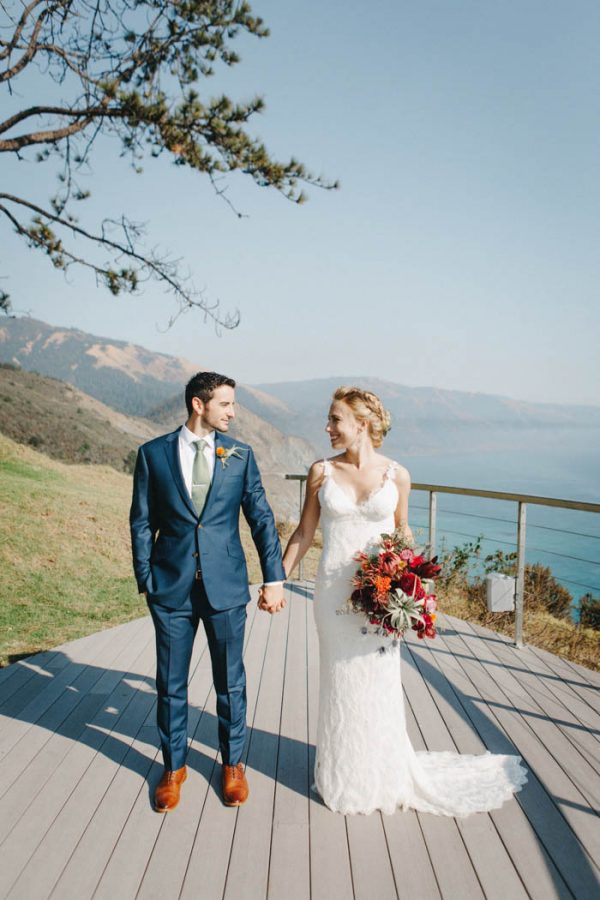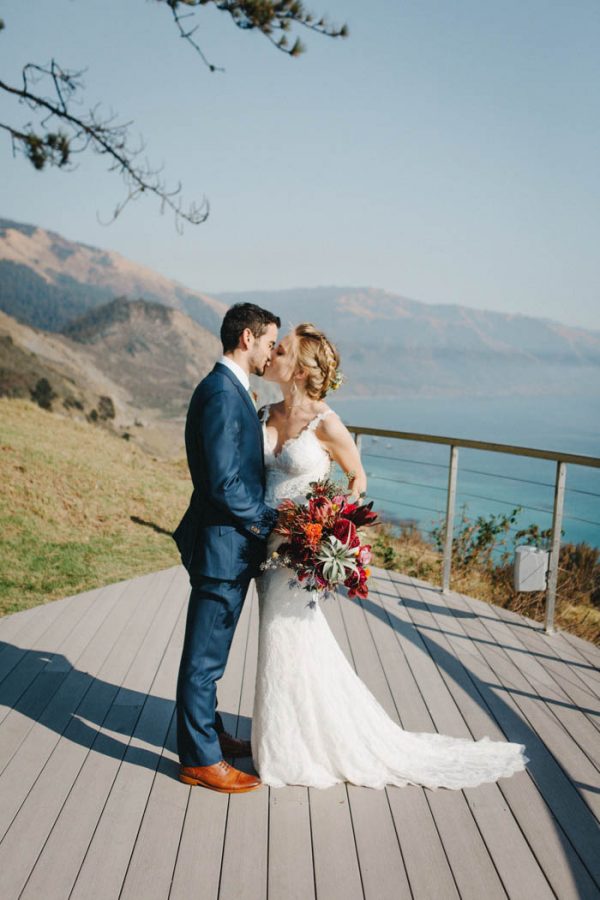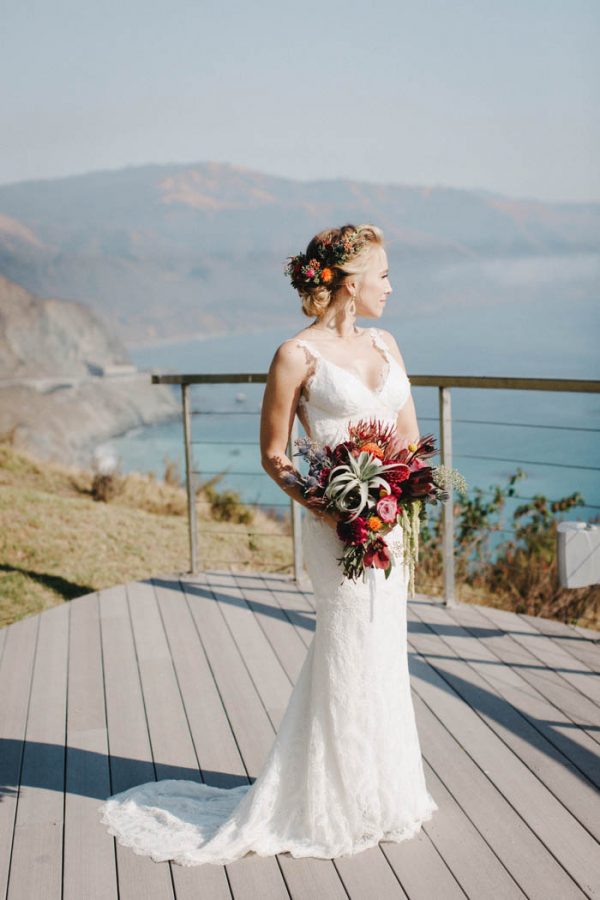 For my wedding style, I knew what I didn't like, so I visited a few bridal boutiques in San Francisco to narrow things down based on my personal style. I ended up falling in love with the Katie May gown that I chose – form-fitting with a low back and luxe materials, but still with a relaxed easiness that would look at home on the Big Sur coast! I complemented the low back with a necklace from De La Luna and custom statement earrings. Instead of a veil, I opted for a half flower crown incorporating pops of color and different textures on top of my braided up-do.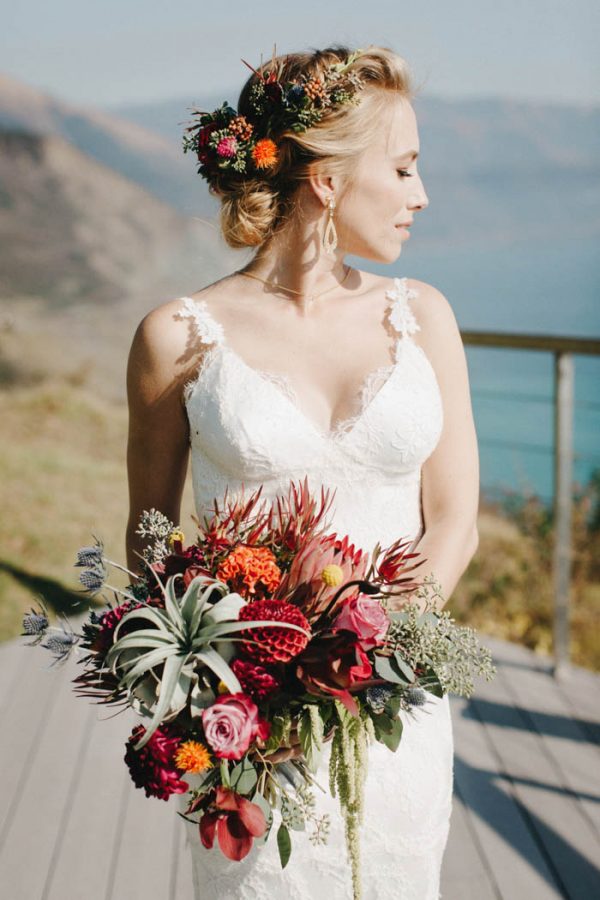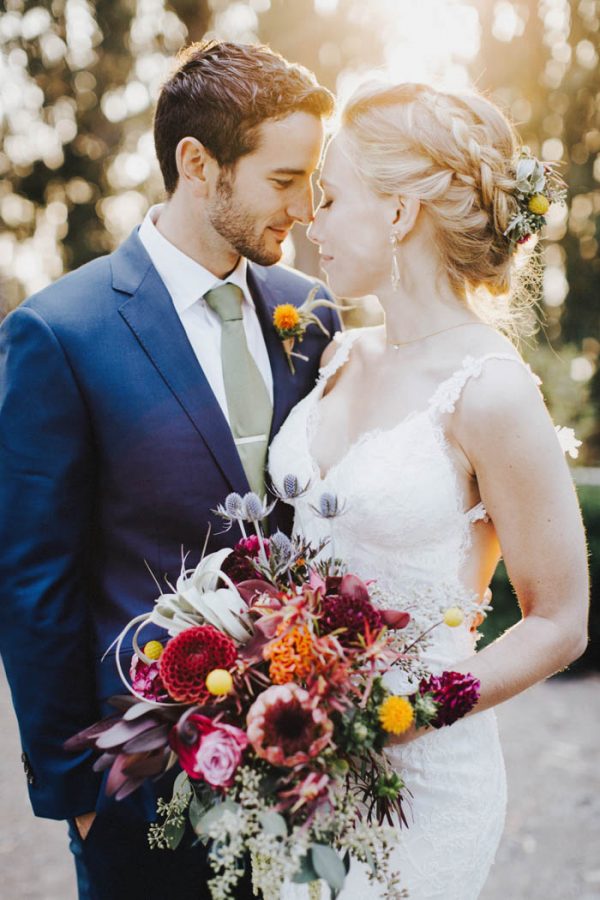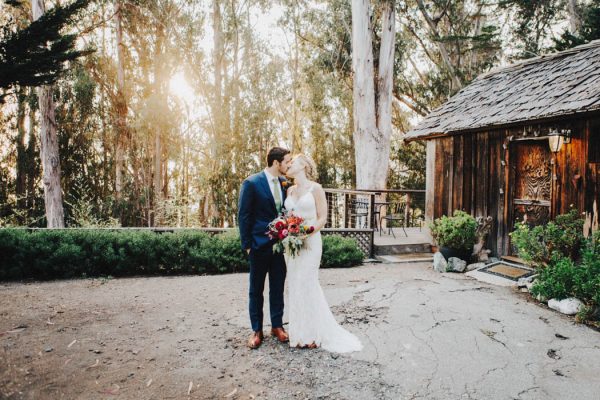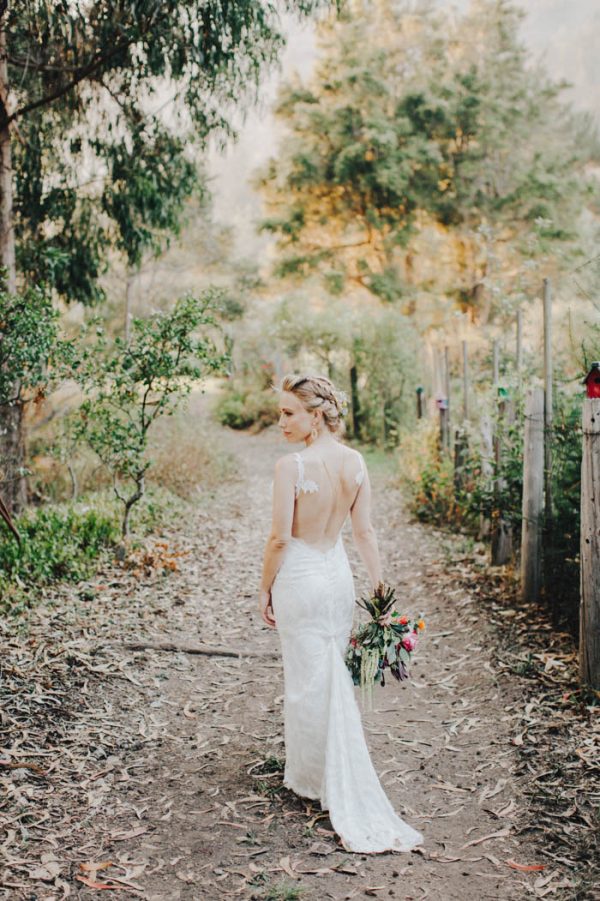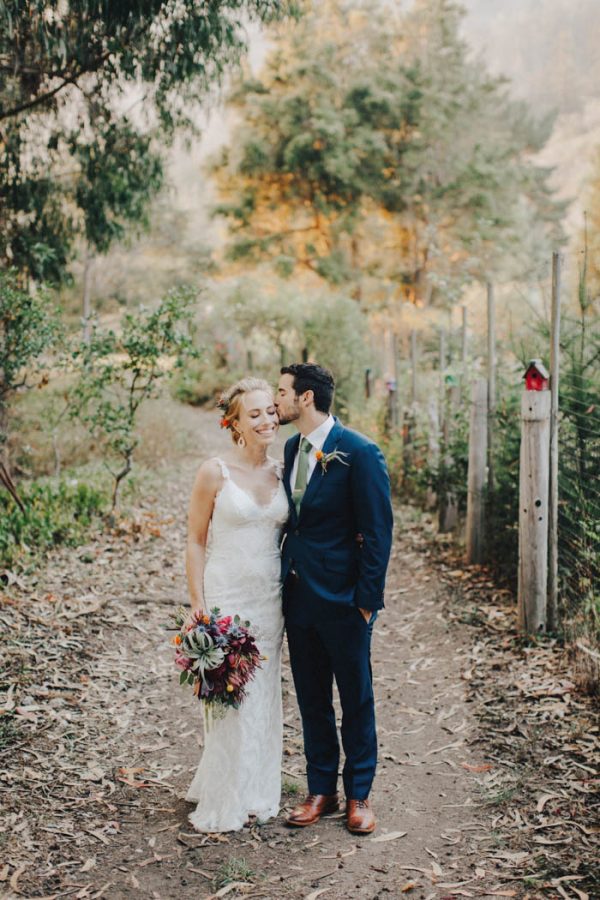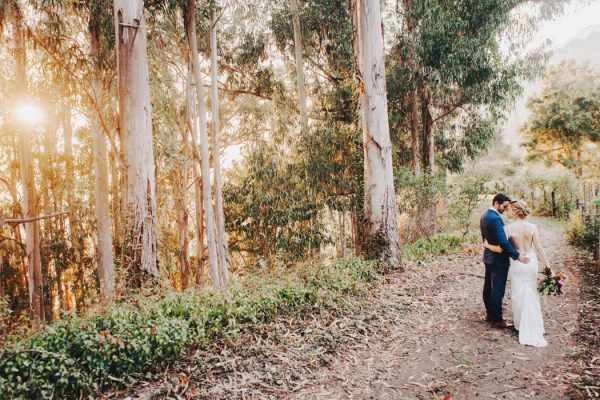 The entire day was more than we could have hoped for and just amazing, so it's hard to pick just one most memorable moment! The day was really made by the amazing natural surroundings of Point 16 and the Big Sur coast. Point 16 has one of the best microclimates in Big Sur, and we truly got to enjoy the very best of it on our wedding day. Our ceremony felt like it was on the edge of the world, and it was a truly special and perfect place to exchange our vows. Later on, the fog stayed off the coast and resulted in a gorgeous late afternoon sky and sunset. Whales even surfaced nearby, and it was so much fun closing out the night around the fire pit wrapped in blankets and dancing under the stars.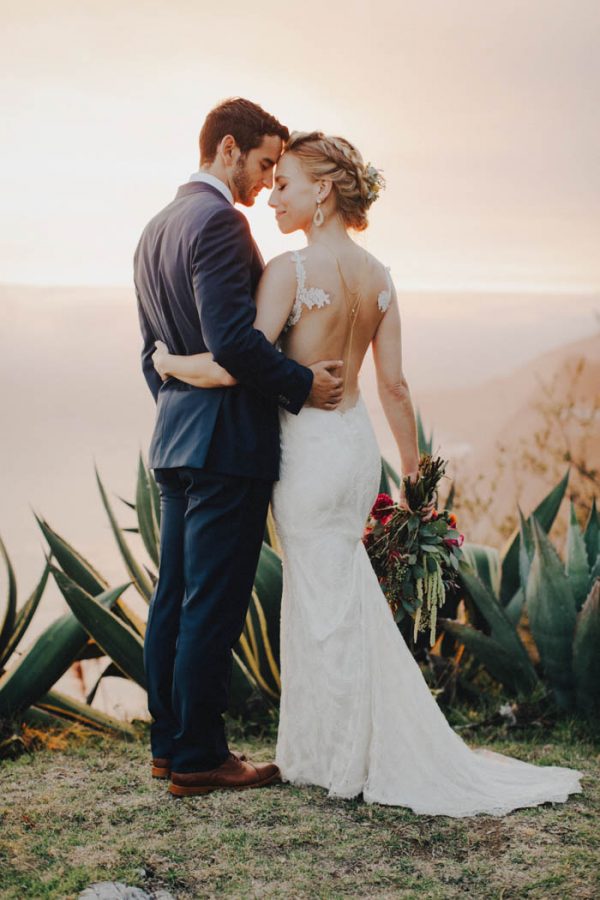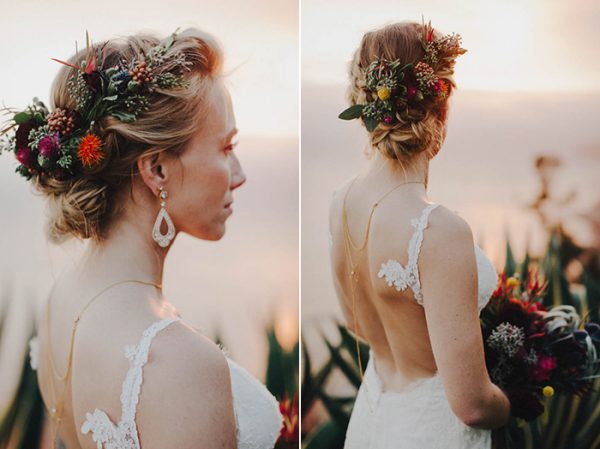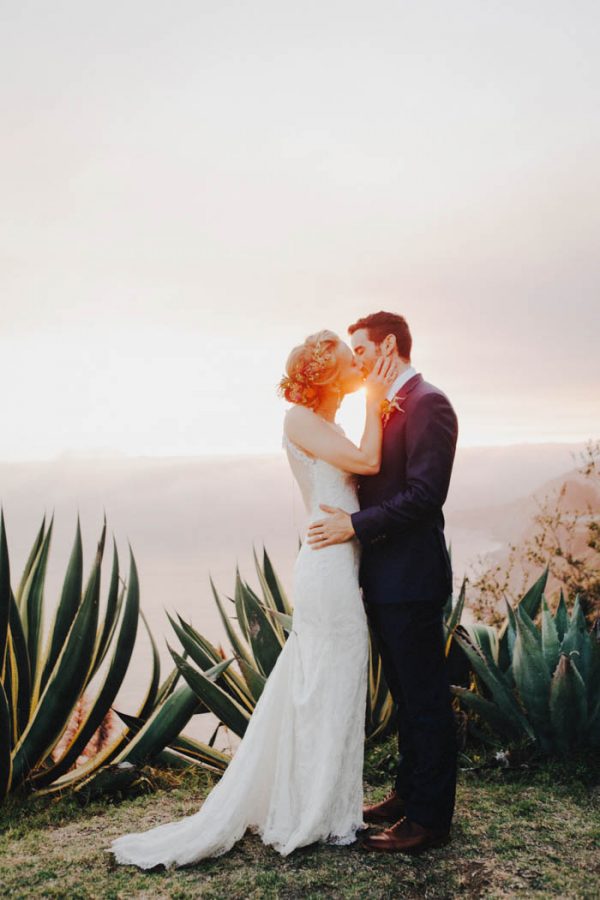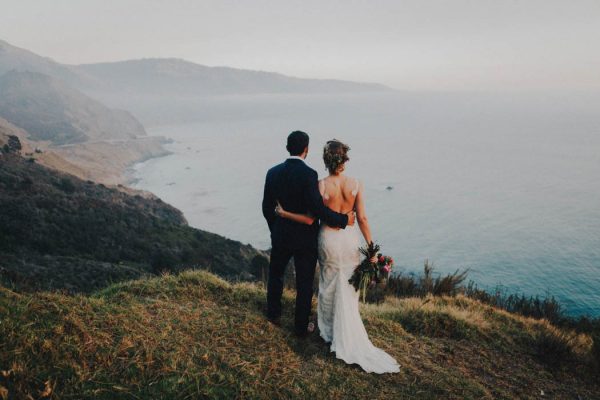 I was never one of those people that was planning their wedding for years prior to actually getting engaged, and I took a pretty laid back approach to planning that likely horrified observers and seasoned wedding enthusiasts! I almost completely eschewed Pinterest boards or any formal wedding planning resources, and I exercised complete disregard for the concept of wedding colors and just went with what I liked. I planned from the bottom up, rather than being inundated with a million ideas that may or may not reflect us as a couple and what we envisioned for our day.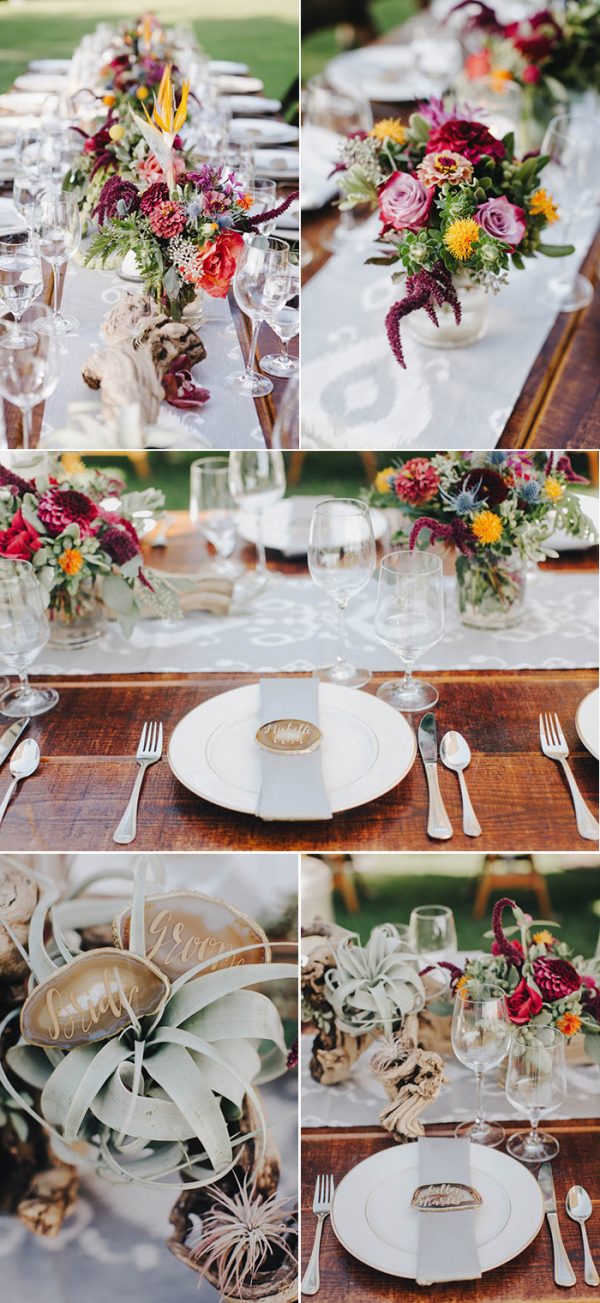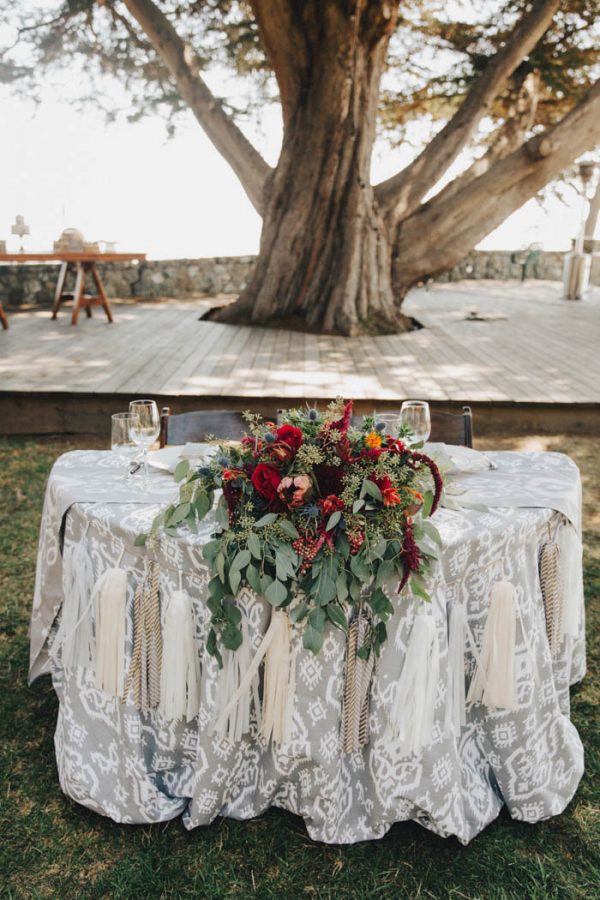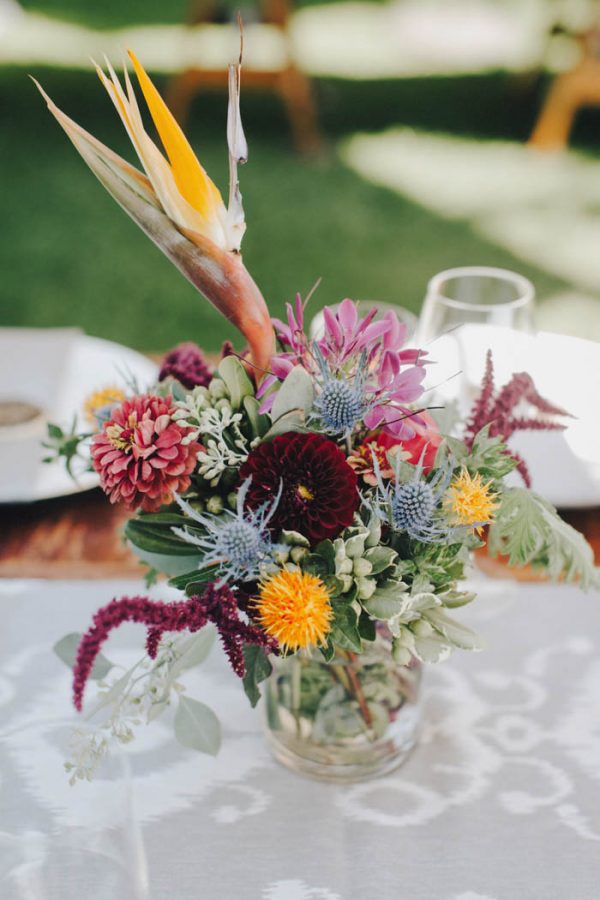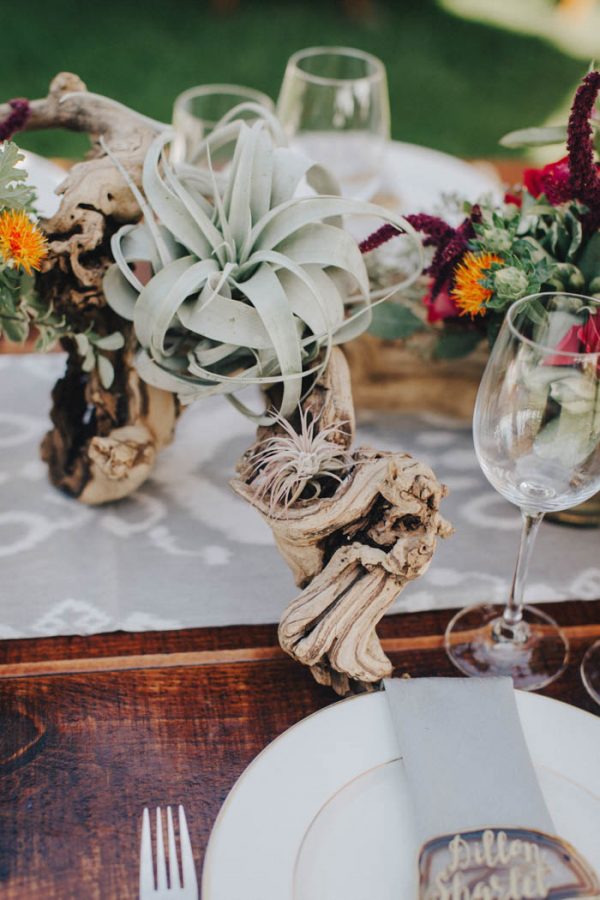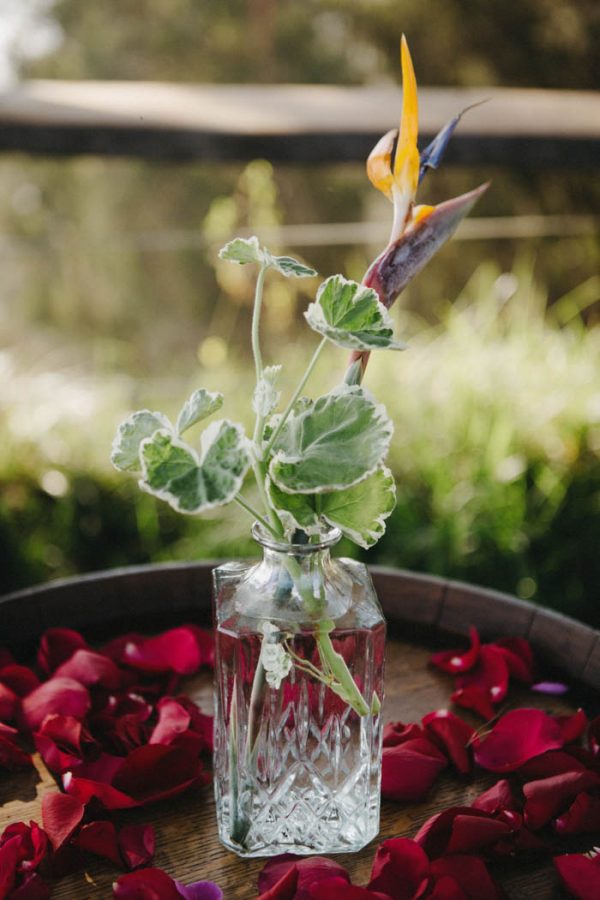 Our advice for couples who are planning their wedding is to not overthink it. Trust your gut and your personal style! It was easy to see how couples can fall victim to the paradox of choice when it comes to literally every aspect of wedding planning, so don't second-guess yourself – you can spend forever agonizing over options you never even knew existed, when in reality, you are your own best inspiration!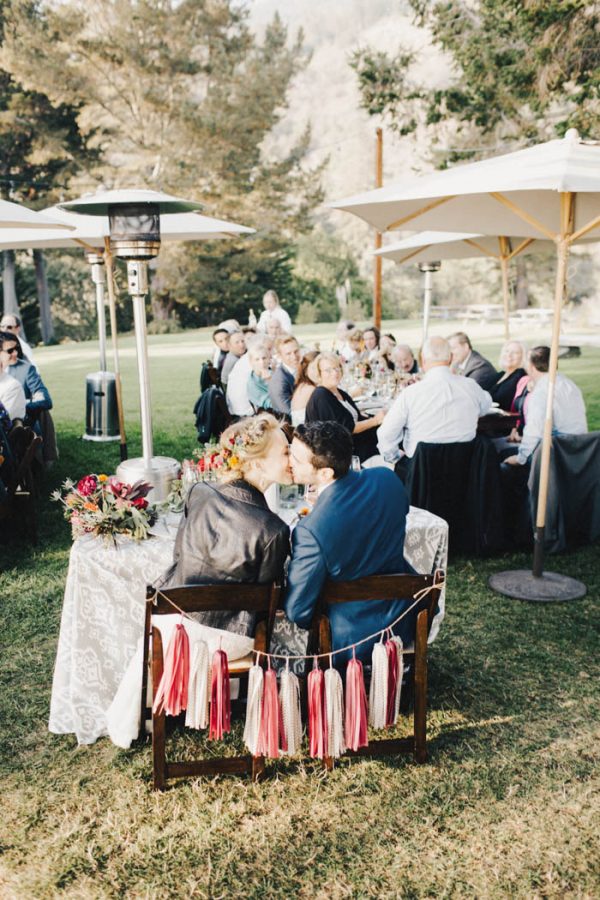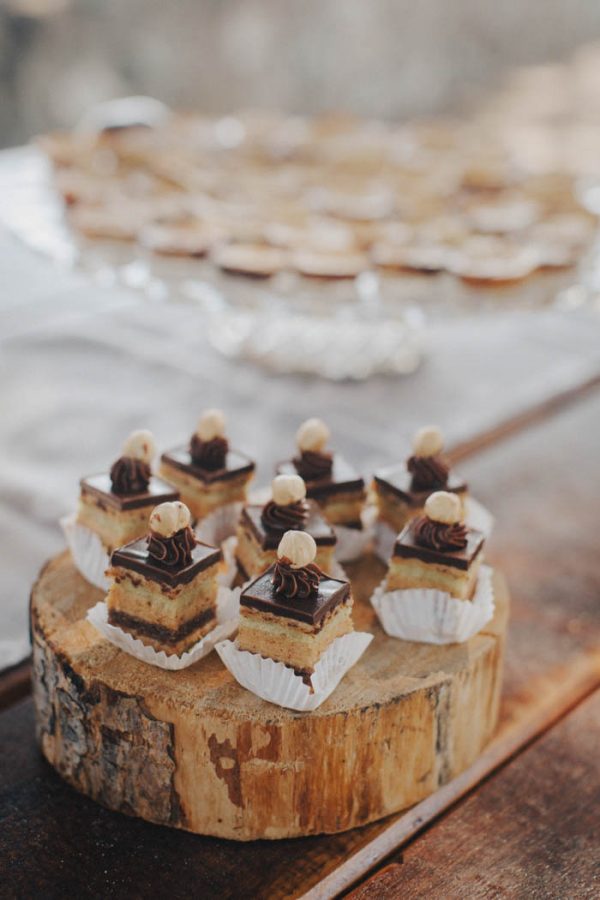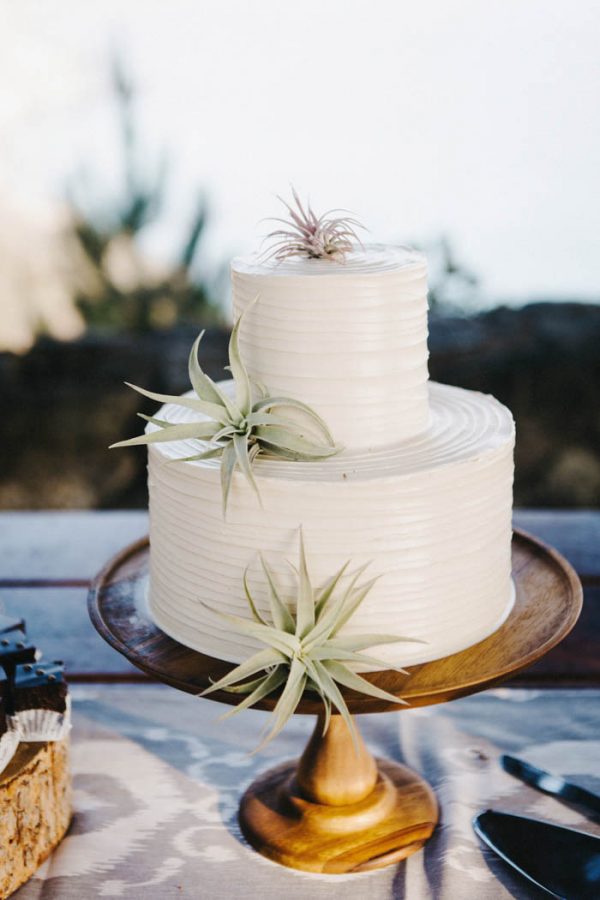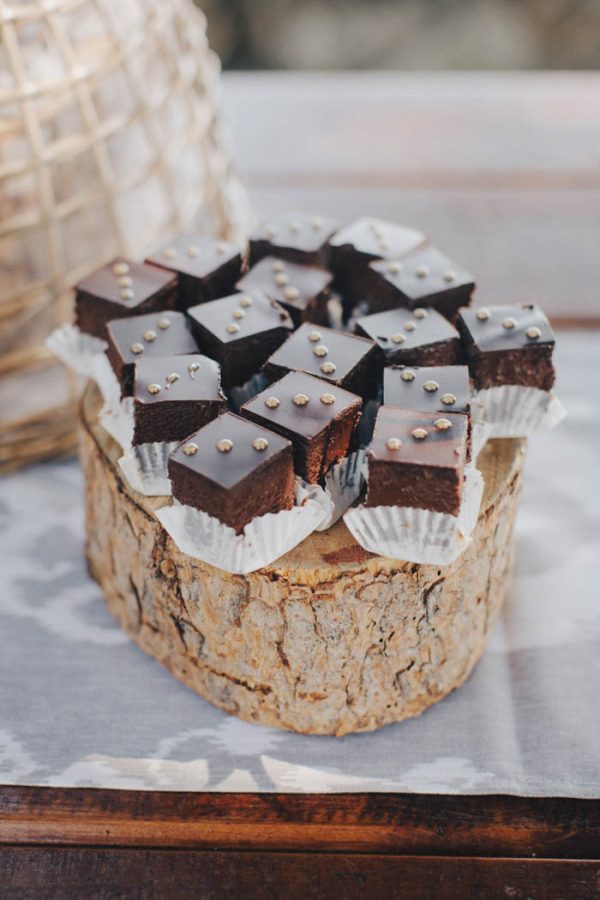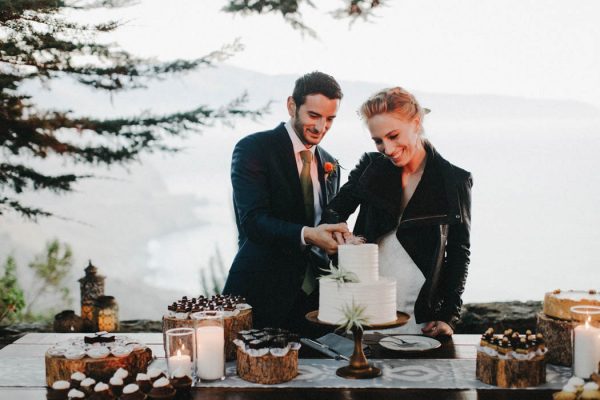 Processional – "Prelude" by Bonobo
Recessional – "Kiara" by Bonobo
First Dance – "Only Love" by Ben Howard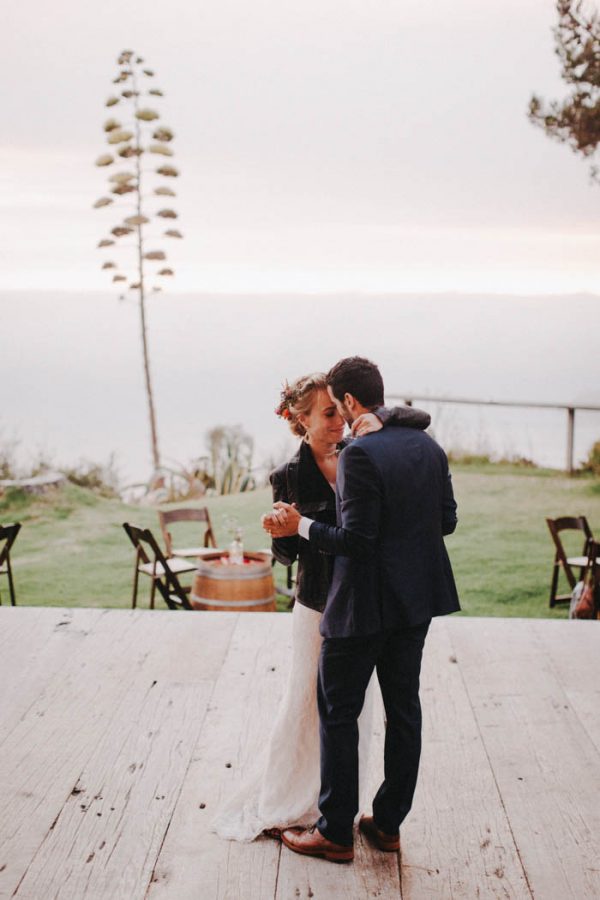 Congratulations to the newlyweds, Nora and Nik, and thanks to Evynn LeValley for sharing these beautiful wedding photos! Want to see more Big Sur magic? This breathtaking handmade elopement at Glen Oaks Big Sur will take you on an incredible journey from the woods to the beach at sunset!