Travel Update- Friday, September 19th- Today we're crossing the border to Botswana's Chobe National Park for game drives and boat trips in one of the most concentrated areas of wildlife in all of Africa. We should see giraffes, zebras, impalas, wildebeests, buffalo, warthogs, and elephants! I can't wait!
Today's gorgeous blog post is from Blair, all about the exotic, dreamy event tenting and decor from Raj Tents. Truly stunning and memorable!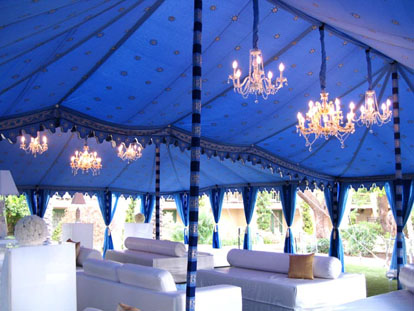 Without a doubt, I adore Raj Tents! Every time I see one of their gorgeous designs, I am transported to a place of absolute ease and luxury (my current fantasy is to have one permanently set-up in my backyard). Inspired by distinctive themes from the palaces of India and Morocco, to the chateaux of French Provence, each tent is draped with opulent fabric and can be exquisitely appointed with chandeliers, stylish low-seating vignettes, and hand woven rugs, all available at Raj Tents. Talk about a dream come true!
To make your own unforgettable wedding style statement, choose a modern, yet classic tent for cocktails like the one pictured above, or a simple, sumptuous tent for your beach ceremony like the one shown in the image below…


or choose a whole suite of lavish tents to transform your reception space into a space of unparalleled comfort and beauty.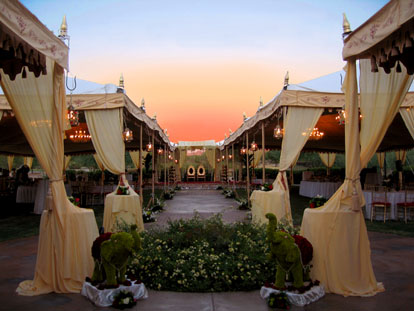 Play up your passion for color, with richly saturated tangerine orange, ruby red, and saffron yellow…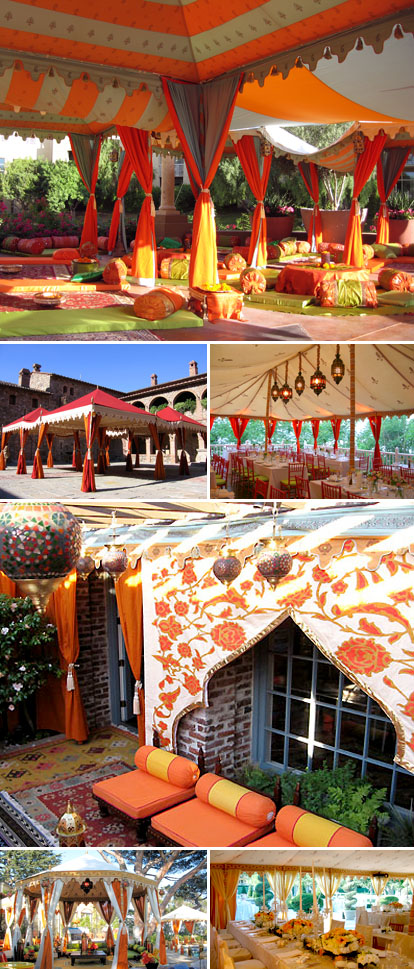 or choose a palette of topaz blue, aquamarine, or rich rosy pink.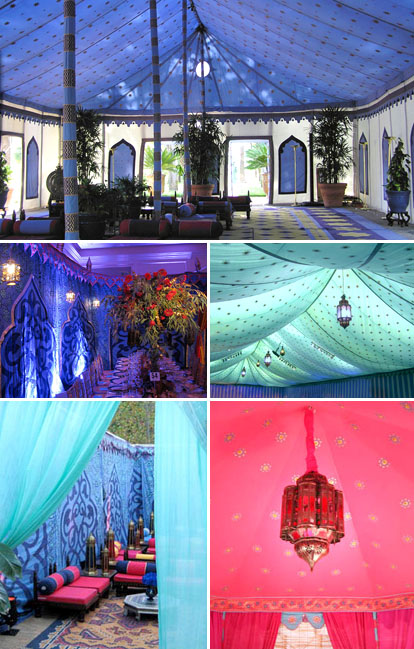 No matter what you're looking for in tenting, from expansive entertainment spaces to intimate spots for dressing, relaxing, and spending time with your groom, there's bound to be at least one that delights your inner princess!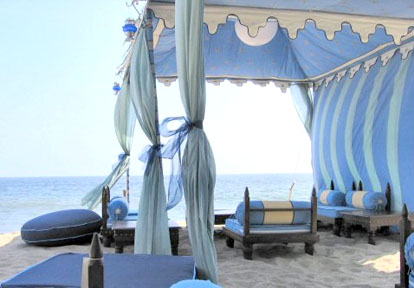 All images from Raj Tents, except the image above, from Brides.com.
Raj Tents is located in Los Angeles and San Francisco for weddings and events all over the world.