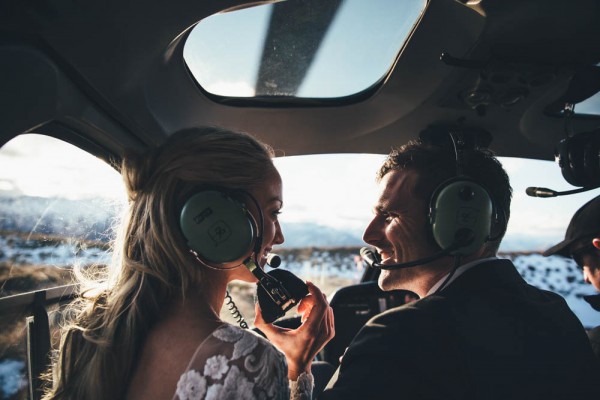 Buckle up, because this epic wedding in New Zealand required twelve helicopters to make it possible. Joined by closest family and friends, including Trent's 90-year-old grandfather, as well as a remarkable team of wedding professionals, Nicole and Trent exchanged their vows atop a snow-covered mountain. Nicole's bridal fashion is one for the books, wearing a custom alpaca bolero to keep her warm in the blustery mountain air, and a showstopping Luci Di Bella long-sleeved gown. Photographer Jim Pollard Goes Click went above and beyond, truly, to capture every unforgettable moment of the unique celebration.
The Couple: Nicole and Trent
The Wedding: Lake Wakatipu, Queenstown, New Zealand
The Inspiration: "Our wedding was a three day celebration with family and our closest friends. Our winter wonderland wedding was a reflection of Trent and I, we wanted to create something that was unique to us. We wanted to keep our decor classic, elegant, modern and timeless. To us the ceremony was very important and most of our time went into organising these as we had three of them. We had the one that was written by us on the top of the mountain, this ceremony embraced the elements of nature earth, fire, water and air. My favorite element was air as I had a bagpiper pipe me out of the helicopter down to the ceremony. The bagpiper also signified for me my grandfather who I was very close to when he was alive. For me it felt like he was with me in spirit. After our ceremony on the mountain guests flew into our reception venue, which was great because it was an easy transition from one place to the other. There we had a stone ceremony. Trent and I had inspirational words engraved on the stones. The rocks were placed face down and we invited guests to choose a stone that they were drawn to. That stone ultimately belonged to that person with their own individual message. We asked the guests to take the stones home with them as a reminder of our wedding and their experience. What I love most about the rock ceremony is when we visit family or friends quite a lot of them have their rocks out on display as a constant reminder of the day. After our stone ceremony we had a traditional Maori ceremony. A lot of our guests found this to be the highlight of the wedding.
The day was coming to an end and it started to get dark. Once the sun gones down on a New Zealand winters day it gets cold very quickly. Guests were given champagne, warm hot chocolates and throws before we entered the reception area.
With the inside decor we wanted the guests to feel like it was a cozy and warm transition from one area to the next. Inside the reception area we had the the log fires lit, the leather lounges and chairs dressed with furs. The tables lit with hundreds of tea light candles amongst pebbles and each tall glass vase was filled with a dozen long stemmed white roses. We also had twisted willow and hundreds of hanging glass orbs placed around the venue. The light from the candles in the room created a beautiful and warm ambiance. "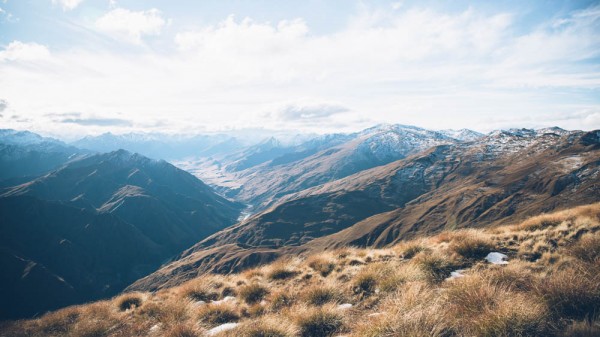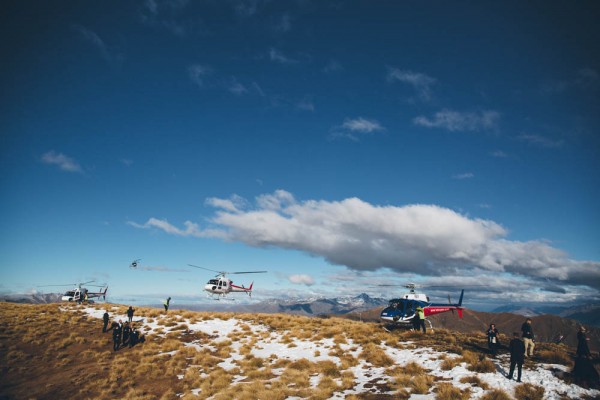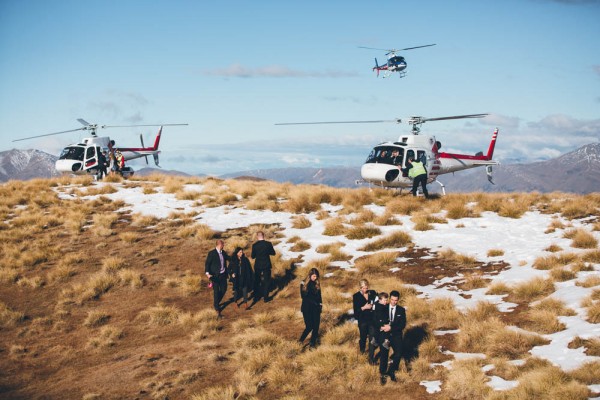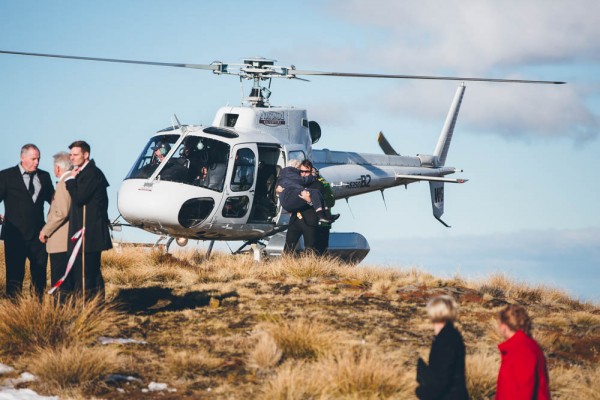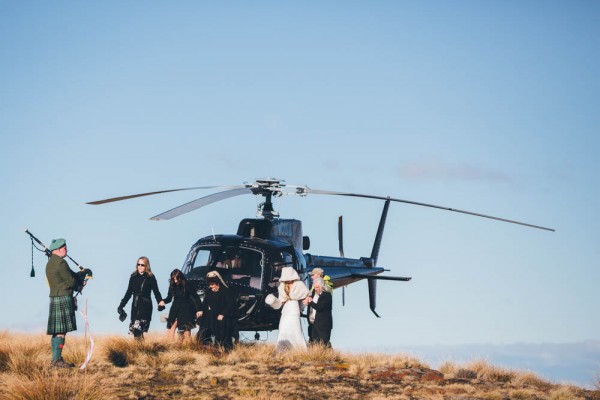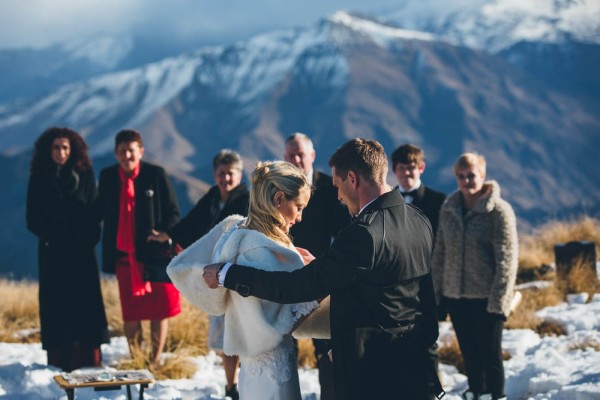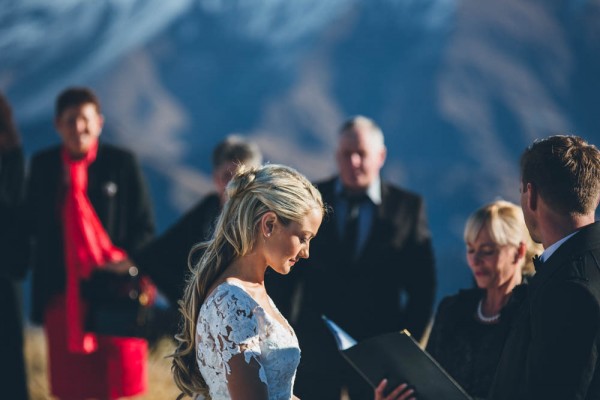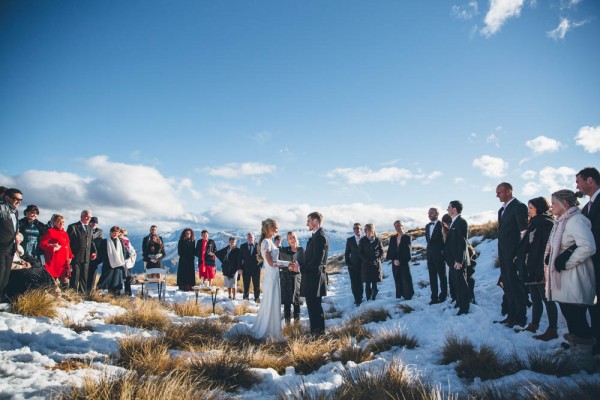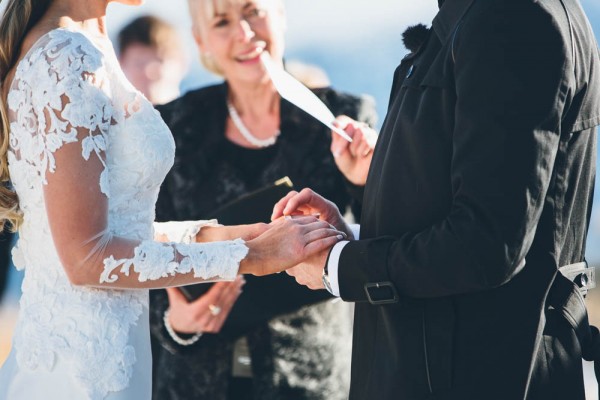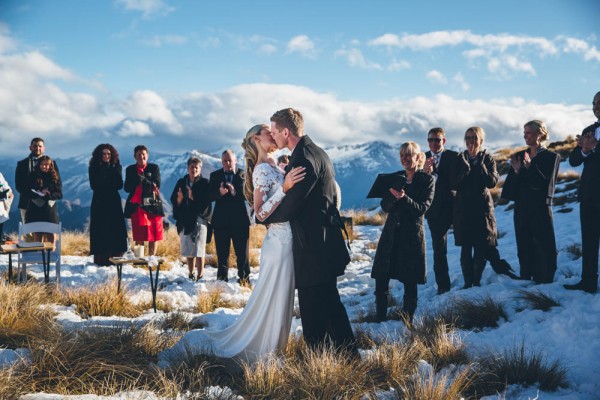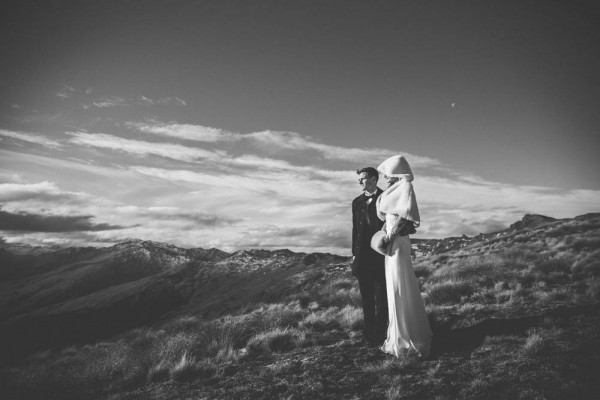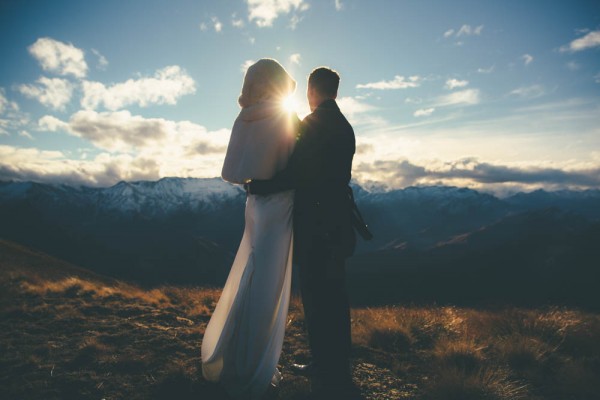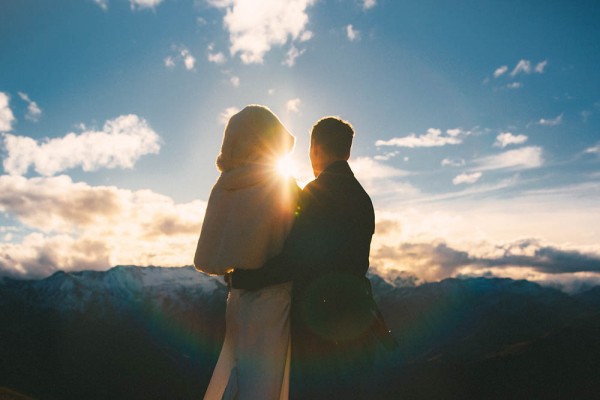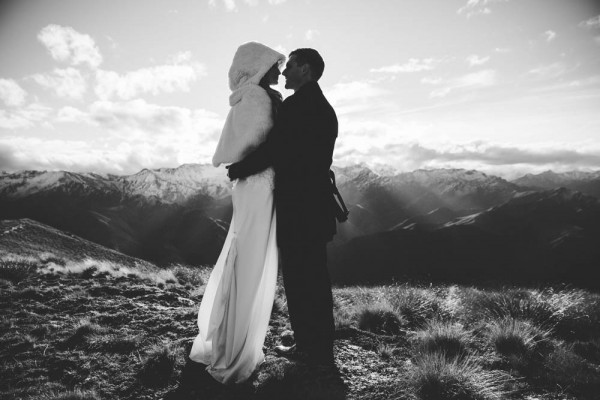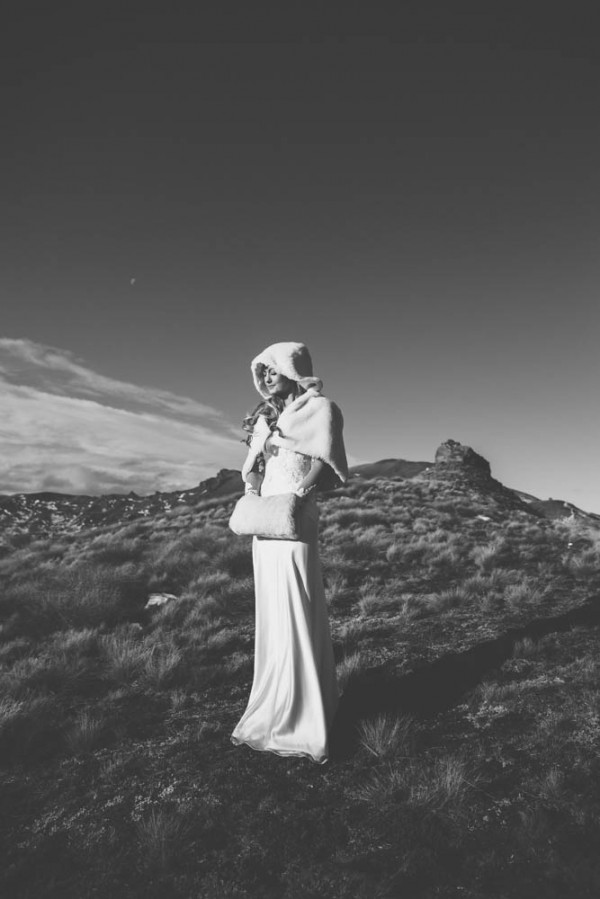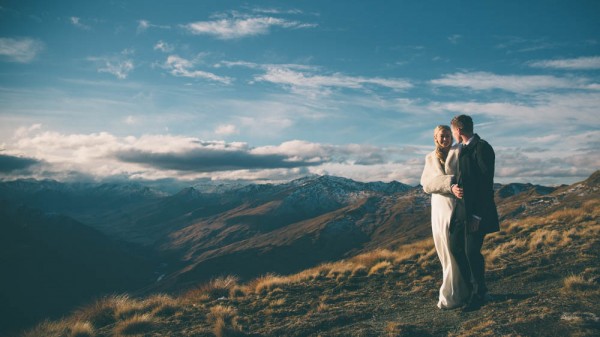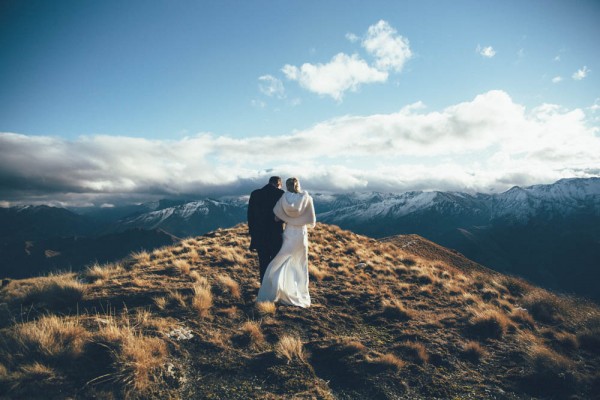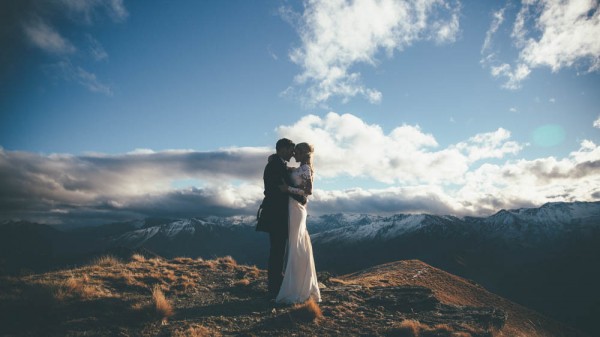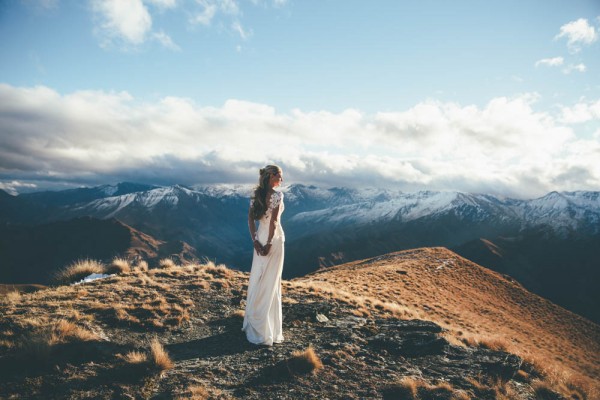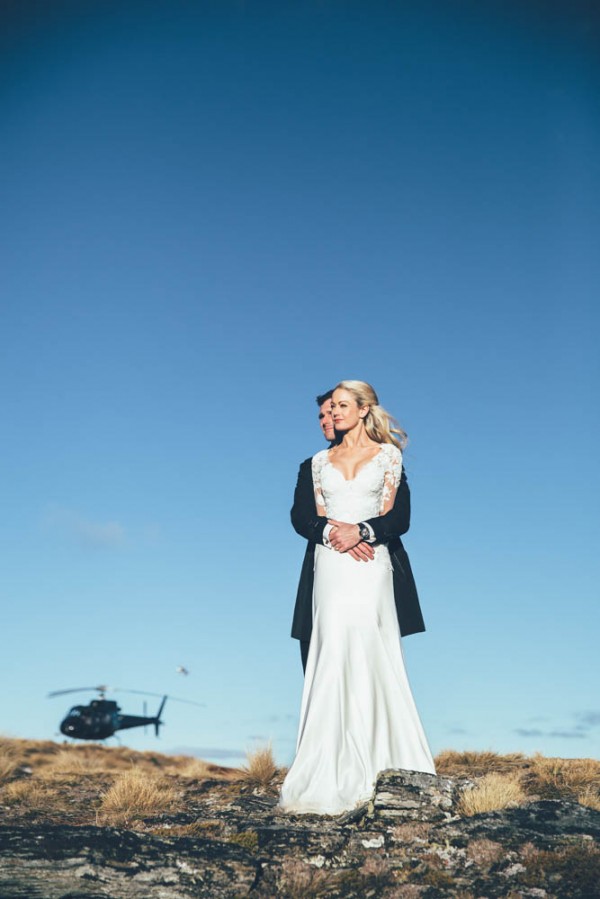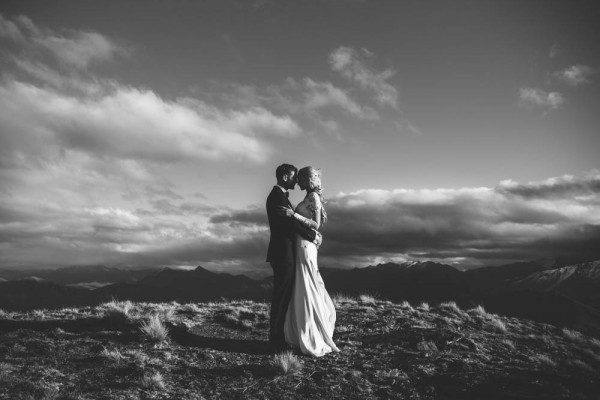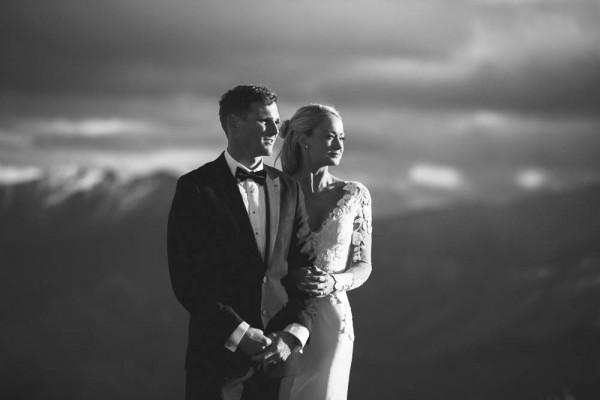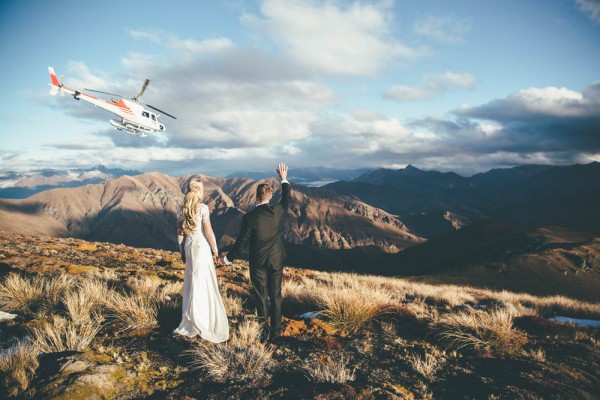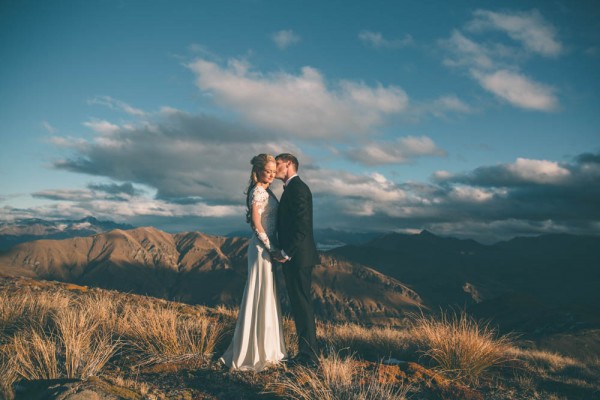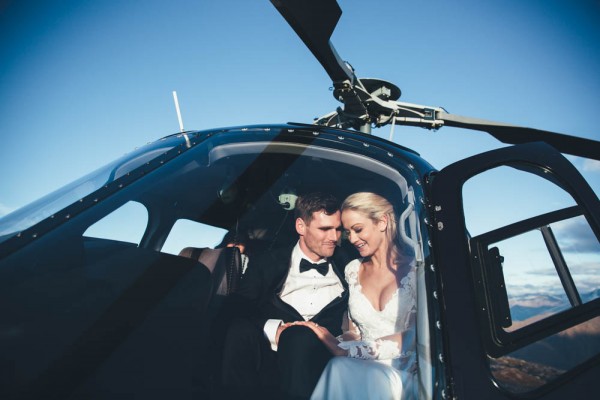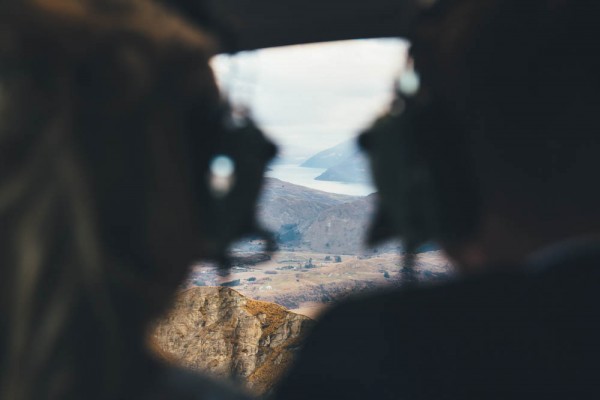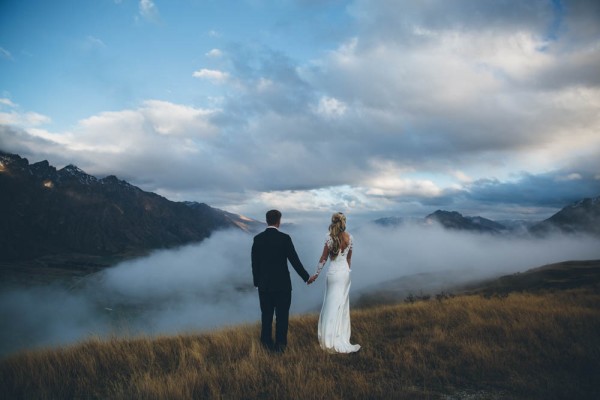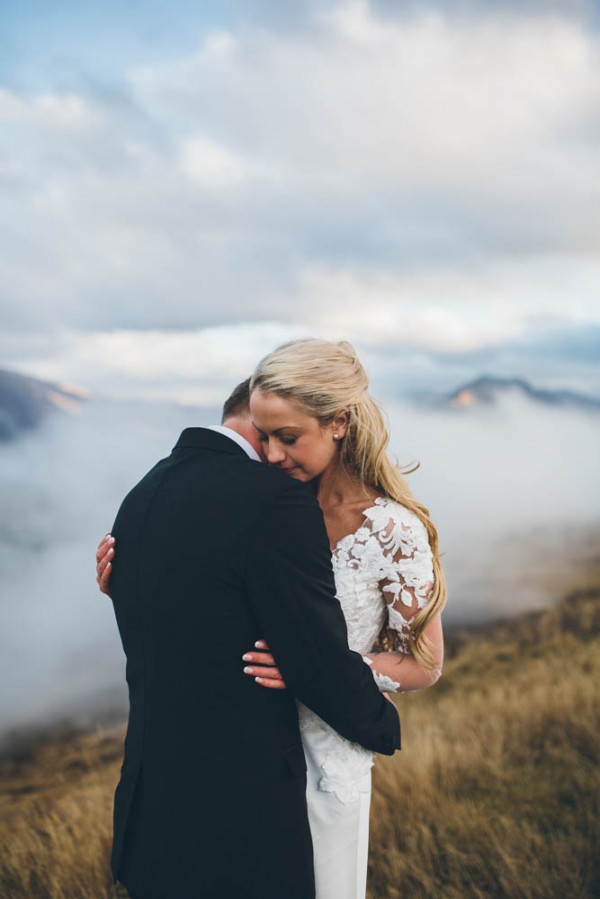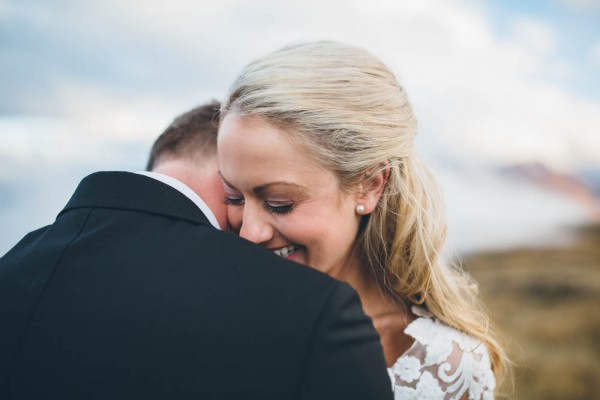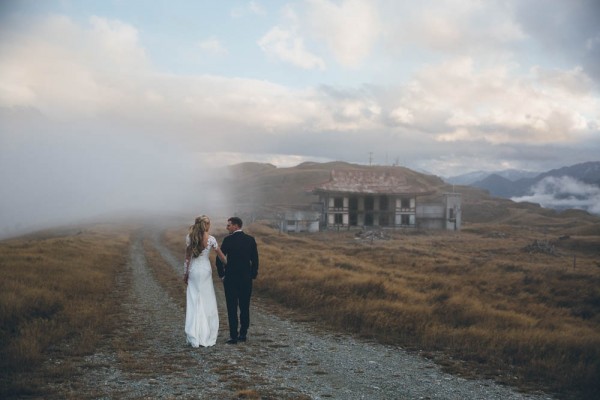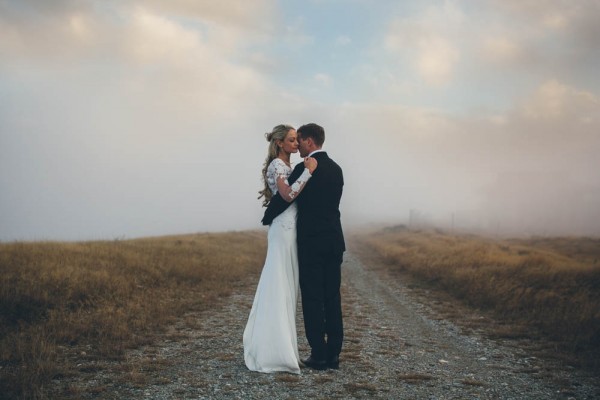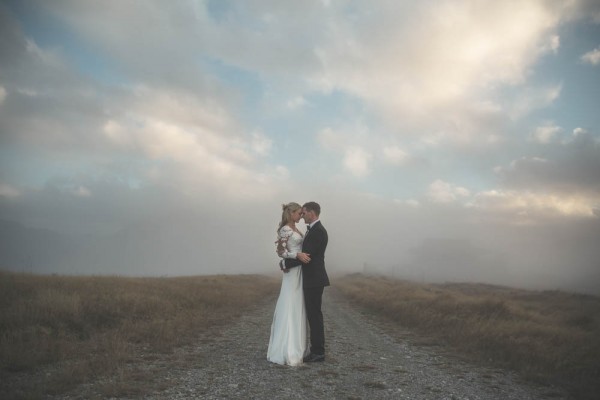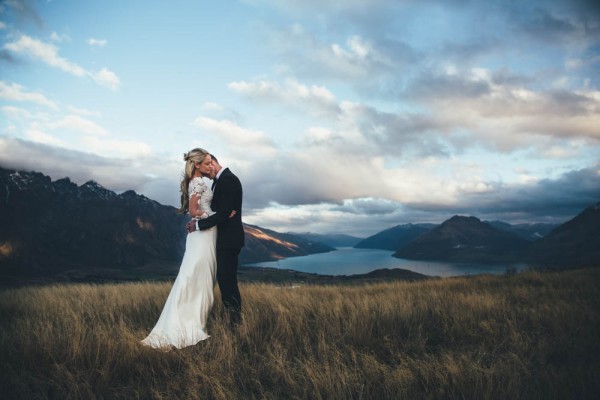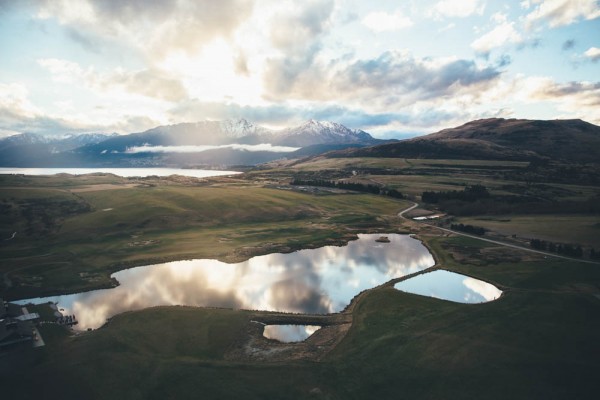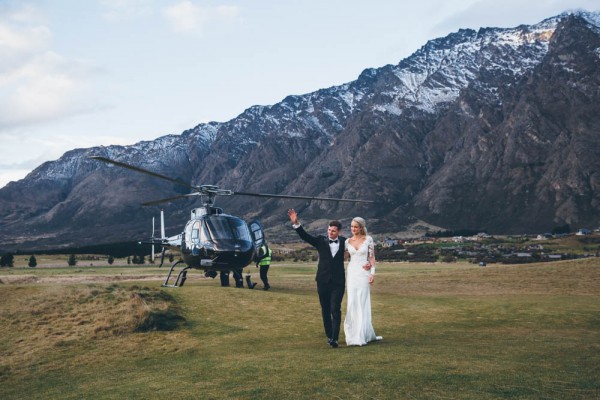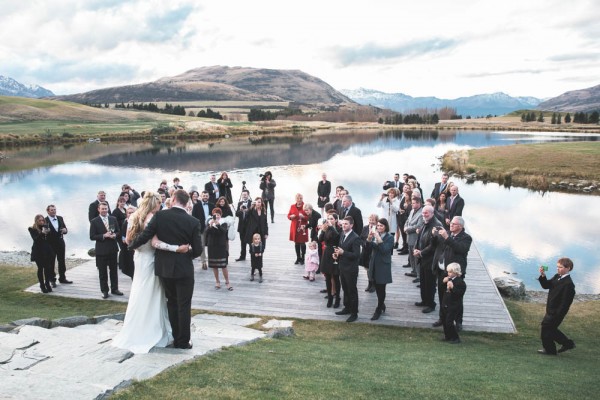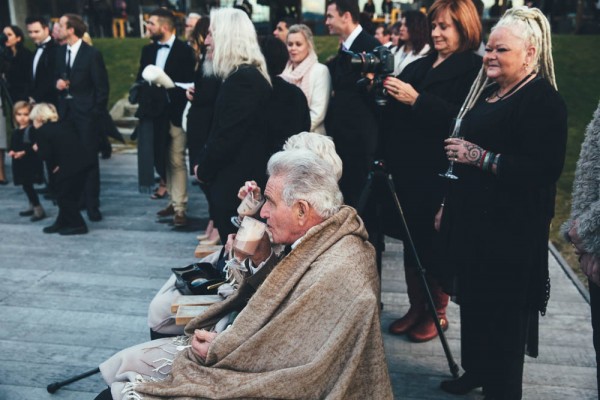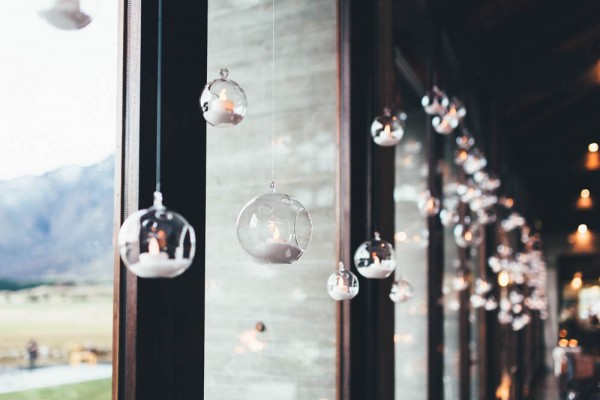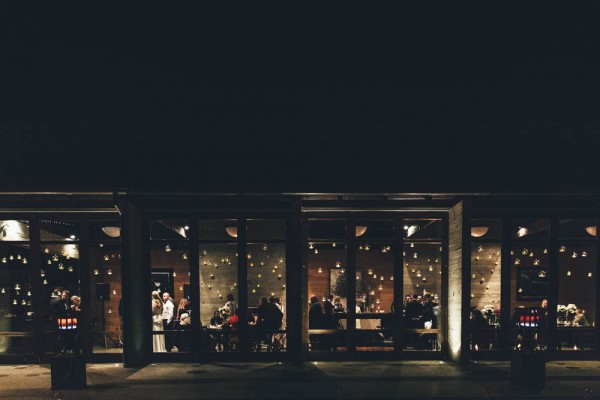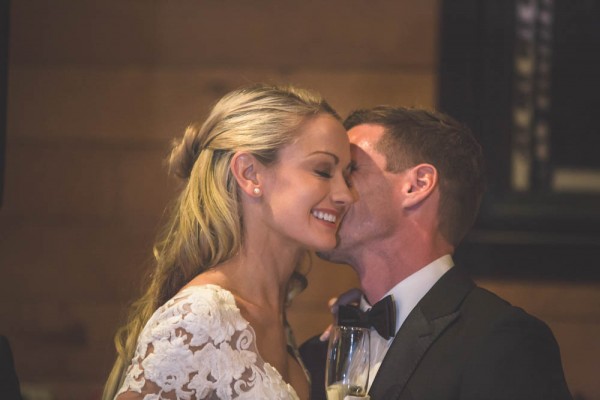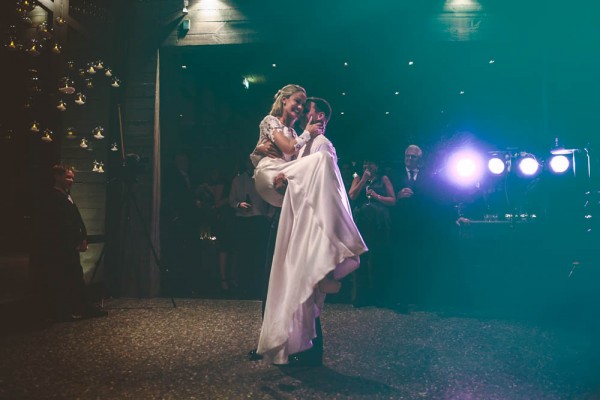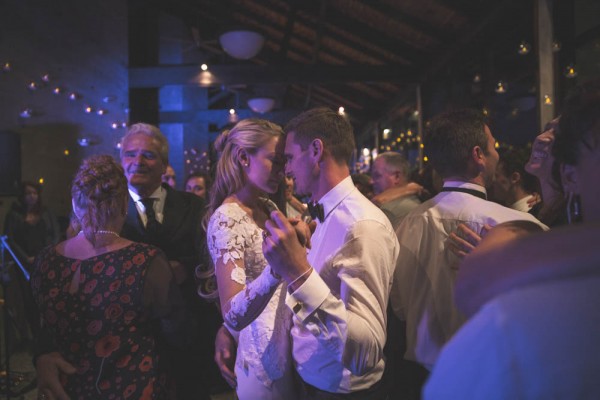 The Moments: "I will always remember our ceremony, it was such a magical moment. If you are having a winter wedding with a ceremony outside, the weather is always on your mind. Our ceremony was very weather dependent. We had twelve helicopters flying up to the mountain and nobody knew. We had Trent's grandfather flying up and he is in his 90s. The ground was very unstable and it had been snowing up on the mountain for the past week.
We met with our celebrant the day before our wedding to go through the layout of the ceremony and to be honest we were all quite nervous. The weekend before she had married a couple up on another mountain in the same area and the snow was nearly one meter deep, she said that they nearly all got hypothermia. So it was to be expected that we were a little bit nervous about the weather. I was determined to have our wedding outside so having our ceremony inside wasn't even an idea I wanted to entertain. On the day the weather was absolutely stunning. Everybody was able to take in the breathtaking views in their helicopter flights. Trent's grandfather arrived safely and was carried to his seating and I was able to take off my cape to reveal a very sheer wedding dress. The sun literally shone on my face throughout our ceremony.
The next day when we were out in the town center we caught a taxi and we were speaking to the driver who was a local and he said that their wouldn't be one local that would risk having their ceremony on Mt Vanguard."
The Couple Recommends: "Jim Pollard our photographer captured what people have said 'out of this world' and 'the best wedding photos they had ever seen'. Whilst being an extremely talented photographer Jim is also very down to earth and we loved this about him because he instantly put my partner and myself at ease. He is very unique in the way that he photographs, he has this amazing ability not to just take a great photo but to capture the essence of a moment. When I look at our wedding photos, I don't just see an image, I actually get little butterflies in my stomach as if I am reliving the moment again. His work is very emotive and his images speak for themselves. If you are looking for a New Zealand or international photographer I couldn't recommend him highly enough.
I would also like to say a huge Thank You to Glennys Logan our marriage celebrant. Glennys is very passionate about her work. Her attention to detail is superb and her delivery of our ceremony was clearly and elegantly spoken. Glennys was the perfect fit for our unique ceremony and we felt blessed to have her marry us.
The last thank you I would like to give is to Robyn Shearwood from Queenstown Wedding Video. Her videography and artistic flair captured our wedding beautifully. Robyn was great to work with, I could be completely honest with her and nothing was too much trouble. Our wedding DVD will be something that will be cherished and watched every year on our wedding anniversary. I will be so proud to show it to our children."
The Wedding Team:
Photography – Jim Pollard Goes Click
Event Planning – Remarkable Weddings
Reception Venue – Jack's Point
Floral Design – The Flower Room
Celebrant – Glennys Logan
Live Band – LA Social
Videography – Queenstown Wedding Video
Invitations – Artworx
Hair & Makeup Artist – Heaven Spa
Wedding Dress – Luci Di Bella
Bridal Bolero – Janelle Hodgson
Groom's Apparel – Calibre
Rings – Bvlgari
Helicopters – Glacier Southern Lakes Helicopters
Transportation – Black
A massive thank you to Jim Pollard Goes Click for sharing this exceptional event with Junebug! For more helicopter wedding inspiration, don't miss Jeni and James' adventurous New Zealand helicopter wedding