A traditional approach with an emphasis on family, this classically elegant Texas wedding celebrated the romance between couple, Camille and Todd, and their future lives together. Balancing a meaningful religious service with a lively reception party, their wedding, captured by Aves Photographic Design, suited the spirit of their relationship perfectly!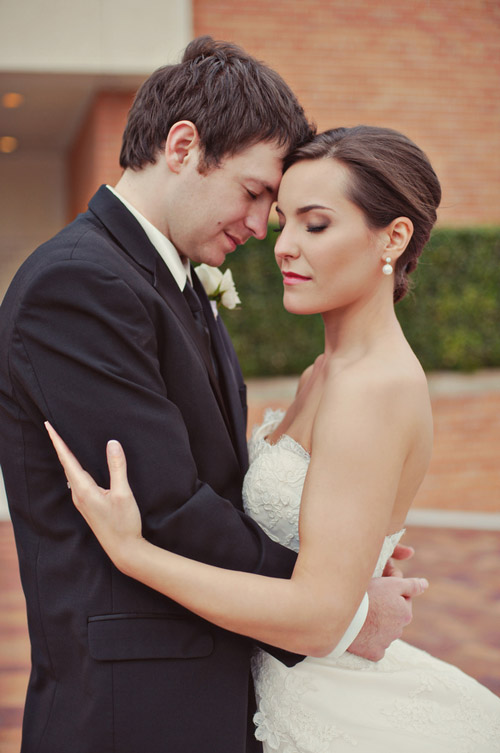 The Couple: Camille and Todd
The Wedding: 11.19.11 – Colonial Country Club Fort Worth, TX


What were the top three priorities for you in planning your wedding? Keeping Christ at the center, having fun, and keeping it classy. I wanted it to be simple, yet elegant.
What wedding traditions or cultural traditions did you incorporated into your wedding and what did they mean to you? I tend to swing towards a more traditional approach with most things, so I wanted to get married in a church. The church was built by my great-grandfather and was where my sister got married. It was important to me that I get married somewhere meaningful to my family. During the service my cousin played the violin with organ music in the background.
I like wedding traditions such as something old, something borrowed, something blue, and something new. I have just always thought it was fun to incorporate those customs into a wedding. For my something borrowed and old, I wore my mother's pearl and diamond ring. My mother and I have an amazing and blessed relationship and I couldn't imagine going through the day without something special of hers. Family is a top priority to me, so involving as much as my family and his family in the celebration was necessary.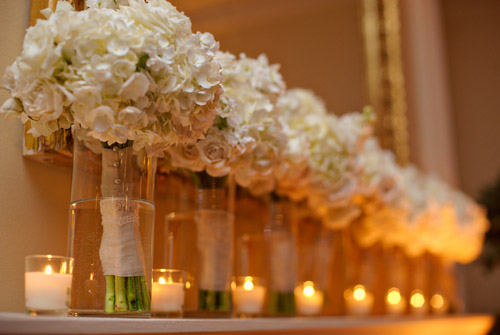 Were there any places where you broke the rules in your wedding planning? Why and how did you do that? During the planning process, I was very laid back. I can give thanks to Emily Youngblood and my mother for helping me with that! Pretty much the only rule I broke was that my groom and I took pictures before the wedding. This really eased all of my nerves and made it quicker and easier to get out of the church after the wedding. We really love dancing and wanted to celebrate with all of our family and friends as soon as we could!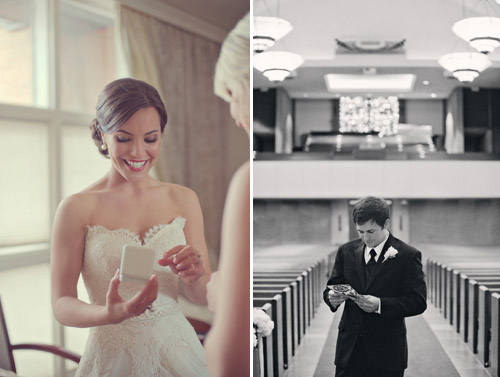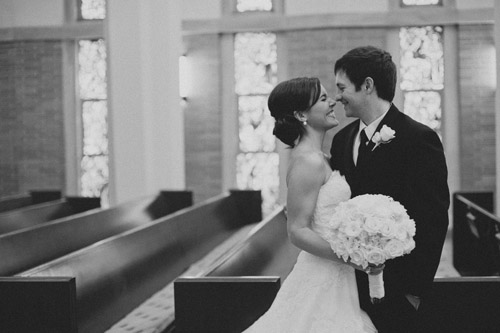 What was your biggest wedding planning success? My biggest success was that the "end product" turned out perfectly. I wanted the classic look of the wedding to carry through from the dresses, ceremony and to the reception. One of my main focuses was to keep everything coordinated. The church was traditional, so I wanted a traditional service. We did candle lightings, scripture readings, prayer and even had the most angelic of voices sing Ave Maria. I also incorporated lace into everything – my garter, dress and even my bridal cake. The Colonial Country Club has colonial style architecture, so the cake was decorated in a way that really captured its elegance. Additionally, I wanted the reception to be filled with class and romance. The flowers, lighting and drapery really encompassed that vision and brought everything together.
Also, I could not have chosen a better band. The way they made the entire reception come to life was absolutely incredible. I saw people dance that I never thought would! They are THAT good! They were the icing on the cake and brought an element to the reception that would not have existed without them!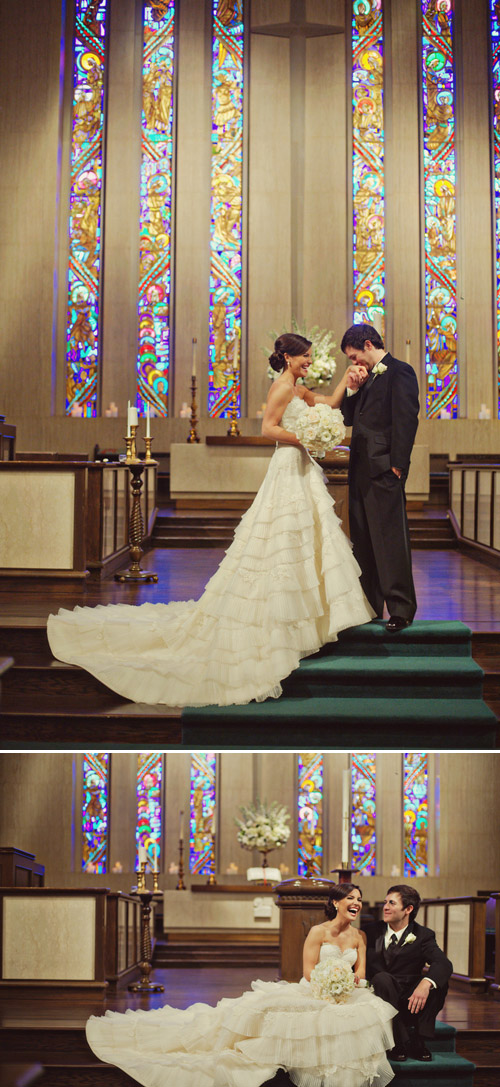 What was the most important thing that you learned through the wedding planning process and what would you tell other brides-to-be? Hire a wedding planner or coordinator! I learned that the planning of the wedding is really what you make it. You can either make it stressful or one of the most enjoyable things you have ever done. Dont get me wrong, there are stressful moments. But keep in mind…in the end your wedding day is ONE day out of the rest of your life with the man of your dreams. Love every moment of planning, but dont get wrapped up in the details that ultimately don't matter. The most important piece is to understand the covenant you are about to make and know how important that is. Spend time with your spouse-to-be and get to know him more as you continue your way down the journey.
Also, one of my most favorite parts about planning was that I got to do it all with my mother. She helped me through the entire exciting process, along with Emily, our wedding planner. Doing this with my mother was so important to me, andit was really an honor to have her be involved as much as she was! Since family is so important to me, I wanted to have my sisters, Raime, Amy, and Anna be a part of it as much as they could. They live all around the US with their own families, so it was difficult to have them be at everything. However, they showered me with love, encouragement, blessings and prayer during the entire process. Ultimately, I would definitely make it a priority to keep your family involved, even if it is just through prayers. It meant so much to me that I knew they were always available to help me.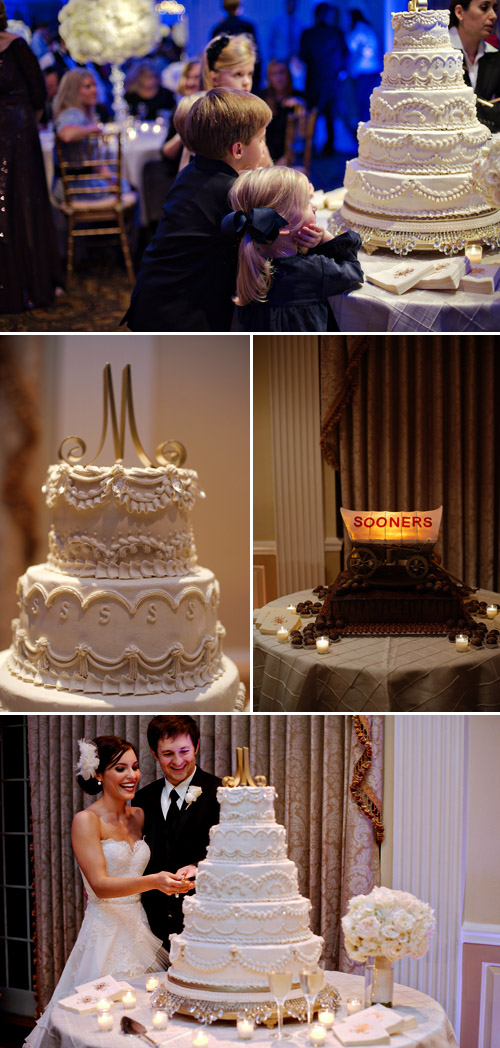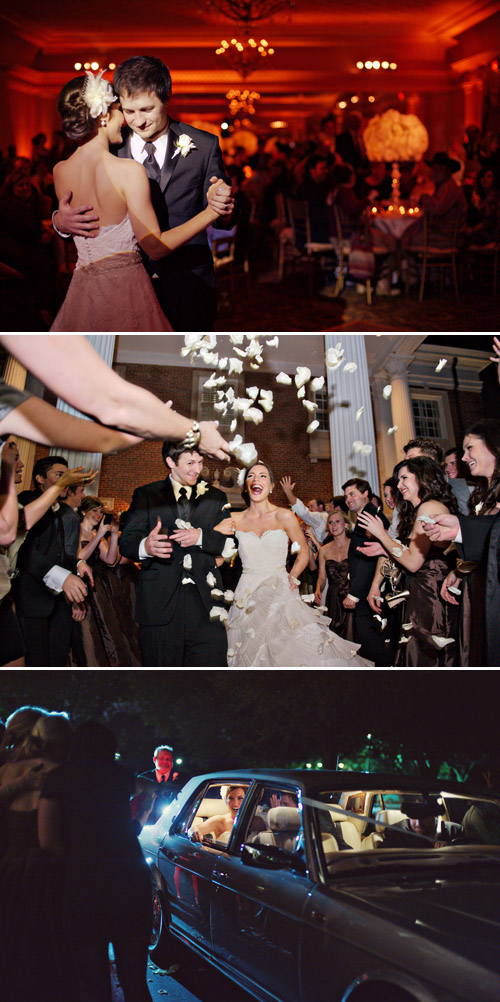 The Wedding Team:
The Photographer: Aves Photographic Design
Event Planner: Emily Youngblood
Ceremony Venue: First Presbyterian Church of Fort Worth
Reception Venue: Colonial Country Club
Videographer: Justin Metcalfe
Officiant: Tom Wilson
Invitation Designer: Inscriptions
Catering: Colonial Country Club
Florist: Tami Winn
Wedding Cake: Sandy Chang Cakes
Wedding Dress: Lazaro
Bridal Accessories: Headpieces – BHLDN, Anthropologie, Earrings – Haltoms Jewelers, Shoes – Stuart Weitzman
Bridesmaids' Apparel and Accessories: Priscilla of Boston
Groom and Groomsmen Apparel and Accessories: Men's Wearhouse
Hair and Make-up: Hair – Fairy Godmother Bridal, Make-up – Erin Clark
Live Music: Bulletproof Brass Band
Transportation: Cloud 9 Coach
Dance Instruction: Dance Makers of Texas
Favors: Donation made to Miracle Foundation in honor of each guest
Rentals: Posh Couture
Lighting: Absolute Lighting
Rings: Bride – Lewis Jewelers, Groom – Haltoms Jewelers
Camille and Todd, thank you so much for sharing your classic wedding celebration with us!
Get inspired by gorgeous weddings and fashion images from top wedding photographers on our Photobug blog!