In classic black, white and gold, Jayme and Nick's wedding day was traditional but with a few fun twists! On the traditional side of things, we have adorable peplum dresses for the bridesmaids, polkadot and plaid bowties for the gents and beautiful architecture to backdrop the group portraits. And for the twists, there were matching TOMS shoes for the groomsmen, a fall inspired S'mores bar, and a toilet paper gun on the dance floor. Yes, you heard right and if you, like me, have no idea what that is, you'll just have to check out the modern and elegant photos of DWJohnson Studio to see for yourself.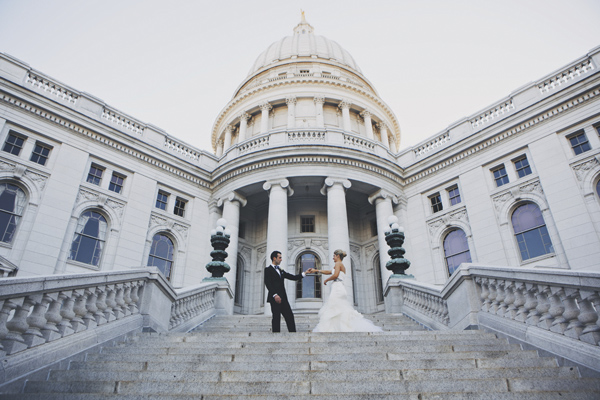 The Couple: Jayme and Nick
The Wedding: 10.12.13 – The Legend at Bergamont, Oregon, Wisconsin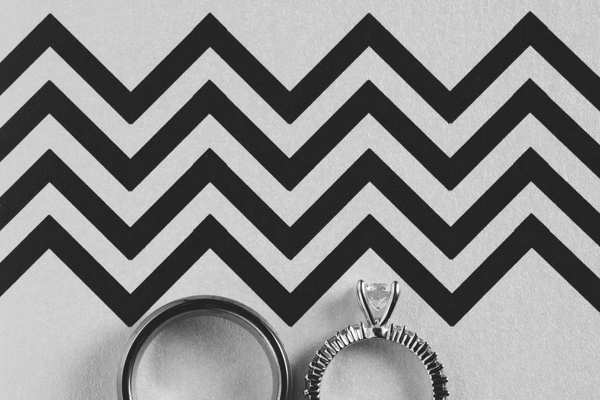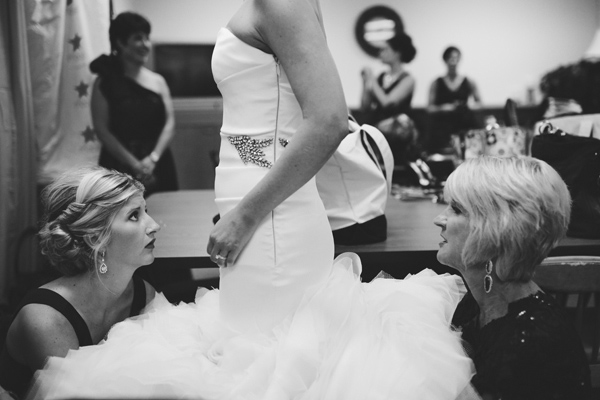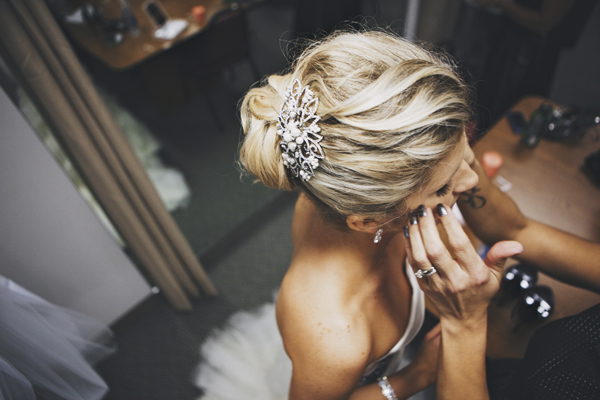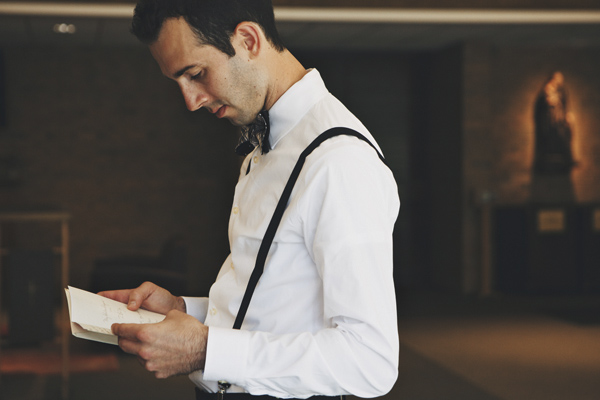 The Goals: Our main objective was for everyone to truly enjoy themselves. We wanted an elegant setting without the stuffy atmosphere. Things for our guests to look forward to throughout the night were important to us: A photobooth, bags boards, excellent food, S'mores bar, seasonal beers, and lots of dancing! We also wanted to incorporate Nick's passion (and profession) of golf as well as the season into our wedding without over doing it. Subtle things like: A golf bag embroidered with our last name and the year for a card box/bag, the groom's/groomsmens' boutonnieres had golf tee's in them, using golf balls (that my dad cut in half and painted white) as the name place card holders, white and gold pumpkins in the decor, Leinenkugels Oktoberfest Beer, S'mores bar having things like pumpkin whipped cream and cinnamon to give a traditional summer campfire favorite a fall twist – made our day unique to us. They showcased who we are and what we love.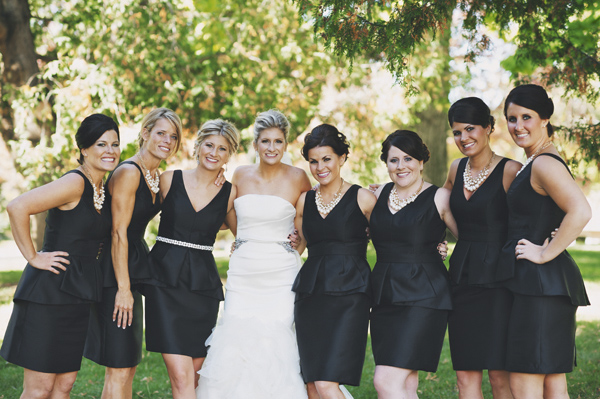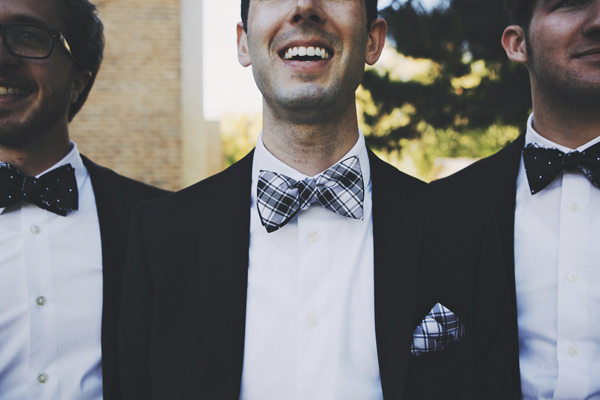 The Look: The look for our wedding really was related in the same way as the decor – a mixture of colors and patterns to achieve elegance and fun. My favorite thing about my dress was the simplicity in it. It was the mixture of fabrics and their application that made the dress what it was; it made a statement but I didn't feel like my dress was wearing me, I wore my dress. Not to mention it was so comfortable! My hair was the same way. It was important for me to be comfortable, but still feel elegant and beautiful. I didn't want to feel like a Barbie doll, I wanted to feel like the best version of myself. Each 'fashion' decision was made by keeping three things in mind: elegance, relevance, and comfort. For instance the bridesmaids dresses; I picked these with these three thoughts in mind. What will look good on every body type, be comfortable on every body type, but still keep a uniformed and classy look? The answer was a black peplum dress. It is such a trendy dress style, but at the same time it's a classic. I wanted my sister (the Maid of Honor) to stand out a little bit, so added a sparkly belt to her dress. It was different, but not as dramatic as a totally different dress so it kept the uniformity of the group. For the groom and groomsmen Nick really wanted a streamlined suit. Something that was very tailored and did not swallow them up. Much like me with my dress, he wanted to wear the suit not have the suit wear him. This is why we went with a fitted black suit vs. a tux. In addition, it was all about the bow ties and the TOMS. The bow ties were a great find from The Tie Bar! Again, being able to bring in the different patterns shows a fun side while still keeping it elegant. To keep Nick standing out from the groomsmen, we reversed his bow tie from the black/white polka dot side to the white/black plaid side and got a matching pocket square. The TOMS were great because the guys were comfortable and we were able to give back at the same time.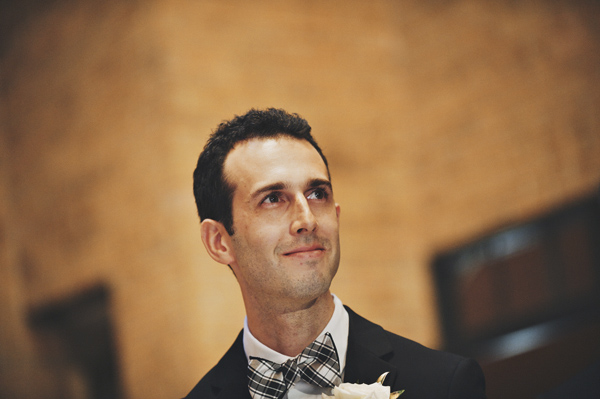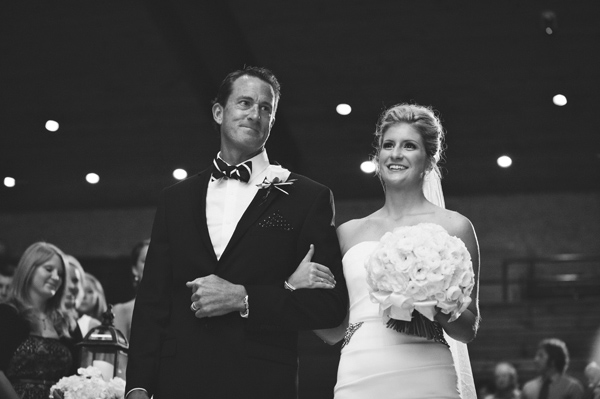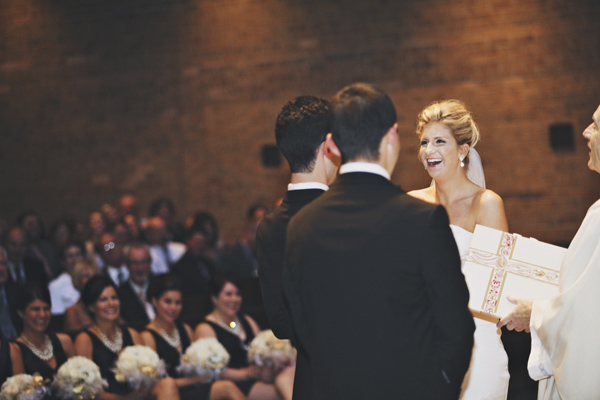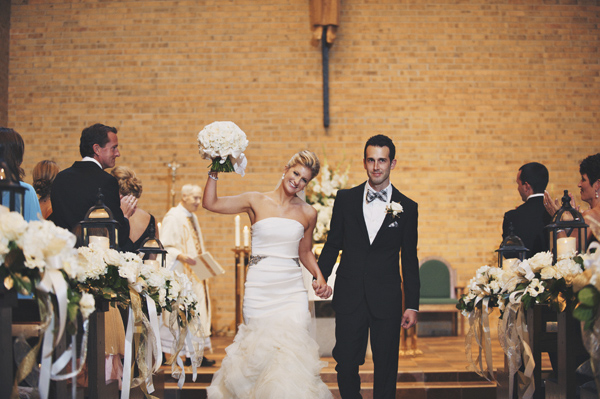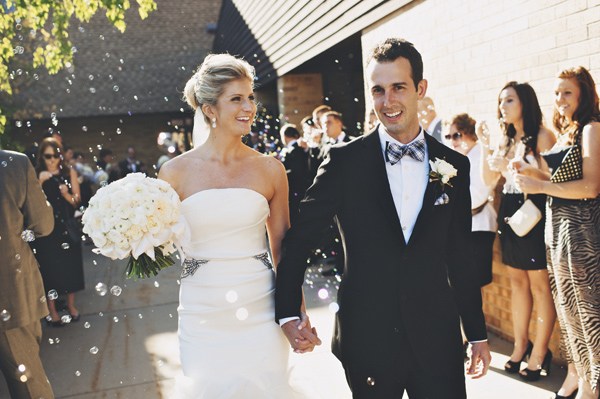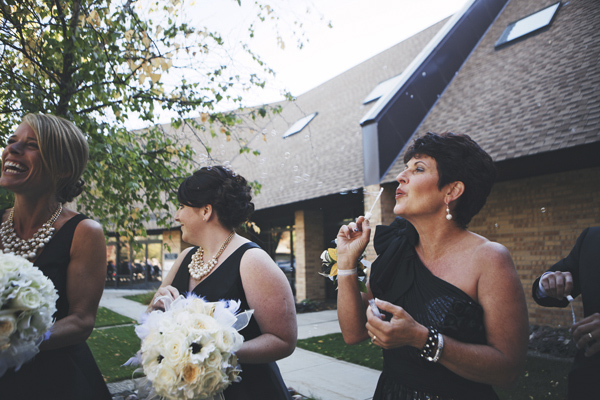 The Moments: Our favorite part of the day was seeing each other for the first time. There is all this build -up and planning and preparation for the day, but when you see each other for the first time on your wedding day, it solidifies everything and at that moment nothing else matters. It doesn't matter what goes wrong that day, or if you forgot something, or some detail has been left out, at that moment everything is perfect. A couple of other memorable moments were walking into our venue for the first time to view everything – it was quiet, just us and we got to soak everything in for a couple of minutes, talking to family members and guests even those who couldn't be there, specifically Nick's grandpa, taking a moment out from the craziness of the reception to be with each other before the end of the night, the dancing and the toilet paper guns!!!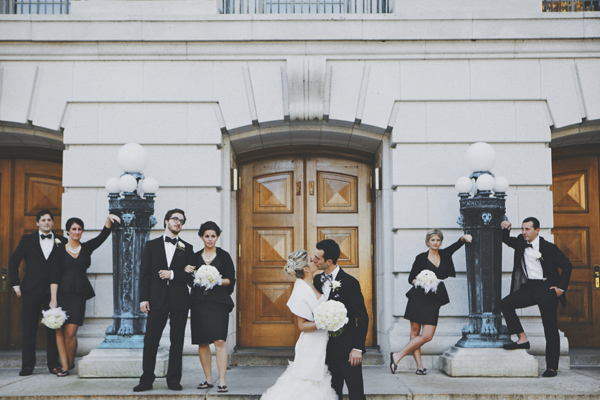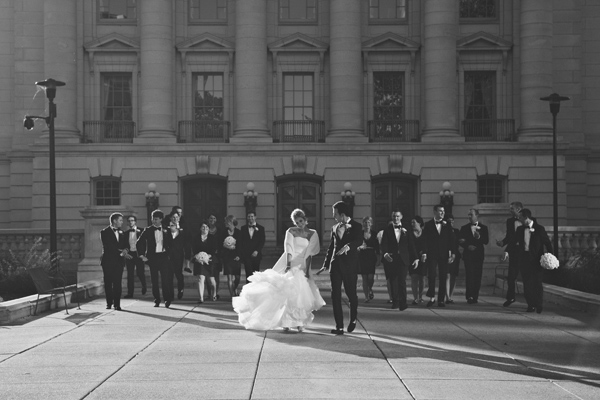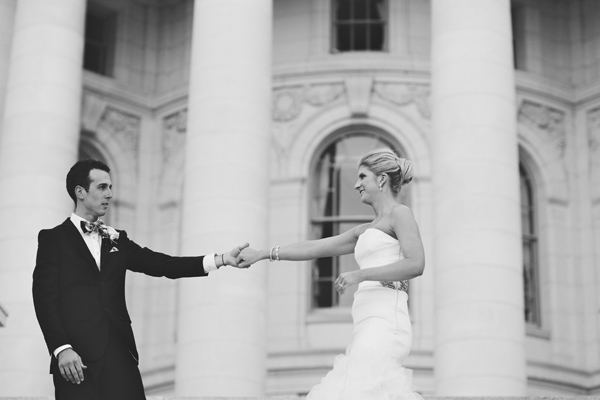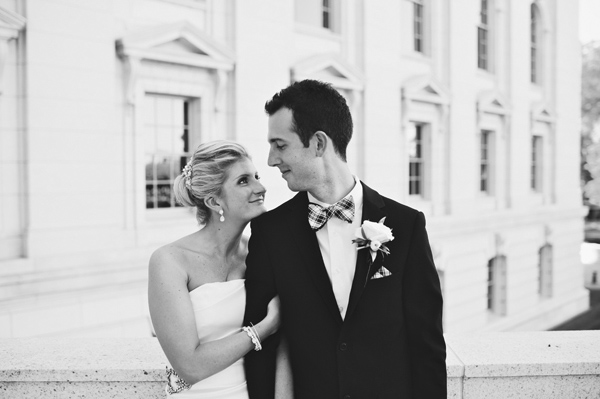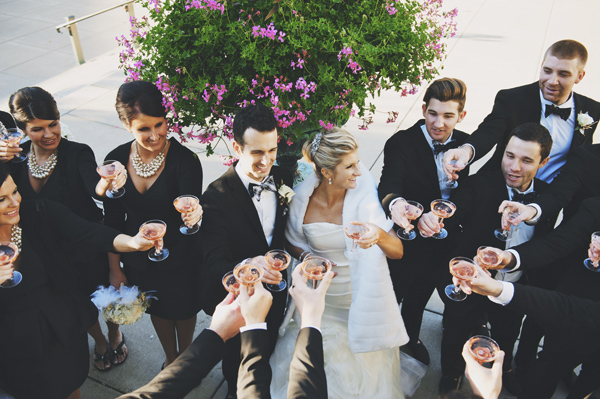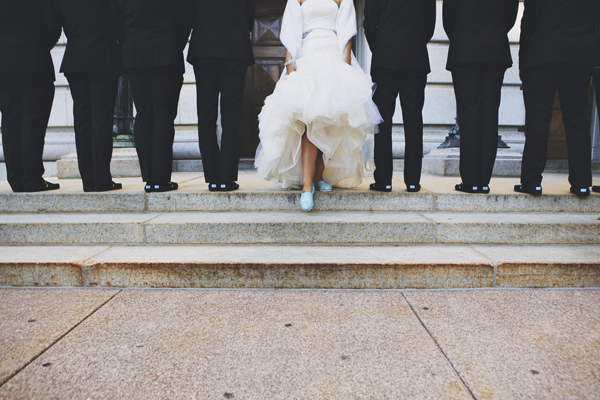 The Design: My education background is in interior design, so it was important for me to feel like each space (both the church and the reception venue) was complete visually without making our guests feel uncomfortable or like they couldn't let loose. We wanted a 'wow' factor, but to also have a fun and laid back atmosphere. We wanted an elegant and romantic feel for our day and we wanted it to be a reflection of who we are as a couple and individually. We achieved this by lighting the dark stone walled church with candles and white flowers. We wanted the candles to light the aisles of the church in lanterns and use only white decor for the runner/flowers. This allowed for a soft, romantic, and intimate feel for the ceremony. For the reception it was about elegance and fun. Combining textures and patterns on a simple color scheme achieved this elegant and relaxed combination.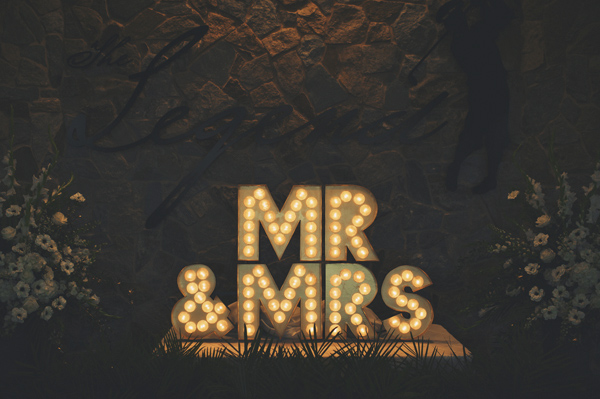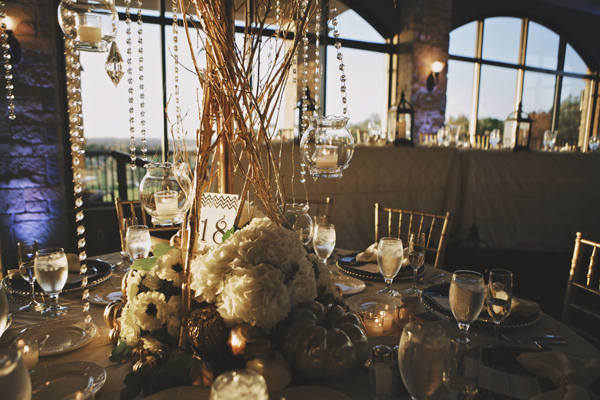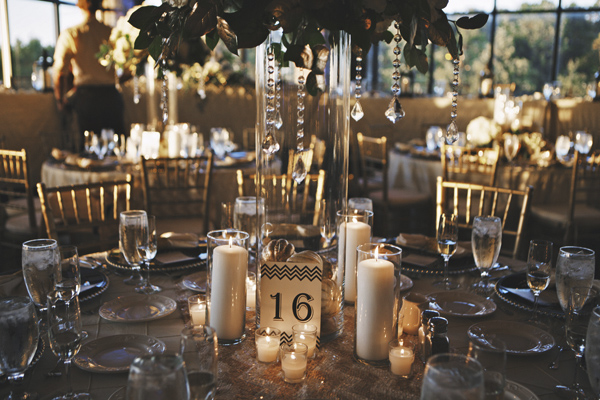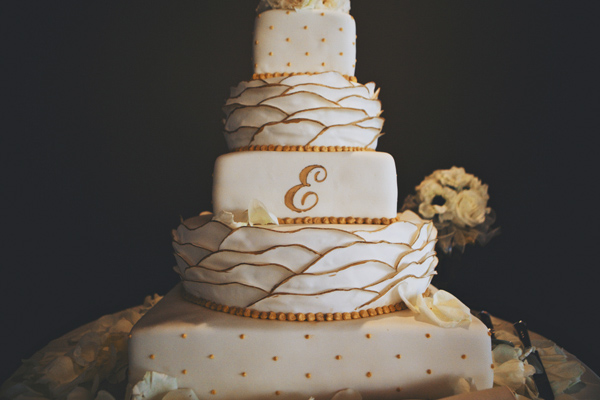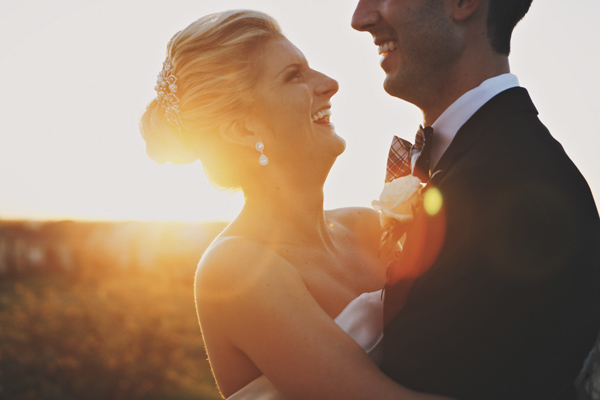 Advice: The best advice we can give is just to be yourselves. Plan your day with the things and the people who are important to you as a couple. After it is all said and done it is your day as the start of husband and wife and your life together, so do what makes you happy and enjoy it! We're not sure if this qualifies under wedding planning success, but one of the greatest things about wedding planning for us was all the love and support we received. It was truly overwhelming. All of the people that come together to make this day happen for you and make it go smoothly so it is the most perfect day is remarkable. Our vendors were hands down the most amazing people. From Brad, our florist and decorator, to Rod at Best Events Catering and Rentals, to the staff at The Bergamont, to John our DJ at Celebrations Entertainment, to Fr. Bob and Holly at St. Thomas Aquinas; they are the people that made this happen. Lastly, we would be nowhere without the love and support we received from our wonderful families and friends. It was such a joy to experience the wedding planning process with all of them!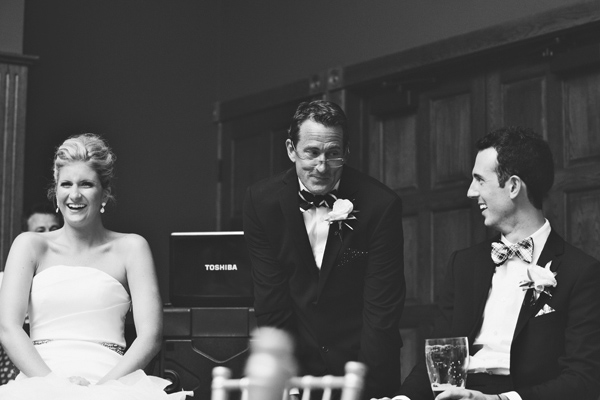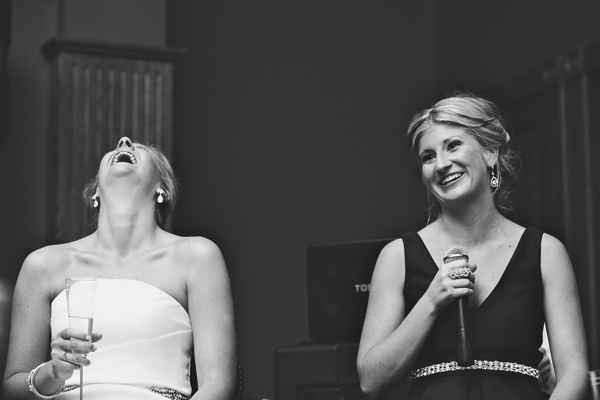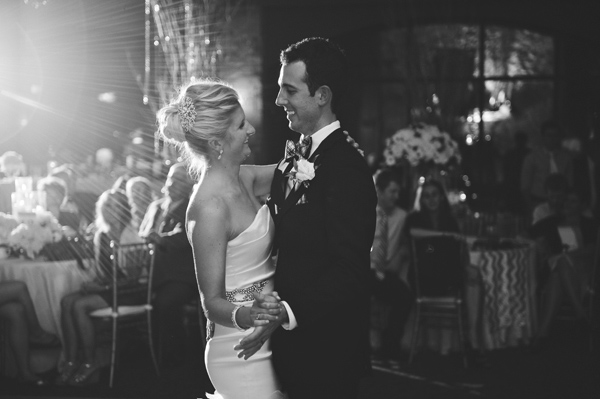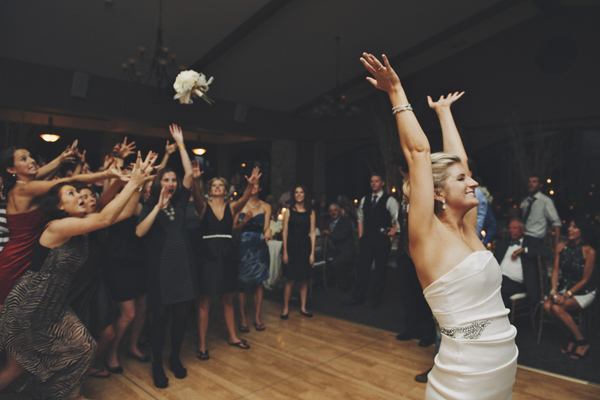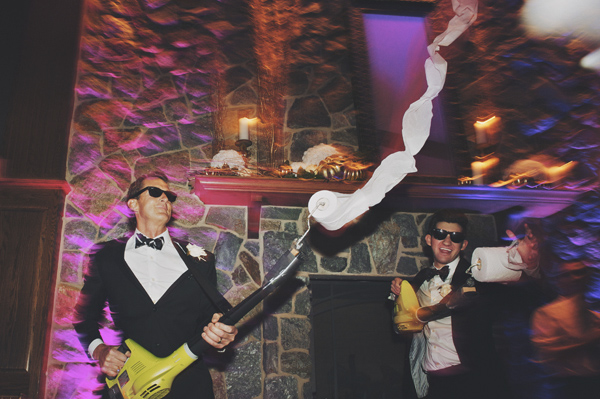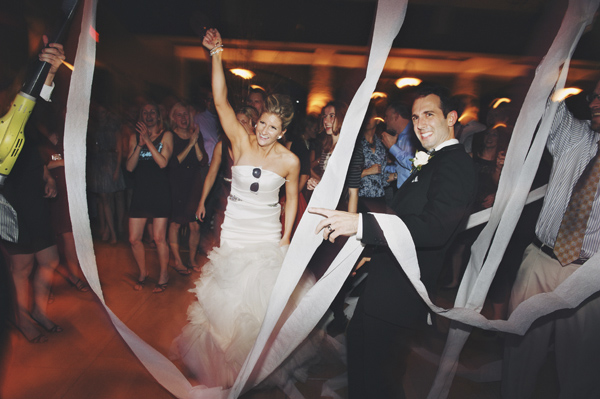 The Wedding Team:
Photographer: DWJohnson Studio
Ceremony Venue: Saint Thomas Aquinas Catholic Parish
Reception Venue: The Legend at Bergamont
Videographer/Film Maker: 25 West Weddings
Officiant: Fr. Bob Hughes
Invitation Designer: Invitations – Paper Source; Programs/table numbers/name cards – Bride; Save the dates/Thank you's – Wedding Paper Divas
Catering: The Legend at Bergamont
Florist: Floral Expressions (Janesville, WI)
Cake: Chris's Confections
Wedding Dress: Vera Wang
Bridal Accessories: Shoes – Badgley Mischka and TOMS; Jewelry – Nadri from Nordstrom; Garters – Etsy; Purse – Charming Charlie; Faux Fur Shawl – Kate Spade
Bridesmaids' Apparel & Accessories: Dresses – Lela Rose style # LR186; Shoes – Michael Antonio – Style Lovina & Blow Flip Flops from Sears; Necklaces – Etsy; Earrings – Claire's; Purses – Etsy; Maid of Honor Belt – Nordstrom
Groom's Apparel & Accessories: Suit – Nedrebo's Formal Wear; Shirt – Express; Bow Tie/Pocket Square – The Tie Bar; Shoes – TOMS; Suspenders – Hot Topic
Groomsmen's Apparel & Accessories: Suits – Nedrebo's Formal Wear; Shirts – Express; Bow Ties/Pocket Squares – The Tie Bar; Shoes – TOMS; Suspenders – Hot Topic
Hair: Kezia Haffery of Hair Addiction, Janesville, WI
Make Up: RZ & Co
DJ: John Sherman of Celebrations Entertainment
Transportation: Van Galder Bus
Favors: Donation to Tomorrow's Hope
Rentals: Linens/Chairs/S'more Bar/etc – Best Events Catering and Rentals
Rings: Jared