Looking for a few impressive dishes to serve on that new china you registered for, or to prepare for your future in-laws? The talented chef at Ray's, Seattle's beloved seafood restaurant and catering company, has shared a few of his favorite recipes with us today, and boy do they look good! Friends, let's get cookin'!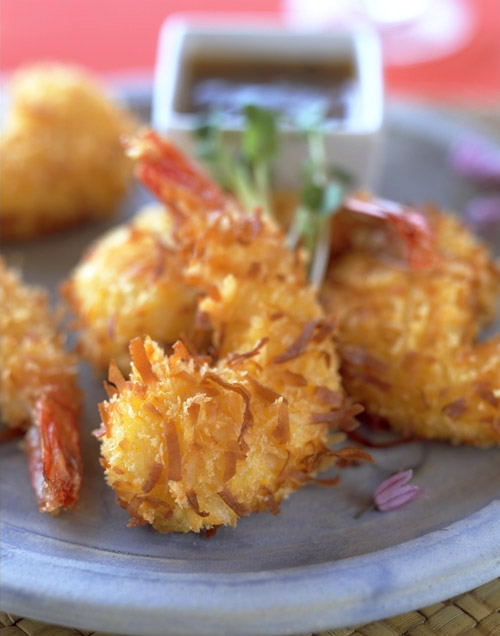 Coconut Prawns with Sesame Plum Sauce
Serves 6 as an appetizer
Ingredients:
2-3 quarts canola oil for frying
24 prawns (16-20 per pound), tail on
Seasoned flour:
3 tablespoons flour
1 teaspoon kosher salt
Batter:
1/2 cup milk
1 cup flour
2 eggs
2 teaspoons kosher salt
1/4 teaspoon curry powder
Coating:
2 cups unsweetened flaked coconut
2 cups panko bread crumbs
Set up a deep fryer and heat oil to 300°F.
Set up three bowls. In the first bowl, combine flour and salt. In the second bowl, combine milk, flour, eggs, salt and curry powder to make a batter. In the third bowl, combine flaked coconut and panko.
Holding the tail, dredge each prawn in the seasoned flour and gently shake off excess. Then dip prawn in batter. Third, toss prawn in coconut mixture to coat completely and pat gently to press mixture into batter.
Deep-fry immediately in heated oil until golden, about 30 seconds. Using a slotted spoon, transfer prawns to a plate lined with a paper towel to drain. Serve warm with Sesame Plum Sauce.
Sesame Plum Sauce
1 cup plum sauce
2 tablespoons mirin
2 tablespoons rice wine vinegar
1 tablespoon toasted sesame oil
1 teaspoon sambal oelek
1 tablespoon dry sherry
Pinch powdered ginger
1/2 teaspoon black sesame seeds
1/2 teaspoon sesame seeds
Combine all ingredients and mix well.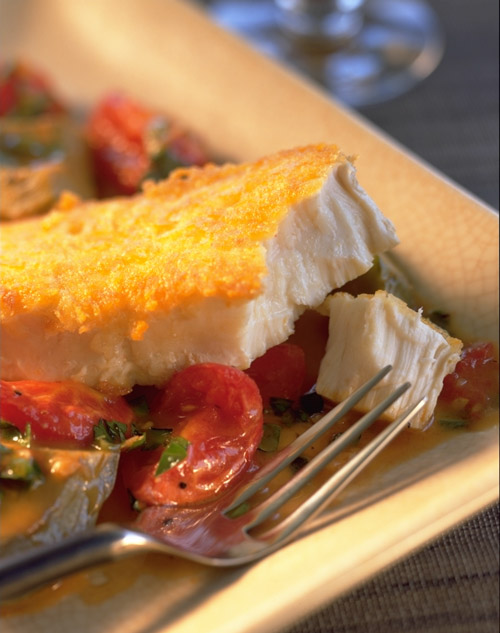 Parmesan-Crusted Halibut with Lemon Caper Beurre Blanc
Ingredients:
1/2 cup flour
2 eggs
2 tablespoons water
2 cups panko bread crumbs
1 cup shredded Parmesan cheese
Zest of 1 lemon, chopped
3 tablespoons olive oil
4 6-ounce halibut fillets, skin removed
4 sprigs basil as garnish
Place flour in a small bowl. In a second bowl, beat eggs and water. In a third bowl, combine panko, Parmesan and chopped lemon zest. First, dredge the flesh side of halibut fillets in the flour, shaking off the excess. Next, dip the flesh side in the egg. Third, dredge fillets in the panko mixture to coat and then pat gently to press the mixture into the egg.
Preheat oven to 400°F. Heat olive oil in an ovenproof nonstick pan on medium-high heat. Carefully place fillets crust side down in the pan. Sear until a golden-brown crust forms, about 4 minutes. Turn fillets over and place the pan in the preheated oven. Roast until the centers are pearly white and opaque, about 3 to 5 minutes depending on the thickness of the fillets.
Lemon Caper Beurre Blanc
Ingredients:
1 teaspoon canola oil
2 tablespoons finely chopped shallots
1 cup Chardonnay
1 cup lemon juice
1/2 cup heavy cream
2 tablespoons capers
1/4 pound unsalted butter at room temperature, cut into small pieces
Salt
Freshly ground black pepper
In a wide 2-quart sauté pan, heat oil over medium heat and sauté shallots until translucent. Add Chardonnay and lemon juice. Bring mixture to a rolling boil. Reduce heat to medium and boil gently, stirring occasionally, until mixture reduces to about 3/4 cup of liquid, about 15 to 20 minutes. Add cream and bring to a boil again. Reduce heat to medium and boil gently, stirring occasionally, until about 3/4 cup liquid remains, about 10 to 12 minutes. Add capers and stir. Add butter a piece at a time, stirring until well incorporated. Remove from heat. Season with salt and pepper to taste. Serve immediately. Yield: 1 cup.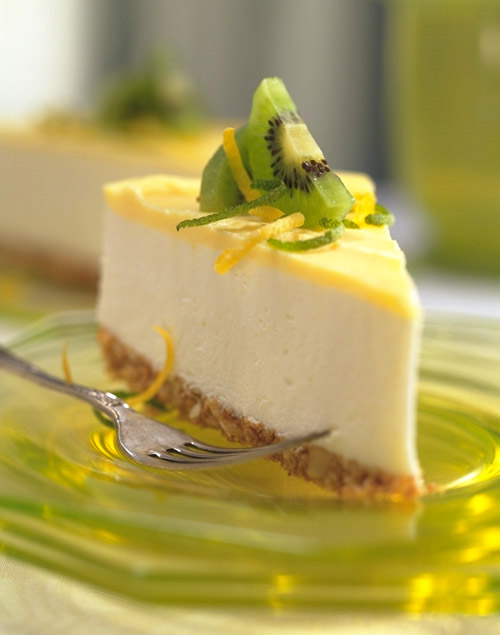 Lemon Mousse on Macadamia-Graham Cracker Crust with Lemon Curd
Serves 12
Crust:
3/4 cup macadamia nuts
1-1/4 cups graham-cracker crumbs
3 tablespoons sugar
4 tablespoons unsalted butter, melted
Preheat oven to 375°F. In a food processor, chop macadamia nuts into small pieces using on/off pulses. Add graham cracker crumbs and sugar, and process until combined. Add melted butter and mix until combined. Press mixture into a 9-inch springform pan and bake until golden brown, about 12 minutes. Cool completely.
Lemon Curd:
1/4 cup sugar
9 egg yolks, reserving 3 egg whites for the lemon mousse filling
1/2 cup lemon juice (4-5 lemons)
8 tablespoons cold unsalted butter, cut into pieces
In a large stainless steel bowl set over a saucepan of simmering water (do not let bottom of bowl touch water), whisk together sugar, egg yolks and lemon juice until mixture thickens to a pudding-like consistency. Remove from heat and add butter. Stir until melted. Refrigerate.
Lemon Mousse Filling:
1 pint heavy cream
3/4 cup sugar
3 egg whites
2 envelopes powdered gelatin
4 tablespoons cold water
1/2 cup lemon juice (4-5 lemons)
Zest of 2 lemons
1 cup Lemon Curd
Garnish:
Reserved Lemon Curd
Fresh berries
Whip heavy cream until it holds soft peaks. Set aside in refrigerator.
Dont answer the phone during this next section! Timing is critical. First, fill the bottom of a 1-quart saucepan with 1/4 inch of water and add sugar. Cook, without stirring, on high heat, brushing down sides of pan with water to prevent crystals forming. Monitor the temperature of the sugar syrup with a candy thermometer. When the temperature reaches 230°Fahrenheit, begin whipping the egg whites in the bowl of an electric mixer just until they reach stiff peaks but are still shiny and then stop whipping. When the syrup reaches 250 to 253°Fahrenheit, turn the mixer back on high speed and very slowly pour the sugar syrup down the side of the mixing bowl, being careful to not let the syrup touch the beaters or it will crystallize. Continue mixing until the meringue has cooled.
When the meringue is almost cool, dissolve powdered gelatin in 4 tablespoons cold water for 1 minute. Whisk together gelatin mixture and lemon juice in a large stainless steel bowl set over a saucepan of simmering water (do not let bottom of the bowl touch the water) just until gelatin has melted, about 30 seconds. Remove from heat. Add zest and 1 cup of lemon curd, reserving the remaining lemon curd for the top of the finished mousse. Whisk to combine.
Remove cooled meringue from the mixer and whisk into the gelatin mixture until well combined. Next, fold in whipped cream with a spatula until just combined. Pour mixture over the cooled baked crust. Freeze at least 6 hours or overnight.
Wrap a hot towel around the outside of the cake ring for a few seconds to release it. Remove cake ring and spread a thin layer of reserved lemon curd over the mousse with a spatula (best done while still frozen). Thaw in refrigerator for about 3 hours before serving. Garnish with fresh berries.
Yum! For more information about Ray's Catering, Cafe and Boathouse, vist www.rays.com, and for even more tasty recipes, check out their cookbook Ray's Boathouse: Seafood Secrets of the Pacific Northwest!