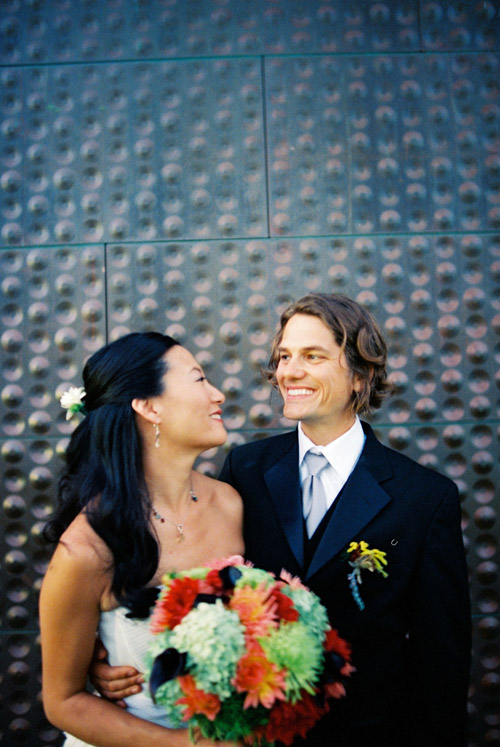 Julie and John's unique San Francisco wedding blended their American and Chinese family heritages to create a vibrant event that made them feel full of joy and totally authentic. Photographers The Brothers Wright captured the day in all of its colorful detail, and we think it's the perfect thing to send us all off for a glorious weekend!

The Goals: Julie and John wanted their wedding guests to feel comfortable and welcomed, and for their wedding celebration to honor their lives, community and history. "We were very glad to go all-out and share the moment and the weekend with family and friends. As we grow older, we are increasingly appreciative of the need to celebrate and embrace the beautiful, happy moments in life." They loved that they were able to hold their ceremony and reception just steps away from each other at the De Young Museum gardens and cafe. It allowed them to be in the moment from the minute the day began until the very end of the night.

The Design: Using a color palette of pomegranate, burnt orange, apple green and dusty rose Julie and John were able to bring out the natural beauty of the gardens while at the same time giving their event a modern and lively spirit. To weave in a nod to Julie's cultural heritage the Chinese symbol for double happiness was used as a thematic design on their favor boxes and invitations, and Melons Catering did an amazing job melding Eastern and Western flavors together in a thoughtful way – they served duck and soba noodles plus American comfort foods like barbecued ribs and fried chicken. Yum! Julie and John collaborated with florist Plantasia Design to use local succulents in low centerpieces on the table tops so guests could easily talk, and they individualized flowers for each of the bridesmaids' bouquets. To top everything off, the wedding cake from Citizen Cake was an eclectic work of art! It had alternating layers of mocha-misu and tropical passionfruit-mango cake, and was decorated with flowers and white chocolate, and topped with an artichoke! Love it!
The Look: Julie wore a fabulous wedding dress by Betsey Johnson, her mother's jade bracelet, additional jewelry by local designer Maria Sandoval, and some seriously spectacular shoes! Her bridesmaids each found their own dresses and were given matching earrings by Maria Sandoval and pretty silk pashminas. The groom and groomsmen wore modern tuxedos with neckties from Black Tie Tuxedos.

The Moments: Julie and John wrote their own ceremony and vows and based on their feelings about marriage and inspiration they took from traditional church vows and writings of Madeleine L'Engle. For their program, Julie's Dad translated Adrienne Rich's poems "XVII" and XI" into Chinese, and a friend and sister each read one version in English at the start of ceremony. The ceremony was officiated by their good friend Jose.
During the reception there was a showstopping performance by Leung's White Crane Lion Dancers that really got the party started! Julie and John loved listening to the toasts given, and looking out over the room to see all of their loved ones gathered together. They danced their first dance to Jack Johnson's "What You Thought You Need", and delighted in the mini ice cream cones served at the end of the night. Sounds like a perfect celebration!
The Pros: To learn about the whole team of wedding professionals who contributed to this amazing wedding, please visit Julie and John's page in our Real Wedding Library!

Thank you so much Julie and John!
To plan your own Southern California or Seattle area wedding, check out our Plan Your Wedding Hotlists, and to find a dream wedding photographer for your wedding anywhere in the world, don't miss our World's Best Wedding Photographers Hotlist!