Abby and Ben's cheerful wedding in Sarasota, Florida was a true labor of love! Both Abby and Ben are illustrators and revel in projects, printed fabrics, and paper, so the wedding was a huge opportunity to craft a day filled with thoughtful handmade wedding designs and details that reflected their personalities. Held at Abby's family home, the soft pastel color palette and gorgeous orange trees made for a sunny, happy day!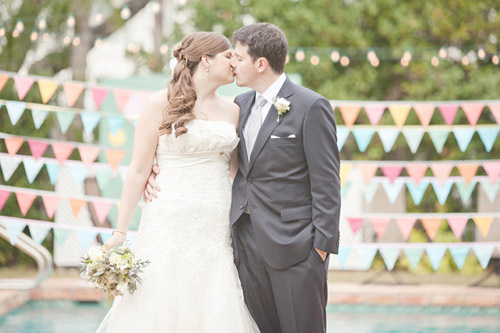 The Couple: Abby and Ben
The Wedding: 2.25.12 – Sarasota, FL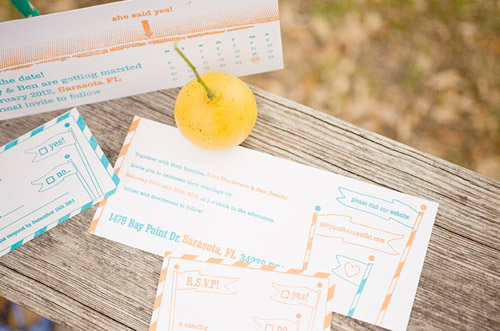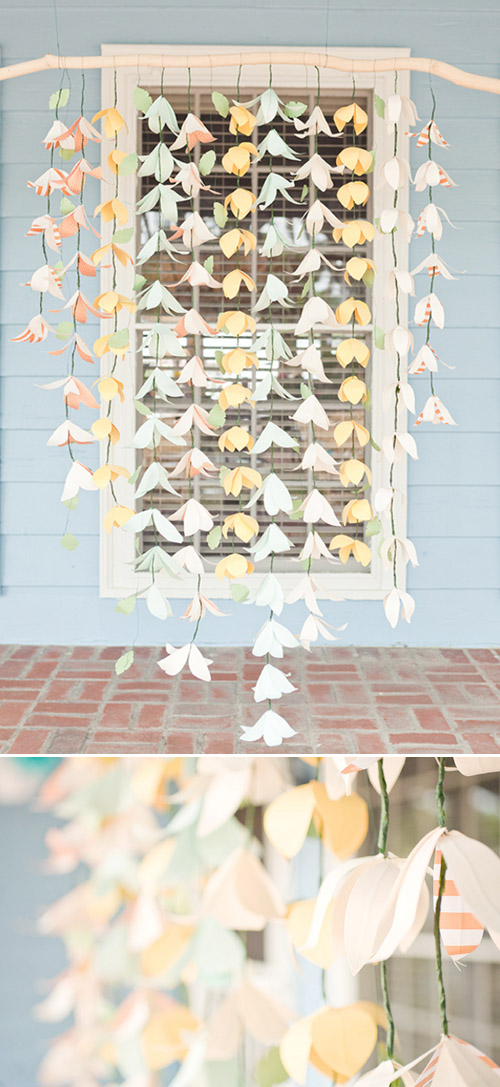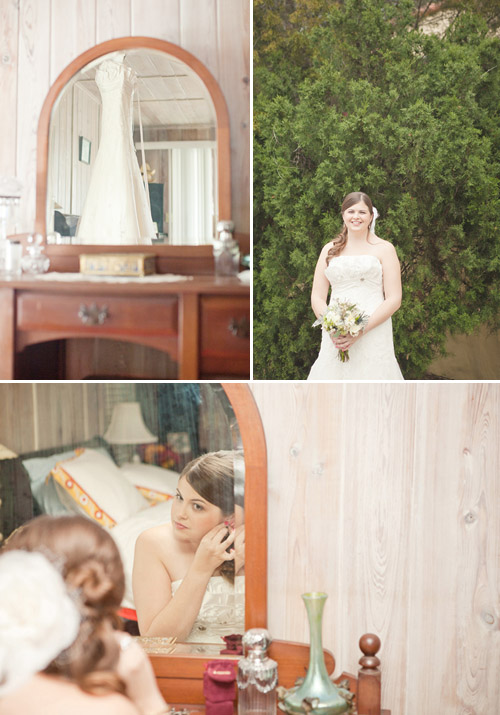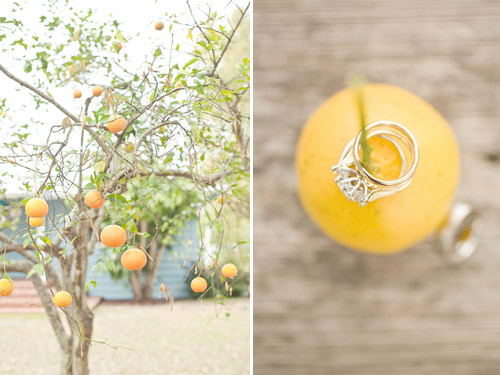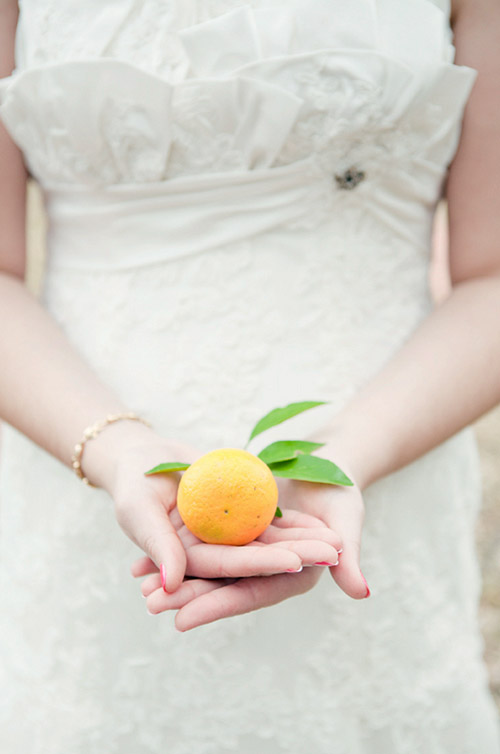 What three adjectives best describe your wedding day? Unique, Tasty, Relaxed
Was there a decor theme that ran through your wedding? What was the inspiration for that particular idea and how did it reflect you as a couple? Hand-made things and fabric. I have a slight obsession with printed fabric so we incorporated as much of that as we could. I saw a wedding featured in a Martha Stewart magazine where the bride used all these different fabrics and I thought that it was so great, so I saved it for years! Ben and I are both illustrators and we love to make things so we did this with everything we could, from the invitations to the ceremony backdrop.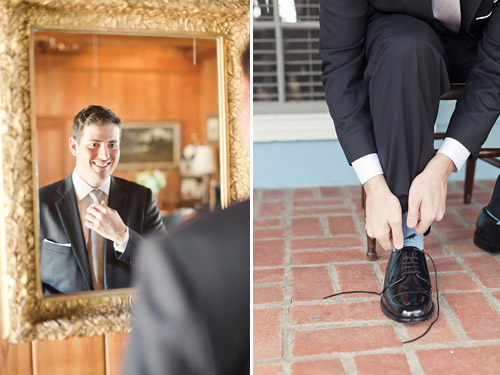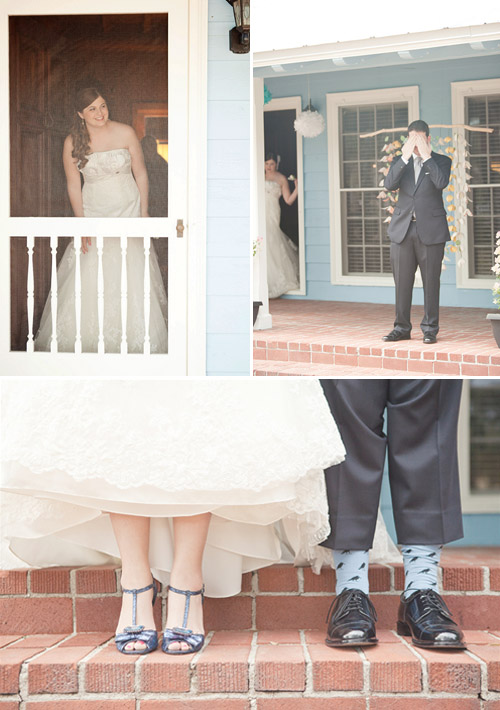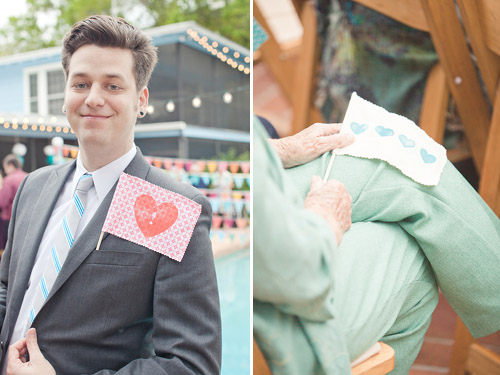 What were some of the different ways you used decor elements to create the beautiful, cohesive event you were envisioning? I was thrilled when mercury glass came back in style about the time we started planning the wedding! We used mercury glass votives, milk bottles, wooden cream cheese boxes, and mason jars wrapped in twine for the centerpieces and I relied on my florist (who was awesome sauce) to tie it all in. I made it a bit easier on him and divided all ten centerpieces into boxes so he could design that way. When our caterer saw our tables set, he thought some rustic looking silver chargers would look great, he made a phone call and they were on the way! I had the best team in the entire world!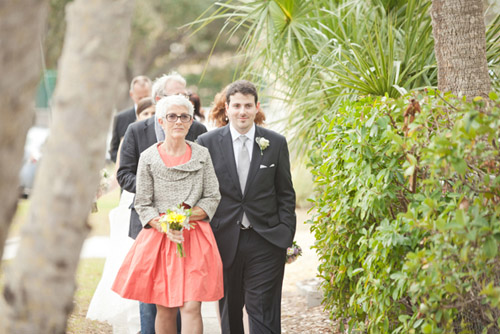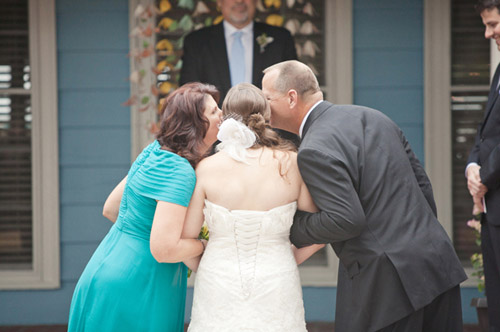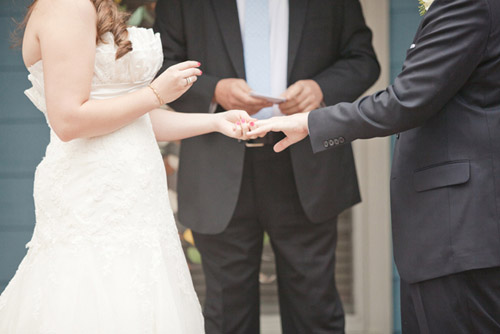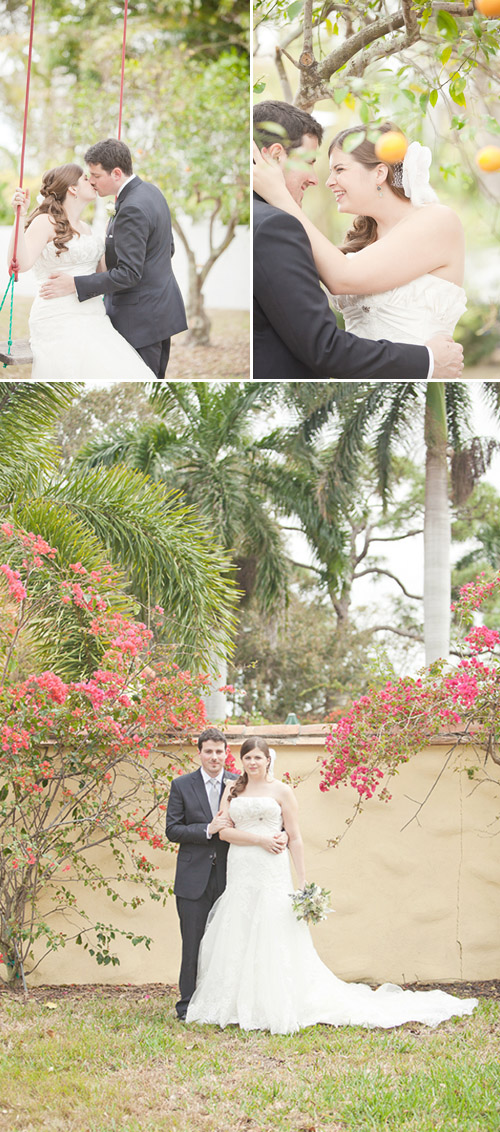 Where did you choose to hold your wedding, and how did the location influence your decor decisions? We chose to have our wedding at my parents house. Its a lovely location and the house has lots of history. Also when we were researching venues, the restrictions were insane. We knew we wanted to have full control, pick our own caterers and decorate when and how we wanted. Although it was a lot of work to get the house ship-shape, it was totally worth it in the end. One of my favorite memories was on the morning of the wedding, Ben and I were hanging up the bunting over the pool and it was SO WINDY we really had to hang onto them so they wouldnt blow into the pool!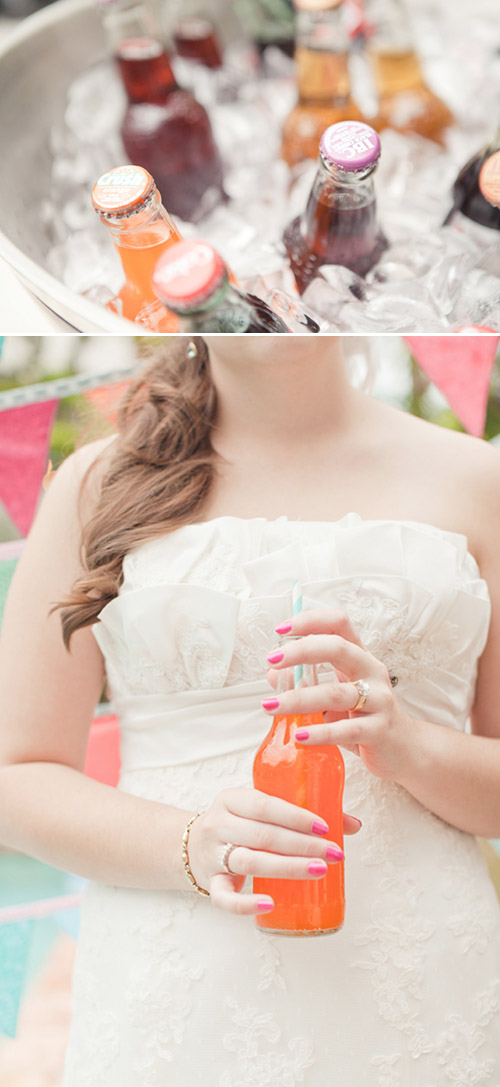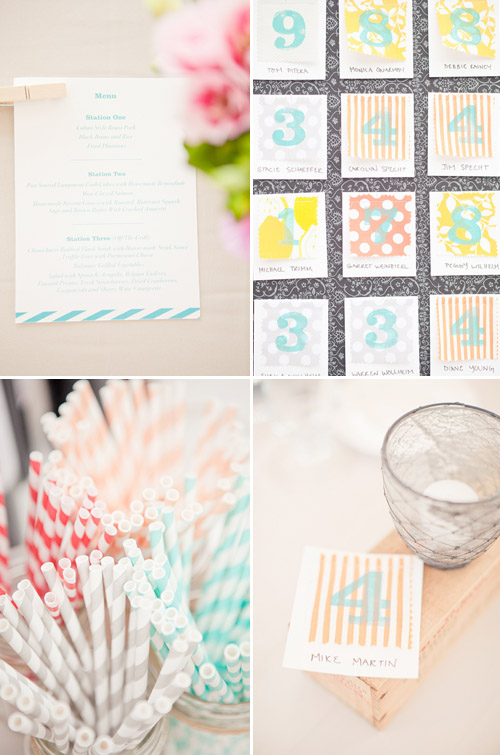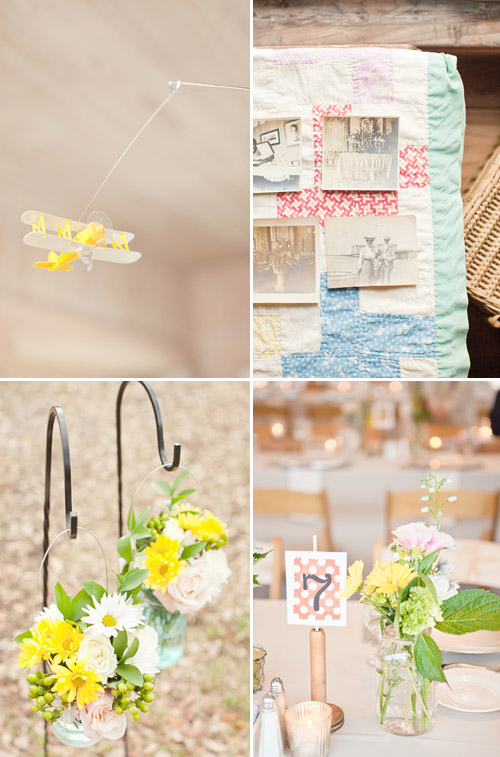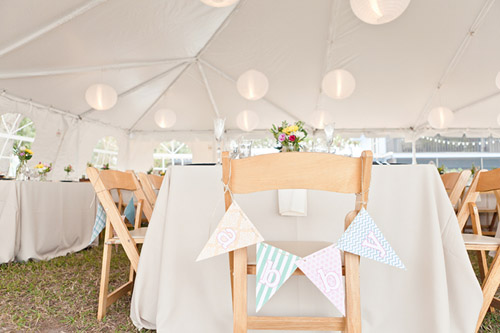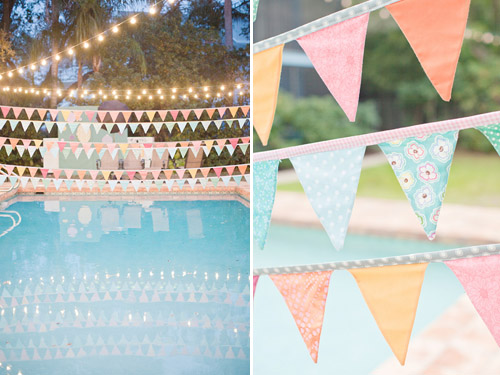 Looking back, do you have a favorite project or successful decor idea from your wedding? Tell us what you loved about it! Theres so many projects that turned out great! Probably the flags that everyone waved during the ceremony. I had fun carving out the words, sewing the flags and stamping everything. It was cute to see them all waving around! It was fun shopping with my mom for centerpiece stuff or skyping with my mother-in-law about the fabric she used to make the buntings. It was a big group effort, and I really liked how everything came together!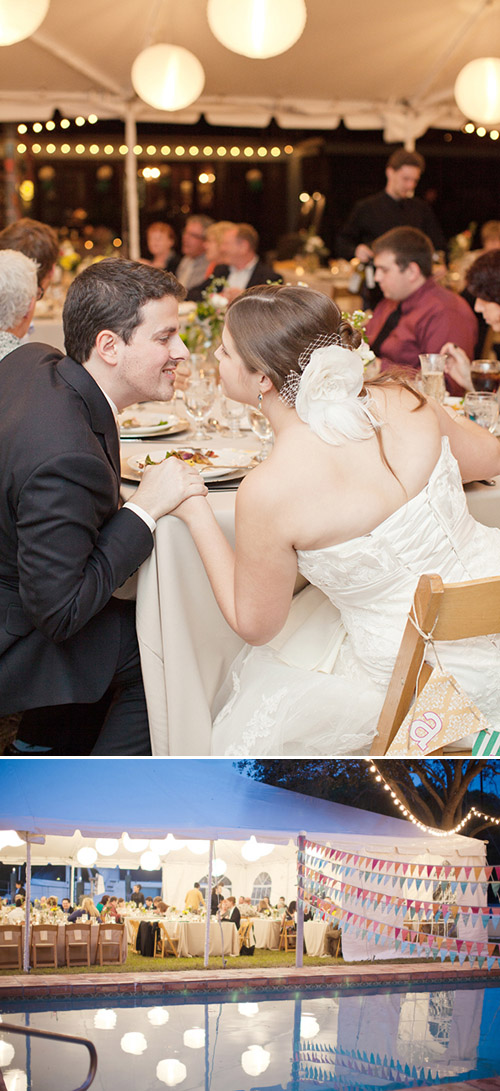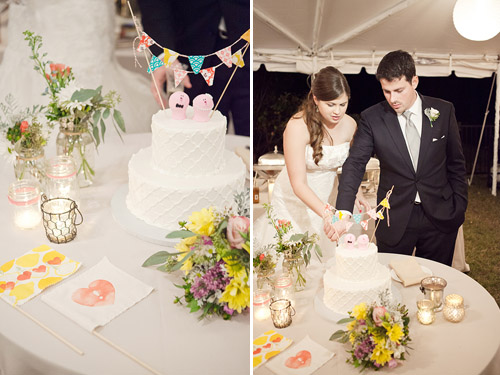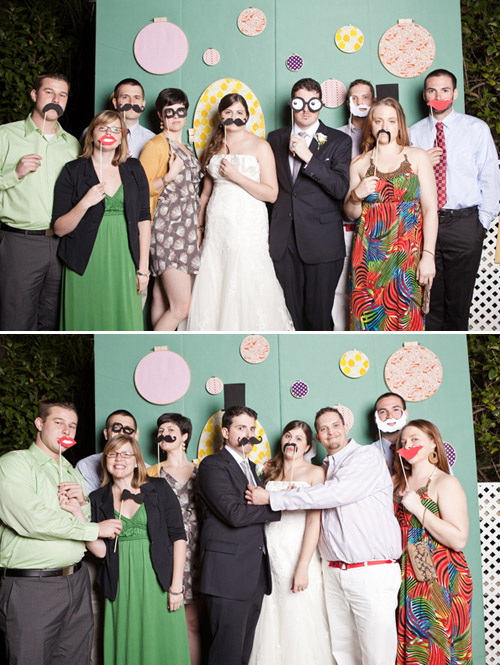 The Wedding Team:
Photographer: 1313 Photography
Ceremony and Reception Venue: Private home
Officiant: Paul Littmann
Catering: Michaels on East
Florist: The Naked Florist
Cake: Cakes by Ron Zammit
Wedding dress: Maggie Sottero
Bridal accessories: Hair piece – La Marie , Shoes – BHLDN, Earrings – Coffrin Jewelers
Bridesmaids apparel and accessories: Anthropologie
Groom and groomsmen apparel and accessories: Brooks Brothers
Rings: Coffrin Jewelers
Hair and make-up: Fresh Salon and Spa
Rentals: US Tent Rental
Other: Sarasota Architectural Salvage
Thanks for sharing your beautiful wedding and all of the amazing details you created, Abby and Ben!
Readers, for more colorful inspiration, check out our Inspiration Gallery!