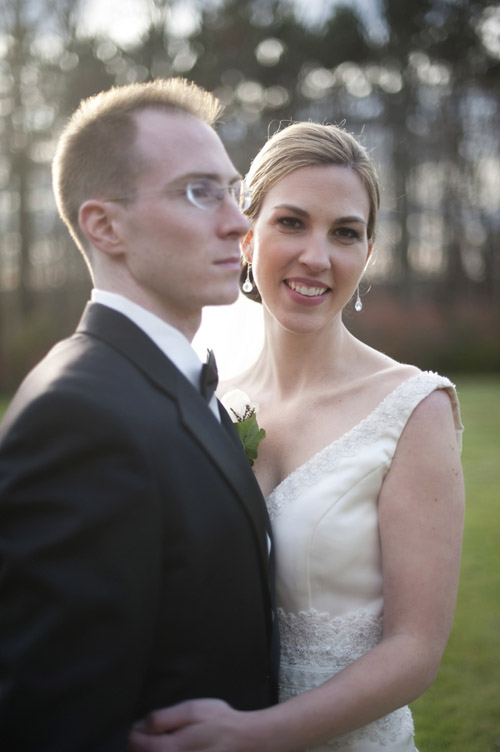 Delicately captured in the perfect style, Emily and Robert's wedding photos from Justin and Mary beautifully tell us the story of this modern couple and their classic white winter wedding! Enjoy!

The Goals: At the top of Emilys list of wedding wishes was an amazing band and an undoubtedly classic and intimate feel. I always imagined our wedding day to be a classic affair, surrounded by family and friends. Overall, I wanted guests to leaving having had a fabulous time.

The Design: Emily kept the look of the day simple by using a traditional wedding color palette of white and cream details, with a bit of added sparkle. Guests received invitations that perfectly matched this aesthetic: black and white letterpress designs by Rob of The Goosefish Press, who Emily wholeheartedly recommends!
After a traditional ceremony at St. Mary's Church, (the same church Emily grew up attending and the one in which her parents got married many years before) the reception at Lord Thompson Manor in Thompson, CT was filled with creamy white accents and glittering décor. Our venue was a dream come true and the staff there payed such incredible attention to detail that nothing ended up forgotten. The Lord Thompson staff set up an amazing candy table for the couples 100 guests and it was much appreciated. It was a big hit and people were filling up bags all night! A family friend designed a delicious fall-flavored cake for the occasion with layers of chocolate and apple spice cake between smooth caramel buttercream.
The Look: Emily had her heart set on a dress with straps from day one, but she worried that the popularity of strapless dresses would keep her from finding what she was dreaming of. She managed to find the perfect gown at Priscilla of Boston, achieving her desired timeless and classic look. She wore her mothers garter as her something old, something borrowed, and something blue – and her mother-in-law monogrammed a handkerchief with her initials which became her something new. Emilys sparkling accessories also included priceless heirlooms – the locket her grandfather gave to her grandmother years ago, as well as her grandmothers wedding ring that she wears every day. I felt wonderful on my wedding day and loved my entire look from the hair to the dress and of course, the shoes!
Emilys bridesmaids matched her elegant style wearing classic black dresses and holding individually designed white floral bouquets. And those fur wraps, to-die-for!

The Moments: Emilys walk down the aisle formed her favorite moment of the whole celebration, followed by the toasts. I was filled with emotion as I stood next to my father and walked toward my husband-to-be. I'll never forget it. The first look and the couples first dance, to Billy Joels Just The Way You Are quickly became unforgettable moments as well.
The entire day was so special as my new husband, Rob, had taken a new job out of state the summer before the wedding. We only saw each other every few weeks, and he arrived the day before the wedding for all the festivities. Having been apart for so long made the day that much more fun as the wait was finally over!
The Pros: To learn about the many wedding professionals who were a part of this incredible day, please visit Emily and Robert's page in our Real Wedding Library.

Thank you Emily and Robert! What a gorgeous wedding!
To plan your own Southern California or Seattle area wedding, browse our Plan Your Wedding Hotlists! And to find a dream wedding photographer for your wedding anywhere in the world, be sure to check out Junebug's World's Best Wedding Photographers Hotlist!