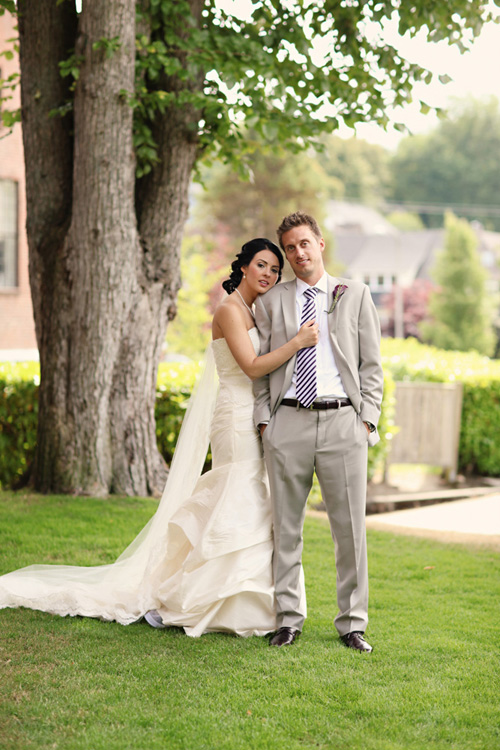 Today's lovely real wedding of Rebekah and Josh is tradition at its best. With the help of talented wedding planner Merry Beth Turpin of Aisle of View and wedding and floral designer Steven Moore, their celebration was classic, elegant and deeply meaningful to the couple and their families. And as you'll see form the beautiful photos by Junebug member photographer Michele M. Waite, a whole lot of fun too!

The Goals: Rebekah and Josh were excited to host a wedding that was special and memorable for their families and friends, and that meaningfully reflected their faith. They chose The Annie Wright School in Tacoma, Washington for their celebration, and it was the perfect decision. The ceremony took place inside the school's chapel, and the reception was held outside throughout the beautiful gardens and grounds.

The Design: A wedding color palette of taupe, deep purple, light green and champagne were chosen for their elegant and timeless feel, and were incorporated in details throughout the day. The wedding design drew inspiration from rustic vineyard and classic vintage elements, like chalkboards, wine barrels, vintage bottles, mercury glass vases and votives, and stacks of antique trunks.
Simple wedding invitations were created by Paper Fling and Rebekah hand-made their wedding favors – muslin bags filled with local coffee beans, and decorated with a custom purple wedding stamp. Their ivory buttercream wedding cake was pink champagne flavored with bavarian cream, and was made by Celebrity Cake Studio.
Rebekah and Josh absolutely loved the wedding professionals they chose to work with. "Our pastor was amazing! The photographer captured all the right moments! The venue was beautiful and ideal. I would have to say that two of the best decisions were to higher a wedding planner and a designer. The wedding planner made the months of planning and day of the wedding go smoothly and the designer truly brought my vision to life."
The Look: Rebekah carried her love of elegance and romance into her bridal look with a delicate lace wedding dress by Jenny Lee. Josh and his groomsmen wore fun striped ties with their tan suits and the bridesmaids wore strapless short light fawn colored dresses from J. Crew, with purple heels that really popped. Now, Rebekah and Josh both wear wedding rings from the amazing T. Anthony Jewelers.

The Moments: One of the most memorable moments of the day for Rebekah and Josh came when they saw each other for the first time outside the MarQueen Hotel. "The first glance was emotional and exciting. This was the day we had been waiting for all of our lives and it was finally happening. Seeing each other for the first time was so special. The expressions on both of our faces truly showed the love we have for each other. We hugged and kissed and wiped tears from each others faces. This was a beautiful moment for us both."
And at the end of it all, they just couldn't have asked for anything more. "We both look back on the day and can't imagine it being any better than it was! It was such an amazing day and we feel so blessed that we were able to share it with our friends and families."

The Pros: Learn about all of the talented wedding professionas and businesses that contributed to this wedding on Rebekah and Josh's page in our Real Wedding Library!

Thank you Rebekah and Josh! What a wonderful wedding day!
To plan your own wedding in Seattle or Southern California, check out our Plan Your Wedding Hotlists. To find a dream wedding photographer and planner for your wedding anywhere in the world, don't miss our World's Best Wedding Photographers Hotlist and World's Best Wedding Planners and Designers Hotlist!