Good weather, bright colors, and a whole lot of flowers—these are just a few reasons why spring is our favorite time of the year. It's a blooming season that's worthy of celebrating every special bride-to-be. That's why we declare that spring is the perfect time for a bridal shower.
After selecting a bridal shower date and sorting out the decor, it's time to pick out an outfit. Whether you're the bride or bridal shower guest, we've rounded up the top outfits that'll make everyone in attendance feel like a million bucks.
Before diving into our spring bridal shower outfit inspiration, here are a few tips to keep in mind:
Pastel colors are the way to go when it comes to selecting the perfect spring outfit
Don't be afraid to play around with unique patterns
Comfort is key. So instead of a dress, consider rocking a jumpsuit or separates
Pieces with a full range of motion will add diversity and personality to your photos (and trust us you'll be taking a lot)
Add personality to your outfit by accessorizing
Choose items that represent you and make you feel most confident
That's enough from us—get inspired by these fresh spring bridal shower outfit ideas and shop similar items below.
Chic Spring Bridal Shower Outfit Ideas For The Bride
1. Stick With A Classic White Bridal Shower Dress
2. Try Co-Ords Because Two Is Better Than One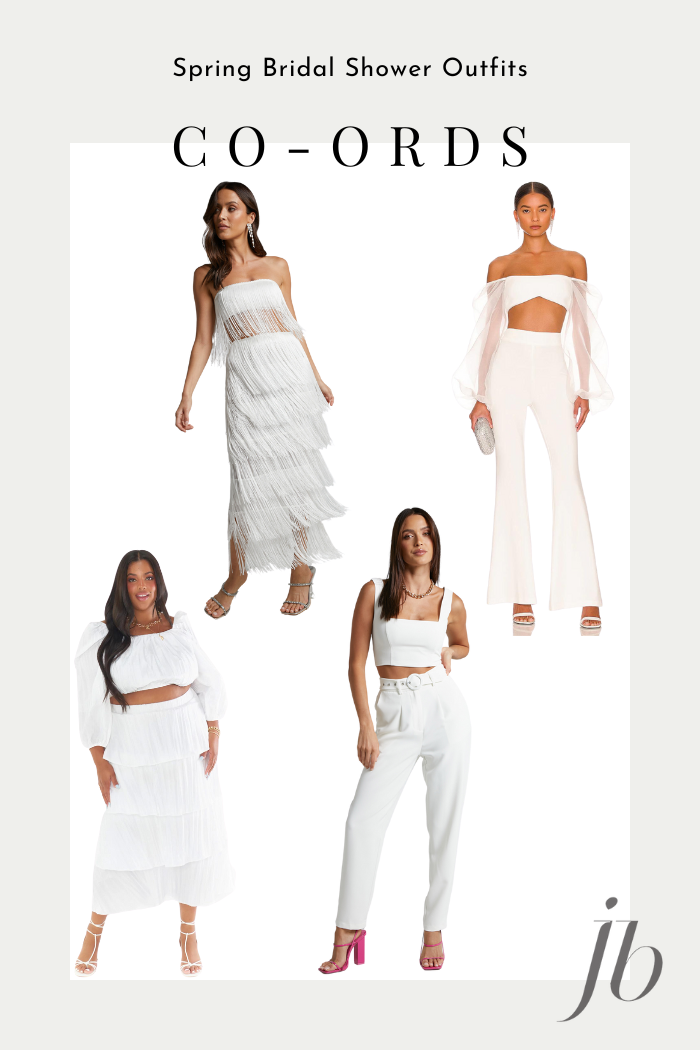 Amalee Fringe Strapless Crop Top and Midi Skirt Two Piece ($89.95); Illusion Crop ($189) and Illusion Pant ($189); Keepsake Crop Top ($98) and Full Swing Skirt ($98); Reyna Two Piece Set ($79.95)
3. Rock A White Jumpsuit For Your Spring Bridal Shower
Chic Spring Bridal Shower Outfit Ideas For Guests
Guests need options for outfit inspiration too! We've got them covered, too.
1. Make A Statement With A Pop-of-Color
Lisa Midi Dress ($99); Oversized Longline Blazer in Pink ($128) and Wide Leg Pants in Pink ($122); Cassini Dress ($187); Maeve Tulle Halter Dress ($160)
2. Non-White Jumpsuits For Bridal Shower Guests
3. Printed Spring Bridal Shower Dresses For Guests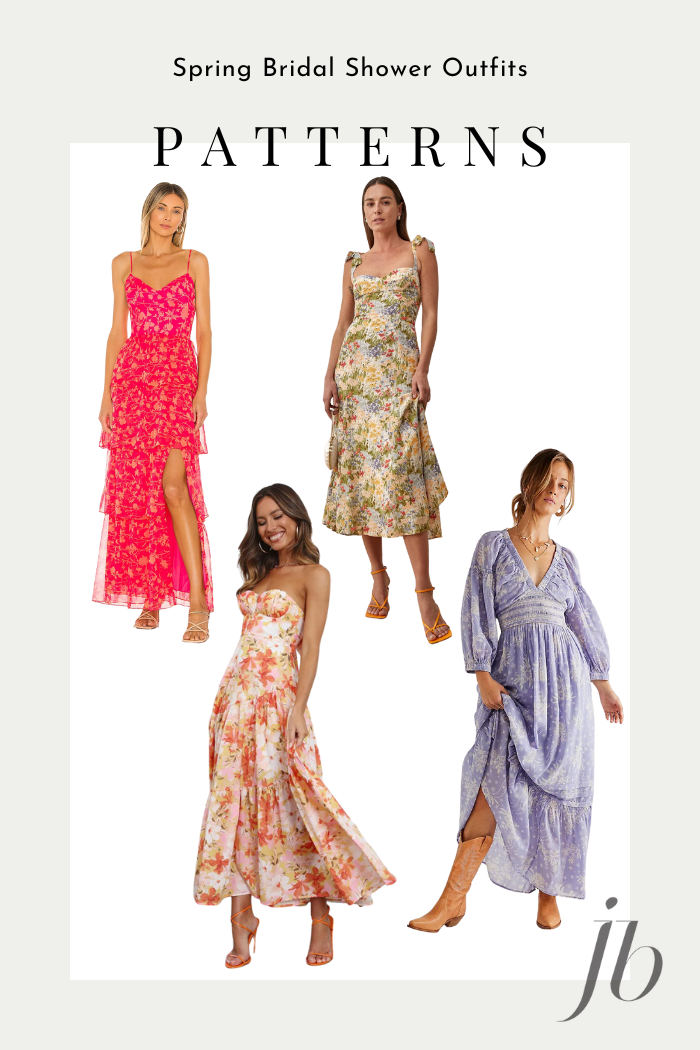 Thaddea Maxi Dress ($308); Nadira Dress ($278); Daydream Look Floral Midi Dress ($95); Golden Hour Maxi Dress ($168)
Now that your outfit is sorted, it's time to get to the decor. Whether you're planning your bridal shower alone or with your wedding day crew, it can easily become an overwhelming task. That's why we're here to help. Kickstart your shower planning by checking out the most stylish bridal shower decorations you can buy from the comfort of your own home.