Being a photographer, I'm all about taking lots and lots of photos, anywhere and everywhere! For weddings and parties I love the concept of adding to the photographic fun with disposable cameras set out for your guests, but unfortunately, the reality of what happens next isn't all that great. Paying to get lots and lots of prints made, throwing out all those camera bodies and non album-worthy photos, trying to figure out how to share the pictures with your guests… not so fun and not so eco-friendly. Fortunately, with all the new digital options out there, there is an easier way!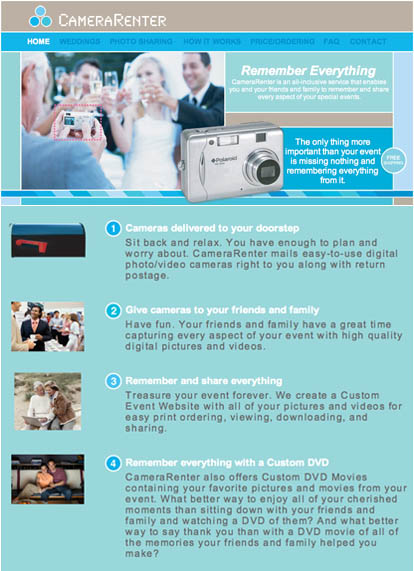 I recently met the owner of a business called CameraRenter.com that offers a simple way to supply digital cameras to your guests and share the images afterwards on a personalized photo sharing website. You place your order on-line according to the number of guests at your event, and the rental digital cameras arrive in the mail ready to be used for photos and video throughout your big day. When you're done, just send them back with their prepaid return postage and within a week you'll have a website up that you and all of your guests can visit. You can download images, order prints and DVDs, and guests can even upload images from their own cameras to share with everyone else. Cool! Camera Renter reuses their cameras, shipping materials and batteries, and you print only the photos you love the most, so it's a great green wedding favor possibility.
Check them out for yourselves, and be sure to use one of our special Junebug discount codes for 10% off their all inclusive packages (thanks Camera Renter!)
10% off all inclusive 30 camera package code = 135.00_3994b9b3fc6367
10% off all inclusive 20 camera package code = 92.50_3894b9b3fc6367
10% off all inclusive 10 camera package code = 49.50_3794b9b3fc6367
UPDATE: Oops, sorry everyone, looks like I had the discount codes written down wrong. They are now correct, and if you had any problems using the old versions please let me know and I'll do my best to get your discount taken care of!