Looking to make 2010 your best year yet? I know we are! That's why we're super excited to be the guest speakers at Lara Casey's Making Things Happen Workshop this Saturday here in Seattle. Lara and her tour co-pilot, photographer Jeff Holt, are fired up to help you take a look at your life, your business, your dreams and your fears, and kick to the curb any roadblocks standing in your way. Read about the workshop and all the excitement for change that's coming from it on the MTH website and on Lara's blog, and check out the tour schedule for 2010. They're hitting cities all across the country, starting tomorrow in Dallas, followed by Seattle, Los Angeles, Minneapolis, Chicago, Atlanta, Nashville, Vegas, Denver, New York, DC and Raleigh. Let's make 2010 our best year yet!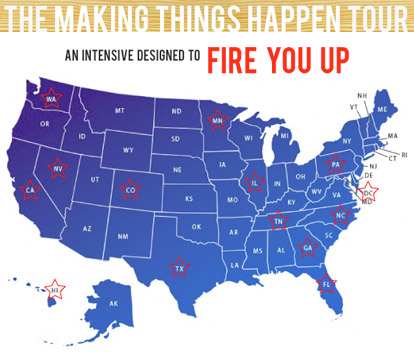 It's wedding show season, and calendars across the country are filling up with wedding shows of all kinds. Here are a couple of events in Seattle that we're excited to attend. What shows will you be checking out this month in your area?
The Seattle Wedding Show– the BIG show of the year, featuring many Junebug member businesses!
Saturday, January 16, 10am – 5:30pm
Sunday, January 17, 10am – 5pm
Washington State Convenion and Trade Center
800 Convention Place, Seattle, WA 98101
www.weddingshow.com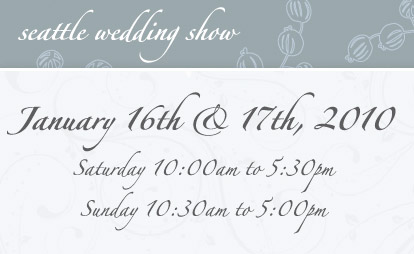 Weddings in Woodinville– A new and super cool way to see all of the beautiful winery wedding venues in Woodinville, Washington, along with many other vendors who will be set up and ready to meet you at each location. Jump on one of Butler Transportation's top-of-the-line shuttles with your family and friends (and even members of the Junebug team!) tour 6 wineries, meet 60 vendors, and taste up to 18 wines in one fun afternoon!
Sunday, January 31, 11:30am-12pm check in
Beginning at Columbia Winery
14030 NE 145th Street, Woodinville, WA 98072
www.weddingsinwoodinville.com